The hailstorm alley from High River to Rocky Mountain House, Alberta, is said to be one of the worst areas in the world for damaging hail. Gardening in the hailstorm alley means there will be a hailstorm coming through, the only question is when and how often. Hailstorms in this area are also often very severe.
In this article, we share how we and also fellow gardeners deal with hail storms, protecting their gardens and greenhouses and continue to grow. We provide links to where you can find these growers, make sure to check them out and follow them if you want to. There is a wealth of information and encouragement out there.
Accept the challenge
I still remember my first experience with an Alberta hailstorm. I was on my way to a friend's house for a lady's gathering. We have driven through many storms before, but this was different, I had to stop and wait it out. When I finally arrived at her place, I could see the damage the hail had left. It was mid-summer, all the young apples were on the ground, flowers were destroyed and the lovely prepared gathering place for our meeting was damaged. I had never seen anything like that before. Over the years I have learned that this wasn't even the worst storm in the area.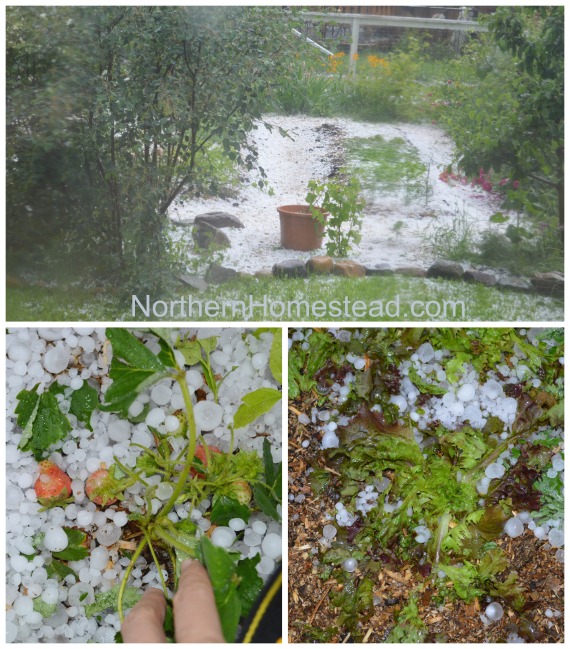 As you might imagine, gardening in the hailstorm alley can be scary. And no, hail is not the only challenge we deal with here. Concentrating on the bad would not make good gardeners out of us. Our gardening experience presents us with valuable lessons on accepting what is and making the best out of it.
When dark thunder clouds cover the sky, fear creeps in like a thief to steal away the joy. Fear does not knock on your door saying: I'm Fear, I'm here to make your life miserable.
No, fear can't do that. Because fear is not something, it's the absence of something. Why do we garden in the hailstorm alley? Because we love it. And where there is love, fear has to leave.
A hailstorm is potent enough without fear, and that can be said of any so-called fearful situation. Fear does not add anything meaningful to it. Without fear and a fearful story attached to it, the situation is just what it is, nothing else.
Does that mean we are not sad when our strawberries are ruined? Yes, we are, but we also find ways to grow them anyways. And every year at the end of the season we are all the more grateful for all that we could grow, harvest, and enjoy.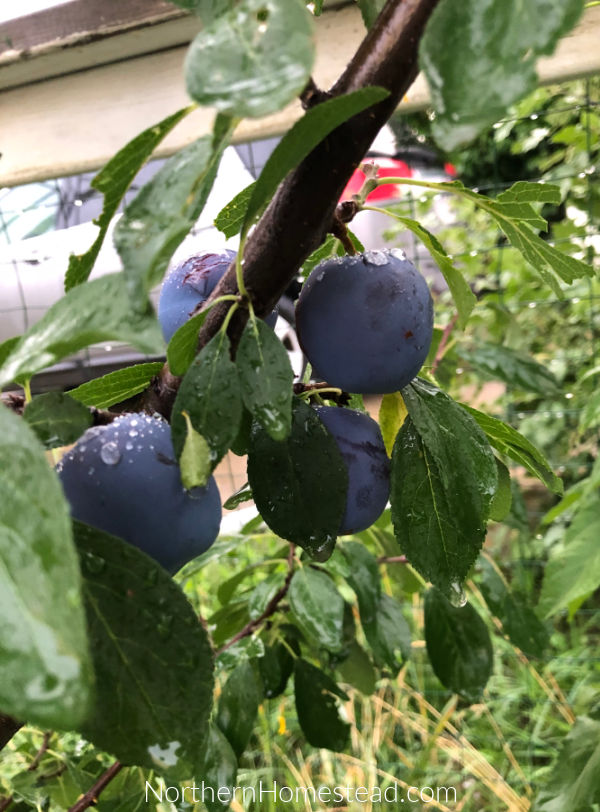 We have been gardening in the hailstorm alley since 2008, and we have never had a year without harvest. Quite often the storm goes around our garden, or it damages one plant, that we are done with anyways, and saves another that we still need to harvest. Don't ask me how, it just happens.
Microclimate and plant protection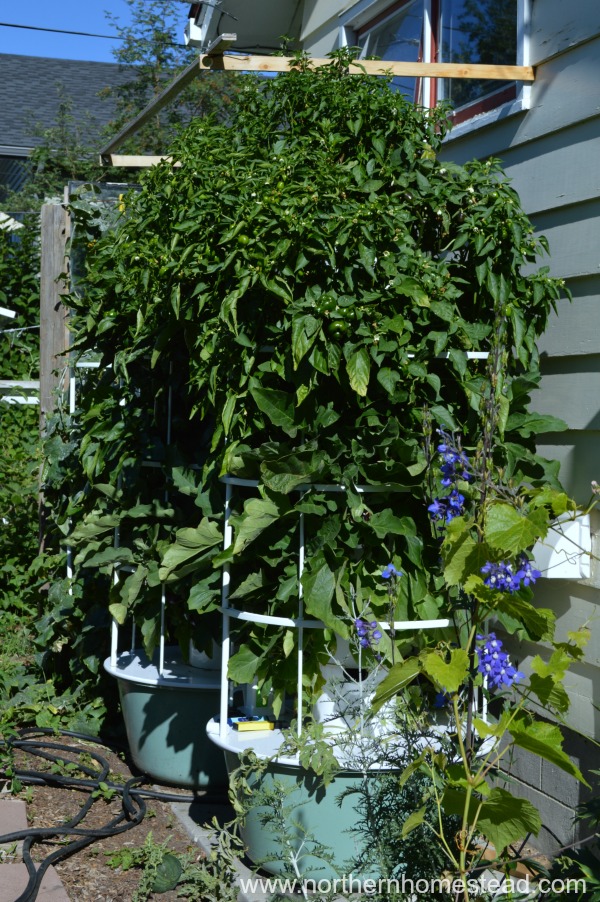 Observing our weather and garden can help us to deal with the situation better. Just like we create microclimates for warmer areas, or to protect from wind, we can also use the same principles to protect plants from hail.
Hailstorms in our area usually come from the northwest, it might be different where you are. But we have noticed, that plants close to a south wall usually are not damaged. That also happens to be the warm spot in our garden. So we grow tender plants there.
A fence would have the same effect, it protects from the prevailing wind and the plants at the fence are also somewhat protected from hail.
In early summer, plant protection can be as simple as throwing a bucket over a young plant. Being gardeners in challenging weather conditions, we always have pails and buckets around.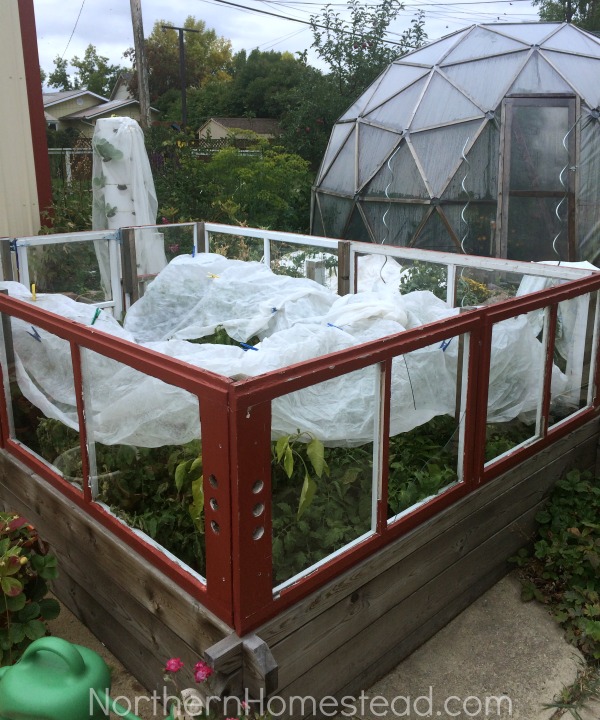 A window protected garden is not just good to slow down the wind, but an additional cover is easily added. Speaking of covers, there are many reasons to use them.
Protecting the garden with hail netting
If frequent hailstorms occur where you are, then protecting the garden with strong hail-resistant netting only makes sense.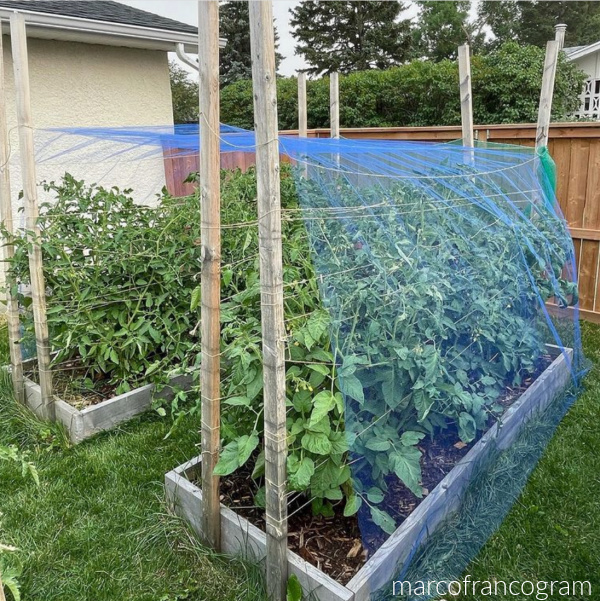 Marco, a gardener in Calgary uses Big Bug Netting, he says it is strong and UV resistant, so it will last 5+ Years. He used twine to set height, and Dollarama metal V-shaped tent pegs to secure them. The Big Bug netting from American netting is available at garden supply stores.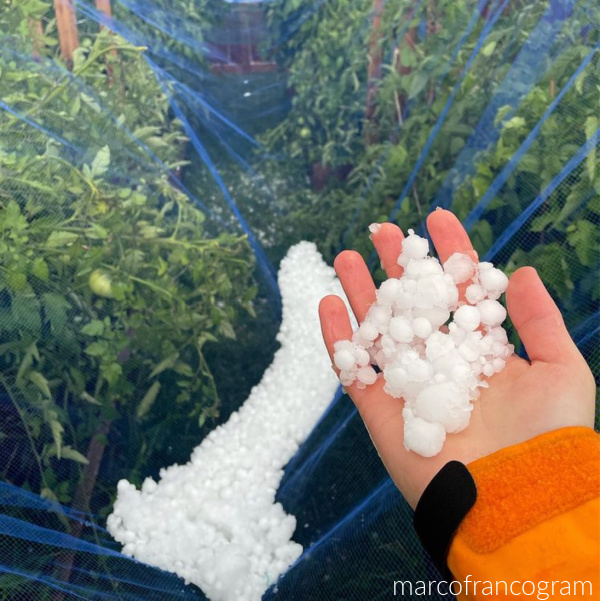 The simple setup holds surprisingly well even though it is made for bugs and bird protection. One reason I think it works so well is that it has room to expand, and being elastic it does.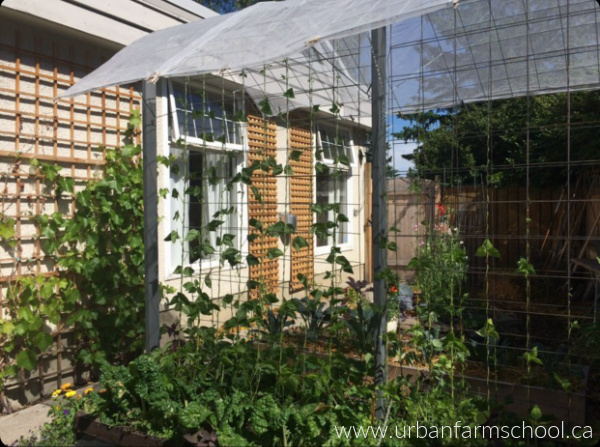 Urban Farmschool has a more permanent setup. They use welded wire mesh to hold the netting in place.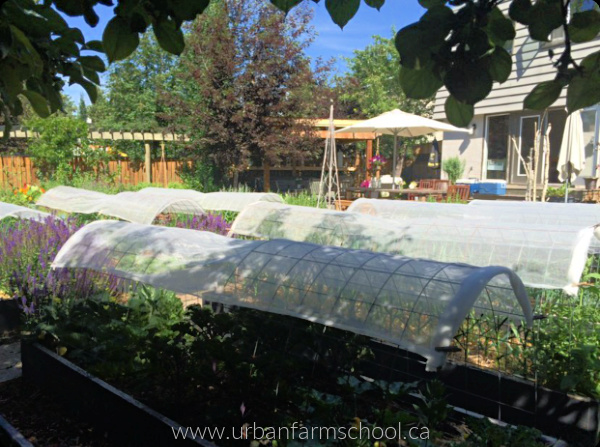 If the netting is only used for hail protection, it does not have to cover all sides. Especially for plants that need pollination, that is important.
Plants that do not need pollination, but are susceptible to bugs like cabbage, carrots, onion, etc, can be completely covered, so the netting serves two functions at once.
After Riverstone Ranch's garden was destroyed by hail 5 years out of 6, they had to decide whether they should stop gardening, or figure out a solution. They went for a full garden cover.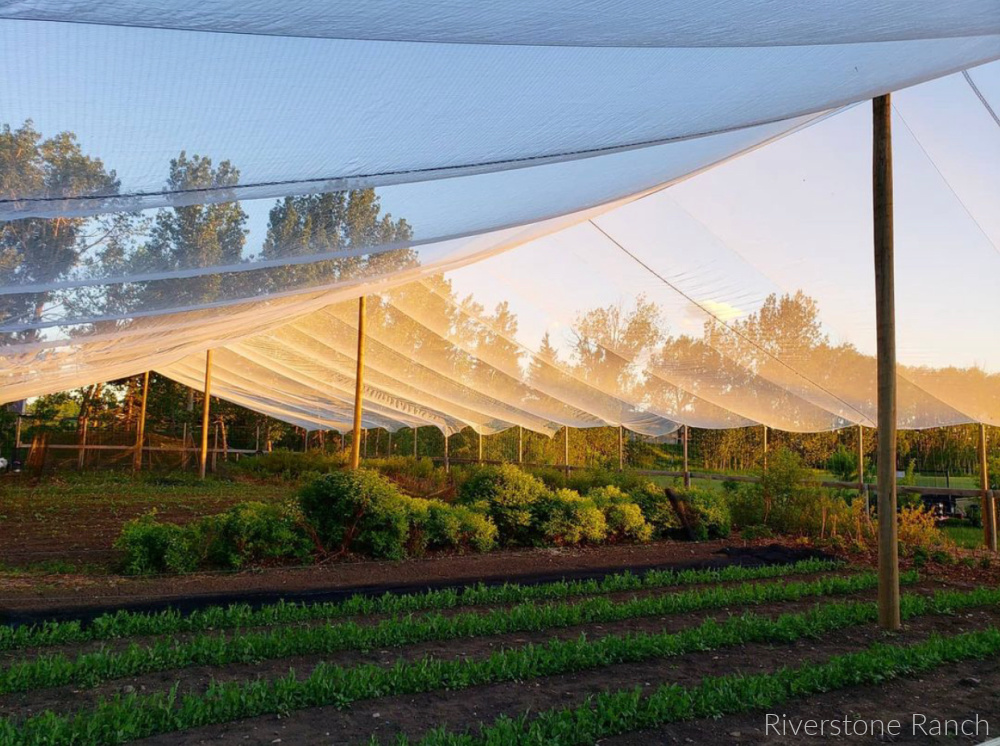 The ridgeline posts are 18 feet tall, the side posts are 8 feet. Metal cable runs along the ridgeline and then across by every post. The netting comes from Smart Net System. They had the best product and price that they could find in Canada for bulk orders. Oesco Inc. is a U.S. distributor for Smart Net Systems products.
Since 2021 we have a local Smart Net Systems distributer in the hailstorm alley, GRD netting solutions. They provide the netting in rolls and smaller sizes for urban gardens, row covers, etc. The nettings can serve multiple functions, shield, shade, and sustain the plants from most bugs, birds, and small pests, and even reduces damage from wind, heavy rain, and hail.
Note that we are not an affiliate with any of these netting companies, we are just providing information.
Protect the greenhouse from hail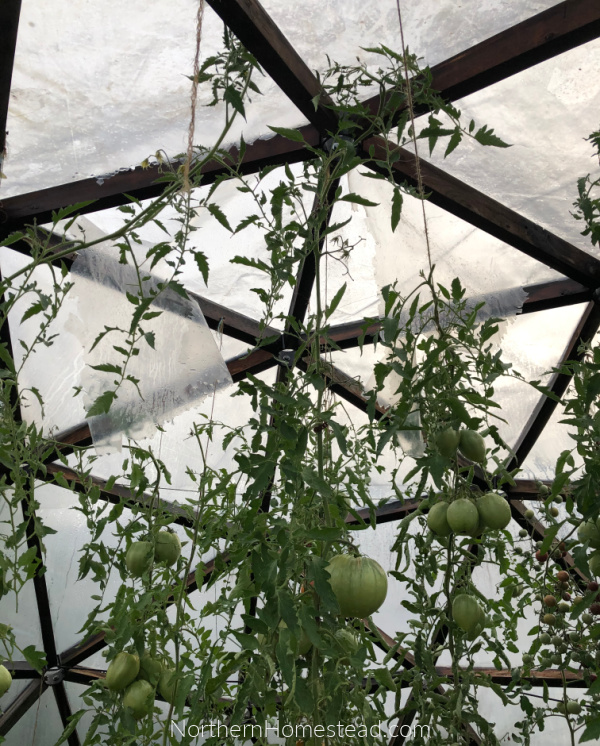 Greenhouse plastic does not hold up to hail. This is one reason we love the geodesic dome structure. In a hail event, we only have to replace the covering in triangles that are damaged vs replacing the whole greenhouse cover.
If building a greenhouse in a hail alley, consider other types of coverings.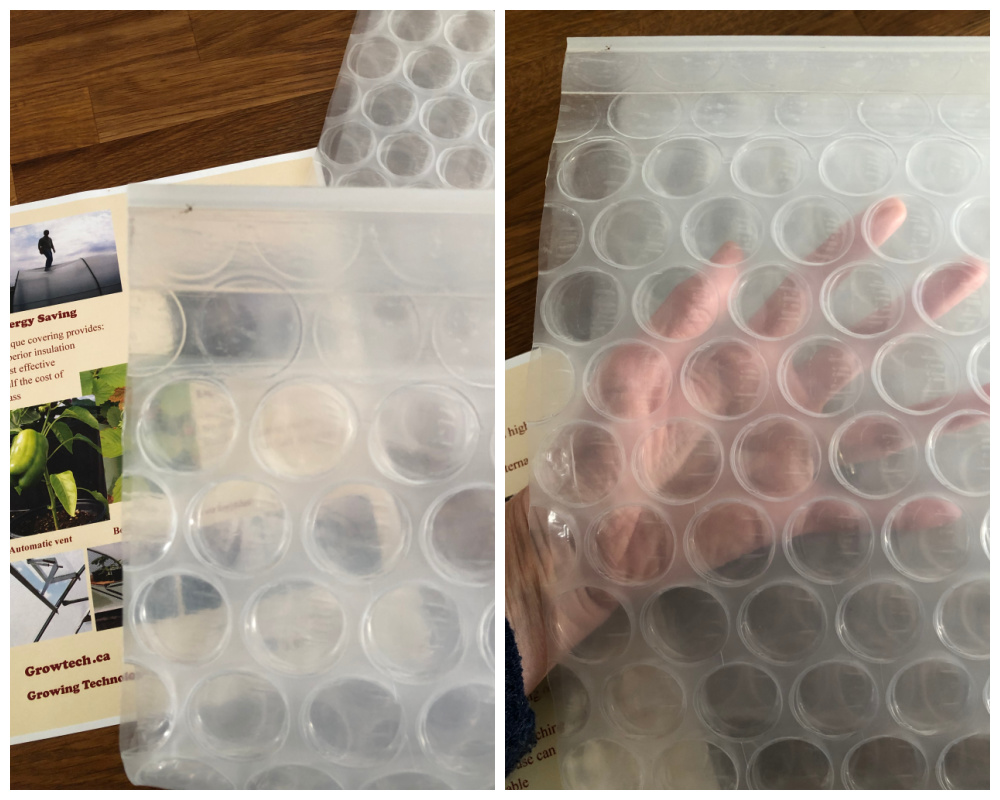 The Canadian distributor of Solawrap, a highly efficient greenhouse covering manufactured in Germany is Grow Tech. We got a semple for the air bubble greenhouse film from them. As you see in the picture, the wrap is very strong, not comparable to bubble wraps for packaging. The air bubbles would also give more insulation, a plus in our cold climate. We have not used it yet, but do see in the example that it is a quality product.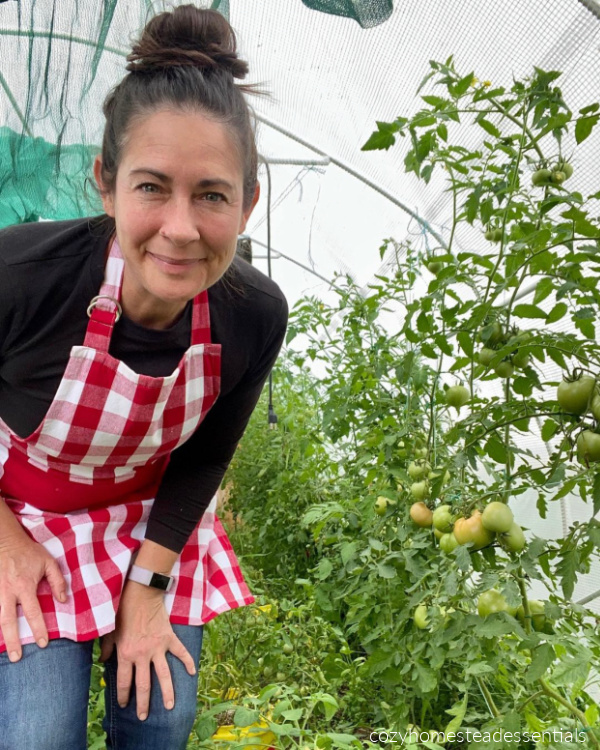 Cozy Homestead Essentials uses for their greenhouse HydraTarp – Clear Greenhouse Tarp. It held up pretty well in a hail storm that had damaged the roof and siding of their house, but they could use the greenhouse covering all season.
Grow To Gather Homestead has valuable information on using corrugated polycarbonate as a greenhouse covering in a hailstorm area. It too holds well up in crazy hailstorms, if installed properly.
Harvest and use the hail damaged produce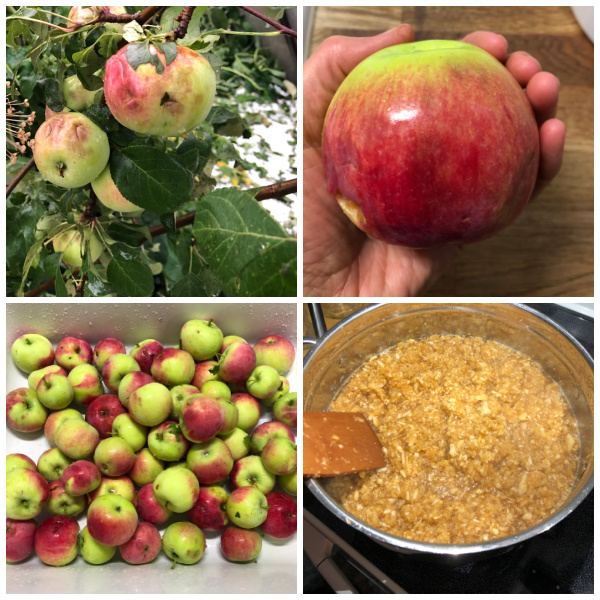 As the saying goes, 'If life gives you lemons, make lemon juice', we make the best out of hail-damaged produce too. Hail-damaged fruit will not last long, but will still make delicious food. Here we are making apple jam after a hailstorm. The kitchen smelled divine and we enjoyed the preserved jam all winter.
When using hail-damaged fruit quickly, there is not as much loss. Jams, juices, and souces can all be made out of them.
Depending on the severity of the storm and of course timing, fruit can also heal, all that will be left are scars.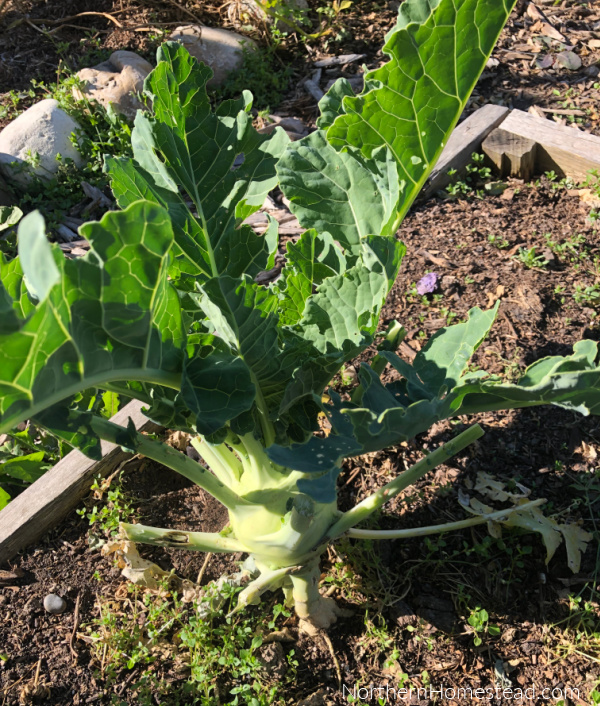 With vegetable plants do not give up too quickly. It is amazing how much recovers and continues to grow. Just prune away the damaged parts and let grow what is still intact till the harvest.
As you see, there are many possibilities for gardening in the hailstorm alley. If you have given up because of a hailstorm, let us encourage you to start over and keep on growing.
If you have a story or tip for hail protection, please share it in a comment below.
We invite you to subscribe to Northern Homestead and follow us on Instagram, Facebook, or Pinterest for the latest updates.
More posts you might enjoy