After combined 12 years of use, it's time for a Geodesic Dome Greenhouse Building Review. This review focuses specifically on greenhouses, which differ from other uses due to their unique requirements, primarily being covered with plastic in a high-humidity environment. This combination of wood and plastic presents its own set of challenges.
In 2011, we embarked on a journey to build our first geodesic dome greenhouse, constructed from spruce wood with no connectors. After three fruitful seasons, we had to part ways with it due to a move, and the new owners continued to use it until spring 2023. In 2017, undeterred, we decided to build our second geodesic dome greenhouse, but this time, we opted for connectors. While the dome still stands, it's not without the need for some repairs.
The All-Wood Geodesic Dome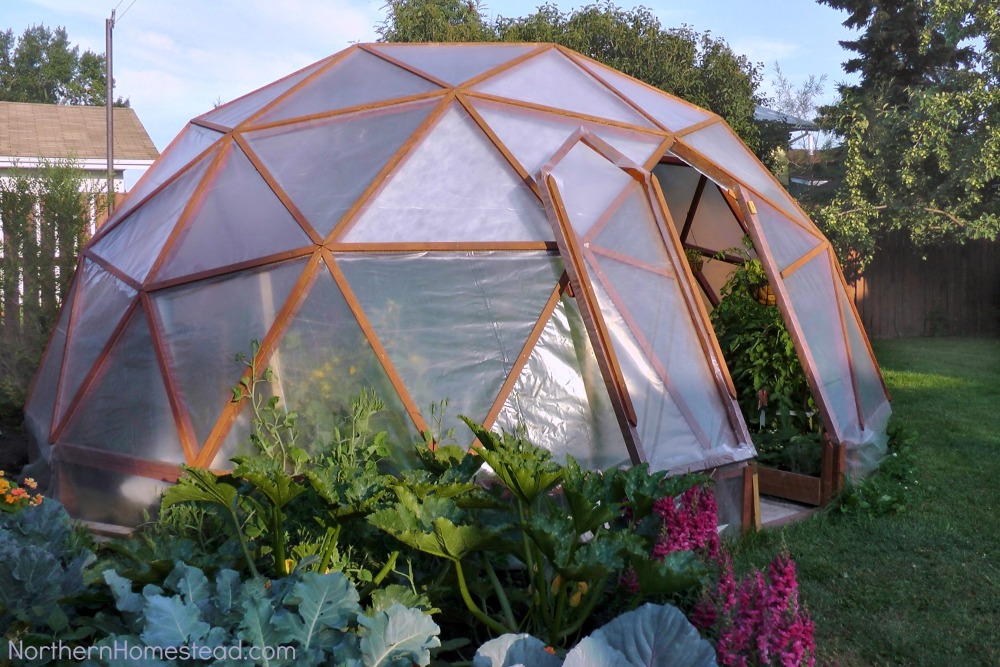 A geodesic dome greenhouse is essentially a collection of wooden struts covered with plastic. This simplicity is what makes the structure cost-effective. Read how we built it here. However, after 12 years of use, our first greenhouse was showing signs of significant rot. Some of the boards had deteriorated to the point where there was hardly any solid wood left. Despite this, the dome's structure was surprisingly sturdy; the new owner mentioned, "Even in this condition, the dome could support my weight when I hung from the top." If you're curious to see pictures, you can find them here.
The dome was originally constructed using spruce wood, which was treated with a wood protection product that we, unfortunately, can't recall. Whatever it was, it didn't prevent the wood from rotting, as spruce lumber and high humidity don't play well together. The most significant rot occurred at the joints and the areas in contact with the plastic cover.
The Geodesic Dome Version with Piped Hubs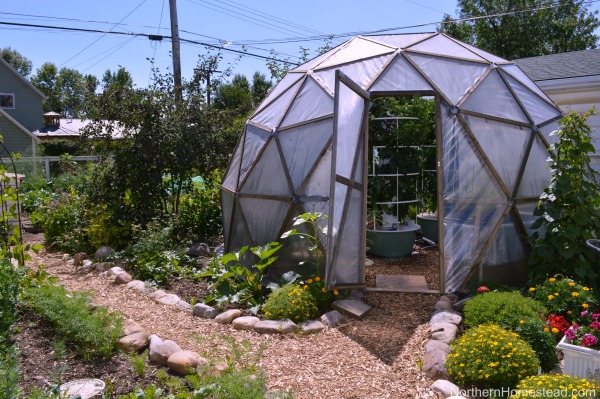 For our second dome, we once again used spruce wood but took extra precautions by treating the lumber ourselves with an Eco-wood treatment. We hoped that this, combined with the use of connectors, would extend the structure's lifespan. However, we noticed that the Eco wood treatment didn't effectively protect the wood from rot.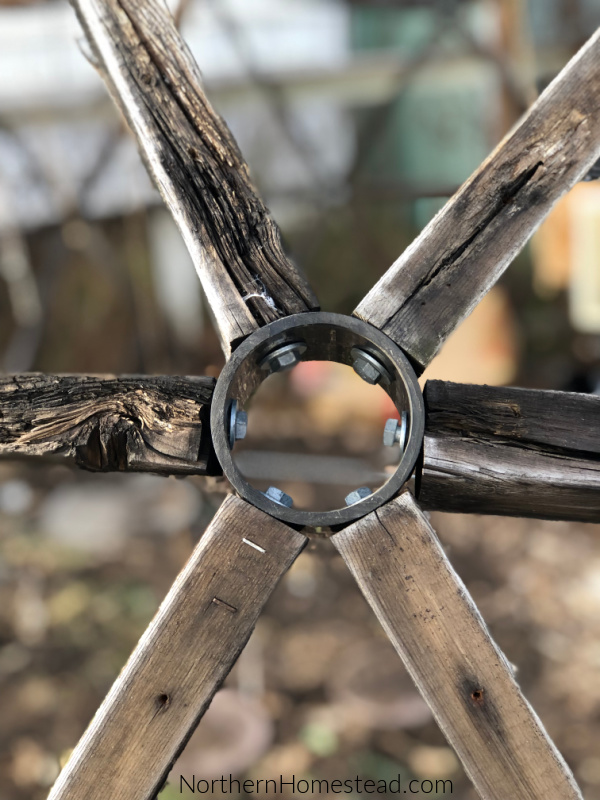 This time around, it's primarily the struts that have shown signs of rot, while the connectors remain in excellent condition. After seven seasons, we're considering either replacing more struts or potentially rebuilding the dome with a different type of wood. The advantage this time is that the connectors are still in good shape, so only the struts would need replacement.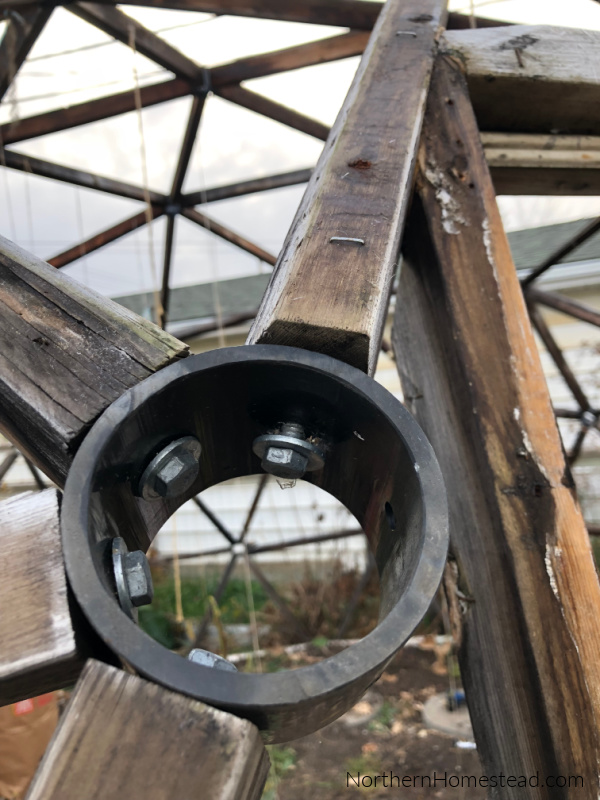 To connect the wood to the pipe connectors, we initially used lag bolts, and they held up quite well over the years. However, in areas where the tension was particularly high, such as around the door, they did loosen a bit over time. Interestingly, the owner of our first all-wood dome greenhouse has also rebuilt his structure using pipe connectors but opted for screws throughout. It will be intriguing to observe how this alternative approach fares in terms of longevity and stability.
Windows or No Windows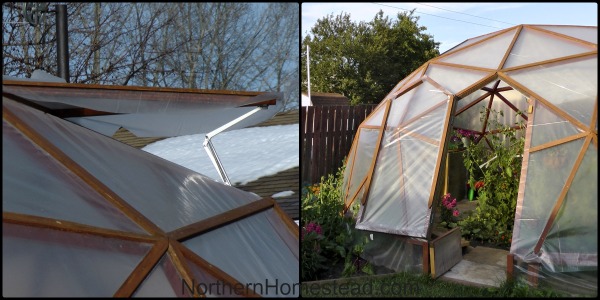 Our first dome had two windows and a door for ventilation. The new owner added more windows and an exhaust fan for ventilation during hot days. While it worked well during the day, it didn't provide any heat at night.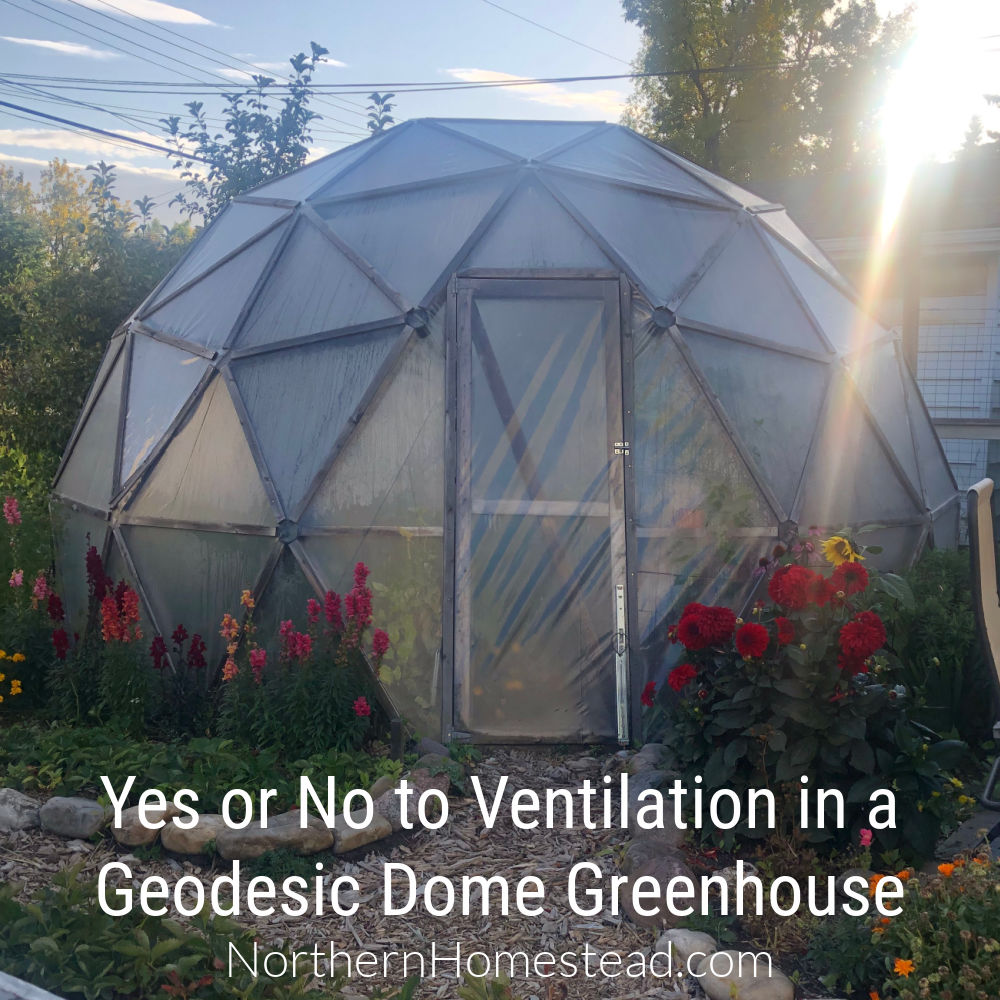 In contrast, our second greenhouse was built without any windows. Instead, we captured and stored heat in a water tank, using it during cool nights through a simple heat exchanger with a car radiator. Read more in our article Yes or No to Ventilation in a Greenhouse. This method allowed us to extend the greenhouse growing season until outside temperatures dropped to -10 degrees Celsius. However, it required constant energy to operate a water pump and a ventilator.
Covering of the geodesic dome greenhouse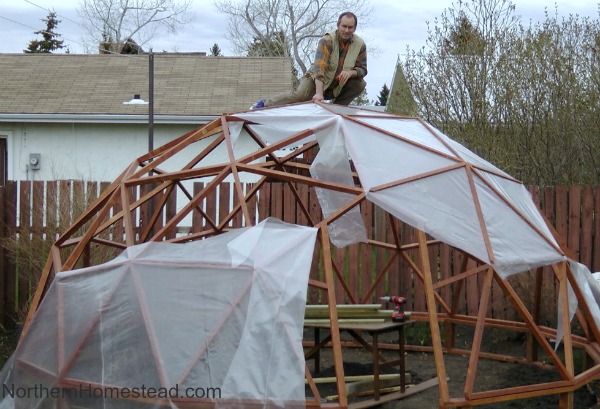 The first geodesic dome greenhouse was covered with greenhouse-grade poly that we acquired used from a commercial greenhouse. This covering held up well throughout the dome's lifespan.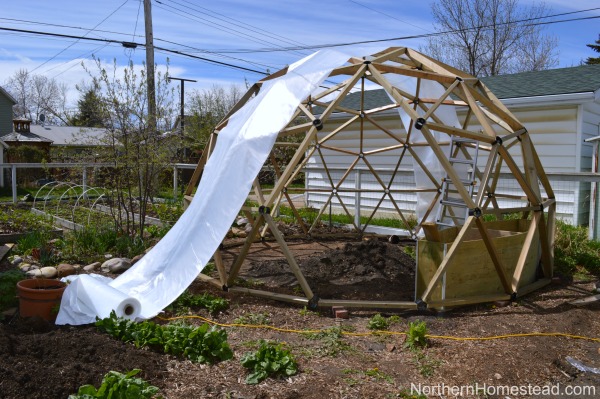 Our second dome, on the other hand, was covered with shrink film. While the concept seemed promising – simply pull it over and shrink it to fit the dome shape – it didn't work as effectively as anticipated and was unsuitable for our climate. Shrink film is highly sensitive to temperature fluctuations, causing it to shrink and require repairs each spring.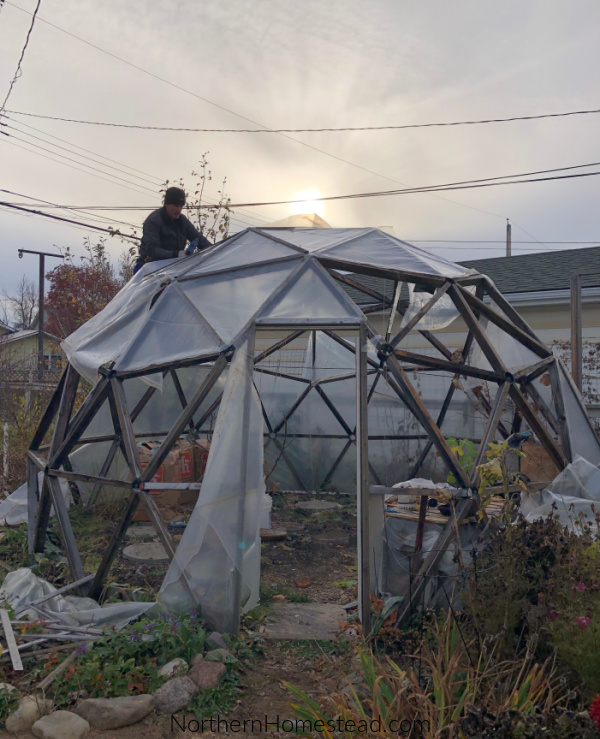 The dome's shape has proven to be advantageous when it comes to repairs. Our harsh climate, which includes frost, wind, and hail, often leads to damage to the covering. However, only the affected sections need replacement, which saves a significant amount of money, as we don't need to replace the entire cover. We have been using the cover for 7 seasons, and now it needs a replacement. Therefore, we uncovered the dome structure in the fall to allow the soil to recover naturally over the winter months.
Would We Build a Geodesic Dome Greenhouse Again?
After building two geodesic dome greenhouses and gaining years of experience, the answer is a resounding yes. We absolutely love the geodesic dome greenhouse structure. While spruce wood was a cost-effective choice, we're now considering using a different type of wood for our next project. With rising energy costs in mind, we're also exploring coverings that retain more heat during the night and adding ventilation to release heat during the day, potentially allowing us to run the dome with minimal electricity.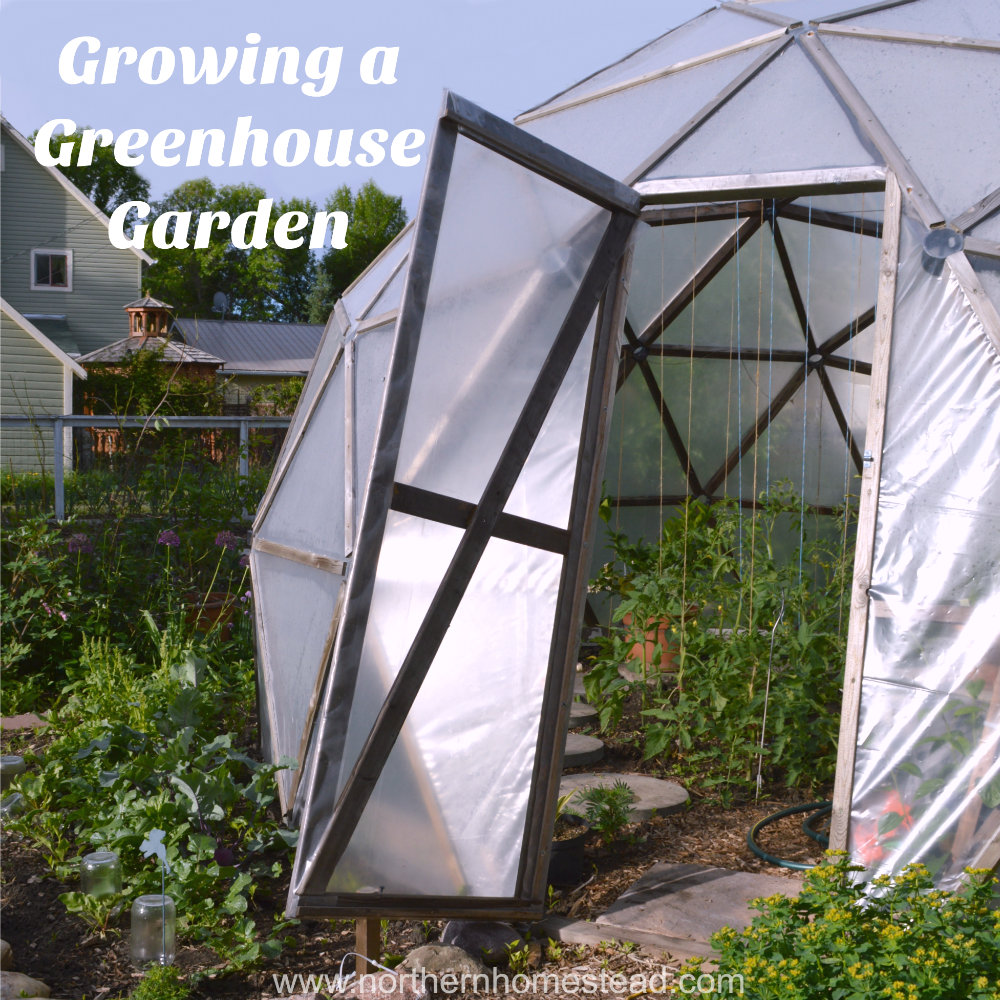 Our commitment to using an above-ground water tank for thermal mass and plant watering without relying on a car radiator for heat exchange remains unchanged. Additionally, the pipe connectors have proven to be durable, so we plan to reuse them in our future endeavors. Building and maintaining geodesic dome greenhouses have been rewarding experiences, and we look forward to continuing our greenhouse adventures.
There you have our Geodesic Dome Greenhouse Building Review. If you have had experience with building or maintaining a geodesic dome greenhouse, we would love to hear about your insights. Please feel free to share them in the comments below. Your firsthand experiences can be invaluable to others considering similar projects.
Don't forget to subscribe to Northern Homestead and follow us on Instagram, Facebook, or Pinterest for the latest updates.
More about a Geodic Dome Greenhouse: