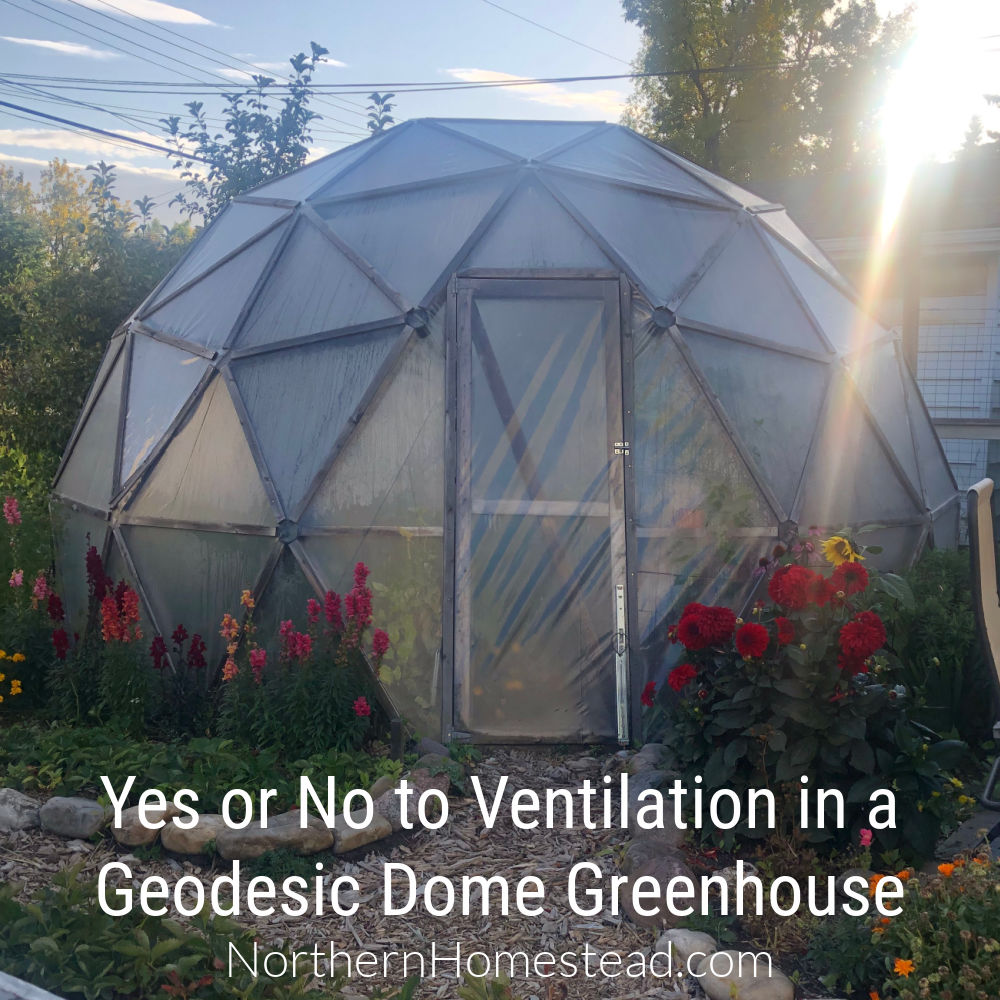 During a sunny day, a greenhouse is prone to overheating in no time and thus damaging plants. Ventilation seems to be a very important factor in any greenhouse as a means for temperature regulation. The definition of the word ventilation is 'the provision of fresh air to a room, building, etc.' So why would we even consider Yes or No to Ventilation in a Geodesic Dome Greenhouse?
Note: We are writing from a perspective of a high elevation cold climate with cool summer nights usually below 10°C (50F).
Ventilation in Geodesic Dome Greenhouse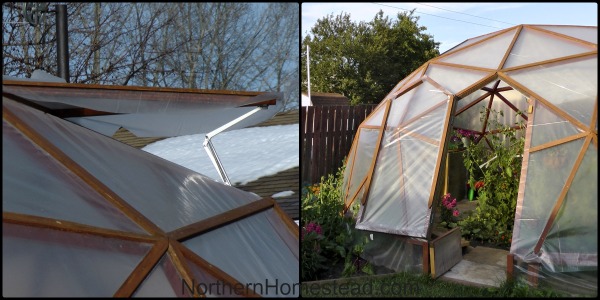 Our first geodesic dome had two windows, both with Automatic Greenhouse Window Opener. However, we soon noticed that two windows were not enough.
The new owner of that Geodesic Dome Greenhouse added more windows to keep the dome from overheating on hot sunny days. That is undoubtedly an option and a most popular one. But this option does not address the cool night problem. If the outside temperature drops close to freezing then the indoor temperature follows suit. This kind of temperature fluctuation is very stressful on plants.
Thermal mass plus heat exchanger solution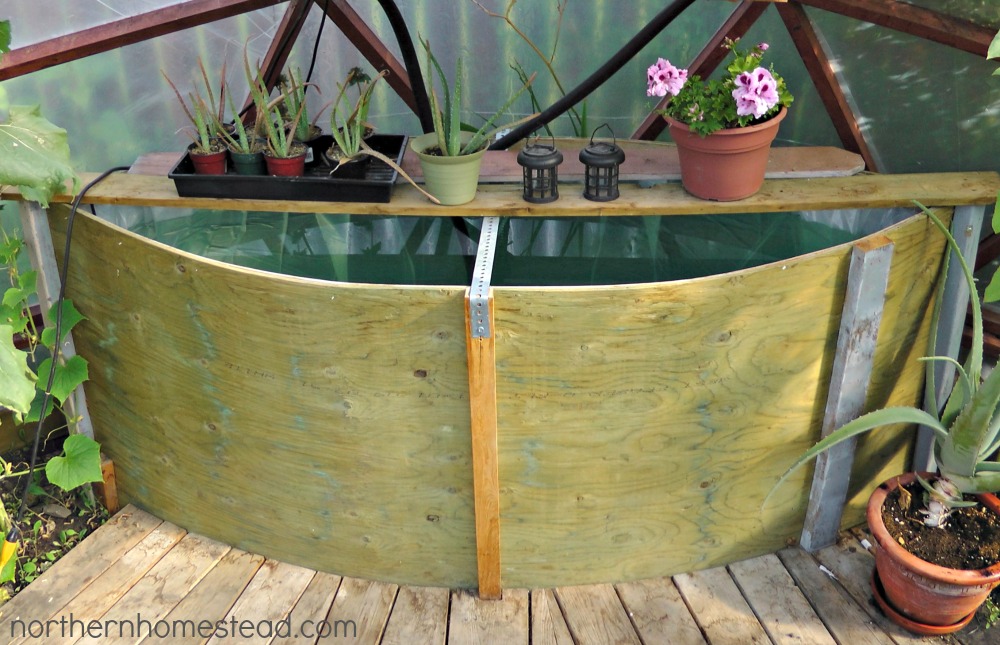 We added a water tank to the geodesic dome greenhouse as thermal mass. Thermal mass in a greenhouse helps with temperature fluctuation, and a well-isolated building can even help some to keep it from freezing.
We needed to improve the efficiency of thermal mass and adapt it to the GeoDome. The solution that we came up with can be found in this Car Radiator for Heating and Cooling a Greenhouse article. It is a cost-efficient and simple solution that worked really well.
No ventilation in a Geodesic Dome Greenhouse
Since the Car Radiator for Heating and Cooling a Greenhouse solution worked well in the first GeoDome Greenhouse, we wanted to experiment with capturing all thermal energy during daytime and releasing it on demand at night. For ourselves, it was just another case study as we haven't read or heard about this approach anywhere else.
Anyway, we built our second Geodesic Dome greenhouse without any window openings. We do open the door during the day mainly for pollinators to go in and out.
Four years later the GeoDome is still functioning without any window openings. This experiment turned out to be a great solution for cold climate greenhouse.
In this video, you see the radiator in action in early spring. If you can't see the video go here.
With this system in place and no windows to open we were also able to grow tomatoes into October when the ground was already covered by snow.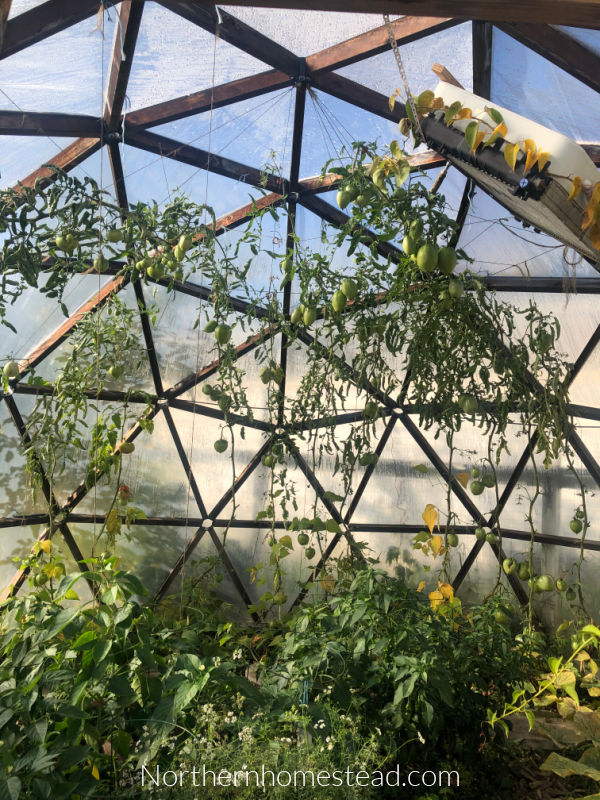 What about moisture, you might ask? That is a good question and was also our concern. Over time we realized that moisture build-up was caused more by overplanting than ventilation. We do have a fan running at all times so air movement is still there.
We share a summer update of the greenhouse that is filled with yummy tomatoes. So far we do not plan to add a window opening to the Geodesic dome greenhouse. Capturing all the heat we get has turned out to be a great option for our cold climate.
If you have made any alternative experiences with ventilation, heating, or cooling a greenhouse in a cold climate we would love to hear from you in the comment below.
Don't forget to subscribe to Northern Homestead and follow us on Facebook or Pinterest for the latest updates.
More about a GeoDome Greenhouse: