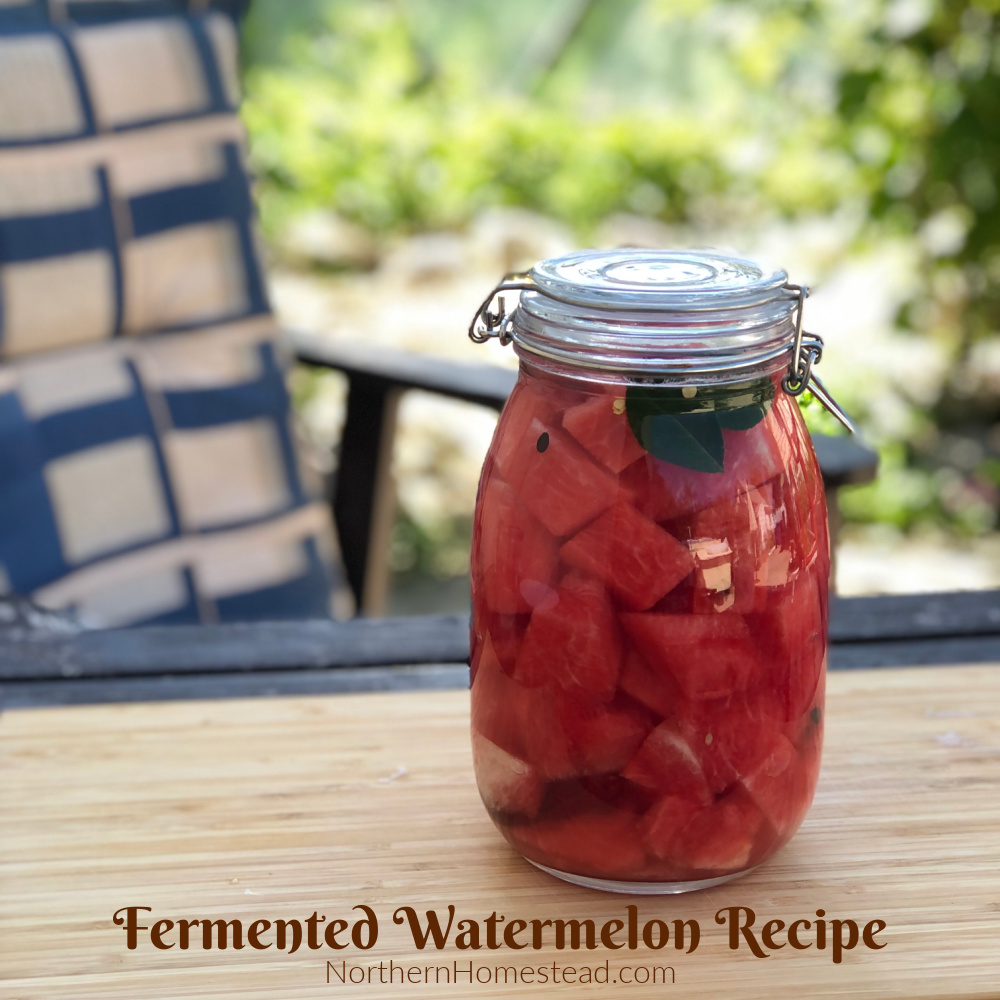 A yummy watermelon is the best snack on a hot summer day. It's refreshing, contains lots of water, and if you were lucky to catch a good one, delicious. If the watermelon you got isn't as delicious as you like, the fermented watermelon recipe comes to the rescue. 
Personally, we prefer seeded watermelons, preferably directly from the field. Of course in our cold climate that is not the case. We usually get our melons from the grocery store, that also explains why they aren't always as yummy as we prefer. 
Maybe our expectations are also a bit high. As teenagers, back in central Asia, we used to work on a watermelon farm. Harvesting and loading big truckloads with them. If one fell and broke open, we would eat the center and wash our hands in the rest. Boy were they ever delicious!
There on a watermelon field, we also noticed that we were a great working team. While working next to Jakob, I knew I would not get hit by one, as was sometimes the case with other boys. I'm sure it was not intentional, but still not fun. Working next to Jakob was fun, so we extended it for a lifetime ;).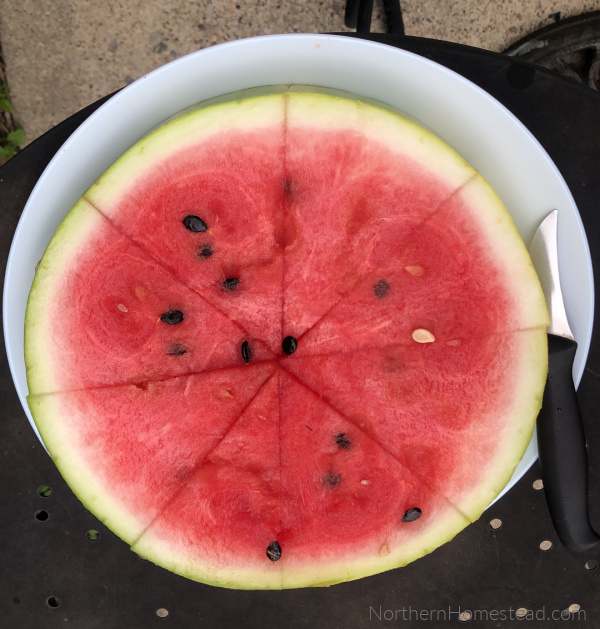 Anyhow, we love watermelons, a good melon does not need anything to be enjoyed.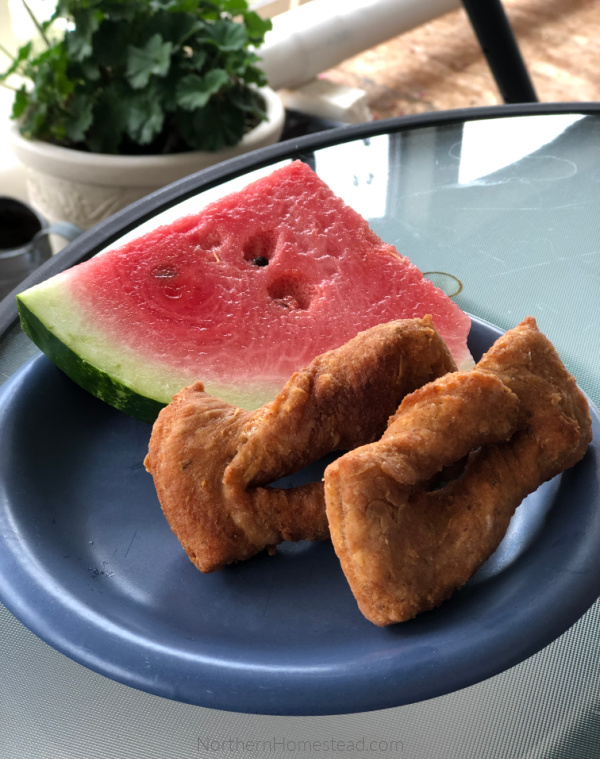 Watermelons and rollkuchen is a Mennonite thing, if you have never had it, we would encourage you to try.
Back to watermelon fermentation.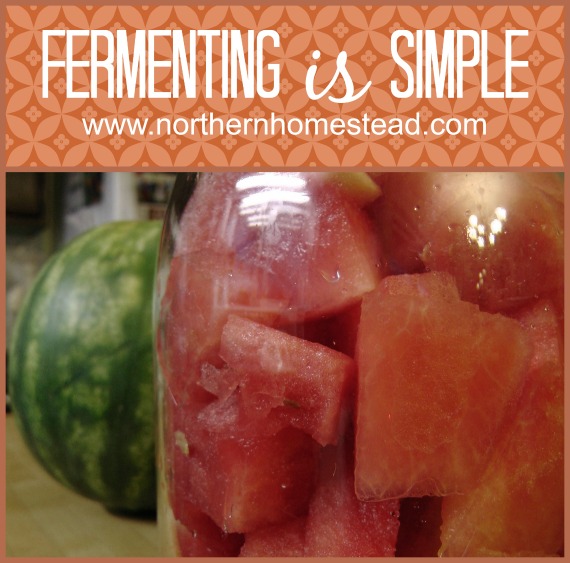 We covered the basics of fermentation in our blog post Fermenting is simple. That's also true for watermelons. All you will need is watermelon or parts of it and salt brine. Anything else is optional. 
Any watermelon will do to be fermented. If the rind of a watermelon happens to be very thick, make fermented watermelon rind pickles. They can be made just like half sour pickles.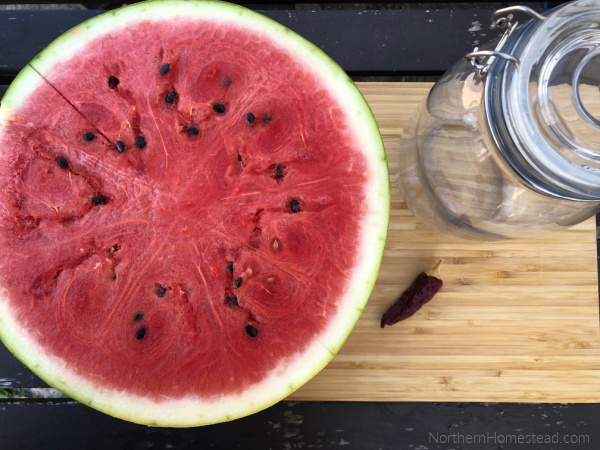 Our watermelon was actually a bit overripe, not the best example, but it will still work well. 
To give the melon a bit of a kick, we added a hot pepper to the fermentation. Lemon or lime would work too. We like it spicy though.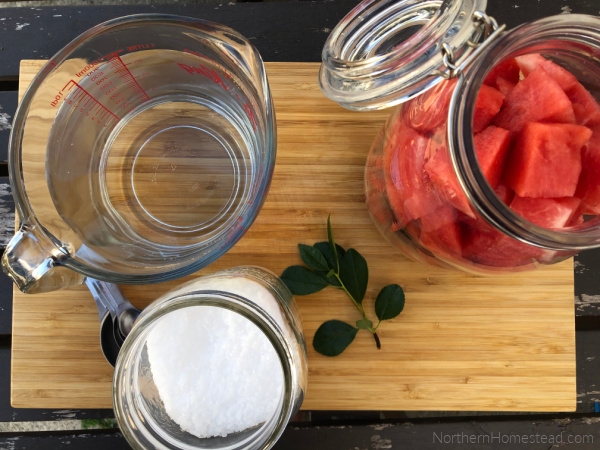 Since the melon was so ripe, we added some cherry leaves. That is optional but it is a natural, tasteless tannin that can help to retain a bit of the crunchiness.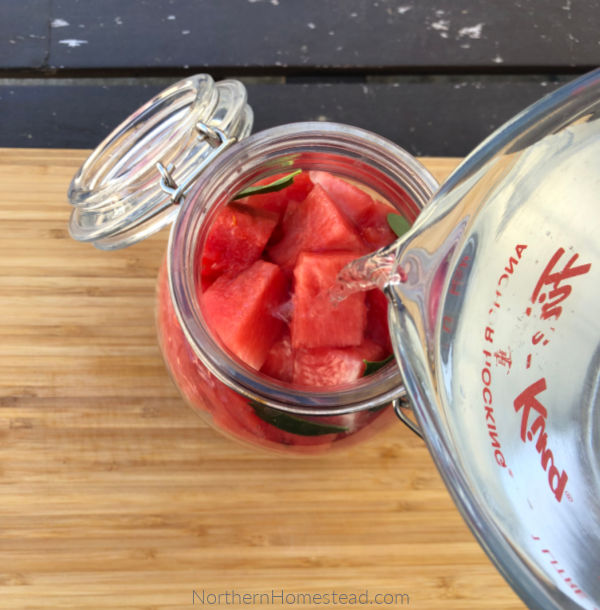 For the brine use natural real salt with no additives. In this case, I used Pickling Salt.
Once everything is filled in the jar, use a weighing stone or small plate to keep everything under the brine. Close the jar and let it do the magic.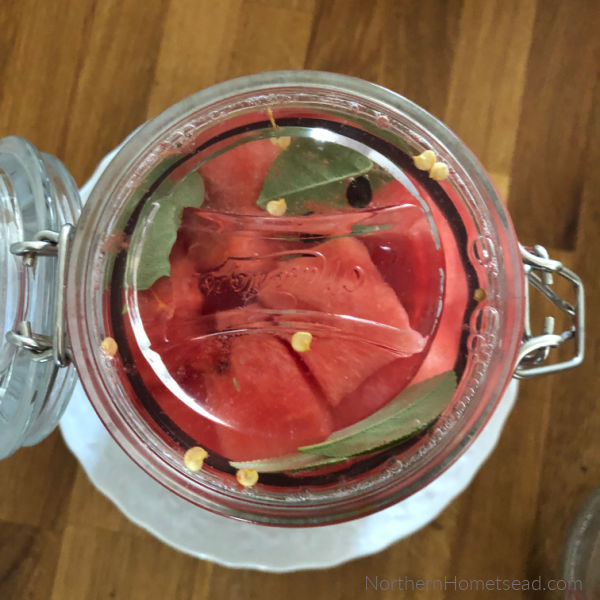 This fermented watermelon is not for storage, but for fresh eating. It will take about 3 days to ferment, depending on the room temperature and also your taste preference. 
The fermentation process will make even a plain watermelon delicious.

Fermented Watermelon Recipe
Author:
Anna @ Northern Homestead
Ingredients
About a pound of watermelon cut into bite-size pieces
Hot pepper, lemon, lime, etc, depending on your taste
2-4 cherry leaves optional
Brine:
1 liter (32 oz) of filtered water
1 tablespoons pickling salt
Instructions
In a clean jar or container (It does not have to be sterilized, just clean) add the hot pepper or lemon, lime, etc if used
Fill the jar or container with watermelon pieces
Top with some cherry leaves
Prepare the brine
to 1 liter of water add the salt and stir well
Cover the watermelons with brine. You want everything to be covered.
Waight everything down to keep it under the brine.
Keep on the kitchen counter for 3 days, or till you like the taste
Transfer into the fridge and use it soon.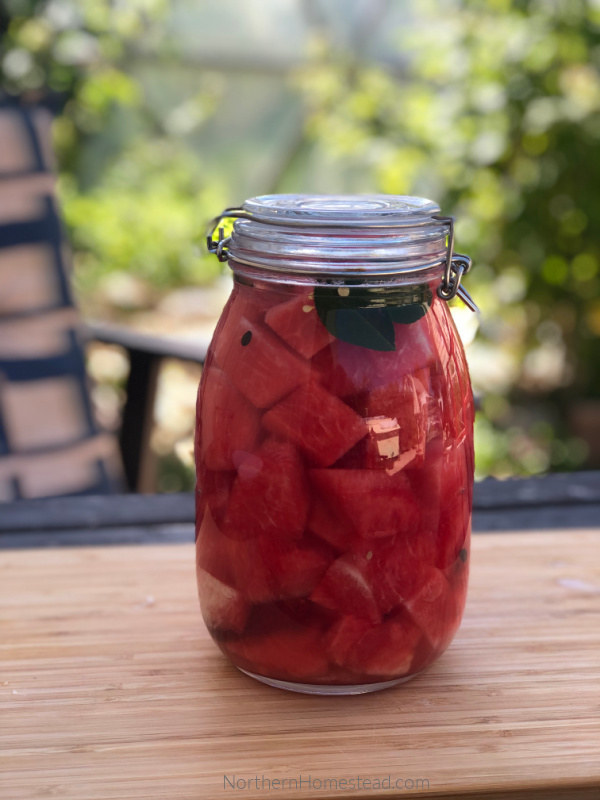 We invite you to subscribe to Northern Homestead and follow us on Instagram, Facebook, or Pinterest for more yummy recipes.
More Recipes You Might Enjoy: