We love fruit. Juicy, sweet, delicious fruit. Growing up in Central Asia, fruit was a big part of our diet. My (Anna) father moved our family to that area to grow fruit. With hot, dry summers, the fruit was our best crop. Growing fruit trees in a cold climate is a bit of a different story.
We are not experts in growing fruit trees. We just share what we do and what we have learned along the way. This is part 1, where we cover what is a cold hardy fruit tree, varieties, where to buy hardy fruit trees, pollination, and bare-root vs potted trees.
In part 2 we will cover planting and care for hardy fruit trees as we are learning it. As always we would appreciate it if you share your experiences with us in the comment section, so we all learn together.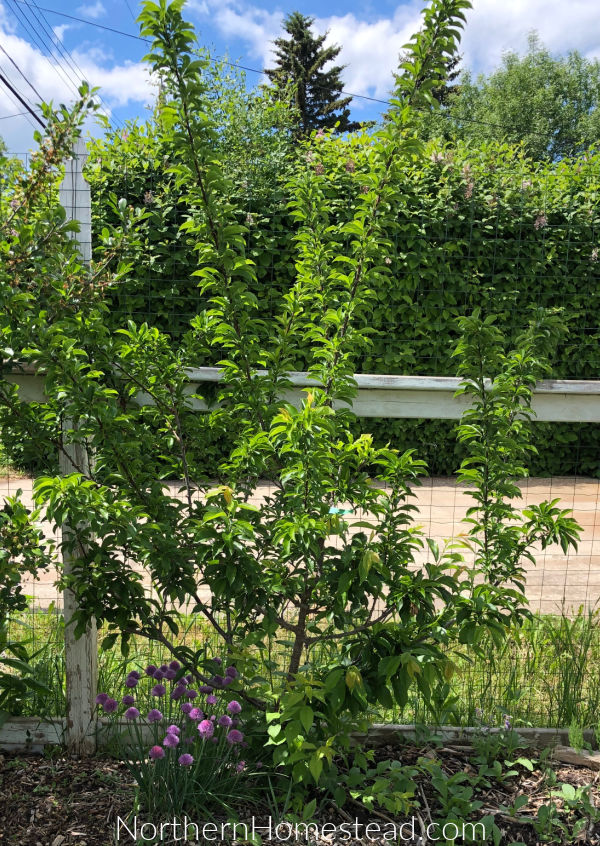 Over the years we have planted many fruit trees in our yard. The Ivanovka plum (see picture above) was planted in memory of my father. Ivanowka was the small town I grew up in, and plums were one of my father's best trees. Of course, this is a hardy plum tree, suited for our cold climate, not the same plums I grew up with. This brings us to the first subject in growing fruit trees in a cold climate.
What is a cold-hardy fruit tree?
Fruit trees, like all perennial plants, are categorized into what plant hardiness zone they thrive. "A hardiness zone is a geographic area defined to encompass a certain range of climatic conditions relevant to plant growth and survival." (Wikipedia) Find the zone you live in Canada or the USA. The zones will tell you on average how cold it can get where you live.
We live in zone 3A, our lowest temperature is -40 degrees. Whatever tree we plant in our garden has to be either hardy to -40 or colder. Or if it is not we have to find ways to protect it.
Pure numbers are not the only thing to consider. You know that -40 with wind can feel and be a lot colder than the same -40 degrees in a sheltered location. In town or forest (also inside a shelterbelt), it will always be warmer than in the open.
For example, if you are in Zone 3, and are looking to plant a tree in town, you should be safe with a zone 3 tree. If you are planting a tree in an open and exposed location, you are better off getting a tree that's hardy for zone 2 or 1. It will have better chances to survive.
Hardiness zones are not the same as frost-free days, however, both are important. To find your frost-free days follow the link for Canada and the USA.
In our region, it is around 106 days. This means that the time between flowering and harvesting should be around 106 days or from late May to early September.
For example, if a tree is hardy to zone 3 but ripens in mid-October, it will survive our cold winter, but we will not have any fruit from it. It simply needs a longer growing season.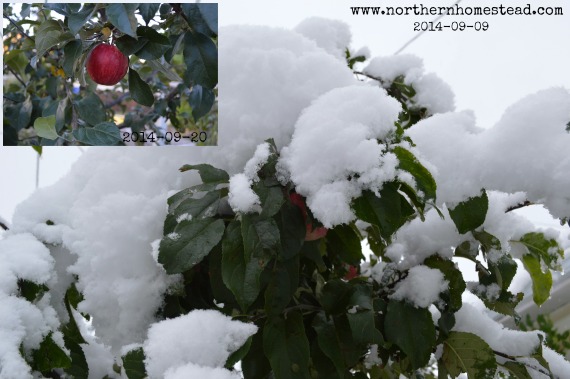 In our experience, very hardy trees can be more forgiving to frost than those that are not as hardy. For example, our Zone 1 apple tree handles some frost when flowering, while many trees lose the fruit if it happens to freeze during blossom time. And the fruit on the tree, after a -8C (17F) blizzard in September was still good.
Varieties of fruit trees for a cold climate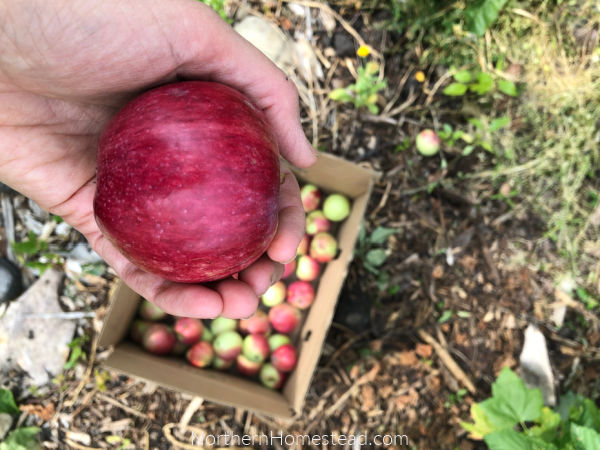 As more and more growers are interested in growing fruit trees in a cold climate, more and more varieties become available. Apples, apricots, cherries, pears, and plums are growing in our garden. Here we share our varieties that produce fruit, and a list of some that are not productive yet, or just ordered to be planted.
September Ruby (Zone 1) apple tree was here when we bought the house. We love the apples for apple sauce, yum.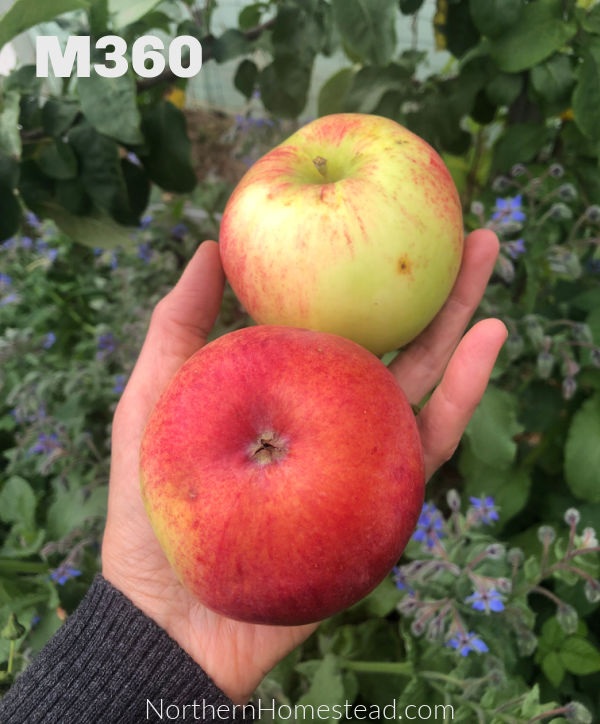 M360 is a local apple tree variety, and the grower that looks after preserving and propagating this wonderful hardy apple is right with us in our small town. If you are local and have an interest in it, please feel free to contact us for details. It is a great cooking apple and also stores well for months.
There are many more apple varieties that grow in a cold climate. Find any hardy nursery and it will usually have a long list of them. More about places to get hardy fruit trees later.
Apricots are one of my favorite fruits. We had planted a Capilano Apricot (Zone 3B) that did not make it. Maybe it's a blessing because we really do not have room for a tall heritage tree that it would become. So we planted a Manchurian (Zone 3A) instead.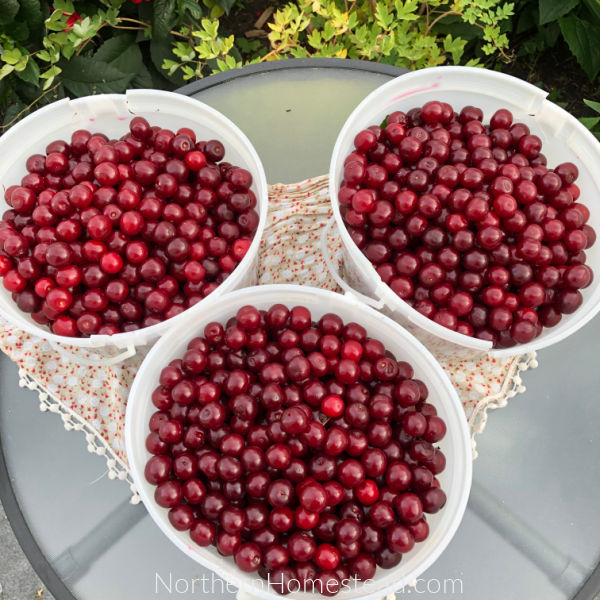 Cherries for a cold climate are usually sour cherries. We grow the Carmine Jewel Dwarf sour cherry. It's really just a bush, but very productive and makes the best cherry jam.
Evans cherry is another tree that died on us (a common thing in a cold climate). I was not overly sad, though, since I prefer Carmine Jewel. Evans cherry also suckers heavily and had some worm problems that Carmine Jewel never had.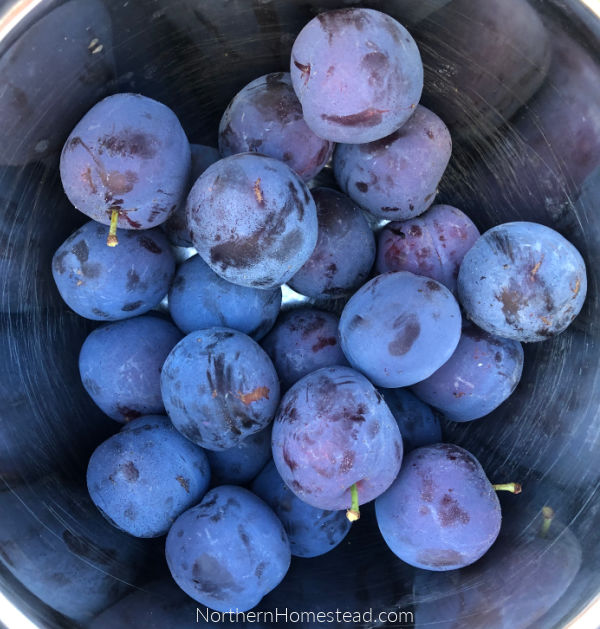 Mount Royal plum (Zone 4) is a delicious European plum. Being self-fertile, we already have had fruit from it. It is a delicate tree, we try to keep it snow-covered especially during very cold spells. The taste makes it all worth it though.
Pembina plum (Zone 2) and Ivanovka plum (Zone2), are the two other plum trees that we grow and which taught us a lot about pollination. In order to get fruit from them, we need a wild plum. So we got some grafting exercise and added 2 different wild plums, Fofonoff and Ptitsin #5 as grafts.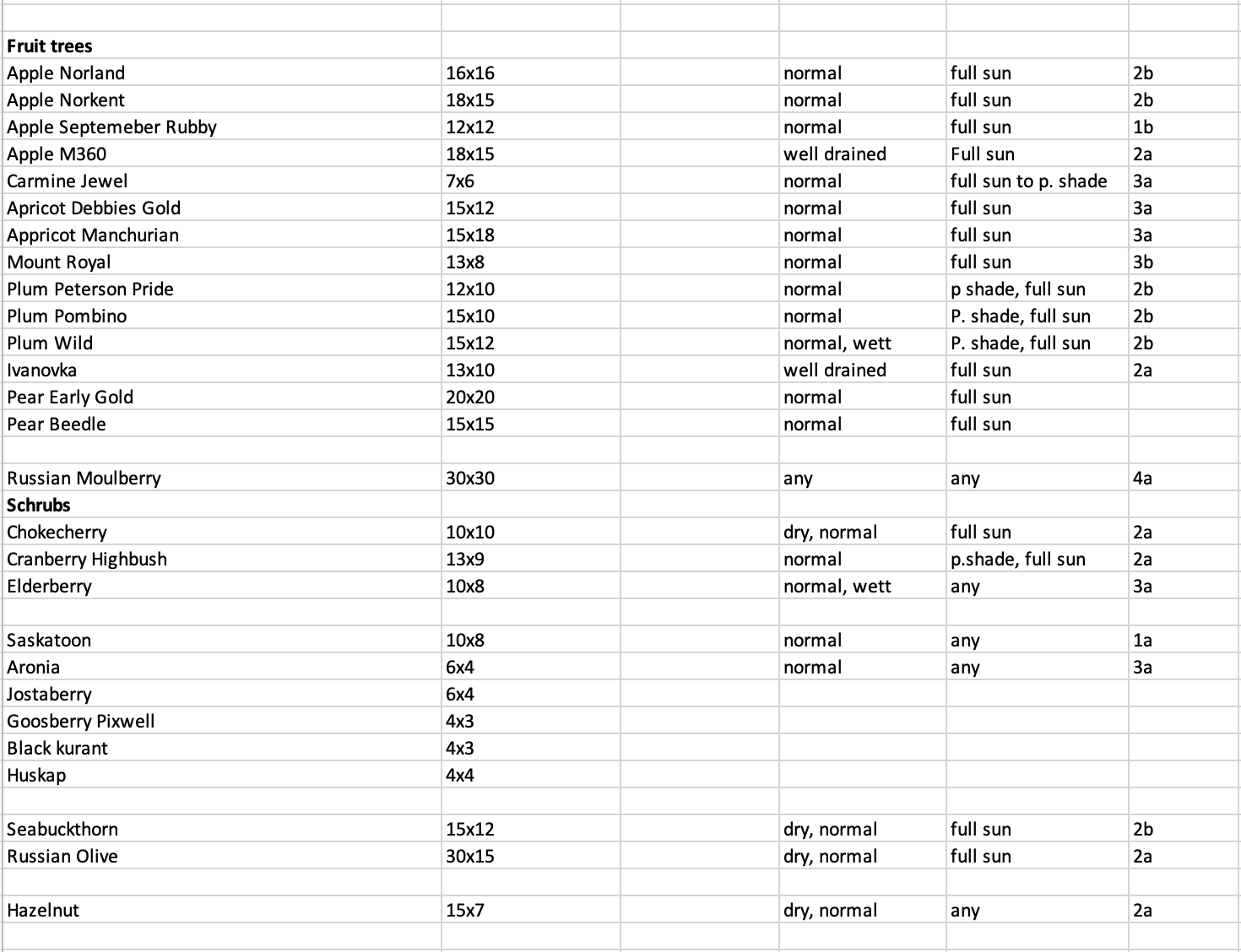 The varieties that we grow are just scratching the surface of what is available. The best way to find a variety is to find a nursery close to you.
Where to buy hardy fruit trees
If you are shopping for a hardy fruit tree, your best choice is a nursery close to you or in a climate similar to yours.
Prairie Hardy Nursery, Alberta. Our plum scions come from them.
Hardy Fruit Tree Nursery, Québec. They have lots of educational and informational material.
T&T Seeds, Manitoba. Many of our trees and shrubs come from them.
DNA Gardens, Alberta. We visited them.
TreeTime is a great source for bulk trees
Prairie gardens, Alberta
For trees, Alberta
Whiffletree, Ontarion
Local hobby growers are also great sources for hardy fruit trees. Many of our trees come from them. Being local, the trees have a better survival rate. Local groups of hobby growers or buy and sell groups are great places to search for. Here in Alberta, we have a Hardy Fruit and Nuts Facebook group that has a wealth of information.
Commercial big store greenhouses are also full of fruit trees. However, more often than not the trees are not grown in a cold climate and often are not even hardy. Be cautious.
Pollination of fruit trees
Fruit trees can be self-fertile – meaning the tree can pollinate itself, or self-sterile – meaning it needs a certain pollinator.
Through experience, we have learned that assuming that trees will somehow pollinate each other does not help. Even assuming that if you have 3 plum trees they will be fine did not help either.
Do your research before planting to see that the tree you plant has a pollinator available, or choose two that are suited for each other.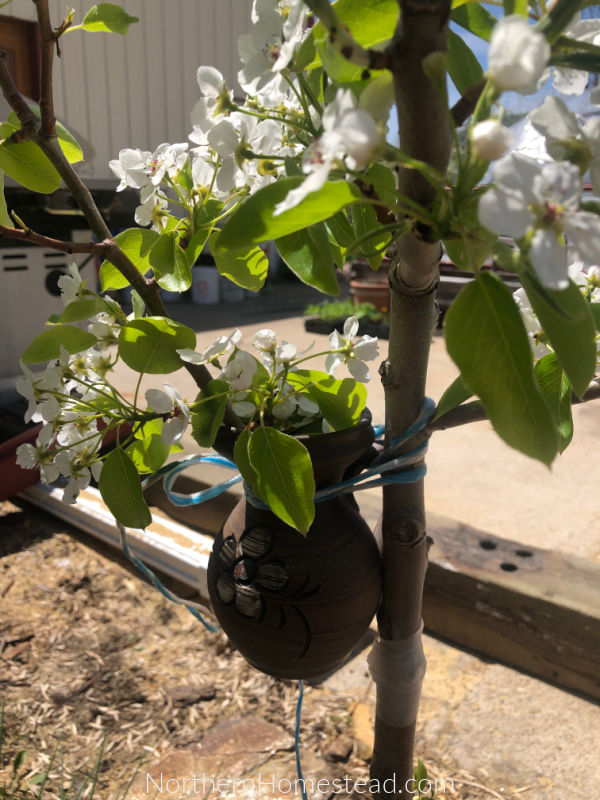 If you have no pollinator, and no room for another tree, there are two options to get pollination done anyways. One is to find a tree in your area that you need and ask for a flowering branch. Put that branch in water and hang it into the tree, the bees will find the flowers.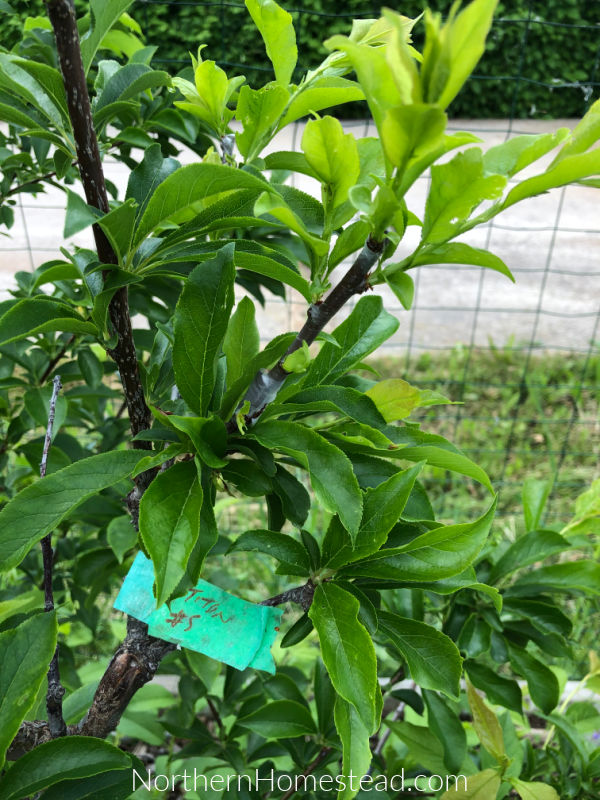 The second option is grafting. Grafting is a big subject for hardy fruit trees. In fact, most fruit trees for a cold climate are grafted to a hardy rootstock. This has enabled us to have so many different and yummy varieties that are not hardy in themselves but grafted to a hardy rootstock they can survive our winter.
Grafting is also a great hobby especially if space is limited and you need or want more variety. For pollination purposes, you often have to have a special variety. Instead of planting a tree, you can also graft on a scion. A grafted branch will also bear fruit sooner than a young tree would. A win-win.
Bare root VS potted trees
Young trees come in two different options, bare-root or already potted. It is not always a pot, sometimes it's just a bag or even a cage around the roots. Potted trees are often already mature and might even have flowers and fruit on them.
Bare root trees are often smaller than potted trees and have to be dormant to plant.
At first glance potted trees seem to be the winner of the race all the way. Who does not want to have a more mature tree? In our experience though, bare roots are hands down the better option.
Bare root trees if handled properly do not go through a transplanting chock. We will talk more about care in part 2.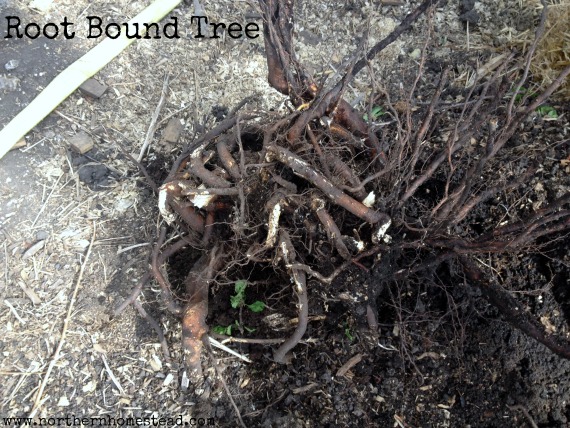 Trees, like any plants, can get root-bound. We had to take out one of our trees and were shocked to find it to be very root-bound (see picture). Most likely it was a potted tree. The roots had found their way to continue to grow after planting, but a healthy root looks differently. After that experience, and also seeing how much better bare-root trees adjust and grow, we would go for a bare-root tree any day before buying an often expensive potted tree.
So far for part one, read part two here. To read more you might want to check out Varieties of Berries for Zone 3.
What is your favorite cold hardy fruit tree?
We invite you to subscribe to Northern Homestead and follow us on Instagram, Facebook, or Pinterest for the latest updates.
More Trees and Shrub Articles You Might Enjoy: