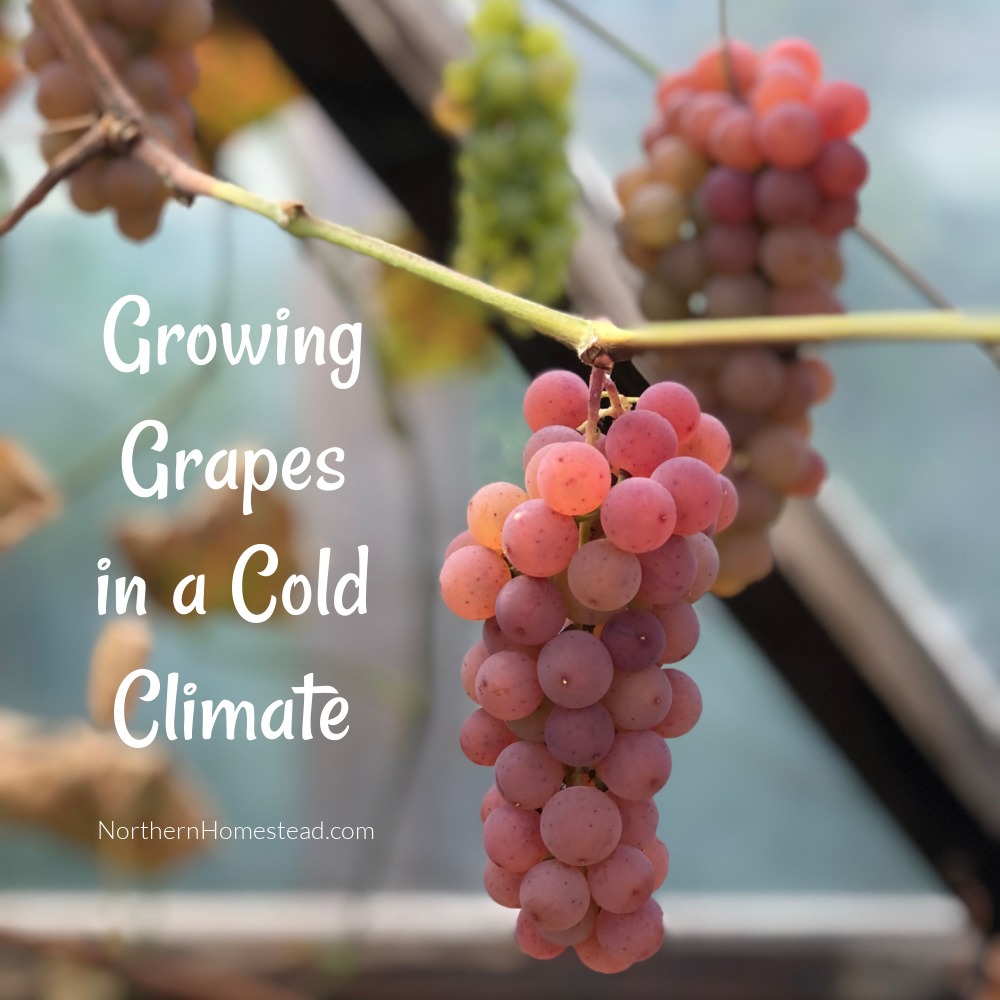 Growing grapes in a cold climate presents a unique set of challenges and rewards. While grapes are incredibly rewarding to grow—both for their delicious taste and the joy they bring to gardening—the varieties that can withstand the severe cold of our local climate are distinct from the types you'd find in places like California. Nevertheless, cold-hardy grapes are viable even in Zone 3, so let's delve into the nuances of this endeavor.
Varieties of cold hardy grapes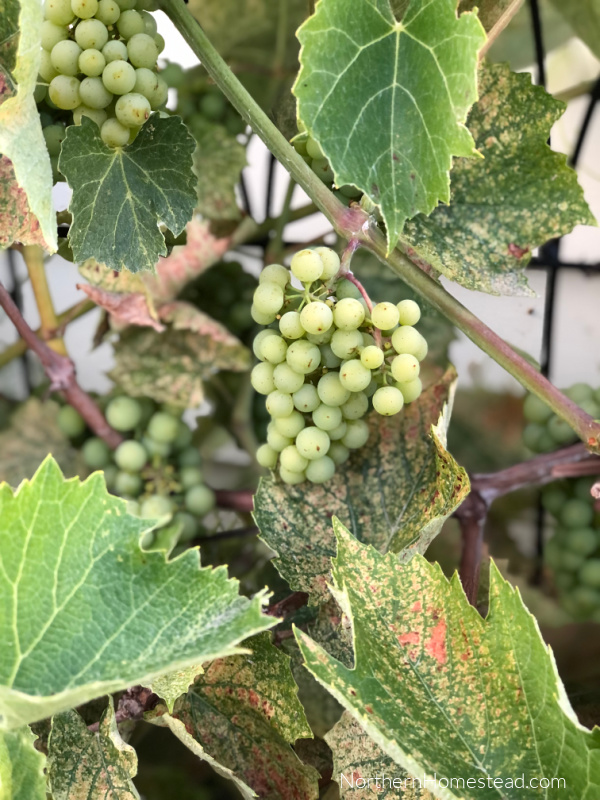 First and foremost, when considering the cultivation of grapes in a cold climate, it's crucial to select a variety that can handle your specific weather conditions. Some tried-and-true varieties have been passed down through generations; for instance, Steve from Alberta Urban Garden cultivates cold-hardy Frontenac and Concord grapes, which he inherited from his grandfather along with invaluable care tips.
We began our grape-growing journey with Valiant grapes, reputed for their remarkable cold-hardiness. Following that, we planted Somerset, another sturdy seedless variety that has won our hearts. Other varieties worth trying include Emerald Ice, Marquette, and Lois Swenson. You can find all these varieties at T&T Seeds, while Kay Gray Grape and Somerset are available through Prairie Hardy Nursery. Prairie Star grapevines are sold by Hardy Fruit Trees.
While these grapes are considered resilient, they still require a sunny spot and adequate winter protection.
Location for growing grapes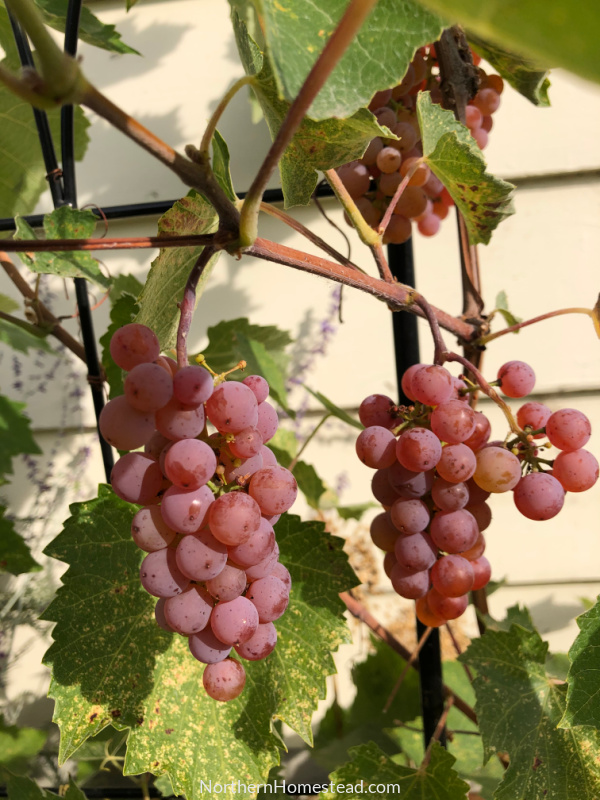 In cold climates, microclimates can be a game-changer. A sunny and warm location is ideal for grape cultivation. Grapes are quite adaptable to various soil types but thrive best in well-drained, loamy or sandy loam soil.
For optimal fruit production, grapes should be grown vertically, preferably on the south-facing side of a structure like a fence, shed, or even an arbor, lattice, or pergola. South-facing slopes can also be excellent locations, allowing the vines to be pruned close to the ground, where they benefit from the sun's heat and the warm soil.
Another option is growing grapes in a greenhouse. We have one vine in our geodesic dome, and those grapes tend to be slightly larger than the ones grown outdoors. If you go this route, plant the vine's root near the outer wall to capture moisture but allow the vine to grow into the greenhouse.
Pollination
Most grapevines are self-fertile, primarily wind-pollinated, but benefit from cross-pollination with different cultivars for increased fruit production.
Pruning Cold-Hardy Grapes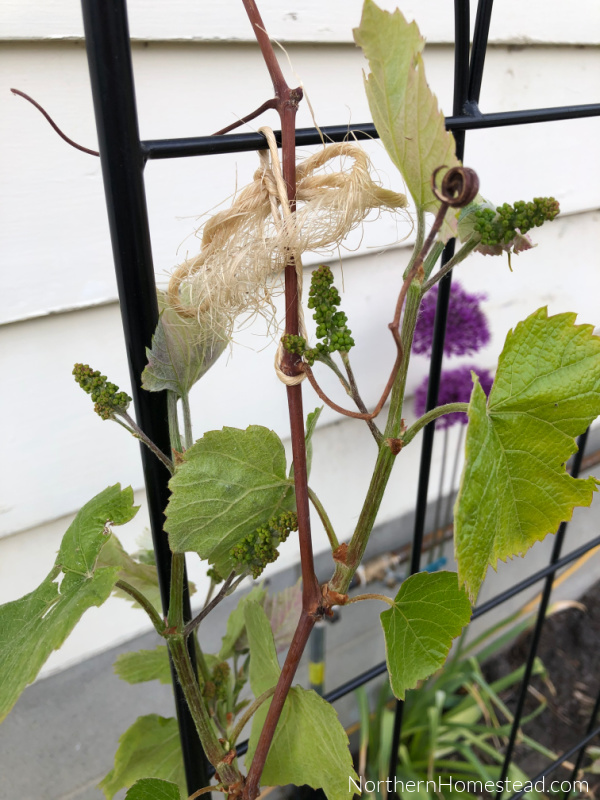 For optimal yield, it's imperative to prune grapevines properly each year, ideally during their dormant period in the fall or winter. Begin by identifying the strongest stem emerging from the ground as your main stem and remove any other shoots. On this primary stem, select two robust branches from each side. Use wires for support if necessary, choosing branches closest to the wire for easy support. Trim all other branches to about a half-inch from the stem and shorten each of the four primary branches to between the second and third buds.
Winter Protection
In late fall, after pruning but before the first hard frost, lay down the vines and cover them with leaves for insulation. We use plastic bags filled with leaves, which not only protect the vines during winter but also serve as excellent brown material for composting in the summer. Also, don't forget to water the plants before covering the plants as part of your winter preparation.
Leave the plants covered till all danger of hard frost is over. We usually also leave the vines on the ground till late May. This way they are warmer and set fruit earlier and it is also easier to cover should an unexpected late frost occur.
Propagation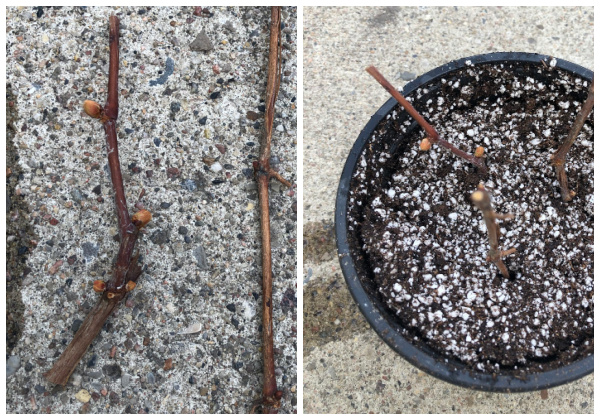 Grapes are easy to propagate. Leave a few branches that you would normally prune, so you can take cuttings in the spring. Choose a cutting with a few healthy bads. Insert the cuttings into moist soil and keep it watered; they will soon grow roots, giving you new plants to cultivate.
Harvesting and Enjoying the Fruit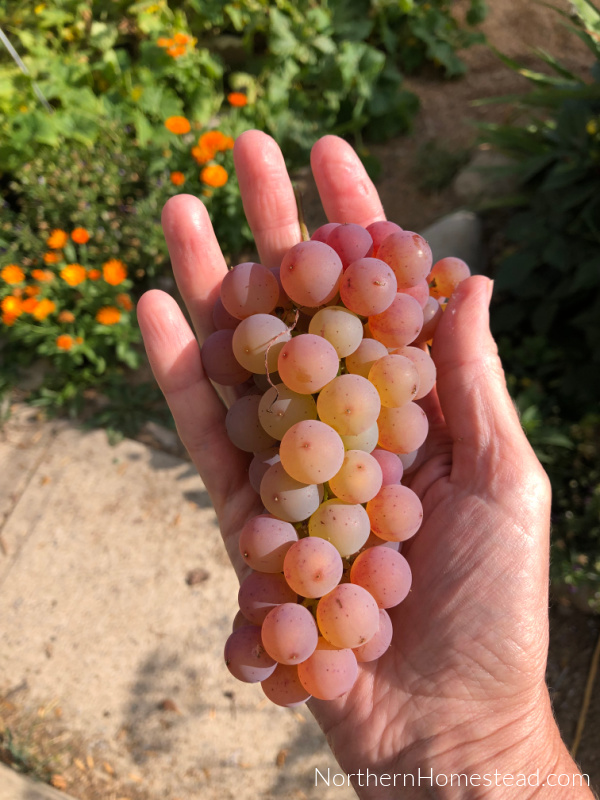 Cold-hardy grapes ripen from late summer through fall, becoming sweeter as they mature. Seedles somerset can be considered a table grape even though its fruit is smaller. Other varieties make excellent juices, wines, and jellies.
Troubleshooting
Maintaining healthy grapevines requires meticulous care. One common issue is powdery mildew, often resulting from overcrowded vines with poor air circulation. Thinning can mitigate this problem. However, avoid using herbicides, particularly 2-4-D, as even a small amount can distort the leaves. Fortunately, this does not seem to affect fruit production, and normal leaf growth usually resumes the following year.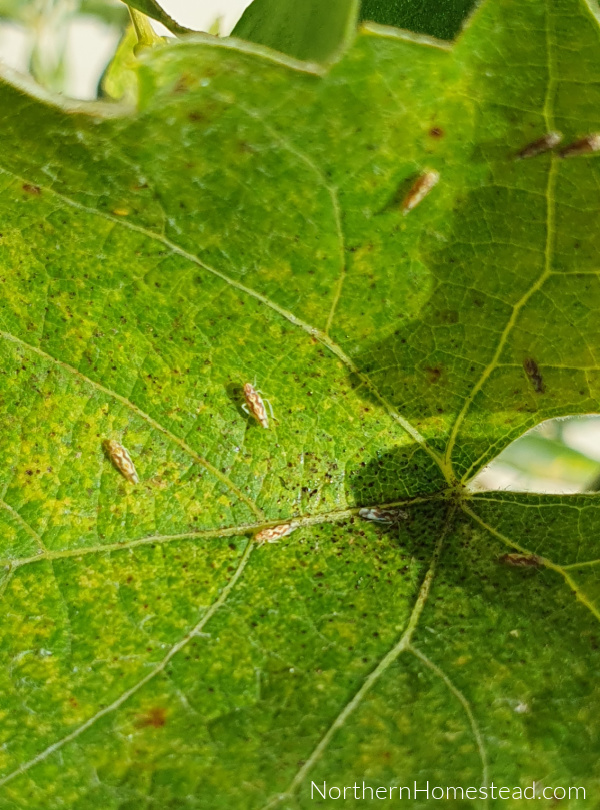 Another common issue grape growers in cold climates might encounter is the grape leafhopper. These small, agile insects feed on the leaves of grapevines, sucking out the plant's juices and leading to yellowing or "hopper burn." Left untreated, a severe infestation can lead to reduced grape yield and may even compromise the overall health of the vine.
Methods of Control
Monitoring
Regularly inspect the undersides of grape leaves for the presence of leafhoppers or their eggs. Early detection is crucial for effective control.
Chemical Control
Insecticides can be effective but should be used as a last resort, especially because they can also kill beneficial insects. If you decide to go this route, always read and follow the manufacturer's guidelines.
Natural Predators
Encourage natural predators like ladybugs and lacewings into your garden. These insects feed on grape leafhoppers and can help control minor infestations.
Organic Methods
Organic sprays containing ingredients like pyrethrum or neem oil can also be effective in controlling leafhoppers. Apply these sprays in the early morning or late afternoon to minimize harm to beneficial insects.
Cultural Practices
Maintaining proper spacing between vines improves air circulation and makes it less hospitable for leafhoppers. Additionally, remove any weeds or debris around your vines, as these can serve as hiding spots for leafhoppers.
By incorporating these strategies, you can mitigate the impact of grape leafhoppers and ensure a healthier, more productive grapevine. Monitoring and early intervention are key to keeping these pests in check, ensuring that you can continue to enjoy the joys and rewards of grape growing, even in challenging cold climates.
Grow yourself some grapes!
We invite you to subscribe to Northern Homestead and follow us on Instagram, Facebook, or Pinterest for the latest updates.
More Trees and Shrub Articles You Might Enjoy: