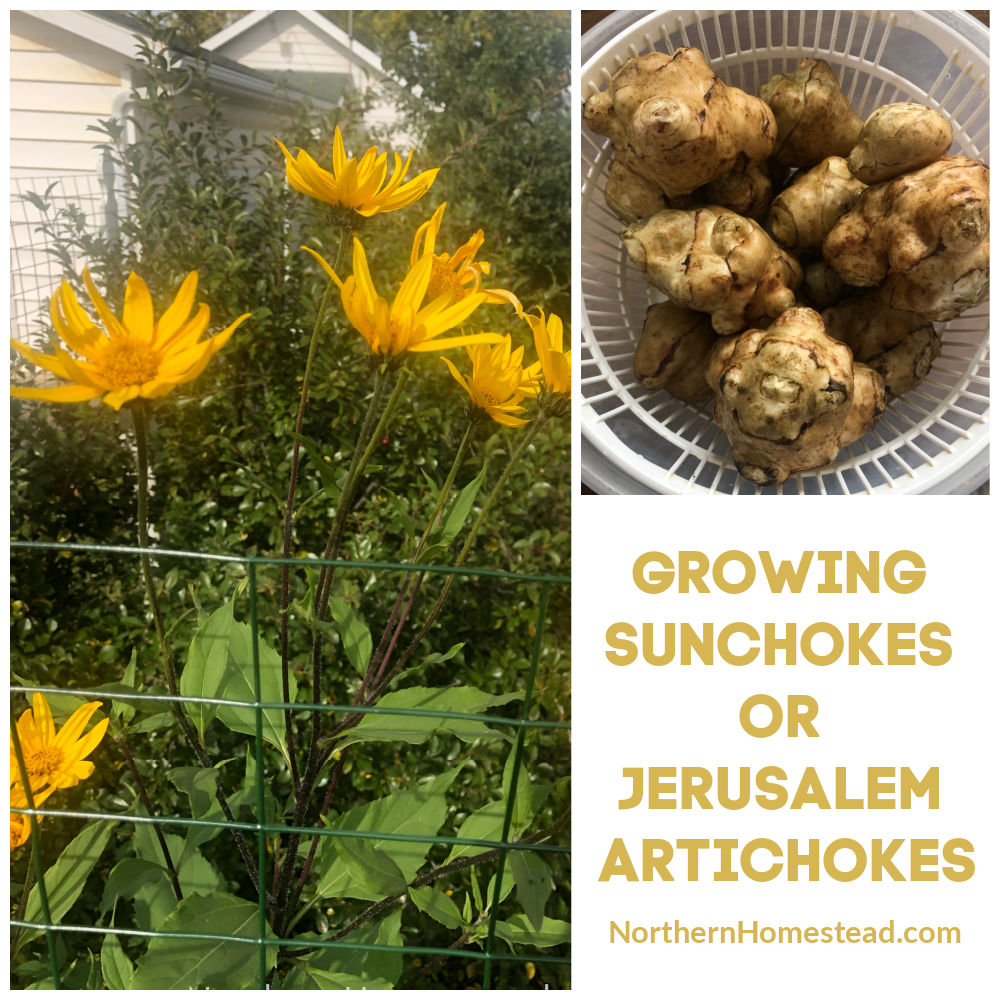 Sunchokes or also known as Jerusalem Artichokes have a mixed reputation among gardeners. There are those that say Jerusalem Artichokes will always feed you and those that would never grow them in a food production garden. Let's take a closer look into growing Sunchokes or Jerusalem Artichokes, the how and why, also some recipe ideas.
What are Sunchokes or Jerusalem Artichokes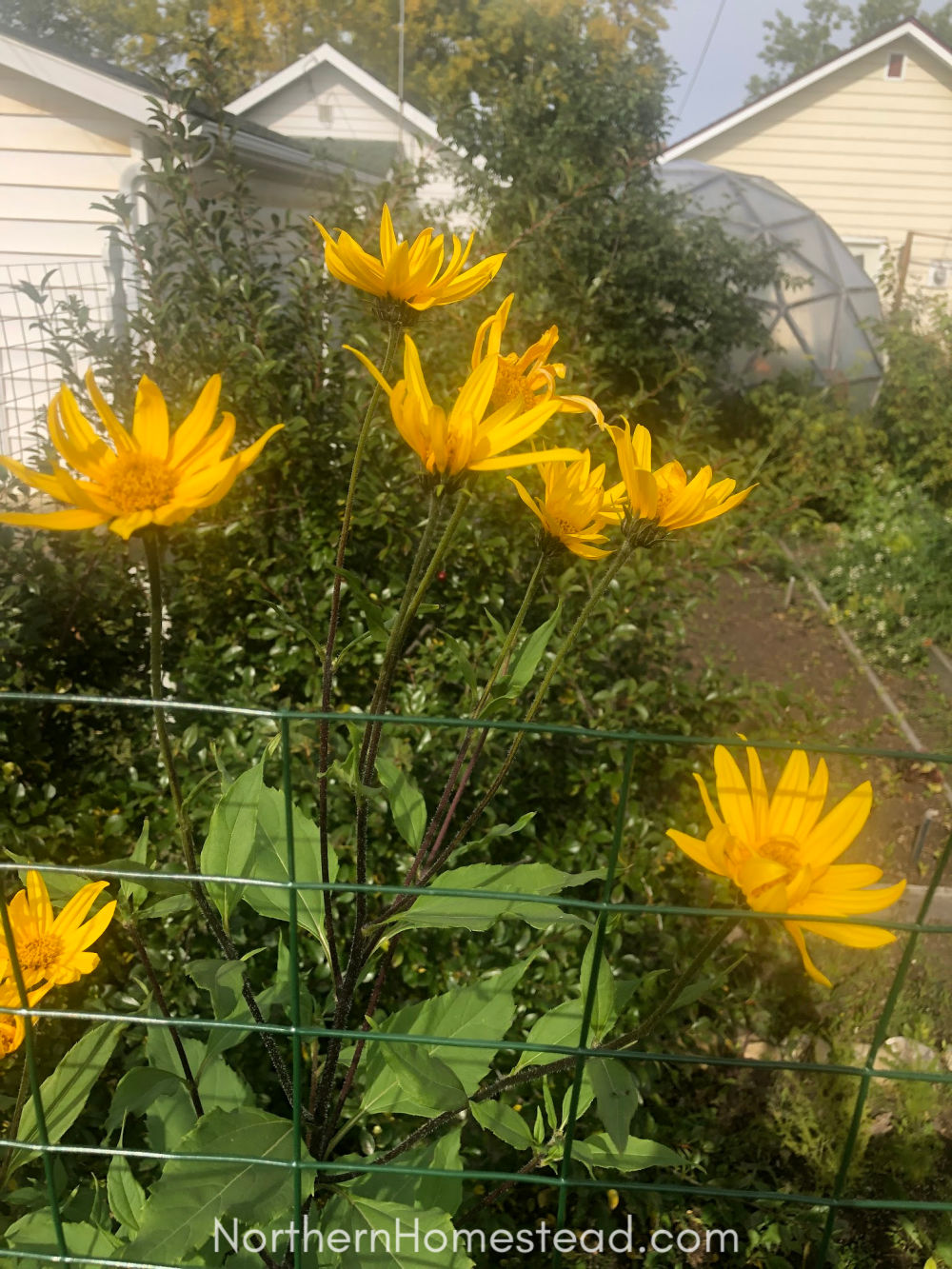 Sunchokes have nothing to do with Jerusalem, nor with Artichokes that's why I prefer to call them Sunchokes. The botanical name is Helianthus tuberosus. They are from the Sunflower family but produce tubers much like potatoes.
The plants get 6-10 feet tall, depending on the variety and flower much like little sunflowers.
Sunchokes are a perennial plant, hardy to Zone 3.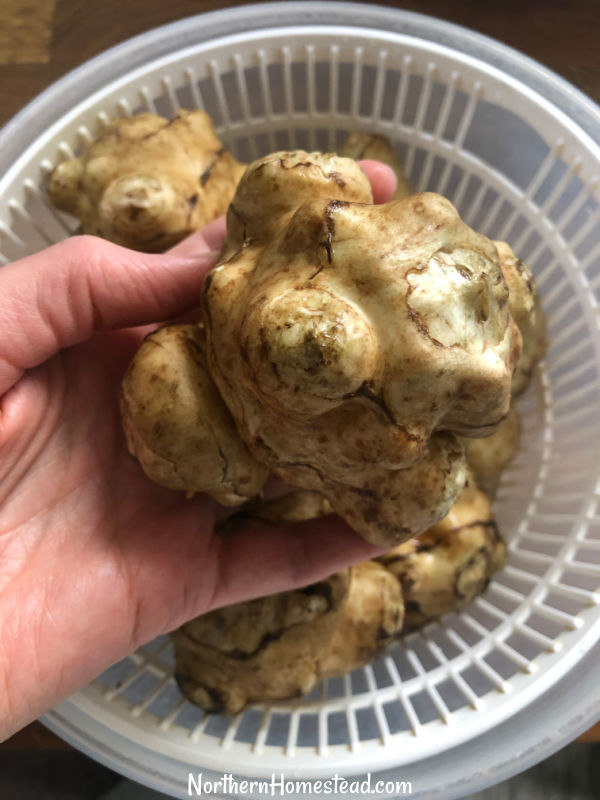 The tubers are edible if you harvest them every year. Old tubers are hard.
Planting Sunchokes
There are different varieties of sunchokes. I would suggest finding someone who grows them in your area, or at your local farmers market and plant those you like the taste of. Also, some greenhouses carry them. In Canada for example T&T Seeds. They have the white variety. There is also a red variety, Walkerlands are growing them (Picture credit).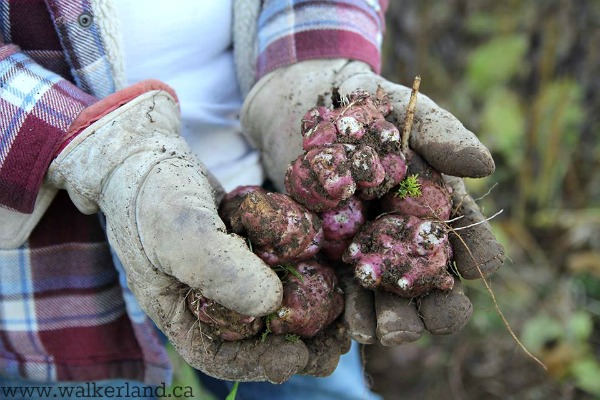 Sunchokes are planted like potatoes by tubers. You can plant them in the fall before the ground freezes or in early spring as soon as the ground is workable.
Plant sunchokes 12 to 18 inches apart, 4 to 6 inches deep.
Sunchokes prefer full sun and loose, well-drained soil.
Personally, we grow sunchokes along fences in different spots of our perennial garden. They serve a triple purpose for us: a privacy screen, a flower, and an edible tuber that we can harvest in late fall or early spring before anything else is ready.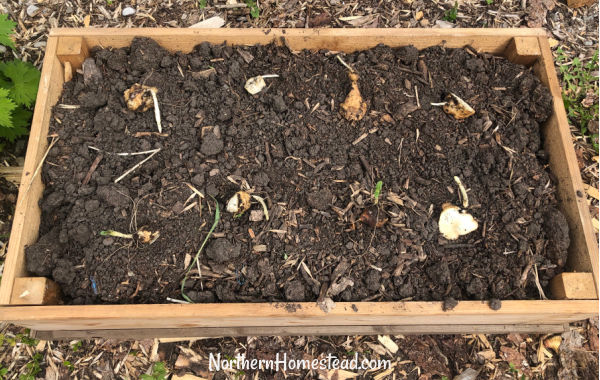 Spring planting can also be done by planting just a piece with a growing eye on it. Here I did an experiment, I actually dug up a tuber that was planted a few weeks prior and divided it. All of them grew and produced, which leads us to the next topic.
Sunchokes are invasive.
Sunchokes will grow and multiply from the smallest piece left in the ground. Choose a side for sunchokes where they can spread a bit but not overtake your vegetable garden.
If in doubt use a raised bed with a chicken wire bottom. The chicken wire stops the plants from running away. A simple raised bed will not hold them. However, you can dig up those that come up outside the raised bed and either use them in the kitchen or share with other gardeners.
Caring for sunchokes during the summer
In our garden, the sunchokes don't get much care. However, in a windy location, the tall plants might need some support.
Sunchokes are drought-tolerant but will produce better with a regular water supply. Personally, we mulch them, to retain moisture, and water only the raised bed as needed.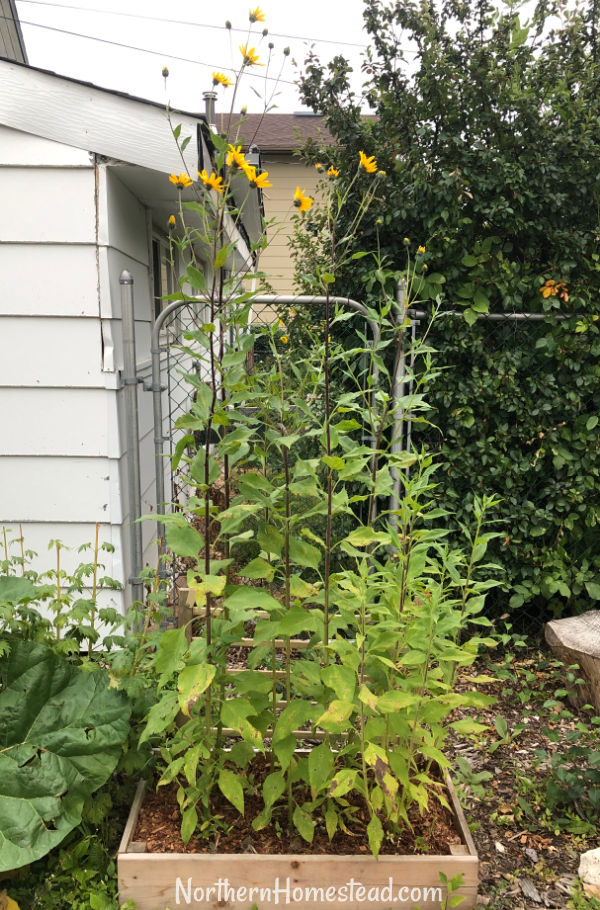 The flowers at the end of the summer are quite showy. We enjoy them till the frost kills them off.
After the frost kills the flowers, cut the plant back to about 2 feet (0.61 m). Leave for another 2 weeks to harden the skin. You can harvest them all in the fall, or leave some in the ground for spring harvest.
Harvesting Sunchokes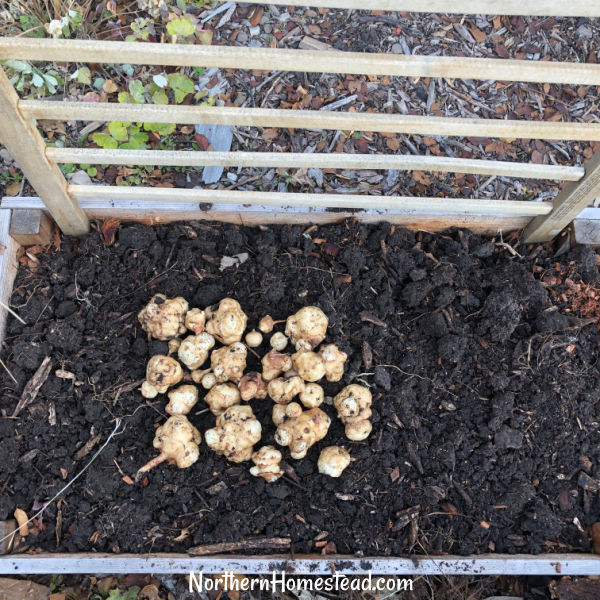 Sunchokes taste best after they get some real frost, it seems that they are also better digestible then. They can also be left in the ground till early spring, however, if you have moles or mice, the harvest might be partly gone by then.
In our Zone 3 climate, we have found that harvesting them in late fall is best. We wait till the ground is frozen, but still workable to dig them out.
For harvesting use a spading fork and gently lift the soil. Make sure to catch all the tubers, those that are trying to run away too. Not sure though if that is possible, there always seem to be some that are overlooked and will only show next spring.
You can not cure and store sunchokes like you would potatoes. The thin skin dries very quickly.
Sunchokes will keep in a bag or container in the fridge for about 10 days. We have stored them in the cold room, buried in peat moss or sand. This way they store for a few weeks.
Mostly however we freeze them.
Using sunchoke tubers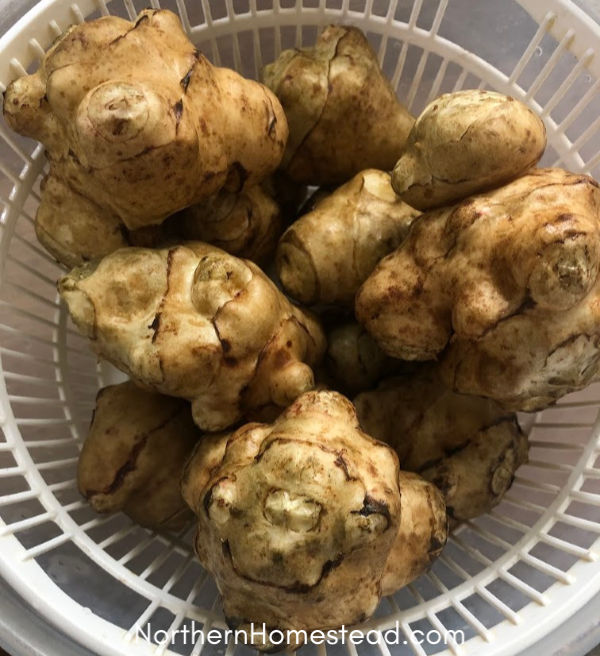 When ready to use, scrub the tubers well, now they are ready to eat.
They can be eaten raw, cooked, baked, and fermented.
Sunchokes have a reputation to produce gas because they are high in soluble fiber (inulin). There are some options that may help with that.
– Boiling in lemon or vinegar seems to help. I have not tried it, the taste is said to change, so I wasn't sure if we wanted it.
– Fermenting is also said to help, if you like fermented food that's an option.
– Another suggestion is to slice them up for a recipe, then soak overnight in saltwater (2 quarts of water 1 teaspoon salt). Then rinse, cover with fresh water and bring to a boil. Now pour out the water and use the sunchokes as you would fresh. They just will need a bit less time to cook. This is also a great way to freeze them. The boiling is like blanching.
– Herbs like savory, bay leaf, and cumin can be used to help with digestion.
What do Sunchokes or Jerusalem Artichokes taste like? Some compare them to a water chestnut or jicama, since I don't recall ever having any of those, I would not be able to tell. I do find the taste unique though, not really comparable to anything else.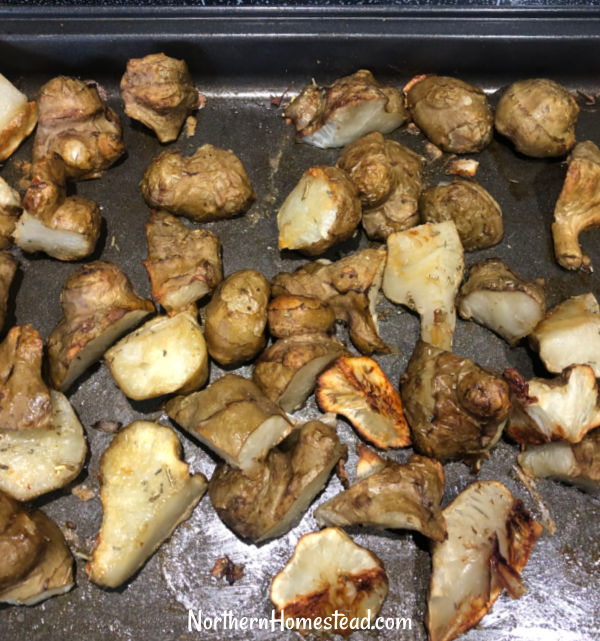 They are so tasty baked with some olive oil for 30-40 minutes. It is best to add them to a vegetable tray as part of a meal, not a whole side dish. Remember, they can produce a lot of gas. Combined with other root vegetables like beets, carrots, or potatoes, they make a yummy addition.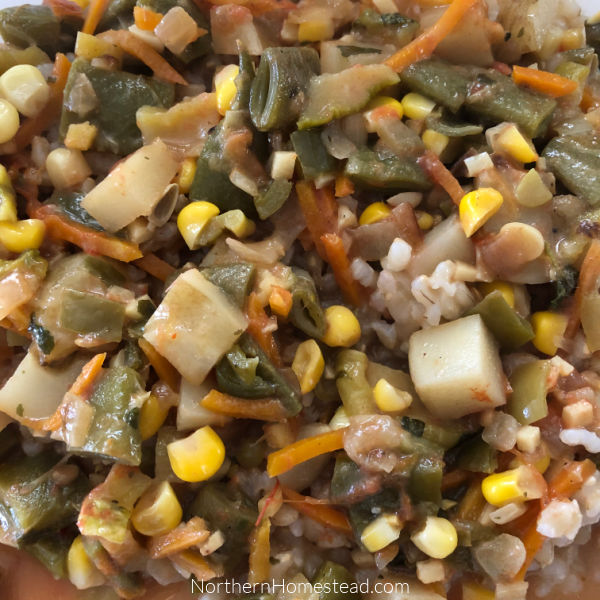 Sunchokes are also very delicious in vegetable curries, soups, and stews. A little goes a long way. We love the taste and look forward to enjoying them. I just add a tuber or two to a favorite recipe.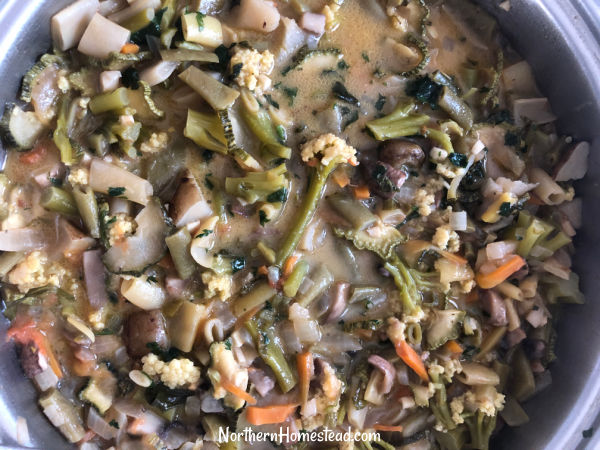 Sunchokes can also be fermented. The Fermented Vegetables book has a recipe for that. Or just make your own creation, fermenting is simple.
Do you grow Sunchokes or Jerusalem Artichokes? What is your favorite way to use them?
If you like this post don't forget to subscribe to Northern Homestead and follow us on Instagram, Facebook, or Pinterest for the latest updates.
More Growing Food Posts You Might Enjoy: