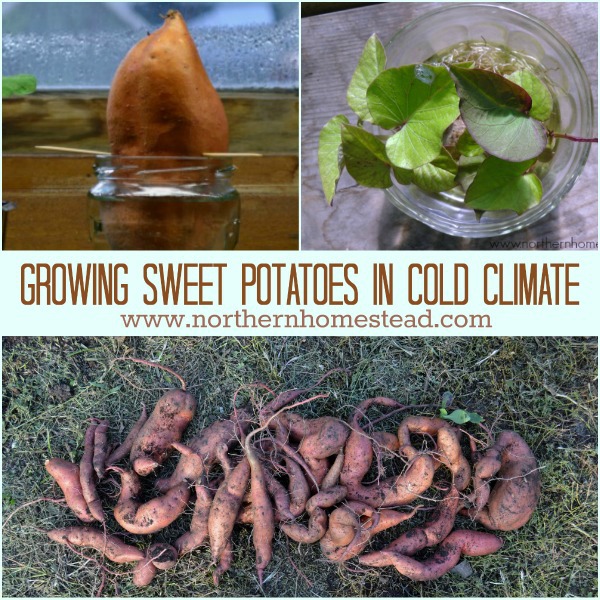 Sweet potatoes are a heat-loving summer crop. They are not suited for the northern climate, nor a short growing season. Here at Northern Homestead, we are dealing with both.
But sweet potatoes are tasty and so good for you. We love them baked with some homemade sour cream, yum.
So why not try to grow them anyway? After what I consider a successful harvest, it is time to update this post. The picture below shows one of our attempts to grow sweet potatoes – looks promising to become more, doesn't it? It did, keep on reading.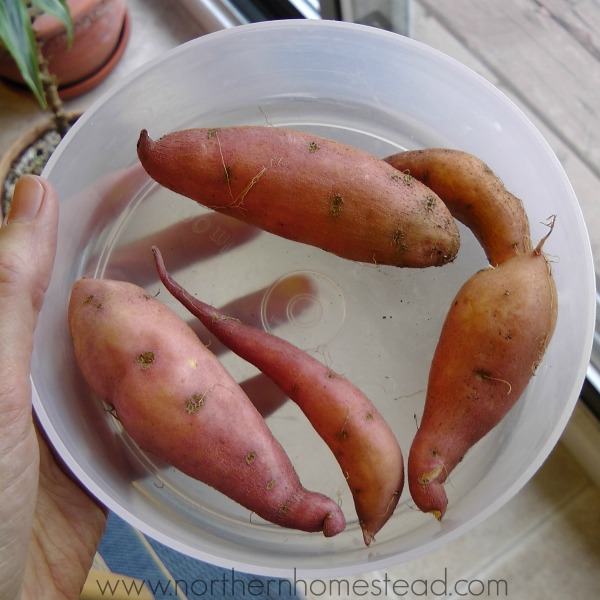 One winter day we started talking about sweet potatoes in our local gardening group. I quickly learned that I wasn't the only one that wants to grow them in our cool climate.
Just a side note, those local gardening groups on facebook are so valuable, if you don't have one, start one! You will be glad you did. No one knows better how to grow than experienced gardeners in your area.
Back to sweet potatoes.
What sweet potato variety to grow
Sweet potatoes are not potatoes at all. Potatoes are from the nightshade family, sweet potatoes are from the morning glory family. There are many sweet potato varieties, but to my knowledge for short growing seasons, you can only get one.
T&T seeds offer Covington, an improved early variety that will mature in short season areas with proper care. It has bright orange flesh with beautiful, deep rose-colored skin.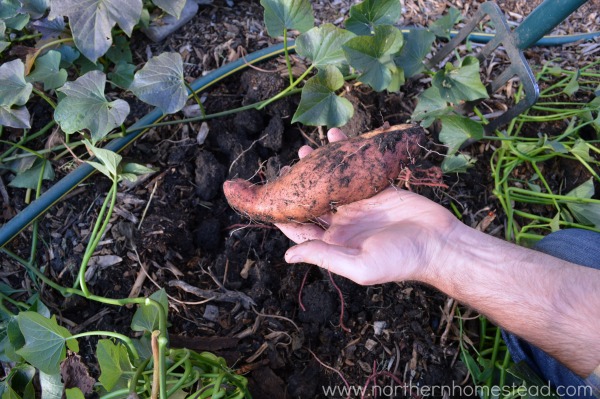 I also tried a store bought organic sweet potato. I have no name for it since stores do not tell us what variety it is. However, the Covington sweet potatoes taste really good and are suited for a cold climate. It is worth it to start with them so you have potatoes to grow next year's slips.
Where to get a sweet potato slip
Sweet potatoes are grown by slips that look very much like a seedling. Slips are grown from a mature sweet potato. You can order slips from a seed company (see above) or grow your own.
The challenge with ordering sweet potato slips from a seed company is that they ship late in the season, here in Canada in June. This is due to the sweet potato slips being extremely cold and frost sensitive, and the fact that they need to grow to a certain size before they can be shipped.
Once arrived in the mail they will often look wilted and should be placed in water to root for 4 to 5 days or be rooted in a soiled mix for 7 to 10 days. Once the plants have begun to root they can be planted outside. If you do the math, June has almost passed by now and there are less than 90 frost-free days left.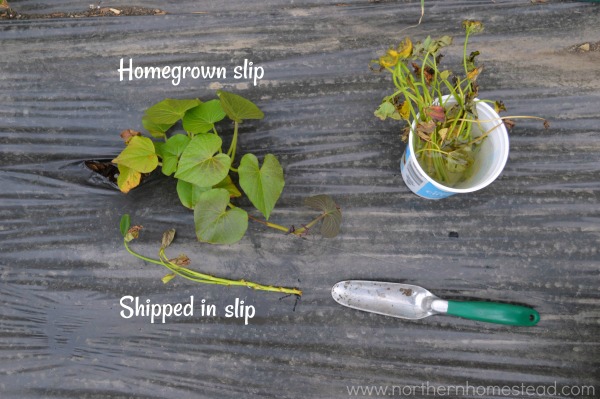 Growing your own has the advantage that you can start earlier and the slips will not have to go through a shipping shock. See picture comparison above in early June. The homegrown slips were planted according to the weather a bit earlier and are healthy plants, while the shipped in slips just arrived and are struggling to survive.
How to grow sweet potato slips
Growing your own sweet potato slips is way better than ordering them in. Plus, it is easy to do. If you have grown sweet potatoes before, save a few for seedlings. Or find an organic sweet potato you like in your local store. You will have to start growing the slips at least 3 months before you want to plant them. Late January to early February is a good time if you want to have seedlings, not just slips, at the end of May. Our growing season is very short, the only way to prolong it is up front.
The traditional way to grow sweet potato slips is to wash the sweet potato and place half of it in water, holding it above the water with some toothpicks. It kind of looks cool that way, too.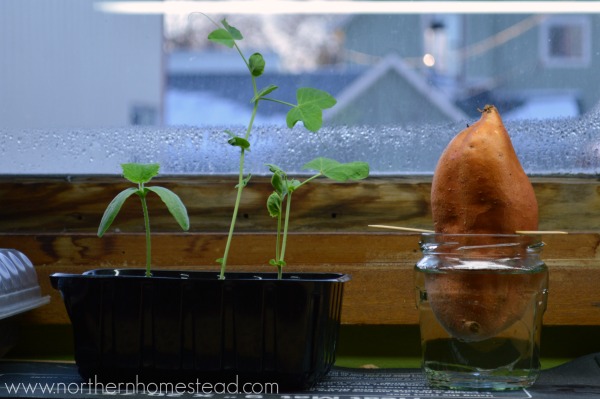 Now place the potato in a sunny window and/or under a grow light and let it grow slips till they are at least 6 inches long.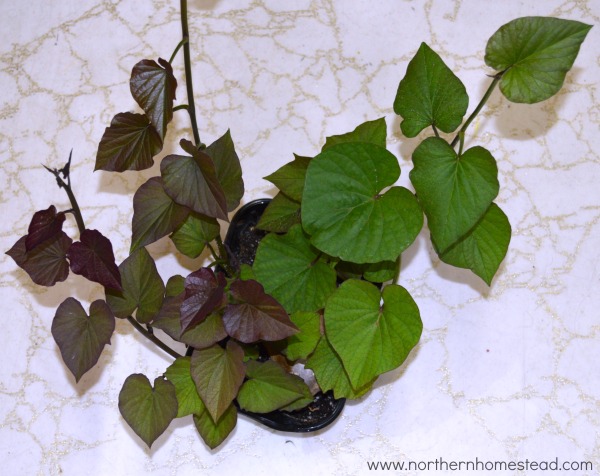 I found though that the slips grew better by laying the potato down in a tray filled with soil. I used a container without draining holes so I could water the sweet potato thoroughly. I think the very wet soil was warmer than just a glass of water, therefore the slips grew better.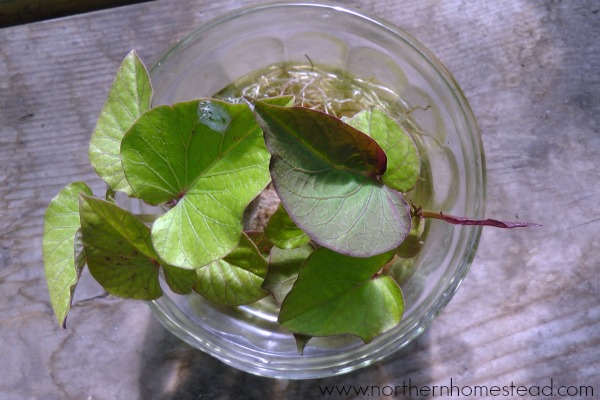 Once the slips are grown, take them off of the potato and place them in their own jar of water till they grow nice and healthy roots. Now they are ready to be planted.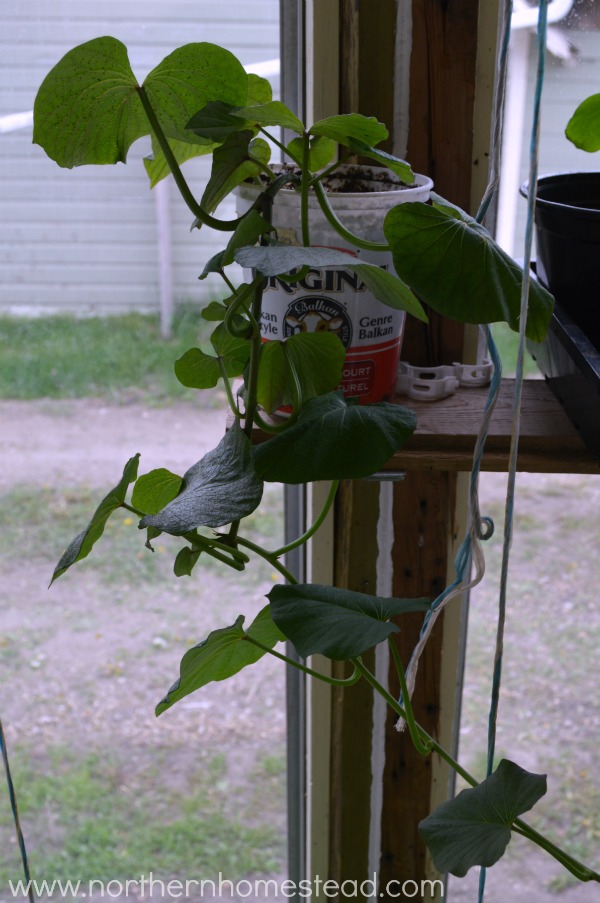 If you really want a head start on the short growing season, plant the rooted slips into a  container to become a healthy plant seedling to be transplanted into the ground as soon as the weather warms up.
Planting sweet potatoes in containers
Sweet potatoes are heat loving plants. A container has the advantage that it will warm up the soil better. If you want to grow sweet potatoes in a container, plant the rooted slip into a pot or grow bag big enough to grow nice tubers. A small pot will not do.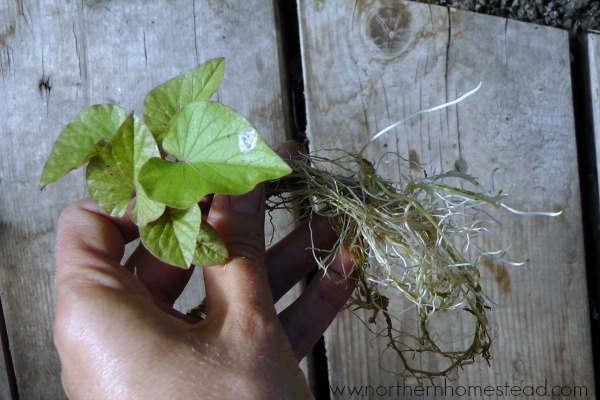 Sweet potatoes also like loose, well-drained soil. You can use good potting soil and add some more compost to it for nutrients, or mix your own soil the Square Foot Garden way: 1/3 compost, 1/3 vermiculite, 1/3 peat moss.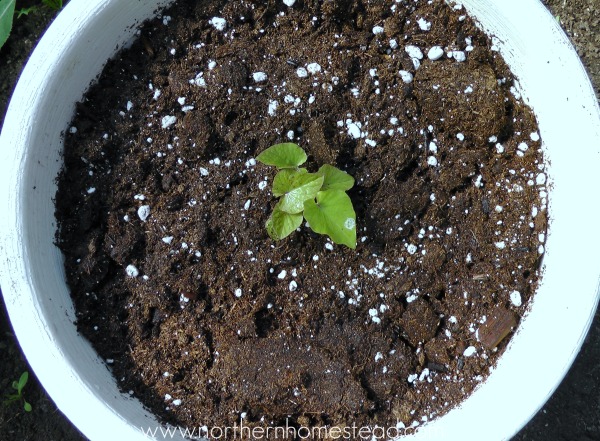 If grown in a container, give the plant enough room to grow. My first trial pot was too small (see picture above). Also, check out the grow bags that are always better for container growing.
How to plant sweet potatoes in the ground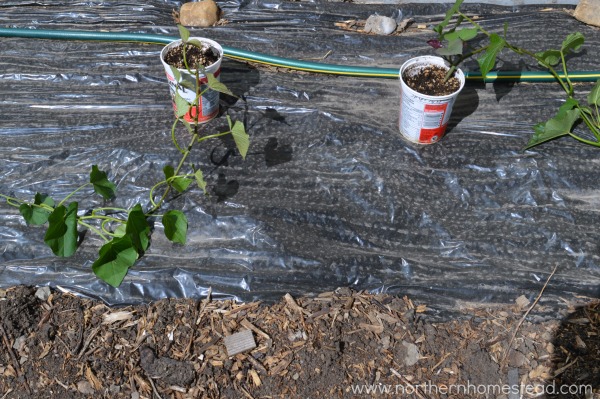 If you have a sheltered, warm location in your garden, plant the sweet potatoes directly into the ground. After trying a container, a grow bag, and the open ground, we found that we had far better results planting directly into the ground.  As recommended, we planted the seedlings through black plastic mulch that I had covered the soil prior to planting to warm it up.
The soil has to be nice and loose. If you have heavy clay soil, add lots of good compost. For next year's crop, we plan to build a raised bed. Raised beds warm up better and it is easy to have nice loose soil in them.
Give the sweet potato plant protection
Sweet potatoes love the heat of summer and do not tolerate any frost. The warmer, the better the harvest will be. In our area, heat-loving plants will need help.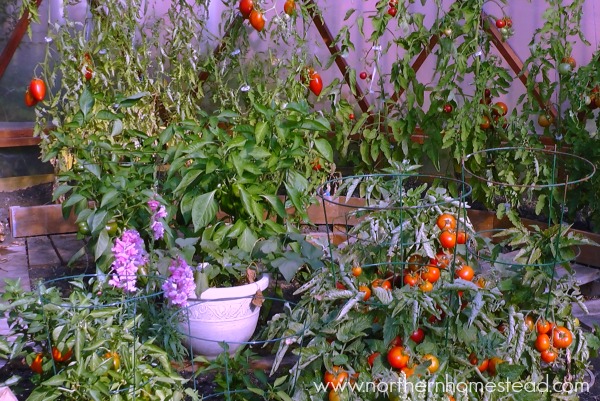 If you have a greenhouse, you can grow the sweet potatoes in there. My first try was enjoying the warmth next to tomatoes and peppers.
If you don't have a greenhouse you can build a mini greenhouse or hoops for the plants. This is very important in the spring while plants are still young.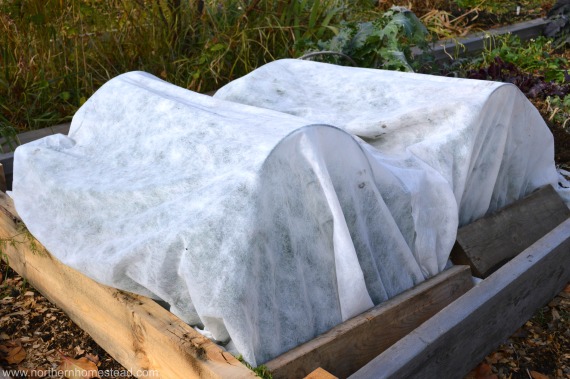 Give the plants as much protection as you can outdoors. I like the Plant Protection Blanket
; it is lightweight and can be left on for days, as the weather permits. You can cover a whole bed with it, or wrap individual plants.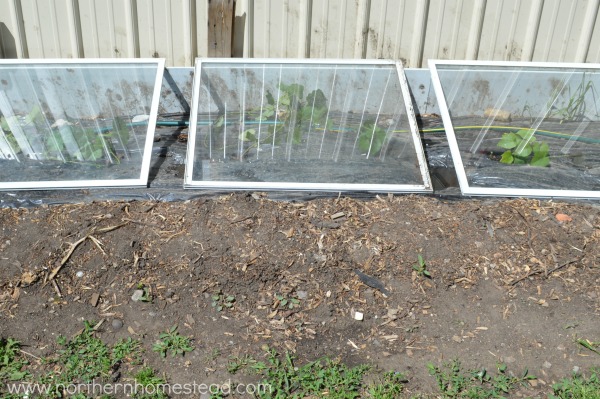 Or create a wind barrier out of recycled windows. Anything that will give the plants more heat works.
Harvest sweet potatoes
Sweet potatoes are ready to harvest when the leaves start to turn yellow. However, in our area, it is more likely that the weather will get cold. You can leave them till a light frost, but harvest before a hard frost.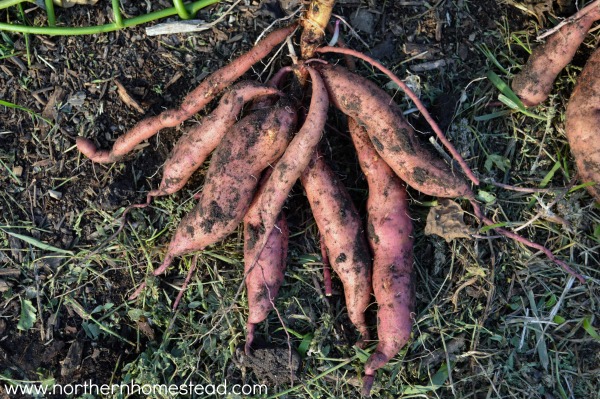 If you grew sweet potatoes in a pot, just simply empty out the pot and gather all the sweet potatoes. If grown in soil, gently dig them like you would potatoes. However, sweet potatoes are more delicate than white potatoes. They break easily and the skin at harvesting time is very thin. You might want to use a hand tool instead of a fork.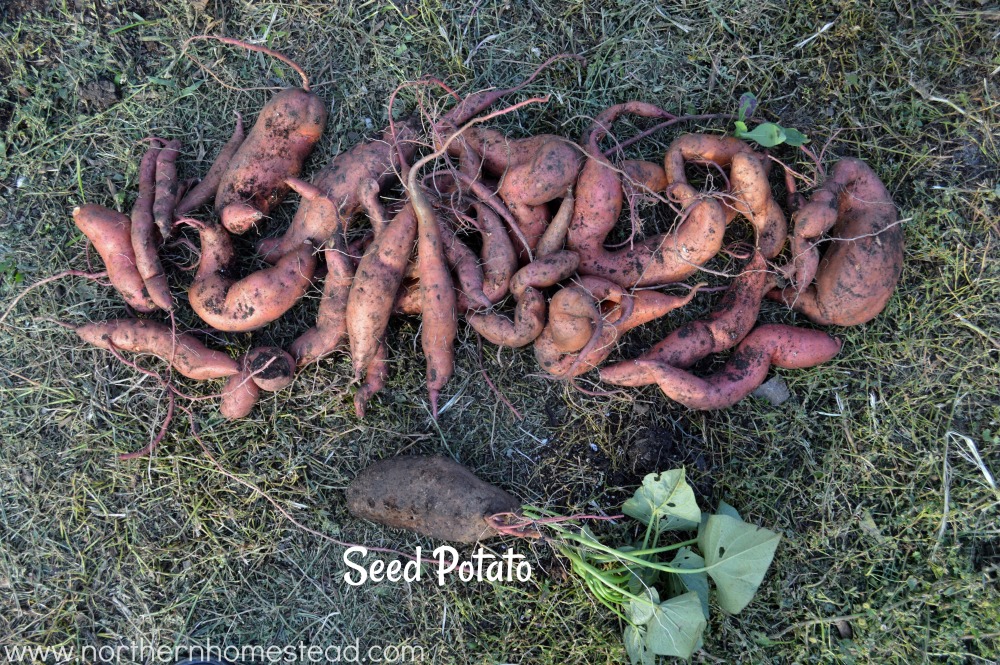 Here is the harvest from the one store-bought seed potato that we grew 4 seedlings from. Note, we also planted the seed potato itself, but it had no potatoes.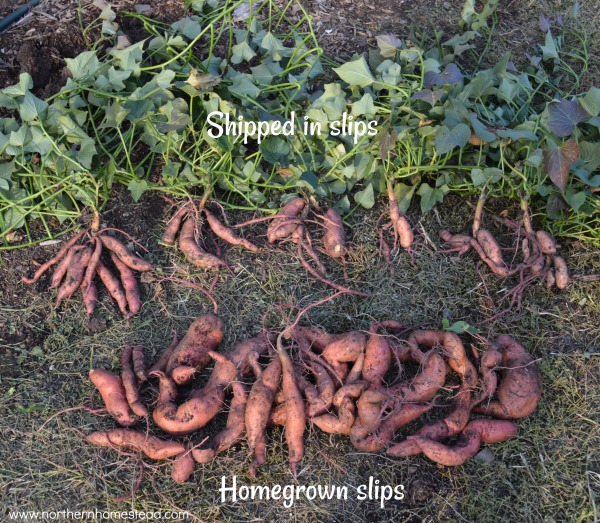 Here is a harvest comparison picture of the potatoes grown from homegrown slips vs shipped in slips. 6 slips from the order of 10 became plants and all had some potatoes.
Note, these were planted as slips, not seedlings, and also much later than my homegrown seedlings. I'm very happy with the result. It has given me enough to try them and they are delicious. Also, we got good seed potatoes for next year's growth.
Curing and storing sweet potatoes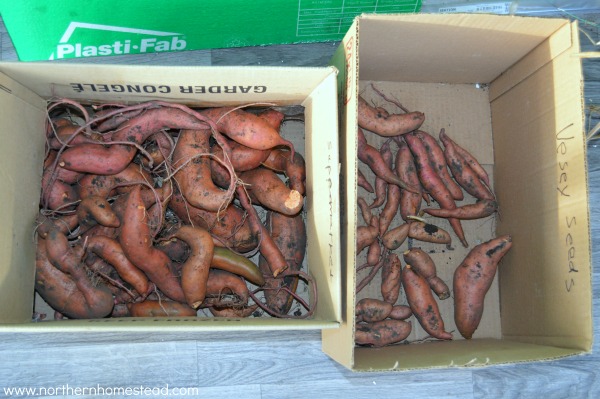 Sweet potatoes are not ready to be eaten just yet. After harvest, they need to be cured and rest for 8 weeks. After that, they will taste great and also store well.
How to cure? The ideal condition to cure sweet potatoes is a 29C (85F) degree room with 85% humidity. What? I don't have that!
Amy at tenthacrefarm has had an easy solution for years now: take plastic grocery bags, punch some holes in them, and fill them with sweet potatoes enough so that there is just one layer of them in each bag. Tie the bags closed and put them in your sunniest, warmest window. Leave it for 10 days. If it gets chilly and your windows are drafty, put a blanket or towel over them when the sun isn't shining.
After that, store them at temperatures around 12-15C (55 – 60F), with no light, and at around 60% humidity. You can wrap them individually, or just layer them in newspapers.
After the curing and resting period, they will taste sweeter and have a hard skin to store well for many months.
Have you grown sweet potatoes in a cold climate successfully? Please share your know-how with us. If you haven't, maybe you want to start the adventure today!
We invite you to subscribe to Northern Homestead and follow us on Instagram, Facebook or Pinterest for the latest updates.
More Gardening Posts You Might Enjoy: