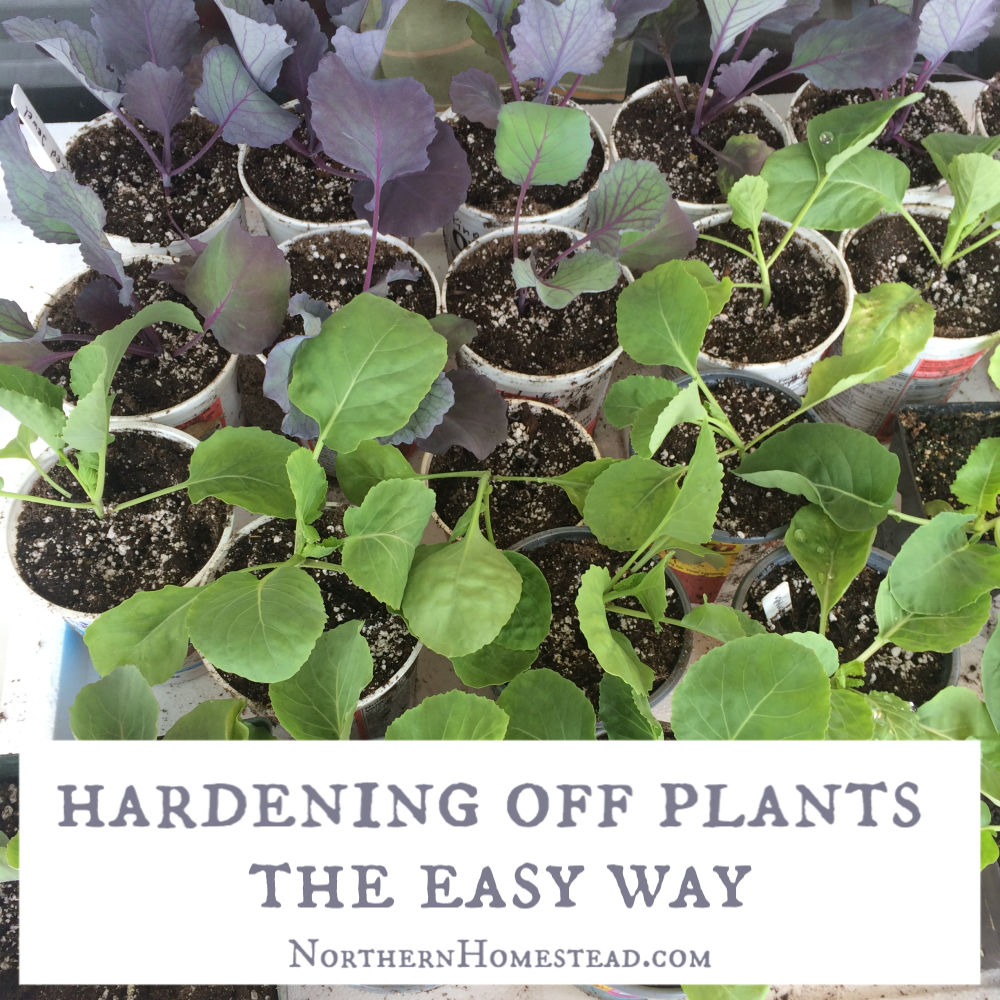 Hardening off plants that you started indoors the easy ways is different from the traditional method where you bring plants out on a nice and sunny day for 2 hours, then bring them back in, repeat that the next day for 4 hours and bring them in again. Adding a couple of hours each day it takes 7 -10 days till plants are hardened off enough to be outside all day.
That's a lot of work!
There has to be a better way.
If you prefer listening to reading, you can continue on YouTube just follow the link.
Why harden off plants
Hardening off plants before planting them out in the garden is part of the starting seeds indoors process. When we start seeds indoors for the outside garden they are growing in an artificial environment. These indoor-grown plants are not used to natural sunlight, wind, and fluctuation in temperature.
To help them to adjust, they need to be hardened off.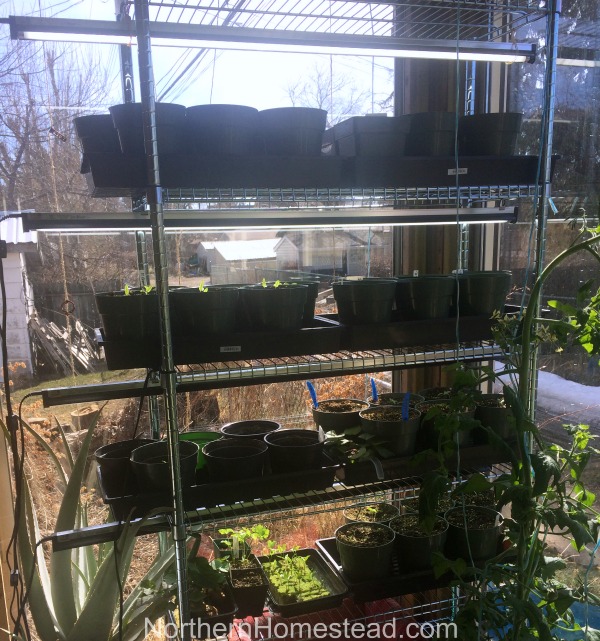 The farther away from a natural environment our seed starting practice is, the more important is the process.
If you grow seedlings under grow light they will be more sensitive to natural light. If you grow them at a sunny window, they are to some degree already used to sunshine but still need to get used to the wind and weather.
Personally I do not like the term hardening off, nor do I do it. It is too hard on plants and gardeners. But since it is the common term, I use it here to describe the gentle process of bringing out plants.
Plants want to be outside, feel the sun and the wind. It is not hard for them, it's the natural environment.
What can be hard on plants, and often even kills a seedling is when the plant has to get used to everything at once, bright sunlight, wind, and extreme temperature.
Eventually, a plant will have to face all that but it does not have to happen all at once.
The hardening off in stages is quicker than the traditional way, simply because it is much gentler.
Let's see step by step how to do it.
Note that young seedlings adapt quicker and mostly do not need hardening off. Plant them and cover them with a frost blanket for a few days, they will be hardened off in place. We talk more about protection at the end.
When to harden off plants
Start seeds indoors and let them become healthy strong seedlings first, without starting with hardening them off too early. A schedule of when to start seeds and when to plant them out can be very helpful, so you don't start too early or too late.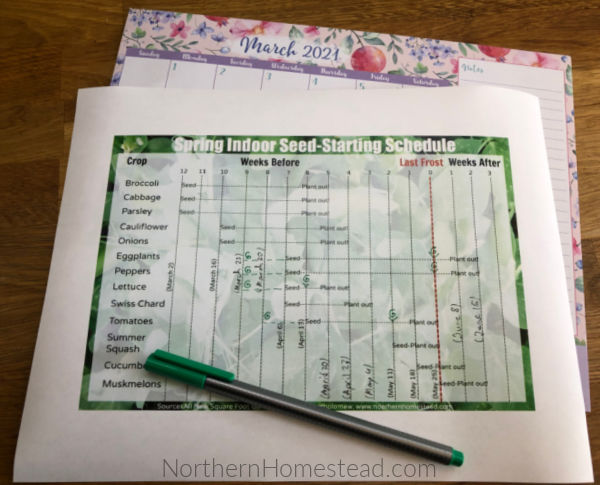 Once the seedling is ready, and the weather conditions are right, it can be transferred to the outside, aka hardened off. We talk more about the weather below.
If you follow our indoor seed starting schedule, you will notice that most plants have a different planting date. It all depends on the weather of course. But this way we do not have to harden off all the seedlings in one go. It is always only one plant category.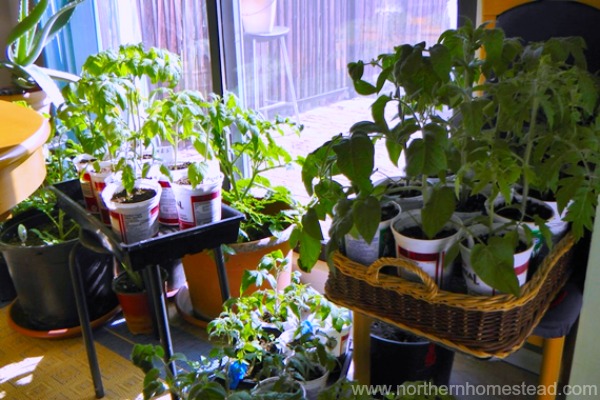 Once the seedling is ready and the weather cooperates, you can start hardening off plants the easy way.
Where to Harden off plants
To make your job easier, prepare a location for your plants to be hardened off. An open, sunny and often windy deck is the worse place. It really will be hard on the seedlings.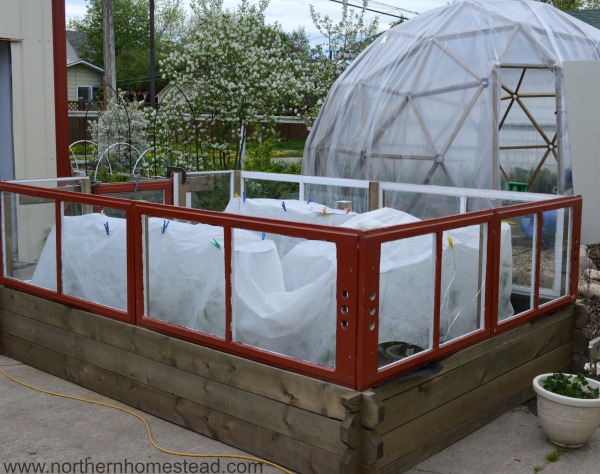 In our case, we have a greenhouse and a raised window-protected garden. We use it for seedlings in spring and growing heat-loving plants in the summer.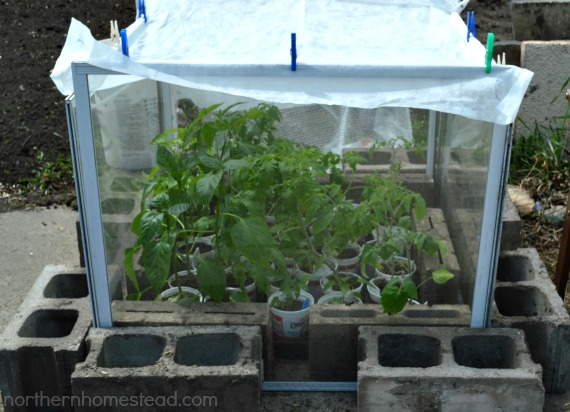 We started though with just a few recycled window frames being held together by cinder blocks as a temporary little greenhouse. It worked so well, that it turned into a permanent raised bed. But for just the task to harden off plants the temporary structure works perfectly.
The idea is to give the plants some wind protection and the ability to provide shade.
If you don't have recycled windows, plastic will do just as well. Railings on a deck or balcony can be converted, any sheltered location can work.
We do not recommend the mini greenhouses, they overheat during the day, and give you a false sense of security at night.

You want the walls to be enclosed for wind protection but open top for ventilation. Here is a version that would work if you keep the top open. We will talk about the top cover later.
Note that plastic little greenhouses do not protect plants from frost. If you have a frost-sensitive plant, keep it indoors till all danger of frost is over.
Weather for Hardening off plants
Growing in a cold climate we are always dependent on the weather. There is no need to start hardening off plants if the weather does not cooperate and you can't plant the seedling into the ground in the next week or two. Keep the seedling indoors till the weather improves.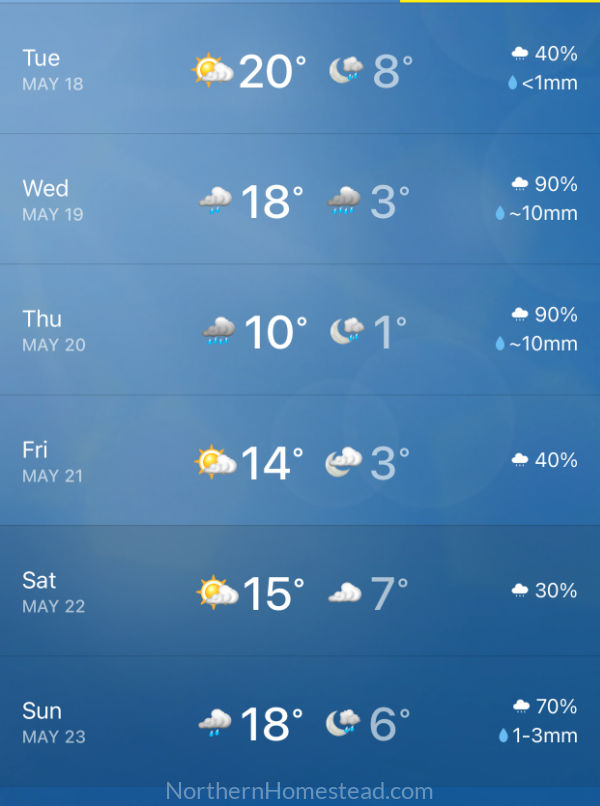 Here is an example of our weather at the end of May. The weather looks good except for 3 days in the middle. 1C (33F) in the forecast can mean frost on the ground. Read more about frost and frost protection here.
1C is also too cold in the greenhouse. An unheated greenhouse gives you about 2 degrees at night. Using a frost blanket can double that, but we are still below the temperature we would want for heat-loving plants.
On an occasion like this, it is better to wait till the weather improves, or be willing to bring the plants in for a few cold nights, which we actually want to avoid. Watching the weather forecast is important.
How cold is too cold for seedlings?
That depends on the plant you are hardening off. Plants react very differently to frost. However, when hardening off seedlings, we want to keep them all away from frost.
Cold weather seedlings like cabbage, lettuce, and onion, are okay above 2C (35F), and warm-weather seedlings like tomatoes are better not to go below 8C. (46F), even though they would not die in 2C, but it can set them back.
Cucumber, squash, etc. are the most sensitive plants, if possible wait till the temperature is above 10C (50F).
This being said, in our cold climate, these numbers are not always realistic. We try to be as close as we can and work with covers and protection. Read more about it in the article Cold spring challenge in the garden.
Sun or shade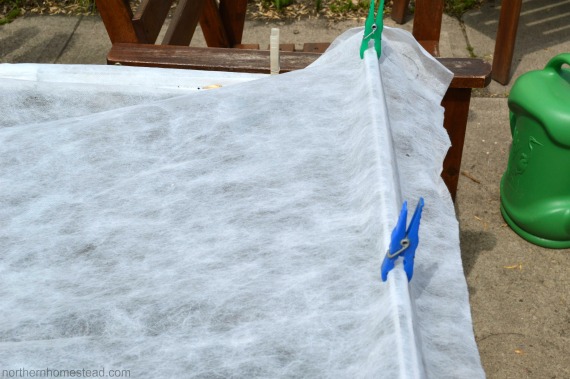 If possible, choose an overcast day to start the hardening-off process. Yes, that's right, not a nice sunny day, but a calm cloudy day is perfect for bringing out seedlings.
In our sunny climate that is not always possible. We can have sunshine for weeks. In this case, I put the plants in shade first or cover them with a plant protection blanket. The blanket is lightweight and is held in place simply with some clothespins
, those are handy in house and garden :).
The overcast day will still be much brighter than a grow light can be, but the leaves will not burn. Also, since the location is sheltered, the plants do not have to get used to light and wind at once. The plants can be outside for good.
If the plants were under grow light or poor light conditions, I'd certainly make sure that they are under a shade blanket, so they do not get any direct sunshine on the first 3 days, but I do not bring them in and out except for unexpected extreme conditions.
After 3 days outside the seedlings are ready to be exposed to sunshine and some wind by removing the protective blanket. On a calm day you can also transfer the plants to the location they will be planted. Leave them there for another day or two. This way the plants will be used to their environment before going through a transplanting shock.
Watch the seedling, and if it looks ready to be planted, plant. If it needs a bit more nursery time, it can have it.
Protect the plants after transplanting
You might have already noticed that we do not harden off the plants, we just gently change their environment to a natural one, that is good for them.
This gentle process for the seedlings and us as the gardeners continues when we transplant the seedlings into the ground. I like to give the plants some protection after they are transplanted. It might sound like more work, but again it's less. Remember, we did not have to move plants in and out. If we pamper them a little more chances are that we will not have to deal with weak and sick plants afterward either.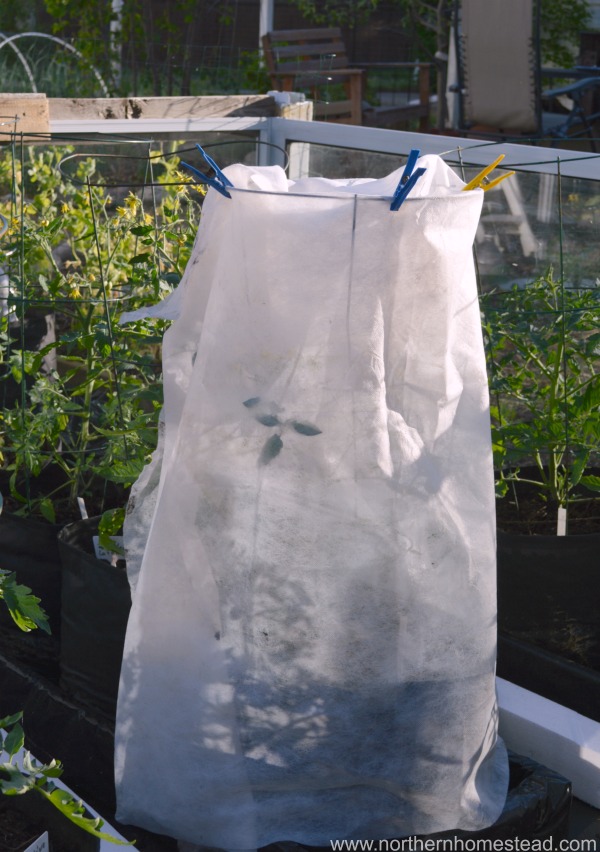 My first go-to tool is the protection blanket. We have several of those and use them all the time in our garden. Wrapping an individual plant, or covering a whole row is easy and quickly done.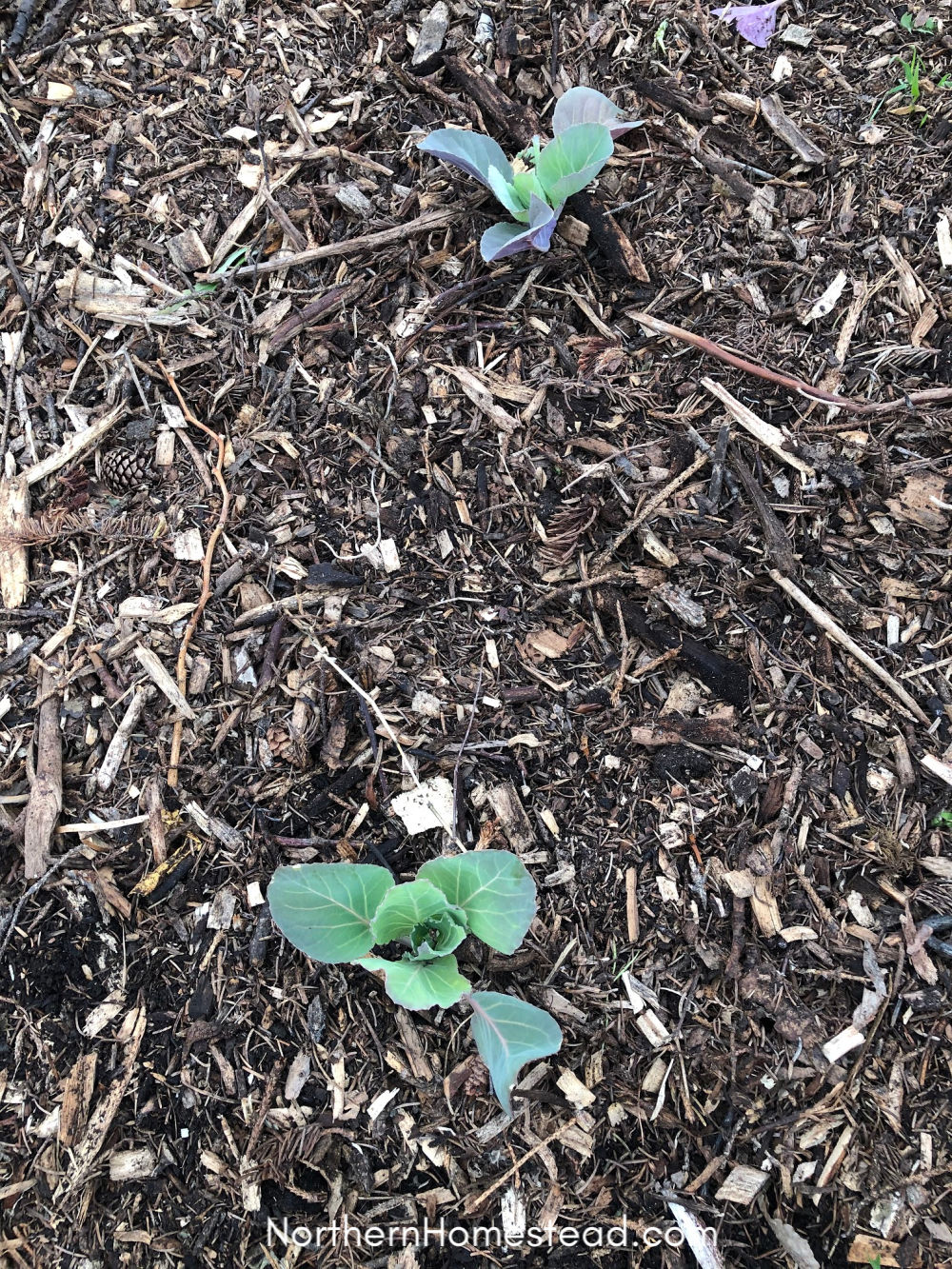 Mulch is another very easy and effective way to protect young seedlings. Bedded into mulch the wind can not be so hard on them.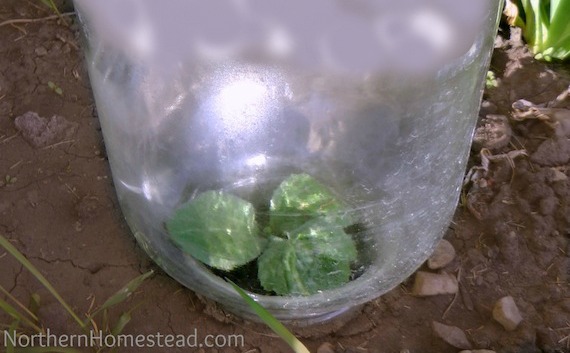 Be creative, a cut-open milk jag or open from both ends tin can, or a glass jar can all be used. Especially in extreme weather, those simple methods make a huge difference. Read more in the cold spring challenge in the garden article.
Hardening off plants the easy ways is gentle on plants and on the gardener. As a result, you get healthier and stronger plants and gardening makes more fun.
We invite you to subscribe to Northern Homestead and follow us on Instagram, Facebook, or Pinterest for the latest updates.
More Posts You Might Enjoy