If you were wondering what we did with the biggest tomato we ever grew? We used it for the homemade ajika salsa recipe and canned the salsa in 18 jars, so we can enjoy it for a very long time. Yes, all of this was made out of 1 tomato and all the other ingredients of course.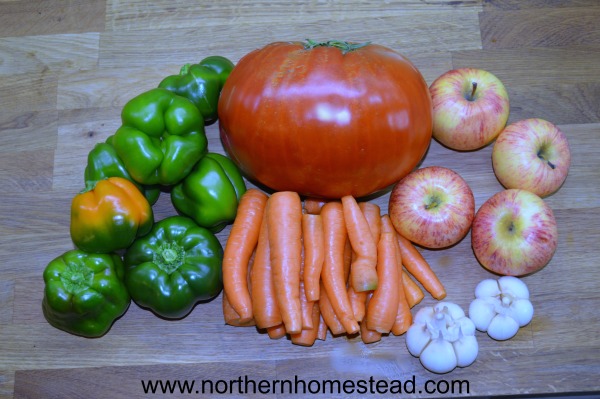 Homemade Ajika is a sauce like a salsa, made with tomatoes, carrots, apples, peppers, garlic, and hot pepper, that together make a wonderful combination of flavors.
Traditional red peppers and green, sour apples are used. I usually use whatever is available. Not in the picture is the hot pepper, that gives the ajika a spicy taste.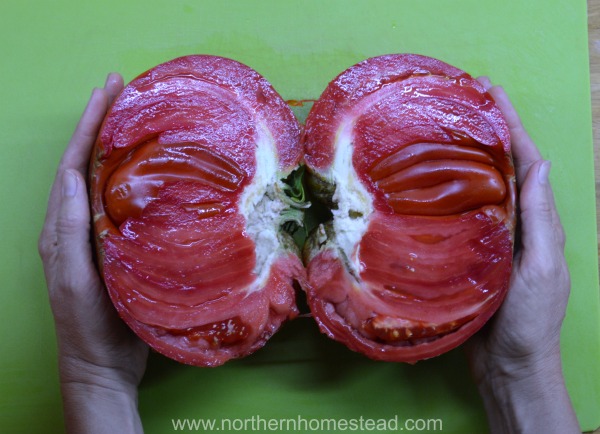 When we harvested our biggest ever tomato (over 3 pounds), we had to make something special with it. Ajika came to mind.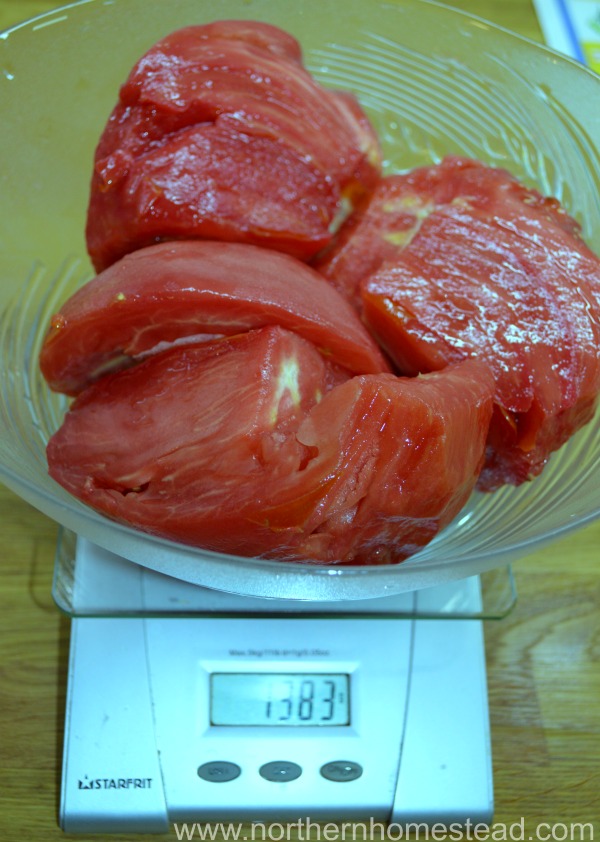 It turned out this one tomato had more clean tomato flesh than the recipe needed, so we each had a slice of it, too. What a huge and yummy tomato that is!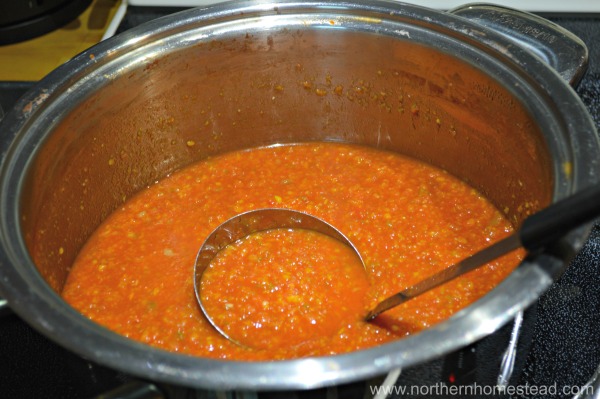 Ajika is known in the Slavic world by many names like Аджика, Adzhika, Adjika or Ajika. Its origin is said to be Georgian and started as a very hot pepper sauce. There are many versions of it as well.
This recipe comes from Irina Chlebnikova, I have shared her recipes before. As in Irina's other recipes, I do adjust the sweetener and do not use oil. But other than that, this is a very yummy homemade Ajika salsa recipe.

Homemade Ajika salsa recipe
Author:
Anna @ Northern Homestead
Ingredients
1200 gram (6 cups) chopped tomatoes
500 gram (4⅛ cups) grated carrots
500 gram (4⅛ cups) chopped bell peppers
500 gram (4⅛ cups) chopped apples
2 heads of minced garlic
1 chopped hot pepper (or to your liking)
1½ tablespoon salt (I used half a tablespoon)
½ cup sugar (I used ¼ cup honey)
½ cup oil (optional)
1 cup vinegar
Instructions
In a food processor or blender chop all ingredients. I worked in batches adding from each veggie to the blender, it took only seconds to coarsely chop everything.
Add everything to a big saucepan and cook for 40 minutes or till the sauce thickens.
Fill jars, wipe rims, apply lids, and screw on bands
Process in water canner for 20 minutes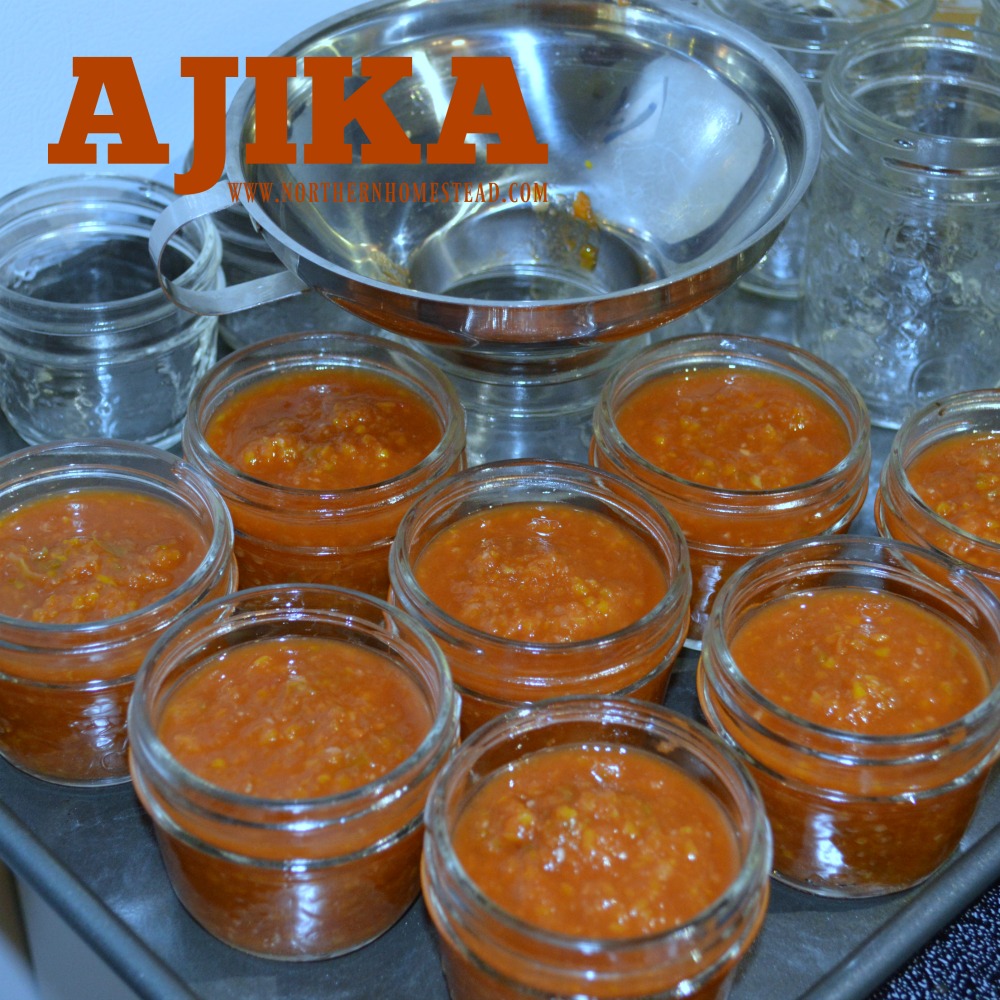 We love Ajika served with avocado in pita bread. It's also good on breaded baked eggplant, or anything roasted. It can also be served as a condiment or used to flavor other dishes.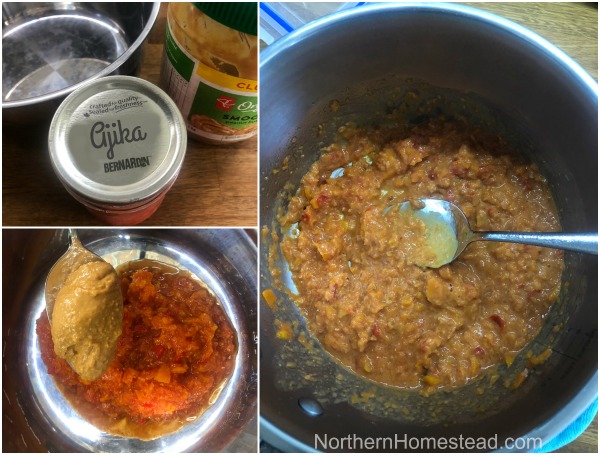 Homemade Ajika Salsa can easily be made into a sauce. Just add a tablespoon of peanut butter, mix, and heat. You have an instant, very flavorful sauce. Here we served it over rice and stuffed peppers. Yum!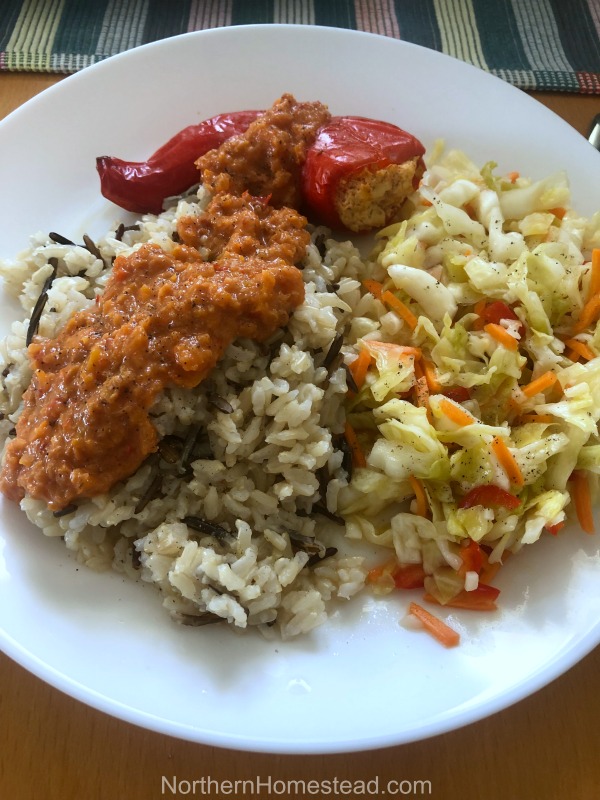 Have you ever heard of Ajika, and what is your favorite way to use it?
We invite you to subscribe to Northern Homestead and follow us on Facebook or Pinterest for more great recipes.
More Recipes You Might Enjoy: