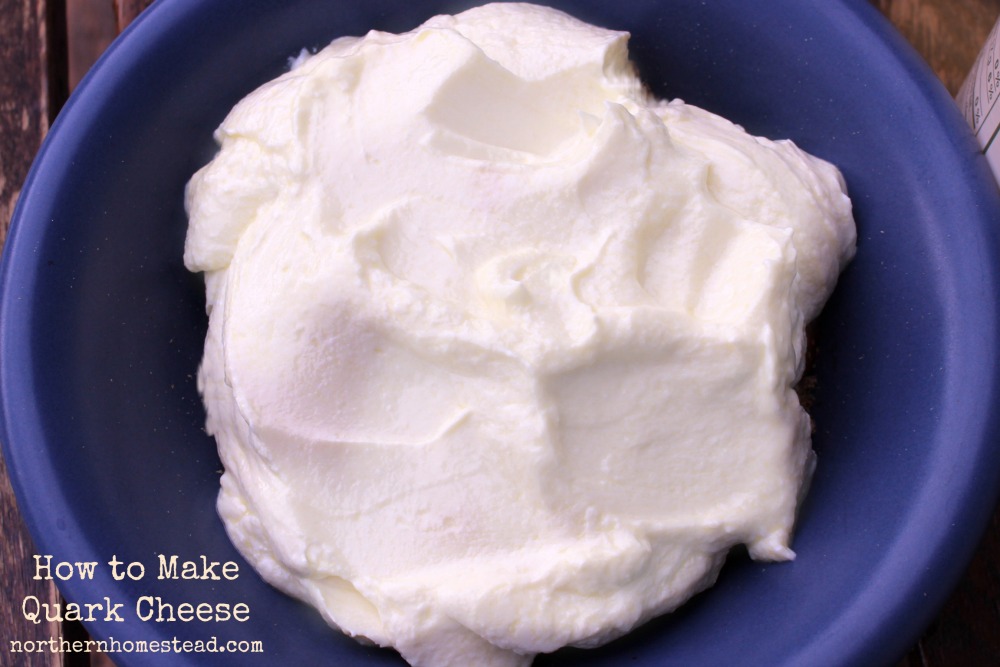 Note: This is an older recipe. We have since changed to a plant-based diet and love it. It's better for our health, all living and the planet.
Quark is a type of fresh cheese made from cultured milk. It has a very smooth and creamy texture and is slightly sweet (unlike sour cream or yogurt). If you do not know what I am talking about then you most likely have not had any quark yet, otherwise you would remember this unique and very delicious taste. It is used in baking (cheesecake), cooking (Pirogi), as a dip with herbs, or most popularly as a dessert with fresh fruits or berries – yum, yum!
Even though quark is very popular in Europe, it is hard to find in the US or Canada. The good news is that it is very easy to make. I have made a lots of quark since I first posted a 'How to make quark'. So it is time to update!
Step 1. Make Cultured Milk
Quark is made out of cultured milk. It can be cultured buttermilk, kefir, or junket; all three work, but are a bit different in taste. The mildest quark I think would be out of cultured buttermilk (good for beginners) and the strongest being kefir (our favourite). I will explain all three here and then it is up to you what you like or have access to. Some even suggest to use yogurt, but I find strained yogurt makes a Greek style yogurt, not quark.
The fat content of your quark will depend on the fat content of your milk. If you want creamy quark, make sure to use whole milk. You can even mix some cream into it. If you want low fat quark, use low fat milk.
You will get about 1 to 1 and 1/2 cups of quark from a quart of cultured milk. You can easily make cultured milk at home to save money, and often the home cultured milk is even better.
If you have no access to store bought cultured buttermilk, kefir, or junket, you will need a starter or kefir grains. The Kefir Lady offers life kefir grains, also Cultures for Health offers all kinds of great starters for cultured milk.
Making kefir with kefir grains is hands down the easiest no-fail way to have a constant source of cultured milk. Here is a little on 'How to Make Kefir' video. We love real kefir, for making quark we let the kefir ferment for at least 24 hours resulting in a thick kefir.
If you have store bought milk and buttermilk or kefir (it works the same for both, however I find the kefir culture is stronger and not as sensitive to temperature), you can make your own by combining 3 parts of milk with 1 part of store bought cultured buttermilk or kefir in a glass jar. Mix well and cover loosely. Leave about one inch room at the top as it tends to expand while thickening. Place in a warm place. In the winter a kitchen cabinet that has a heating shaft underneath is perfect. You can also use a dehydrator or an oven with the lights on. After about a day (depending on the temperature) the milk will thicken and turn into cultured buttermilk or kefir depending on your starter.
If you have raw milk it will thicken on its own. Just leave the milk in a warm spot for about a day or two till it thickens (junket); you do not need a starter.
Step 2. Maturing the Cultured Milk
For quark making you want the cultured milk to be well cultured, starting to separate the curd (solid) from the whey (liquid).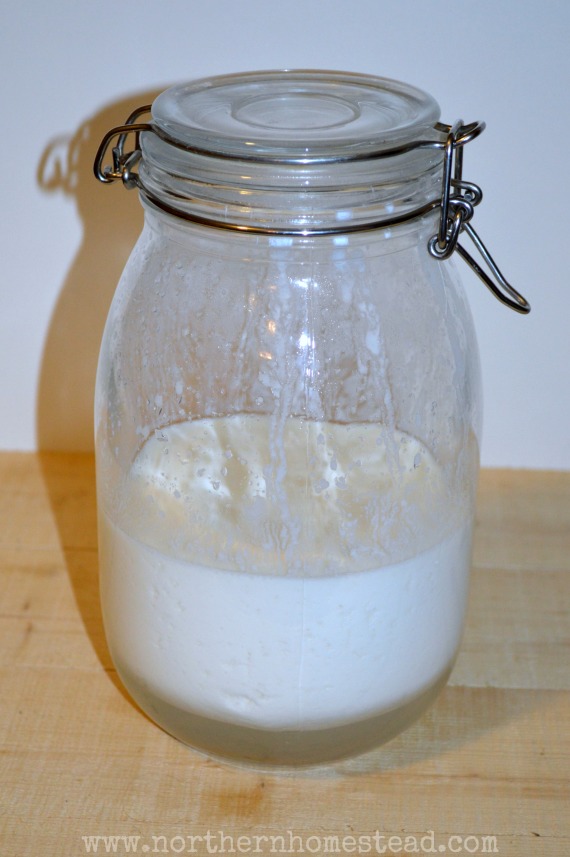 Again, use a glass jar, so you can see the processes better. For a healthy quark full of natural good bacteria, you want to make sure not to heat your cultured milk. Just let it sit in a warm place till it starts to separate. This could take a few hours or days depending on the temperature. If your house is cool you can use your oven with the lights on. In the winter a kitchen cabinet that has a heating shaft underneath might be a good place. As soon as you see whey at the bottom of your jar, the cultured milk is ready to be strained.
For small portions you can just strain your cultured milk without letting it come to the stage of separating.
Step 3. Strain the cultured milk
Line a colander with a kitchen towel, cheesecloth, or Paint Strainer Bag. We find the paint strainer bag works best for regular quark making. It is easy to use and to clean, dries fast and does not fuzz. You want to place the lined colander over a bigger container to catch all the good whey.
Pour the cultured milk into the lined strainer. The first strained whey tends to be white (mixture of whey and quark, see picture below). I simply pour it back into the strainer. After that the whey is clean. Cover and leave it till all the whey has drained out.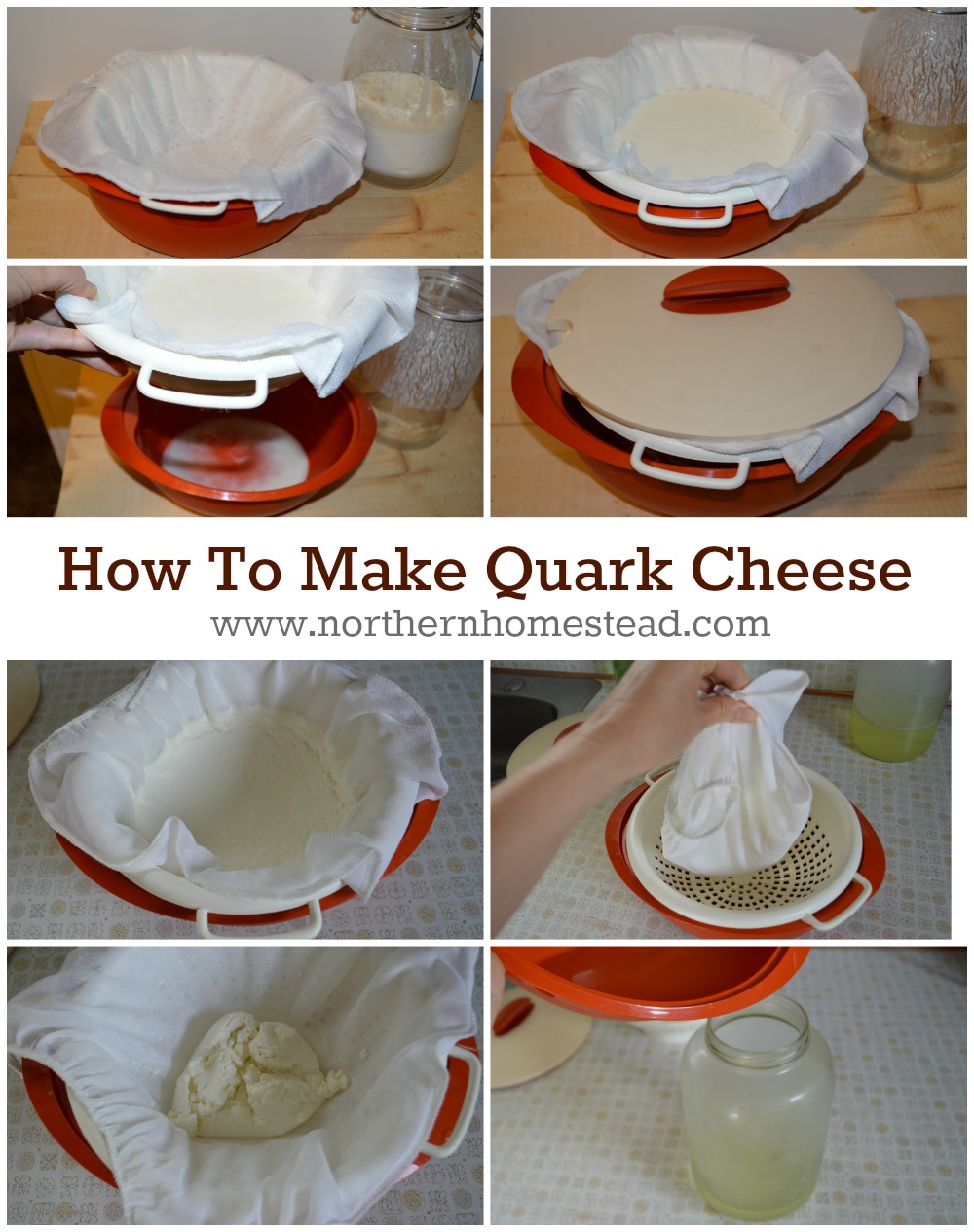 In 2-3 hours (or overnight) all the whey will be drained. Now take the cheesecloth and shake it a bit, so the quark forms a ball and is ready to be used. Make sure to safe the whey for uses in kitchen and bath.
There you have it, homemade quark.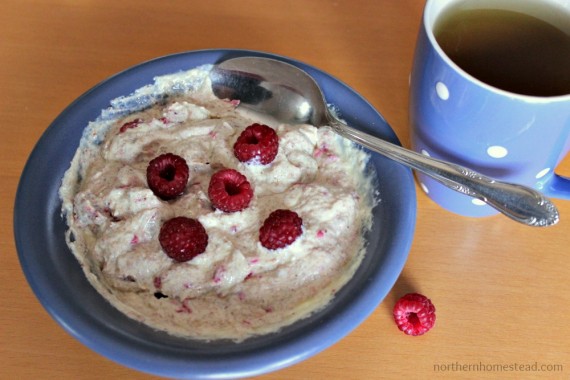 Use quark as an ingredient for appetizers, salads, main dishes, side dishes, and desserts. It is a very healthy and delicious cultured milk product. Give it a shot, I am looking forward to hear your experiences with it.
****************
See also how to make sour cream.
We invite you to subscribe to Northern Homestead and follow us on Facebook or Pinterest for the latest updates.
More Recipes You Might Enjoy: