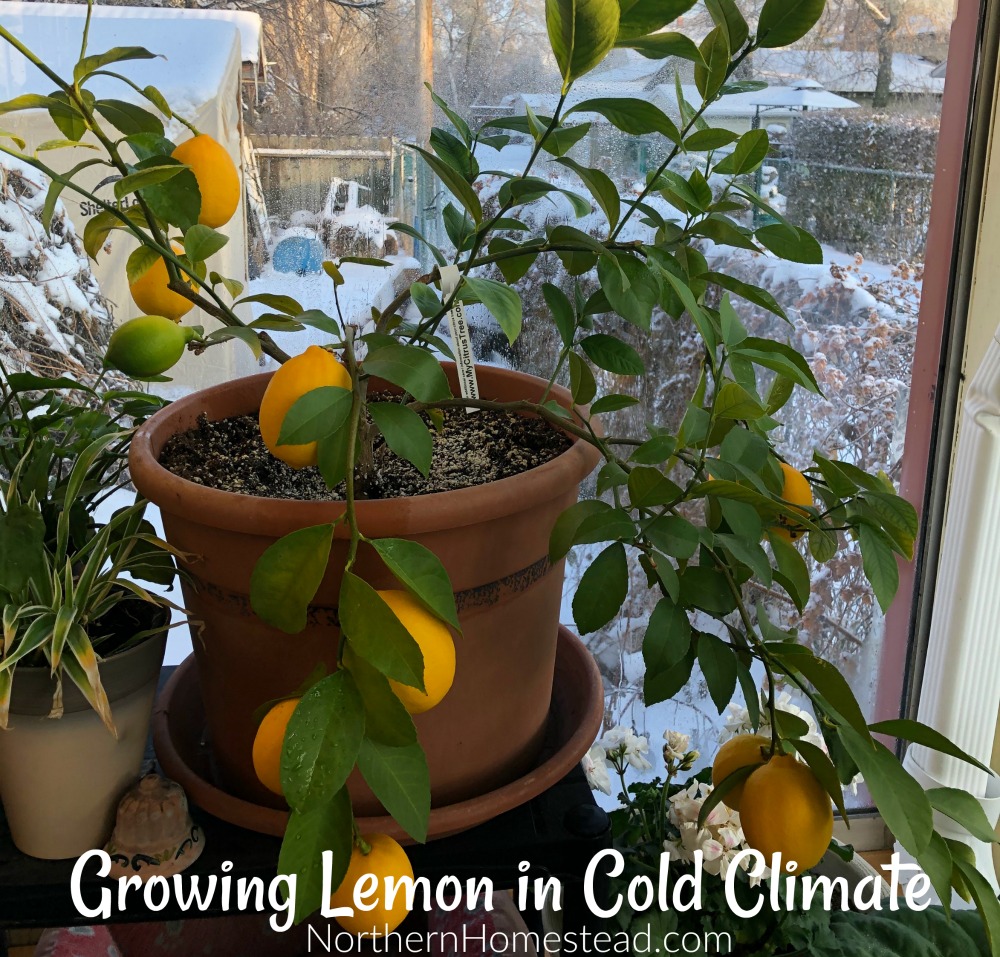 This blog article started as an indoor garden update on video. But since the Meyer lemon tree in the video got so much attention and raised questions, we have updated it to give more information about growing lemons.
An indoor garden is a place where winter does not exist, and that's quite something when you live in a cold climate. Indeed, it is a happy place.
In today's video (see below), we talk about the lemon tree that we grow indoors during the winter and in the Geodesic dome during the summer. It is a Meyer Lemon and the tree is now almost 3 years with us. The tree grows during the winter months in the indoor garden room. During the summer we keep it in the Geodesic Dome greenhouse. It could also stay indoors year-round, and maybe as the tree grows and we get tired of moving it, we will keep it here.
The tree does need at least 50% light, ours is at the east-west corner with windows from both sides. The indoor garden room can get quite warm during a sunny day (20-30C), ut often cool during cold nights (5-10C).
Where to get a lemon tree?
As far as we know, lemons are not true to seed. Growing one from seed is possible, and we have done it. It is a fun project. But we have never gotten any fruit.
Since we were after growing food, we bought our Meyer lemon tree at Golden acres garden in Calgary. We have since added a lime tree from the same place. Both are growing well and producing fruit.
In a cold climate where lemons are not native, we would recommend checking a good local garden center.
Pruning the lemon tree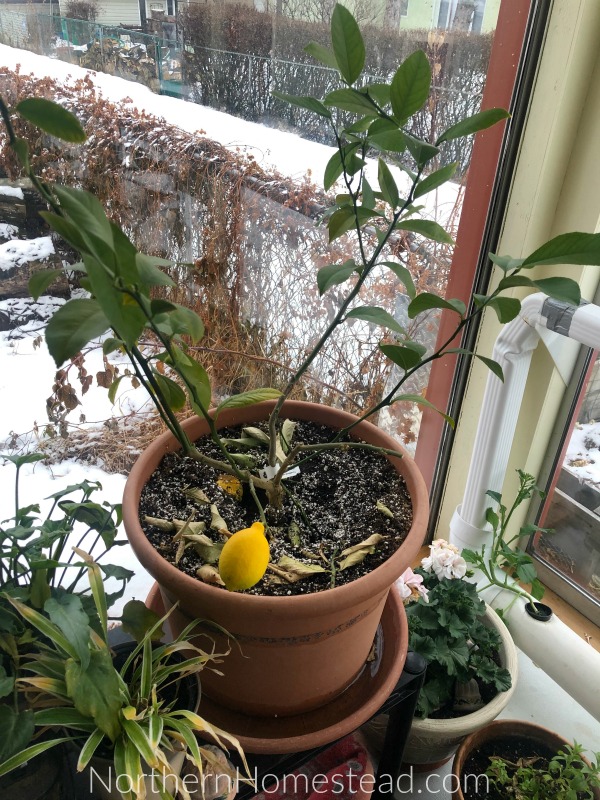 We are not experts in pruning. I watched some videos on pruning a lemon tree and found out that it is not much different than an apple tree. All the branches that grow inside the tree or straight up have to go. If something grows too low, it is pruned away as well. Our tree has a bush shape, and so far we like it. Maybe down the road, we will prune it into a tree, but so far we have not seen any need for it.
Transplanting a lemon tree
The trees are usually sold in fairly small pots, to keep them small. We transplanted the tree right away. For lemon trees, I hear that deeper pots are better. You can also use a grow bag to encourage healthy root growth. Grow bags can be easily made or bought.
How to know when to transplant?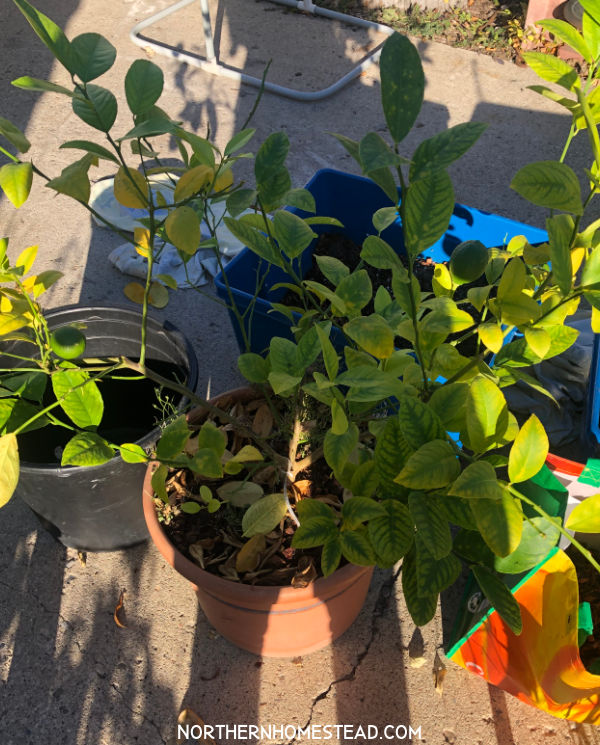 A healthy tree is lash green and is productive. When you see that the leaves are not as vibrant as they used to be, it can be two things, either the tree needs a new pot or fertilizer. It can of course be both.
Also judging by the size of the tree, if the tree is big and the pot small, it most likely would benefit from a bigger pot. You can also take the tree out of the pot and see if the tree is root-bound (lots of roots visible at the age of the pot and going around), if it is, it needs a new pot. However, if you can, do not wait till the roots are very bound. In case the roots go around, gently loosen them (you can also trim them some) before transplanting, so they can grow healthy again.
Use loose soil that retains moisture well. If using potting soil you might want to add some more vermiculate. Or make your own soil from the All new Square Foot Garden book. Mix together Mel's Mix: 1/3 compost, 1/3 vermiculite, 1/3 peat moss.
Lemon trees never really go dormant, but do grow less during the winter. Personly we transplant in autumn, before bringing the tree into the indoor garden. The tree does not need transplanting every year, only every 2 -4 years. However, every fall we do remove and renew the top layer of soil, or mulch if used, to make sure not to transfer any unwanted insects into the indoor garden.
Mulching is a great way to keep the tree from drying out. Rice Hull's mulch is best, coconut or bark work too.
Watering and Fertilizing the Lemon tree
The lemon tree likes to dry out between watering, especially during the winter when growth is slow.
The fertilizing for a lemon tree should be high in nitrogen. The easiest is to get a ready-made fertilizer for potted trees. Follow the instructions of the fertilizer you get that's what we do too, no experts here.
As you see in some of the pictures, we learned about fertilizing the hard way. The tree got really deficient before I took it seriously. Potted trees definitely need fertilizing.
Pollinating an indoor lemon tree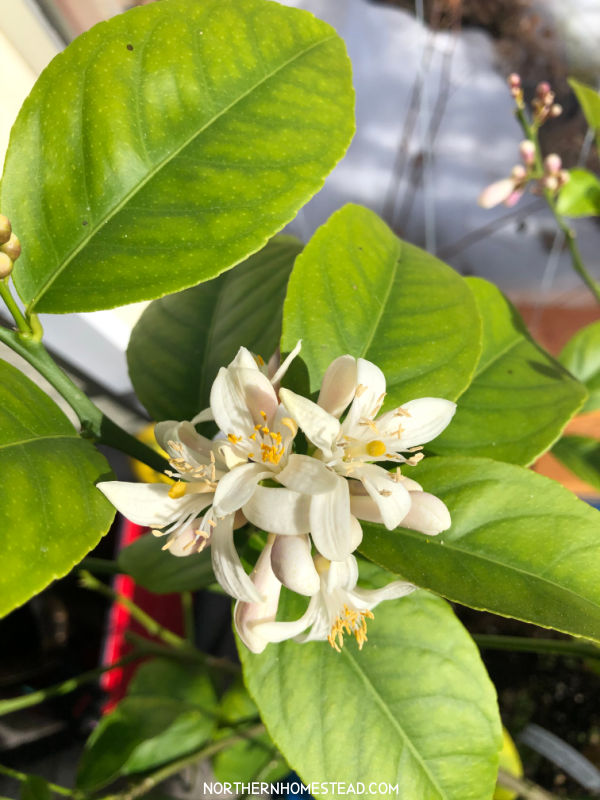 The flowers are the next best thing on a lemon tree, next to the fruit of course. The blossoms are so beautiful and fragrant.
When you look at the flowers they do not all look the same, there are male and female flowers, and that's why lemons are self-fertile.
You can get all scientific about the different parts, however, we like to keep things simple. We have had good results by just shacking the flower cluster so the pollen moves around, very much like it would in a windy situation. Or take a brush and gently move from flower to flower to distribute the pollen as a bee would.
Harvesting and using the lemons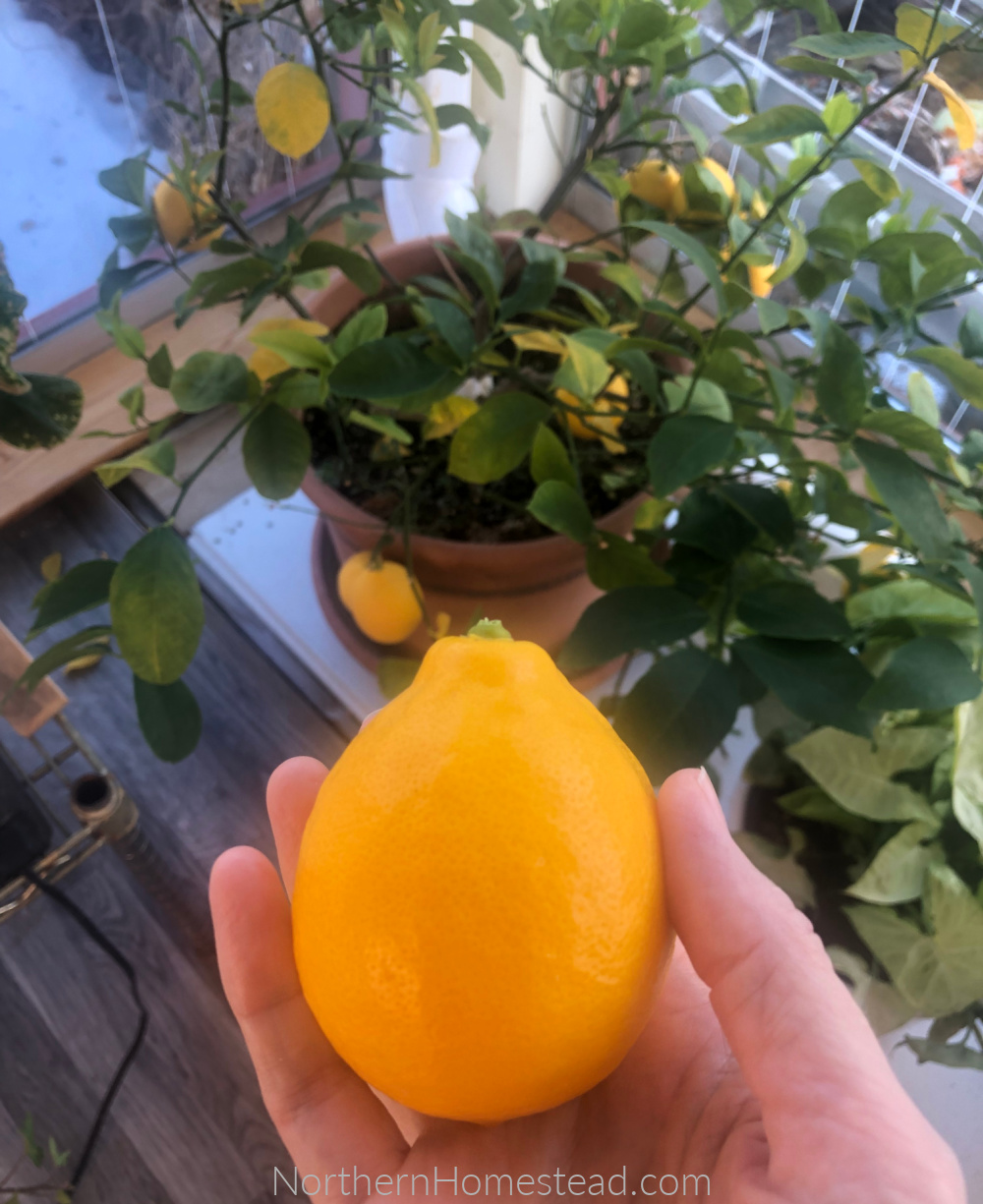 Lemons and limes ripen in the winter. Once the fruit of a Meyer lemon is big and deep yellow/orange it is ripe. The fruit can stay on the tree for quite some time, extending the harvesting season.
Over the years I have used the lemons in recipes and preserved them by blending and freezing them. When doing that, make sure not to blend the seeds, it will make the blend bitter.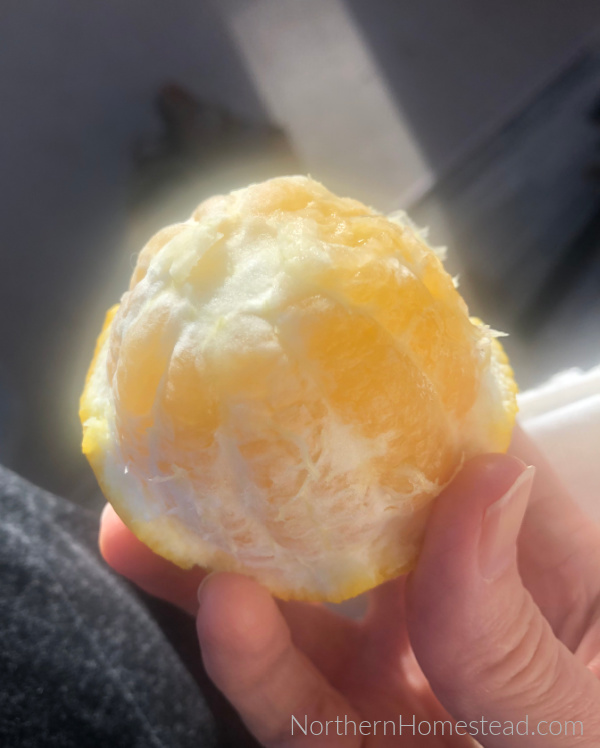 My favorite way is still just biting into one and enjoying it right from the tree. The outside peel is a bit bitter. The white between the peel and the lemon sections is somewhat sweet. The juice is lemony, but not as intense as other lemons. More refreshing I would say. Yum!
Indoor garden update on video
Now to the original garden update on video.
Also in the video is an update on lettuce, Chinese kale, kohlrabi as well as tomatoes. All of this grows in hydroponic, you can see the NFT system here, and the upgrade here.
If you are growing a lemon tree, please share your insights with us. We love to learn together.
We invite you to subscribe to Northern Homestead and follow us on Instagram, Facebook, or Pinterest for the latest updates.
More Growing Food Posts You Might Enjoy: