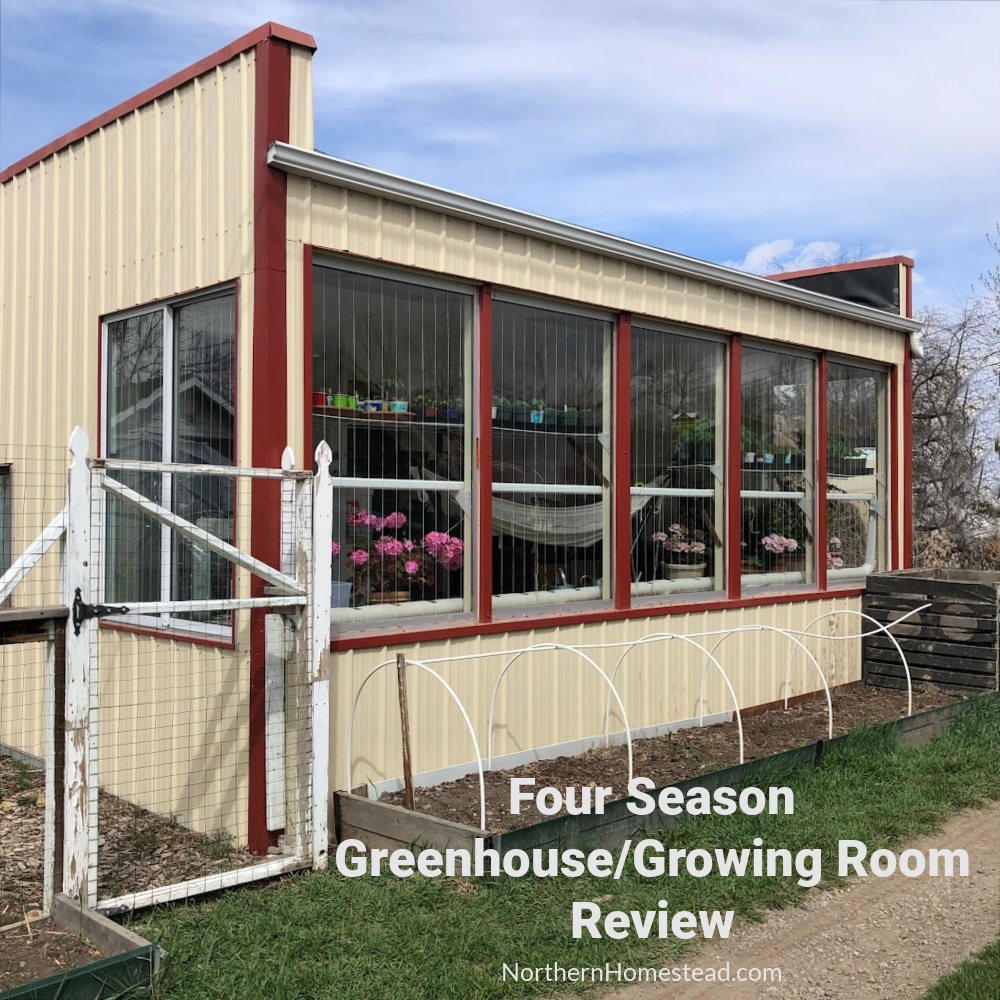 8 years have passed since we started our adventure of building a four-season greenhouse/growing room at the back of our garage, and it's time for an honest review. If you are new here, welcome! Northern Homestead is in Alberta Canada, growing zone 3, 51 latitude parallel north. The greenhouse/growing room is for personal use to grow food year-round.
I started to write a review on winter growing in zone 3 and noticed that we needed to talk about the building first. So if you are here for the building part, because you want to build a passive solar greenhouse or an indoor growing room for food security, please come back for the growing review.
This is important. Greenhouses, and especially complex passive solar greenhouses for year-round growing in cold climates, are often designed by architects and engineers, not gardeners. Those are two very different points of view.
We have been struggling to give the room a proper name, a growing room, or an indoor garden sound about right. It is not a real greenhouse, we often say it is an alternative to a passive solar greenhouse since we were working with an existing building rather than starting from zero.
In this blog article, we share how our greenhouse/growing room is designed, and why it is designed this way. In the 8 years of winter growing in zone 3 review, we share how it performs.
The design of our solar greenhouse/growing room
Our design evolved over many years of experimenting and improvement.
We wanted to be able to grow food year-round, and have a sunny room to escape to during the long winter months. We had no idea if this was even possible in zone 3, and back in 2014, we did not know anyone who did that.
There were many times when we were ready to give up. With no one to follow we had to make all our own mistakes and learn from them. Now we share them with you, so you don't have to make them.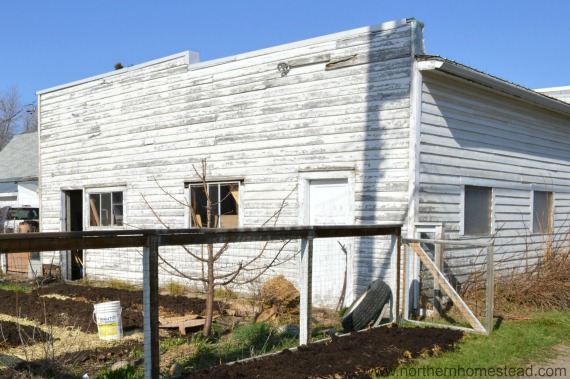 As a starting point, we had an old garage building that needed serious repair, and about a dozen recycled windows that we had acquired as a steal of a deal. Plus a lot of determination to make this work.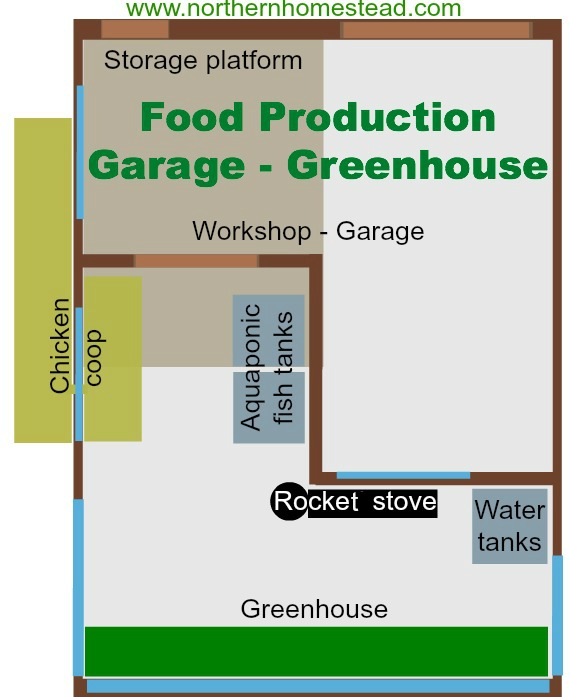 The original design included chickens, fish, a rainwater collection, a growing area, and a rocket stove to keep it all from freezing. You can read more about it here.
Now let's go step by step about what we did, and what it looks like today.
The windows and light
Our garage has an insulated roof (no glazing) and a vertical south-facing wall. We did not want nor were we able to change anything structurally on that building.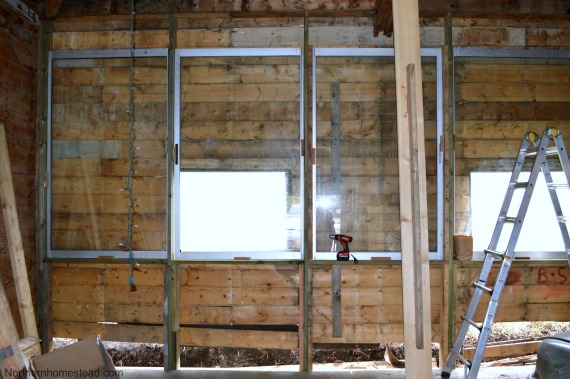 We started with the windows and replaced the south wall with new struts and 4x 6 ft double panel windows. The glazing on these old windows is clear. It looks like those were glass doors from an apartment building. If shopping for something similar, make sure the glass is not tinted.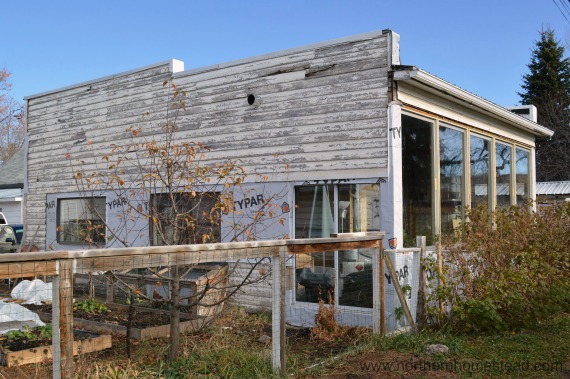 We installed a sliding door at the west end, to have access from the garden and also ventilation. And also one window on the east wall, giving us light for the morning sun. Passive solar greenhouses often do not have any glazing east or west. They really add a lot of sunlight to the room. And we often notice that plants perform better at each end vs right in the middle of the room, where neither morning nor afternoon sun can reach.
None of our windows can be opened. If we did it again, it would be nice to have a window that opens on the east, for cross ventilation with the door on the west.
Note that the old building had a bit of an overhang above the windows (see picture above). We removed it, because even that little bit of overhang, took away lots of sunshine during mid-summer.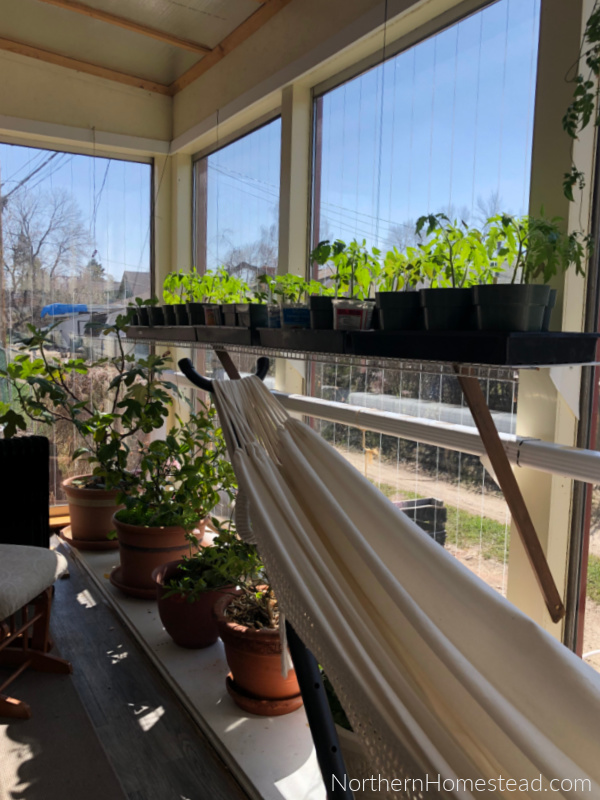 Being at latitude 51 parallel north, our sun always shines at an angle. During the winter months, the whole room is sunny, during the summer the sun shines about two feet into the growing room, making it the least efficient for growing. For a winter solstice update go here.
For those that wonder if vertical windows and a solid roof would work for you, consider your latitude. SusDesign calculates solar angle data based on date, time, and location.
Anyone north of us would have more sunlight than we do, anyone south of us should consider either setting the glass on an angle or adding some roof glassing, or both for mid-summer sunshine. It really depends on what you want, summer or winter growing. We will talk more about that in our growing review.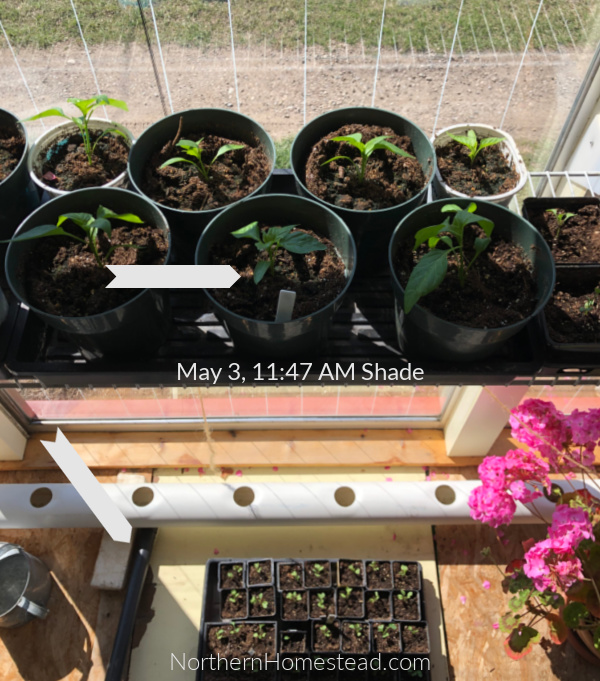 In this early May picture, you see the sun's shadow. We have to keep the shelves low, so the seedlings still get light.
We used glass instead of polycarbonate panels. Tripple polycarbonate panels would probably be more insulating, but we would also have spent a lot more on them vs using recycled windows. In the end, they are not as durable and would need replacement. Also structurally, windows are easier to install, since they come already with a frame.
For seedling growth in spring, we really like glass. This way our seedlings are already used to direct sunlight, making the hardening off easier.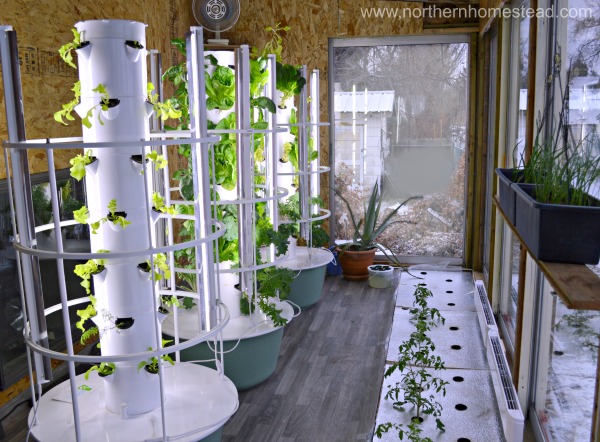 We have also used grow lights in our growing room. In fact, at first, we did not think that growing without them would be possible during the winter. After a while, though we noticed, that plants facing the windows were stronger and grew at a faster rate.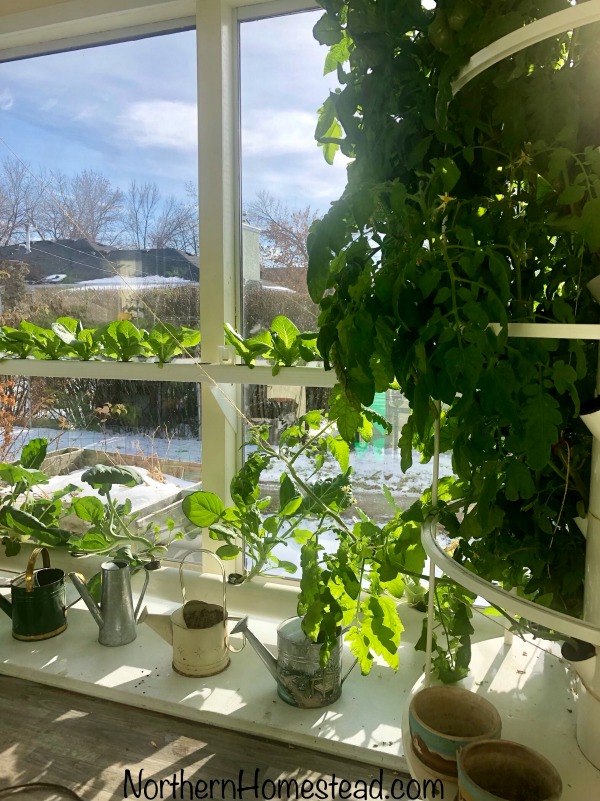 Since growing plants with grow lights uses a lot of energy, we tried going without. We added an NFT downspout hydroponic system right at the windows. In most winters in our sunny climate, it does work quite well. However, any lack of sunshine for a longer period of time is very noticeable, as plants grow only when conditions are right, and stand still if there is a shortage of light or the temperature is off.
Read more about winter growing conditions in a greenhouse here.
Insulation and thermal mass
When we first started, we were more concerned about heating, than insulation. After spending cold blizzard nights at the greenhouse trying to keep it from freezing, we rethought our action plan.
Most heat loss in a room happens by means of conduction through the windows and through the ceiling. As soon as the ceiling insulation was finished, we spent less time heating up the room. And since we just wanted to keep the temperature above freezing we could go many days and nights without heating at all.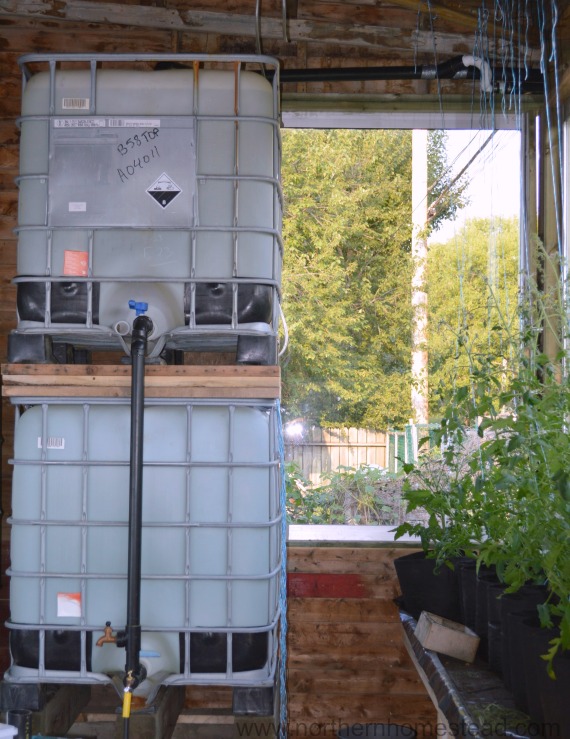 This was also due to the thermal mass. We were storing about 500 gallons of water in the growing room. There could easily be a 12 degrees Celsius difference from the outside temperature at night. We share more about it in our blog article 2 things to keep a greenhouse from freezing.
Water is a great medium for thermal mass. In an extremely cold climate though, if the room should ever freeze, the water would eventually also freeze and not work to your benefit. We had to find a better solution.
A passive solar greenhouse usually works with thermal mass in the floor/ground. A warm floor makes a huge difference to the room temperature. Our old garage had a very cold concrete floor.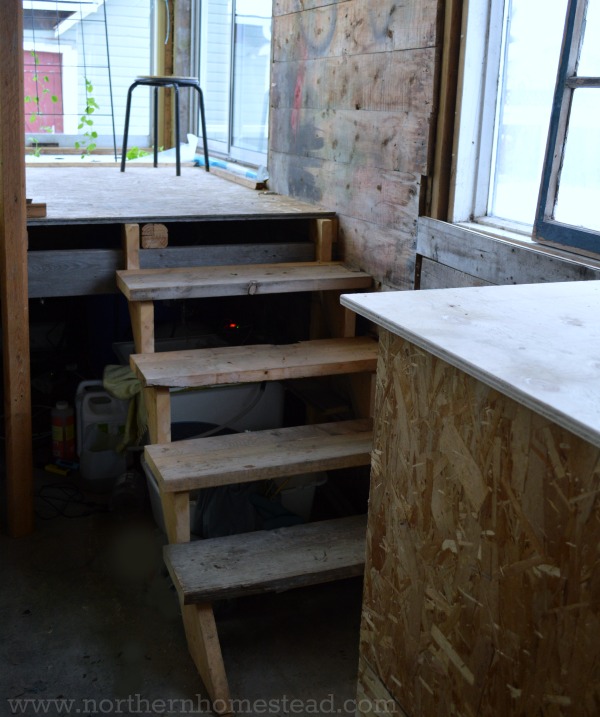 To change that we raised the floor a few feet. The building was high enough to allow that. Since warm air rises and cold air sinks, that made a huge difference. Adding stone plates, or concrete to the raised flour would be an option but would need a lot more structural support.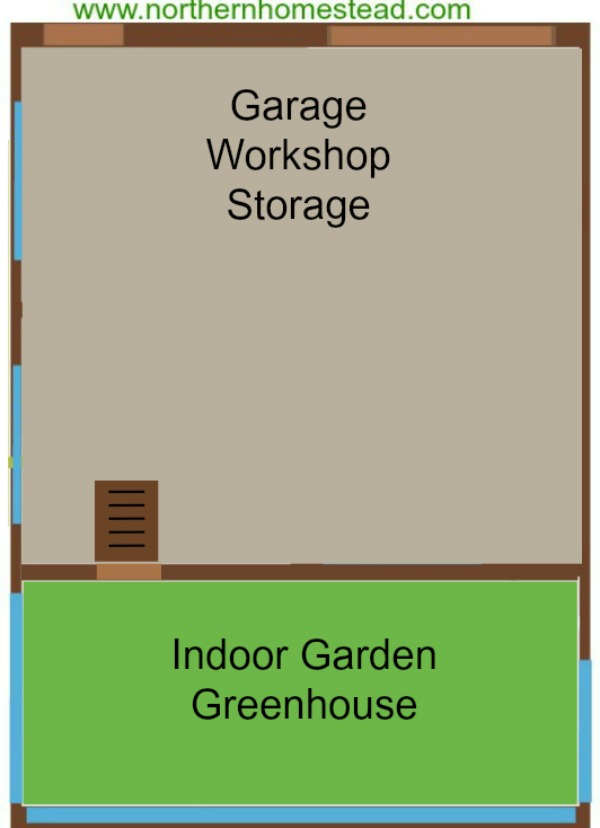 Learning from all our experiences and becoming more realistic, in 2019 we enclosed the growing area. It makes the growing room smaller and easier to keep warm.
Yes, we did give up on chickens and never even started with aquaponics. Instead, we explored many ways of hydroponics. The water in hydroponic systems also works to some degree as thermal mass, and during the winter we use aquarium heaters, to keep it at a temperature that plant roots prefer.
Heating, cooling, and moisture
You might be surprised to hear that the rocket stove was the first thing we gave up on from our original plan. You can read more about it here.
Learning the difference between winter growing and winter harvesting, we knew we needed to heat the room. Keeping a room above freezing works for winter harvesting, not growing. More about this next time.
We still think that thermal mass is very valuable to keep the temperature in the room more stable, but not nearly as important as at first assumed.
We tried several ways to heat the room, you can see the 2017 mid-winter reality update here.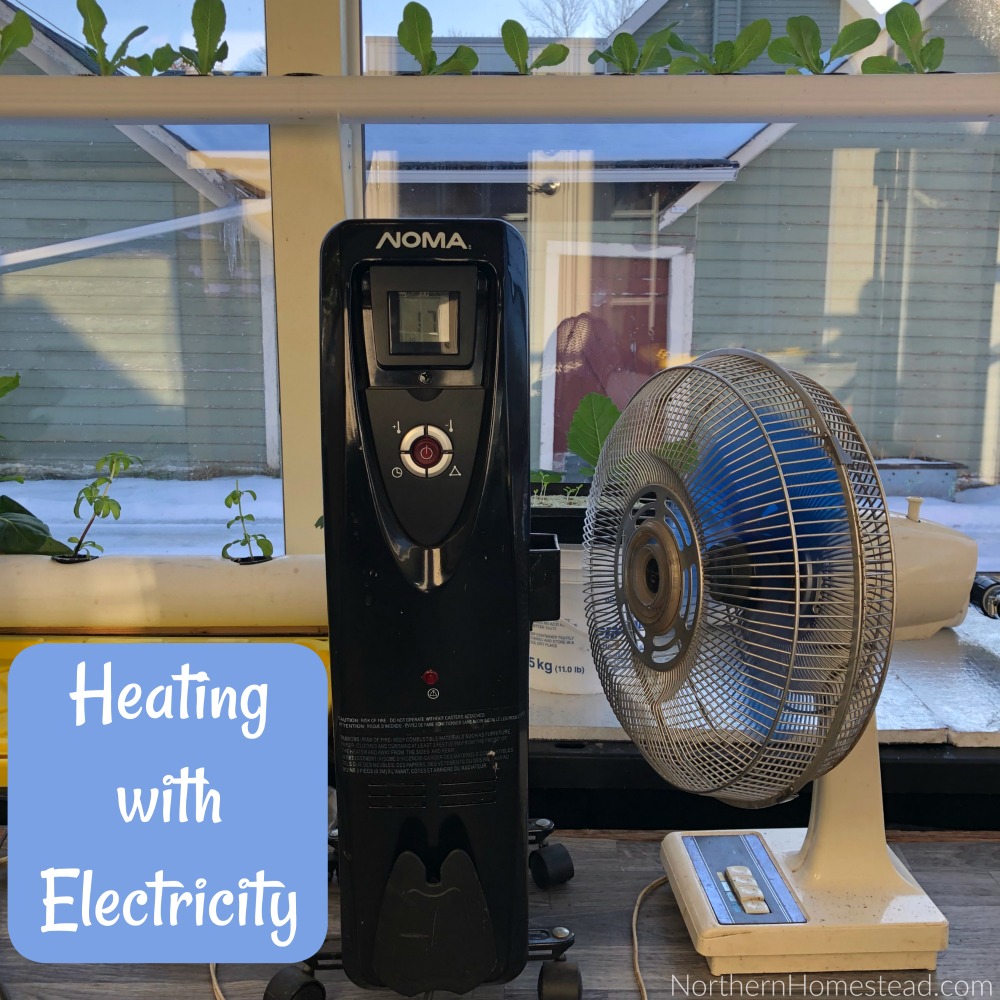 Finely with the room being much smaller (8×22 feet), and very well insulated we were able to heat it with an electric heater and a fan, read more about it here.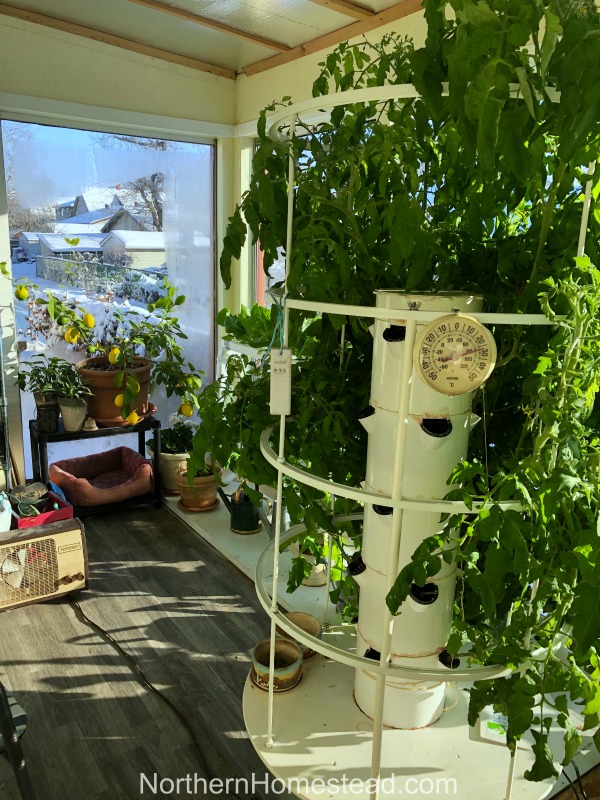 During a sunny winter day, it can easily be -25C outdoors and +25C in the growing room with no heater needed. During the night we aim to keep it at around 10C (50F).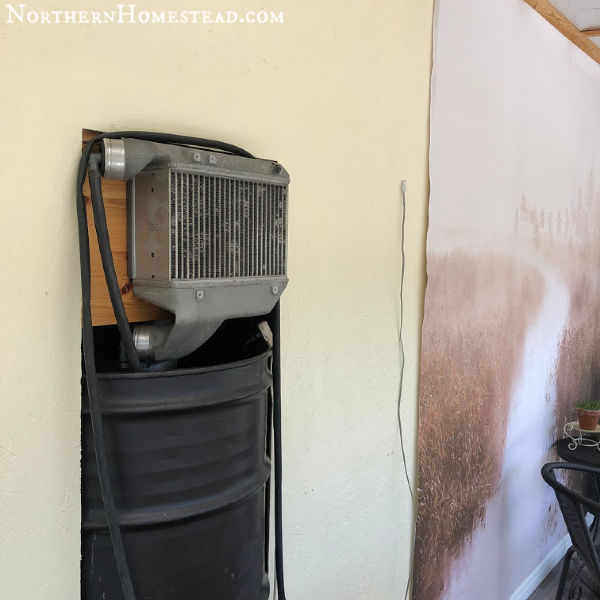 This brings us to the cooling subject.
Still working with thermal mass we installed a water tank with a car radiator, the same ideas as in our geodesic dome cooling system. Except here the water reservoir is smaller and with that not nearly as efficient.
We also do not have as much heat to work with. Remember our roof has no glazing, so it seldom really overheats in the room. The challenging times are early spring and late fall. That's where the sun shines the brightest into the room. But that's also the time were simply opening the door brings relief, since it is cool outside.
Even though an automated cooling system is still on our wish list, it has not been so crucial. The insulated roof really works in our favor, not just for keeping the room from freezing during the winter, but also to keep the room from overheating during the summer months.
We are not totally done with the heating subject yet. One can hardly heat anything in a cold climate, without addressing condensation. In the growing room itself, just having the electric heater and running a dehumidifier worked very well.
However, our growing room is part of a garage building. Even though we first insulated the separating wall, we still had lots of moisture build-up in the cold garage.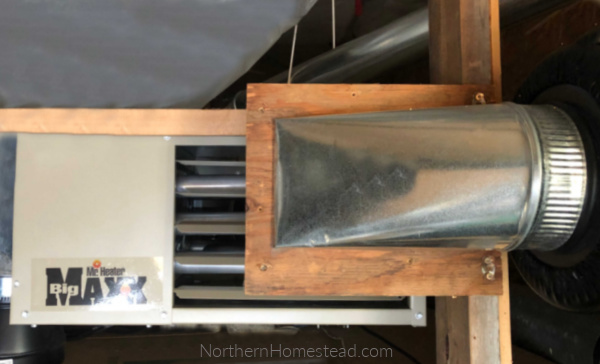 That's where BigMax came in. The heater heats both, the garage and through a duct with an inline fan in the greenhouse as well. We keep both at about 10C degrees which is nice for doing a project and reduces moisture problems due to temperature fluctuation. In the growing room, we still keep the electric heater as a backup.
The thermostat for the heater is located in the growing room, as soon as the sun is out and the room heats up by the sun, the heater does not have to run any longer.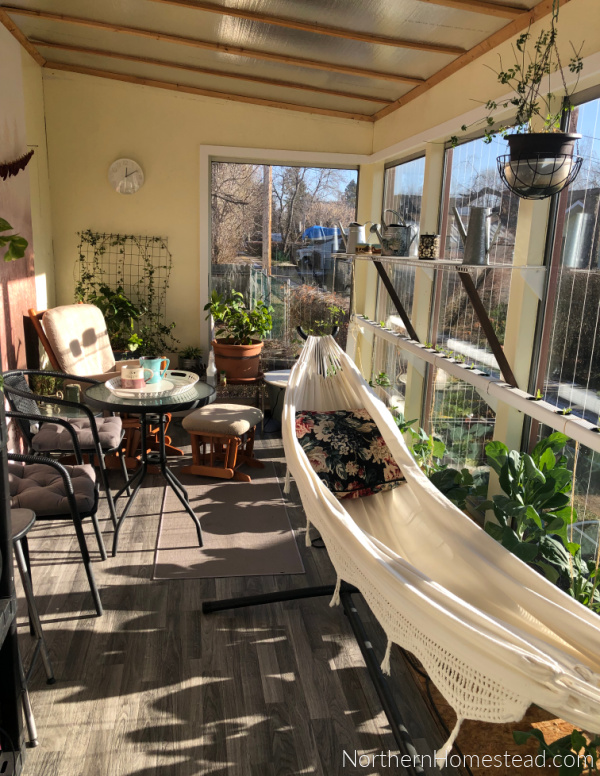 We very much enjoy our four-season greenhouse/growing room. As you see in the picture though, we do less growing and much more enjoying. We will share more about it next time. In the meantime, you can read about where our homegrown food comes from in the winter here.
We invite you to subscribe and follow us on Facebook, Instagram, or Pinterest for the latest update.
More Indoor Gardening Posts You Might Enjoy: