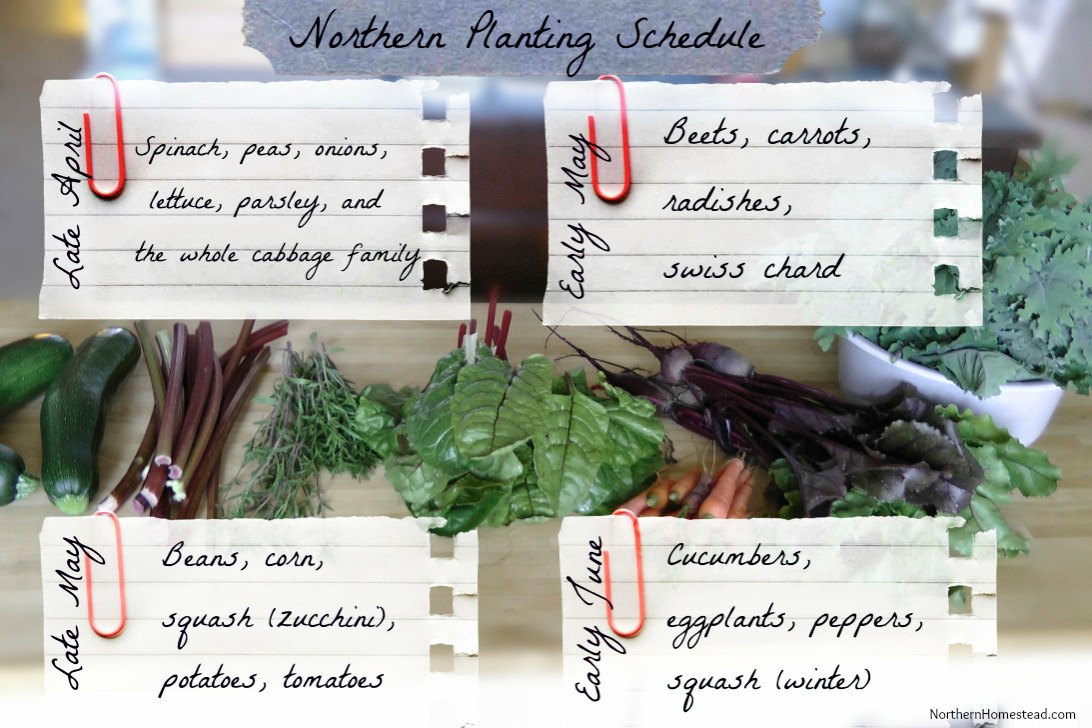 When to plant what in a vegetable garden? This is an important question. The northern planting schedule answers this question in a nontraditional way.
The general rule in our area seems to be very simple: plant everything on the May long weekend. This has to do with our last frost day, which is around May 25, and the Canadian Victoria Day, a holiday that happens to be around the last frost day. Many gardeners have followed this rule for many years more or less successfully.
If you are a brand new gardener just trying your hands on some growing, following this general rule might be a good idea. Start small and keep it simple. You might also want to read all about starting a garden blog article. Lots of helpful information there.
If you have gained some experience in gardening, or are a long-time gardener, we recommend not to follow that kind of traditional way, and here is why.
3 good reasons why not to follow the traditional way
1. There are plants that could and should be planted long before the last frost day. Plants like spinach, that do better in cooler conditions. Plants like broccoli, that are better harvested before the cabbage butterfly lays eggs (late July – early August). And plants like onions that need to be started cool and have a longer growing time. Those are all winter crops that do not mind some frost, especially when young. Other cold-loving crops are kale, cabbage, parsley, peas, cauliflower, lettuce, beets, carrots (partly), radishes, swiss chard (and there are more).
2. There are also plants that should be planted after the last frost day. Those are summer crops and grow much better in warmer soil. Cold and rainy weather that so often occurs right after the last frost day can harm or even kill them. Eggplants and peppers, along with cucumbers and squash, do better if planted after the last frost day when the weather is really nice and warm. See also the indoor seed starting schedule for those plants.
3. It is a lot of work to plant everything in one go. Even if there would be no other reason to plant plants at different times, this would be a big one for us. I can totally understand when gardeners complain about gardening being such hard work if they plant everything at the same time, and then weed the whole garden at the same time (as is the case if you plant everything at the same time), and then have to harvest everything pretty much at the same time, too. We like things simple: plant, weed, harvest – all staggered over a time period – that way gardening is fun.
Northern Planting Schedule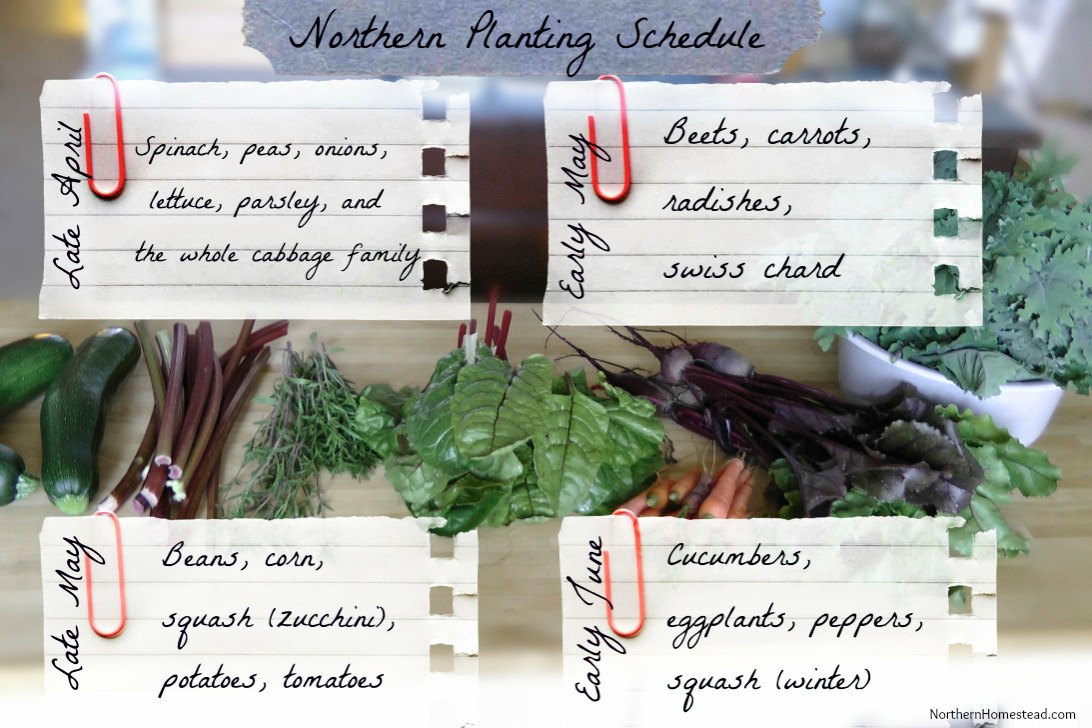 The weather in our area is very unpredictable. In the years we have been living here we have experienced -20C = -4F in late April and snow in early June. To go by a planting date is almost impossible. There are some guidelines but they are all dependent on the weather. Nevertheless, it is worth watching the weather and planting as soon as possible and as late as needed.
Late April: Spinach, peas, onions, lettuce, parsley, kale, and transplants from the whole cabbage family (Broccoli, cauliflower, …).
Early May: Beets, carrots (some like warmer weather, so plant some now, and some later), radishes, swiss chard.
Late May: Carrots, beans, corn (does not grow well here, but it's worth a try), squash (zucchini), potatoes, tomatoes transplants (might need protection).
Early June: Transplants: Cucumbers, eggplants, peppers, squash (winter).
You may also like the Spring Indoor Seed-Starting Schedule. The schedule has not only starting but also planting out dates on it.
Adapting the planting schedule to your climate
Now, your last fros date might not be May 25. Make your own schedule by using your local frost dates. To find your last frost date go to the link for Canada and the USA. Type in your city or postal code and it will show you what does dates are.
For example, if your last frost date is April 25 instead of May 25, simply move everything a month back. If your last frost date is June 10, move everything two weeks forward. So instead of planting the cold weather crops in late April, plant in early May.
Prepare the garden for planting
The traditional way to plant the whole garden in one go has a lot to do with the traditional way to prepare the garden for planting. Once the tilling is done, the planting has to follow soon, otherwise, the soil gets hard and weedy again.
Our planting schedule is great for no-till gardening methods. No matter if you use lasagne gardening, mulch, or square foot gardening, the garden is always ready to plant.
Plant overwintering spinach in fall, peas in early spring followed by cucumbers in June when the spinach is harvested.
Expanding the growing season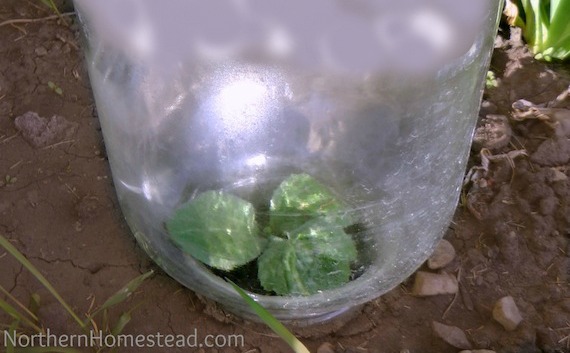 We like to extend the growing season and we find it is simplest to do so in the spring. Young, small plants are relatively easy to cover. We often use glass jars for that. It's an old method where garden cloches were used even for commercial growing. For home use, I find glass jars work just fine. As long as the jar is tight, there is not so much danger of overheating as one would think. Moisture builds up in the jar and creates an own microclimate.
Frost blankets are lightweight and can be put over the plants with or without any support wiring. You will have to weigh them down so the wind does not blow them away. The Floating Row Cover can be left on all day during windy and cool weather.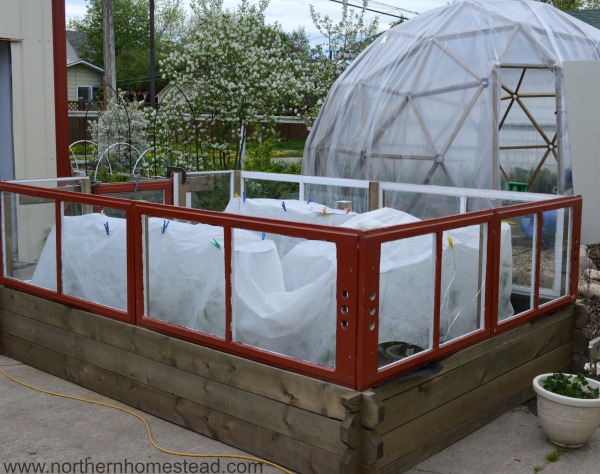 A window-protected garden bed is a great idea in a cold climate to be able to plant out and grow heat-loving plants a bit earlier.
The most fun to extend the growing season is with a greenhouse. A greenhouse is not just great for seedlings in early spring, in a cold climate you can plant and grow a greenhouse garden.
Do you have the courage to break some general rules?
We invite you to subscribe to Northern Homestead and follow us on Instagram, Facebook, or Pinterest for the latest updates.
More Planting Posts You Might Enjoy