Note: This is an older recipe. We have since changed to a plant-based diet and love it. It's better for our health, all living and the planet. The homemade sour cream source an easily be substituted with a plant based cream sauce.
Potato salad is a must-have for a summer barbecue party. I just love potato salad! This recipe has delighted many parties. Creamy, and yummy! I do not like to use mayonnaise because it is simply more durable without it (especially when it is hot outside) and tastes delicious. Instead, I use vegetable broth and a homemade sour cream sauce. The broth makes the salad juicy and it is not so sticky.
The broth can be easily made at home. Just cook some soup vegetables in a little water, add a few tablespoons of olive oil – there you have some good, homemade, vegetable broth.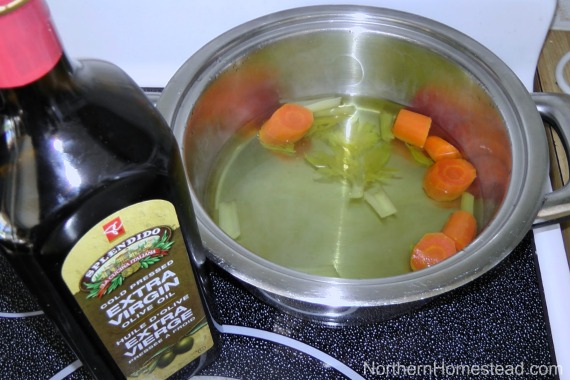 The sour cream sauce is supper yummy; it looks like mayonnaise, but it's not. By the way, sour cream also can be made at home without additives, see here how to make sour cream.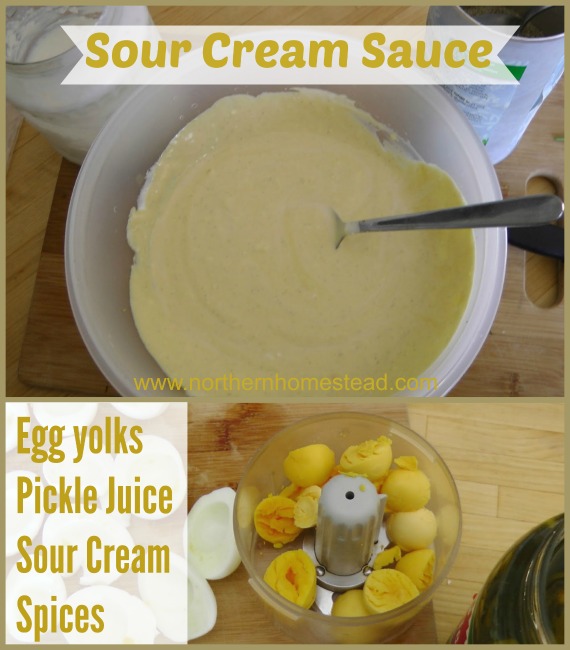 All amounts in the recipe are guidelines, depending on your taste. Some like more onions, others more eggs – make it the way you like it. This is how we like it :). If I make potato salad, I usually make lots. It is just so good and the leftovers are great too. But you can easily divide the amount in half. Enjoy!

Potato salad with sour cream and broth
Author:
Anna @ Northern Homestead
Ingredients
14 potatoes (medium size)
7 pickles
7 hard boiled eggs
⅕ - 1 onion (I prefer red)
Fresh herbs
Half to whole cup vegetable broth
1 cup sour cream (crème fraîche)
Half cup juice from pickled cucumbers
Salt and pepper to taste
Instructions
Wash the potatoes, cook, peel, and chop.
Pour hot broth over the potatoes and stir well. The broth makes the salad juicy and it is not so sticky.
Finely chop the cucumbers, onions, and herbs and add to the salad.
Peel the eggs and divide in half. Separate the egg yolk and the egg white.
Cut the egg white into small pieces and add to the salad.
Mix the egg yolks and the juice from the pickled cucumbers in a food processor, you can do it with a fork too, it has to become a creamy mass.
Mix the sour cream with the egg yolk mass creating a sauce, add spices.
Pour the sauce over the salad, mix everything together.
We invite you to subscribe to NorthernHomestead and follow us on Facebook or Pinterest for more great recipes.


More Recipes You Might Enjoy: