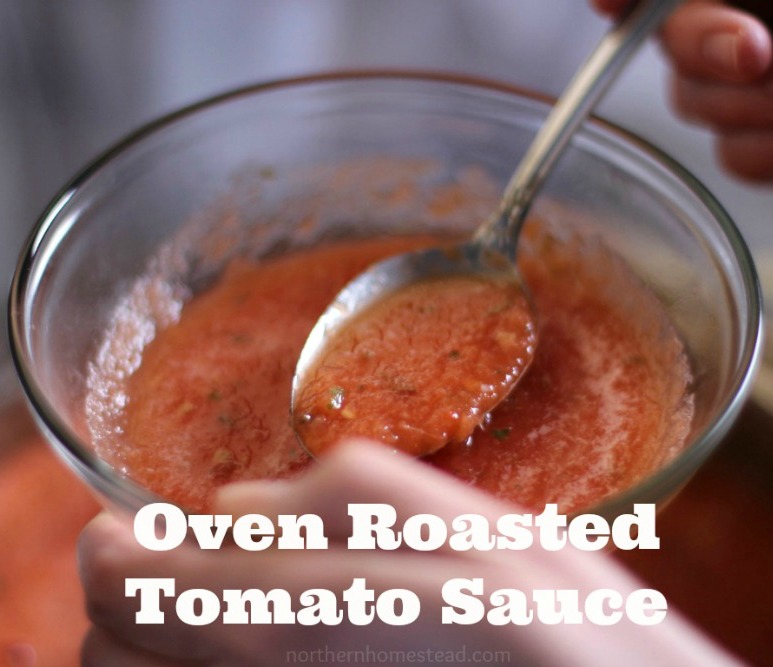 We have been enjoying the yummy taste of homemade oven roasted tomato sauce for a few years now. It all started when fellow blogger The Free Range Life posted the Roasted Tomato Sauce recipe that looked so yummy and sounded so easy. Since we had lots of homegrown tomatoes, I made some and we loved it. So I made some more and we froze it. We have been making roasted tomato sauce ever since.
The sauce is best made with homegrown tomatoes, but works with store bought tomatoes too. It's not as sweet as with homegrown tomatoes and a bit more watery, but still tastes much better than any store bought tomato sauce.
For the sauce the tomatoes do not have to be perfect, any size and shape works. It is a great recipe if there is an overload of tomatoes in the summer, or if at the end of the season there are too many after ripening at the same time.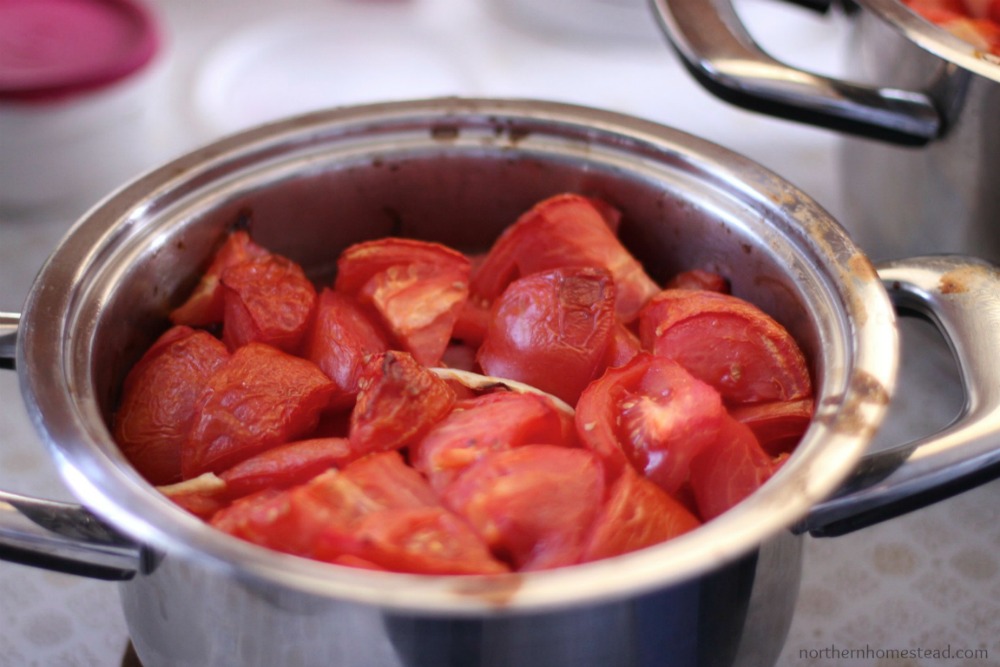 The recipe is very simple, just the way I like it: take what you have on tomatoes, garlic, onion, olive oil, salt and pepper, basil, oregano, and make it the way you like it. Great, eh? And you know what, it works. So yummy! The beauty of this recipe is that no peeling is necessary, everything is used in the sauce.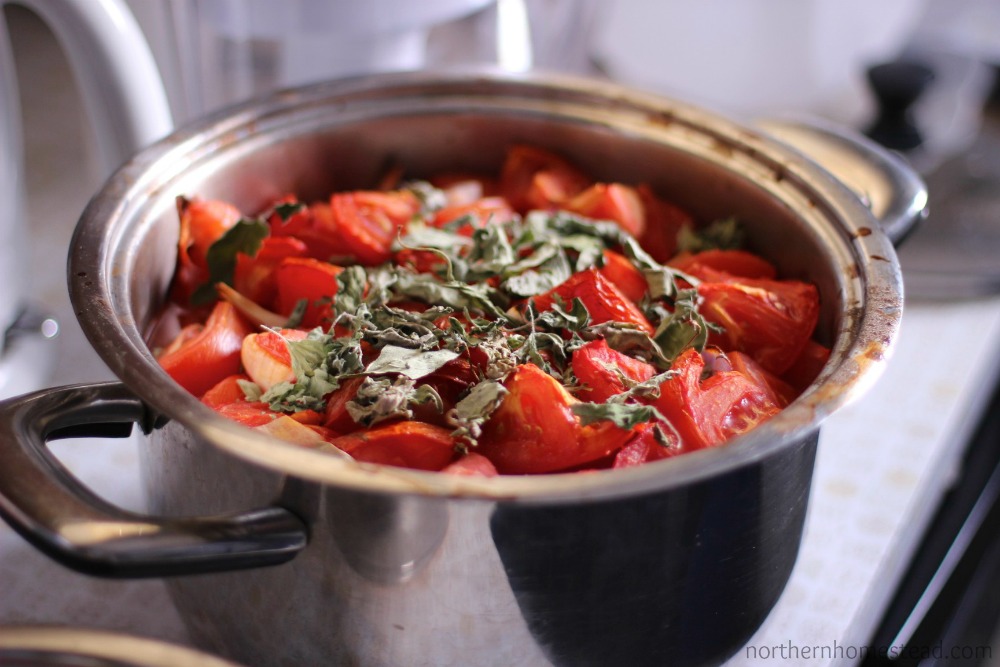 It already smells so good in my kitchen where two full pots of tomatoes are roasting in the oven. Now you probably want to make it too. I warn you, you might never again like any store bought tomato sauce. But that's ok, isn't it?
Here is the recipe.

Oven Roasted Tomato Sauce
Author:
Anna @ Northern Homestead
Ingredients
Tomatoes (about 8 lb)
Garlic (2-5 cloves)
Onion (1-2 medium sized)
Olive oil (about 1 tablespoons)
Balsamic vinegar (about 3 tablespoons, I often go without)
Salt (if desired) and pepper to taste
Basil (fresh or dry)
Oregano (fresh or dry)
Instructions
Wash and coarsely cut the tomatoes (use the whole tomato except the hard stem)
Peel and coarsely cut onions and garlic
Add olive oil
Add salt (Be sparing if you are going to freeze the sauce, I usually do not use any salt at all)
Toss it all up (I do this with my hands)
Bake in a roasting pan for 45 minutes at 400F
Add pepper, basil, and oregano
Blend it all up (I use my immersion blender)
If needed, spice it up until it tastes how you like it.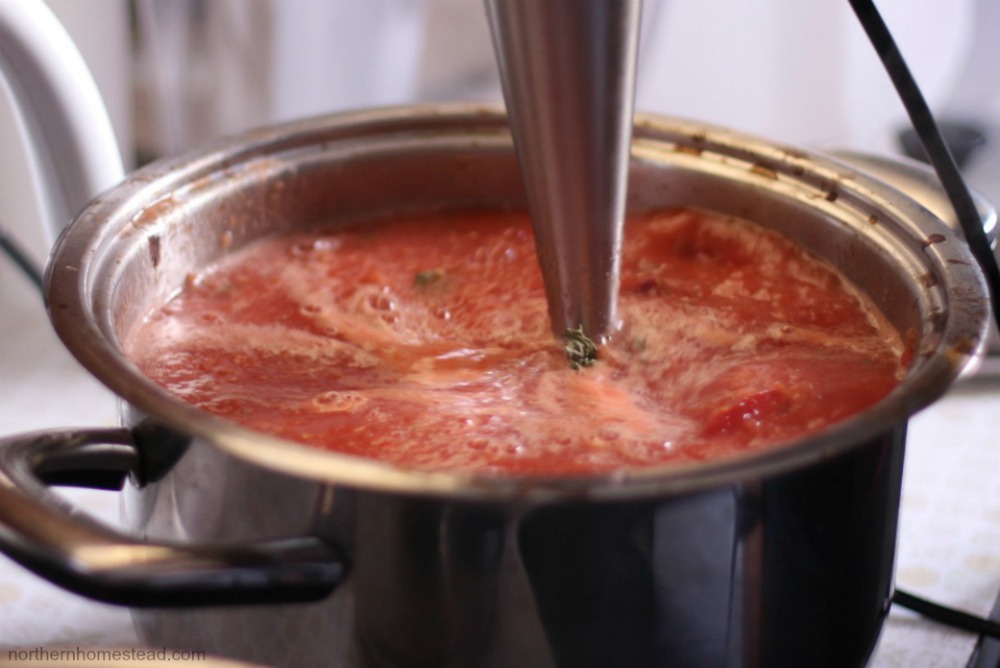 Preserving the oven roasted tomato sauce
This sauce can be preserved for later use. I like to freeze it (Note: for freezing use less or no salt). Since this sauce is great as a sauce and also as an addition to a soup, I freeze some in bigger and some in small containers.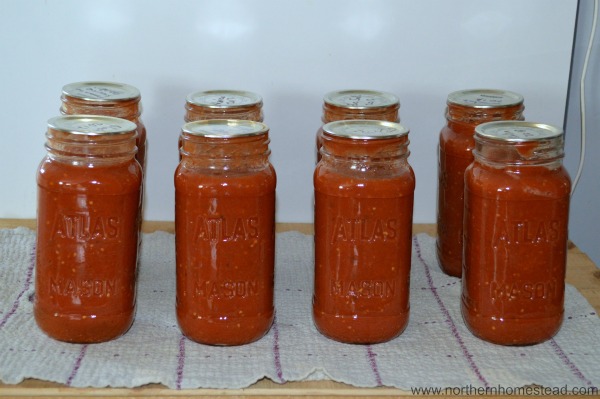 This sauce can also be canned to save freezer space. Since the ingredients are about the same as the Seasoned Tomato Sauce from Bells Complete Book of Home Preserving, I also used the same method to can it. Before filling each clean and hot  pint (500 mL) jar with the hot sauce, add 1 tablespoon (15ml) lemon juice or 1/4 tsp (1ml) citric acid. Process for 35 minutes in a water bath canner.
You want to learn canning at home? This DVD will show you just how fun and easy preserving your foods can be.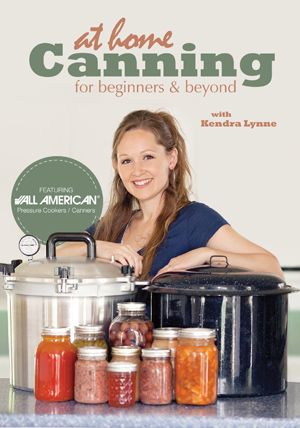 We invite you to subscribe to Northern Homestead and follow us on Facebook or Pinterest for more great recipes.
More Recipes You Might Enjoy: