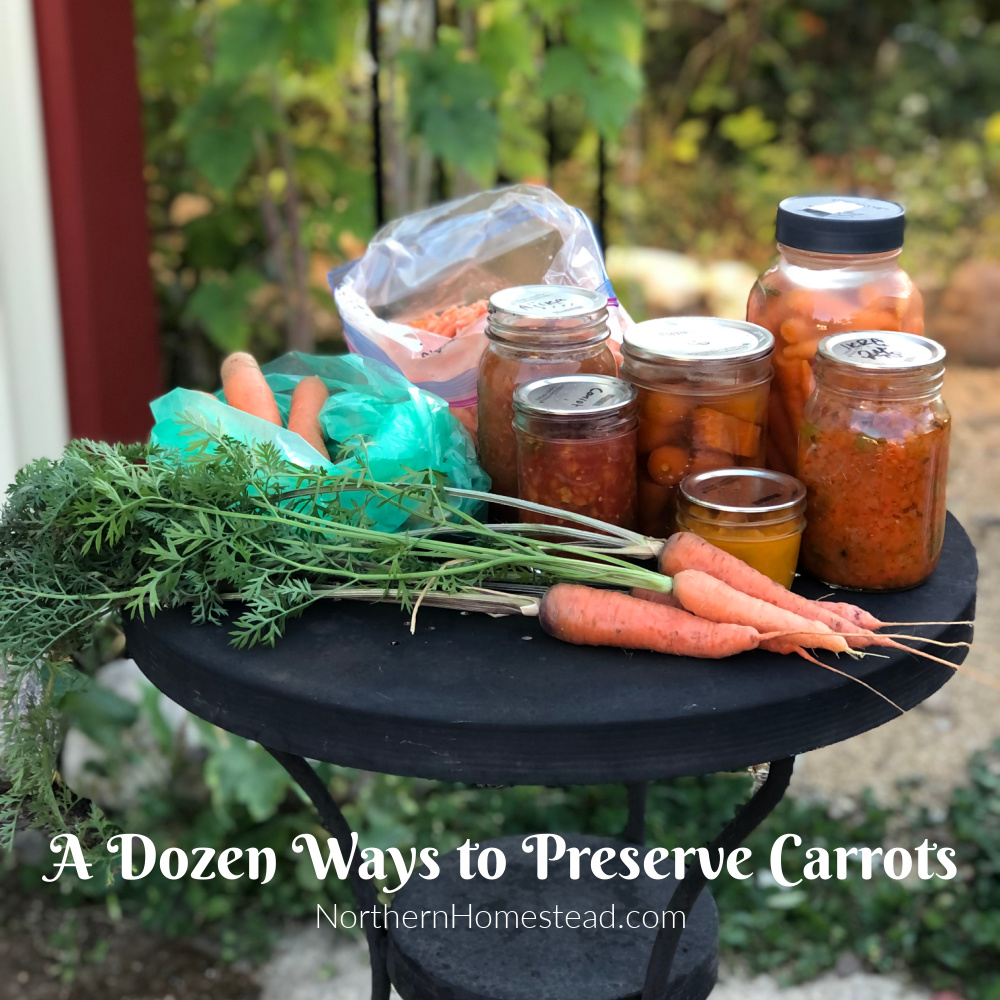 After sharing our bountiful harvest last week, the question arose about how to preserve carrots. That's a good question. Here are a dozen ways to preserve carrots. Most of them we are using or have used in the past.
Storing carrots in the cellar
Carrots are a root crop that stores very well in a cellar. I remember my uncle showing us his amazing cellar built into a hill. Inside were carrots that were obviously just harvested and gathered into a pail. He did not have to do anything to them, only the tops were removed. They stayed fresh like that for months.
We do not have a cellar, storing carrots like that is not an option for us. We had to come up with other ways to store them.
If you have access to a cellar, storing carrots is as simple as that.
Storing carrots in Peat Moss or sand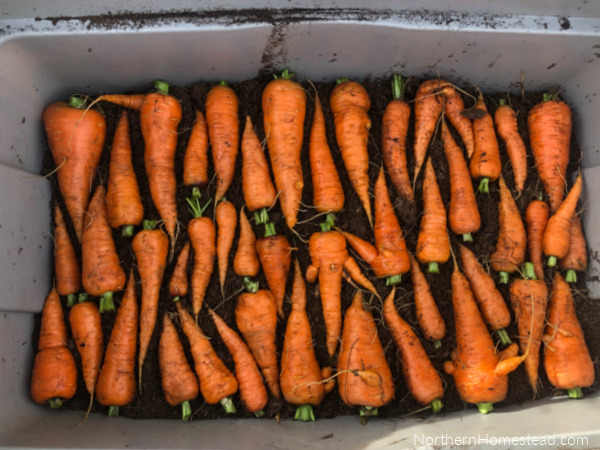 Our old house has a former coal room that we use as food storage. We tried storing carrots layered in peat moss in a big Rubbermaid container in there.
Gently clean the carrots, no need to wash them thoroughly, remove greens then layer without them touching each other. The peat moss should be damp.
For some the carrots store like that till summer the following year.
Personally, we did not have such a great experience with this method. Mostly I think because we struggled to keep the peat moss damp.
Storing in damp sand is a similar method. Personally, we found sand too heavy. It is not as much fun digging for them. Maybe you have a better experience.
Storing carrots in the fridge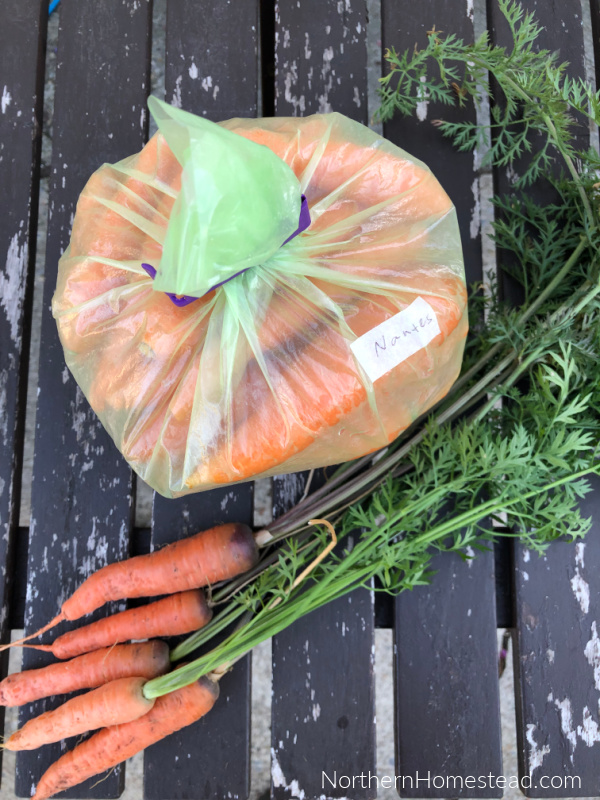 Storing carrots in the fridge is another option for long-time storage. The success, like with other methods depends on many factors. There are different carrot varieties. Also, different growing conditions result in variations in moisture content in the carrots themselves. And also the climate and storing options are different. Not every fridge is the same. So try what works for you.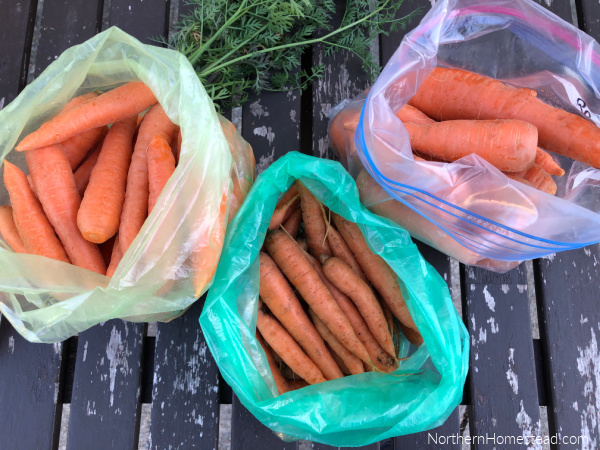 Trying out different bags can make a difference as well. I like using the green storage begs. A ziplock bag is a good option if the carrots tend to dry out. More likely though they have excess moisture. Putting a paper towel inside can help with that. Periodically exchanges the paper towel if it gets wet.
There are also different opinions and experiences with cutting off the growing top vs not cutting, as well as washing and not washing. Try what works best for you, since there is no one fits all method.
Freezing Carrots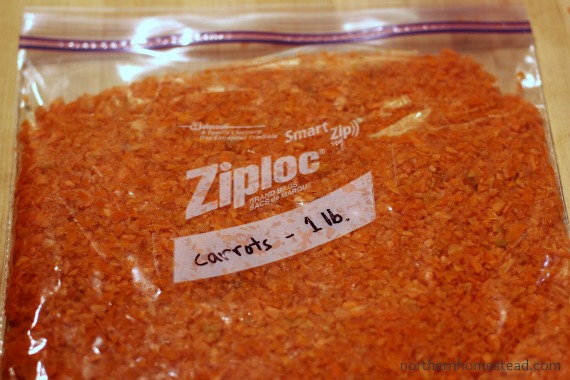 Freezing carrots is very simple and we do that every year. I love having ready-to-go chopped carrots.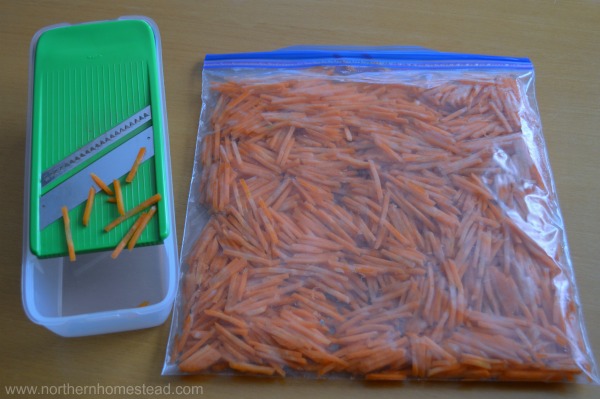 Shredded or grated carrots do not have to be blanched. Read more about our method here.
If you want to freeze bigger pieces of carrots they do have to be blanched. You will need 3 minutes for sliced carrots, and 5 minutes for whole baby carrots.
Pressure canning carrots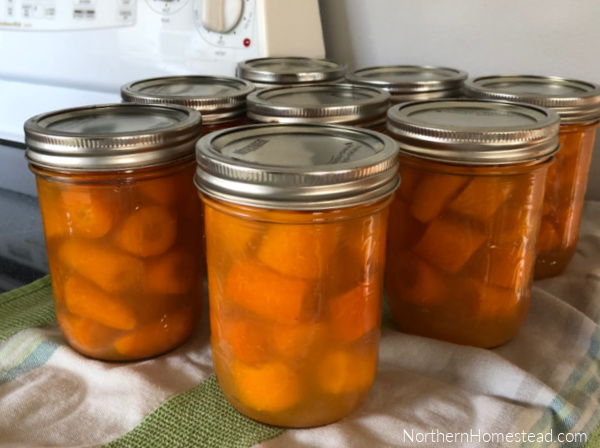 Canning is the next best option if storage or freezer space is unavailable. Baby carrots can be canned whole, and bigger carrots sliced up.
Since carrots are a low-acid food, they have to be pressure canned. Pints will need 25 minutes and quarts 30.
Pressure-canned carrots will be soft, maybe more so than you would prefer, still, they are great for soups and stews.
Personally, we like glazed carrots and I use this recipe, reducing the sugar to half.
Ikra spread recipe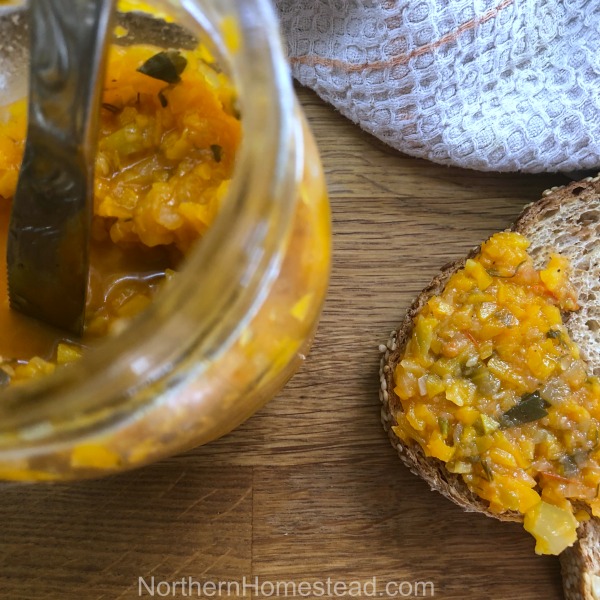 Carrots are also a big part of our Ikra spread recipe. It is also pressure canned. You can find the recipe here. We love it as a spread for bread, or with potatoes. See more ideas on how to use home canned food here.
Pickled carrots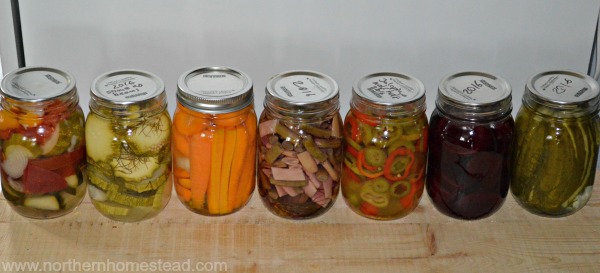 Carrots can of course also be pickled alongside many other vegetables. With vinegar, they are fine to be processed in a water bath canner. Find your favorite recipe and pickle away.
Carrot salsa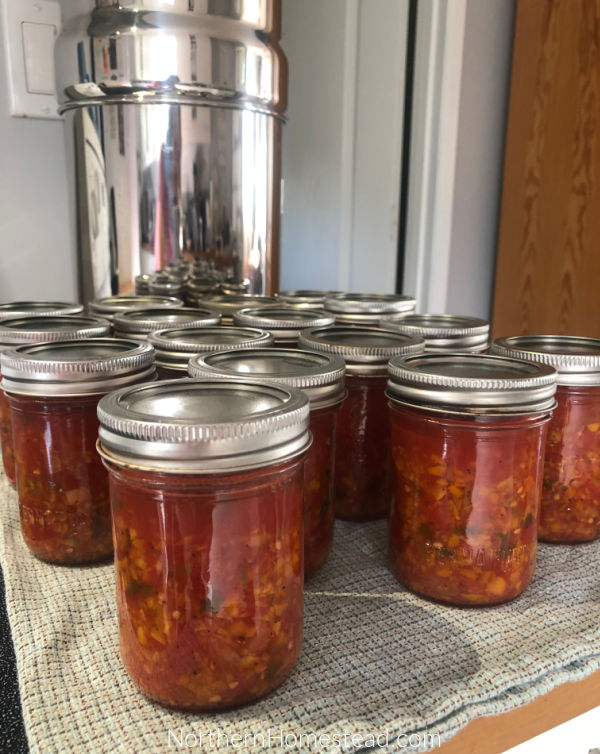 Carrot salsa is one of our favorite salsas. If I had to choose just one salsa recipe, that would be the one. The carrots give it a uniquely delicious taste.
Other preserves using carrots
You might have never heard of ajika. I would say it is similar to salsa. This recipe uses carrots, and apples, alongside tomatoes and peppers. For variety, it sure is delicious.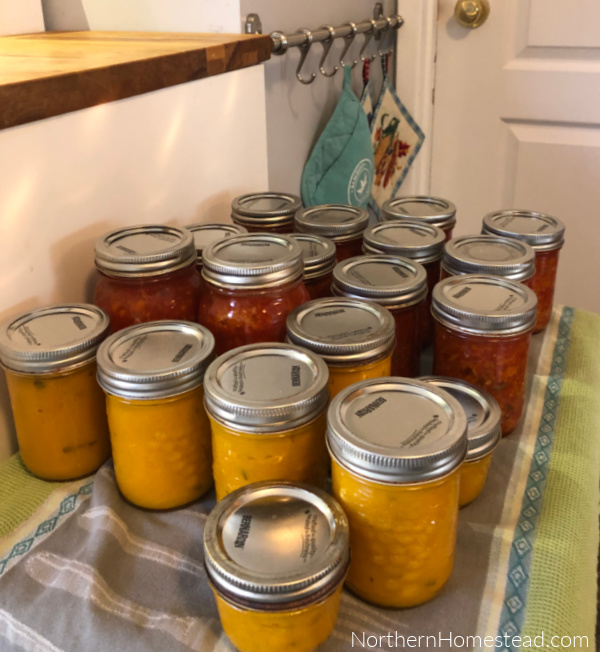 Habanero-carrot butter from The All New Ball Book of Canning is another interesting preserve to use up carrots.
Fermented carrots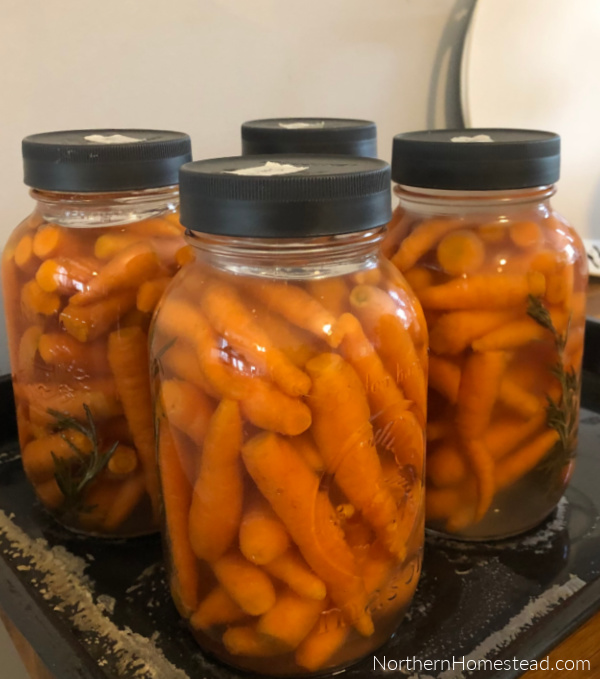 We love fermented baby carrots. In fermenting is simple we share a video of hot-to-make dill baby carrots with you.
Most often though we make rosemary baby carrots. For a quart jar, we use a string of rosemary and 1 quart of water to two tablespoons of salt brine. Let it sit in the kitchen for 7-14 days, then transfer it to a cool place or the fridge. They will keep for 12 months.
Dehydrated carrots
Dehydrating carrots in a food dehydrator or freeze dryer is another option. However, we do not do that. Just throwing it in as an option here.
Keeping carrots in the garden over the winter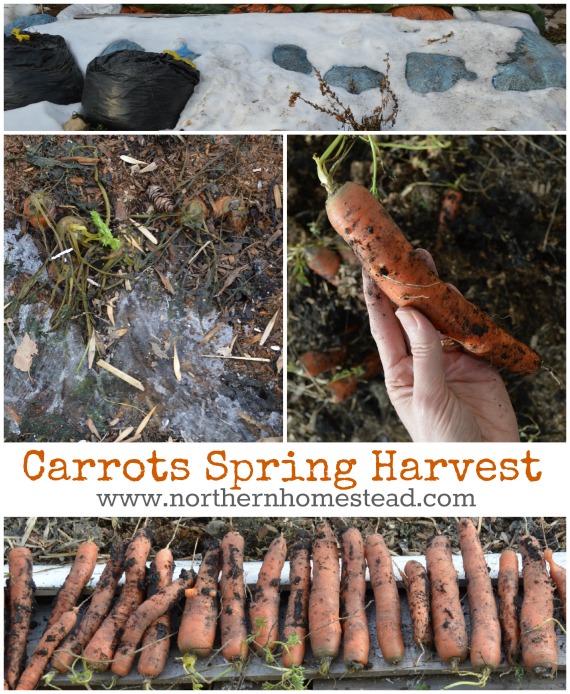 Last but not least, carrots can be kept in the garden over the winter. In a milder climate, this might be one of the best options. But even in our zone 3 garden, it does work. We share our experience here.
There you have a dozen ways to preserve carrots. What is your favorite way to preserve carrots? Please share in a comment below.
We invite you to subscribe to Northern Homestead and follow us on Instagram, Facebook, or Pinterest for more great tips.
More food preserving articles you might enjoy: