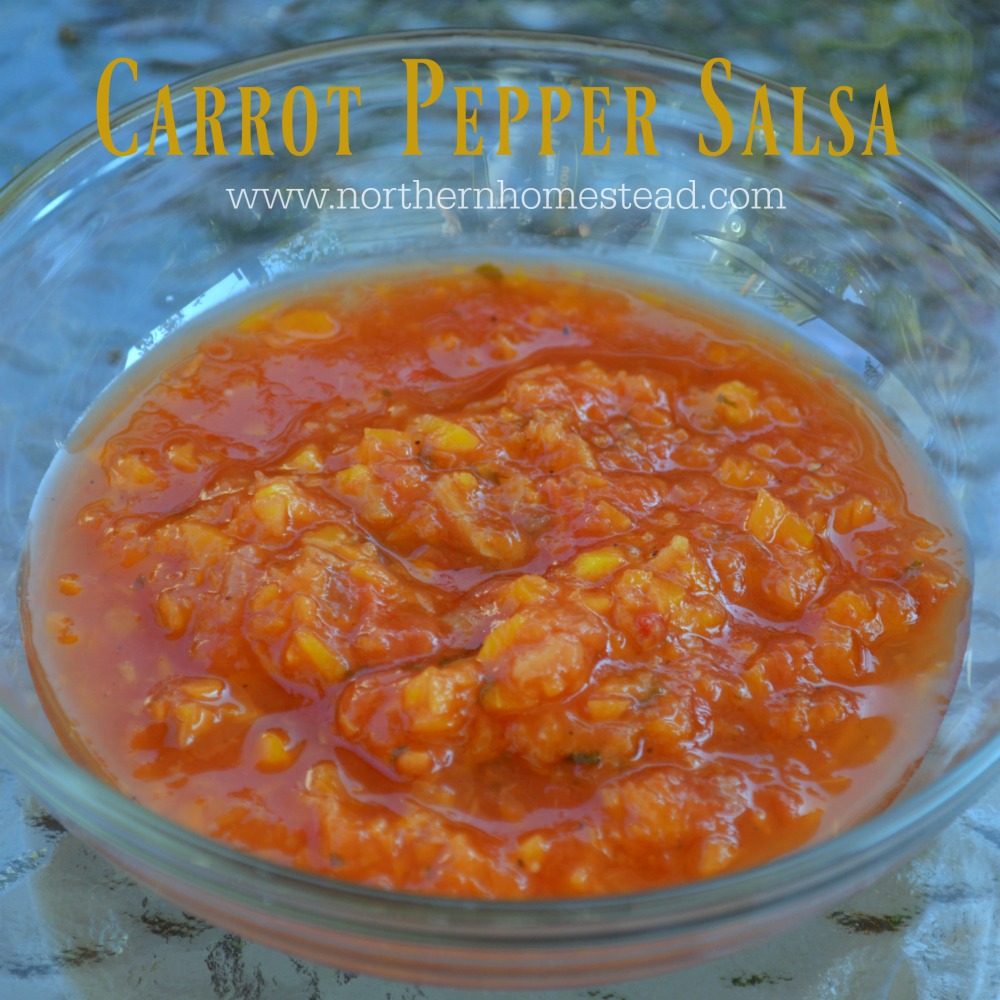 We love salsa. A good salsa recipe, ready-made and canned for winter transforms a simple meal into a delicatessen in minutes. This carrot pepper salsa recipe does that in a unique and delightful way.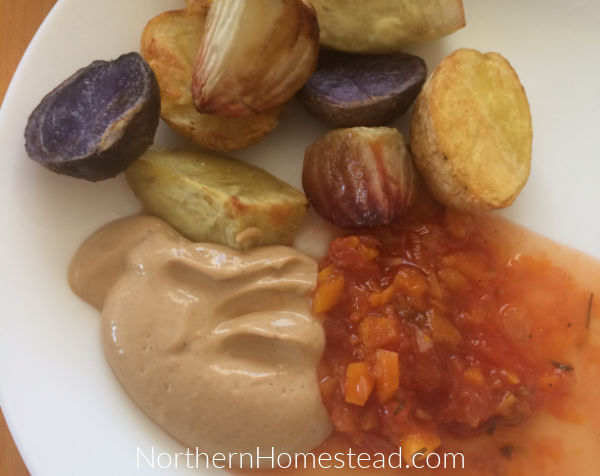 It's a mouthwatering and colorful addition to roasted veggies along with a nutty cheese sauce. Goes well with potatoes or pasta dishes.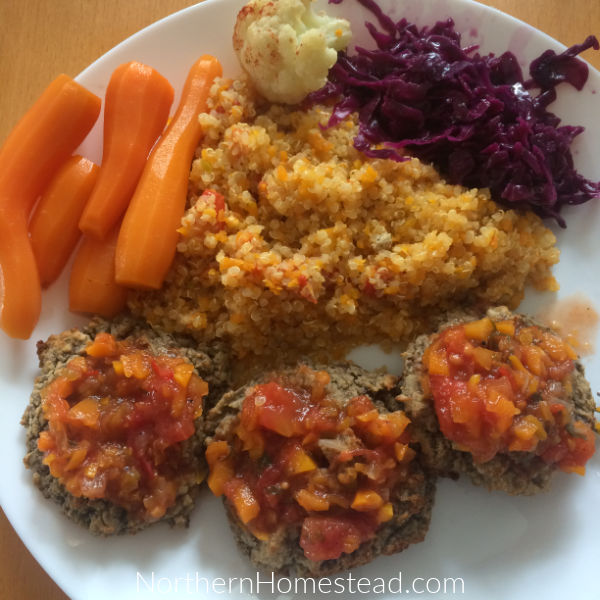 Or top the plant "meat" balls for an easy taste enhancer. The ideas are almost endless. 
And of course, there are all the traditional uses for salsa.
This recipe is from the Ball Complete Book of Home Preserving.  This book has so many great recipes that I would say it's a must-have for everyone who likes canning and preserving. As always I converted the recipe to gram because I find using a scale so much easier than measuring cups. For detailed canning, instructions see the recipe in the book on page 211.
I found the recipe accidentally because one year we had so many tomatoes and no bell peppers to go with them. So I searched my canning book for a recipe without bell peppers. We loved it and have made it ever since.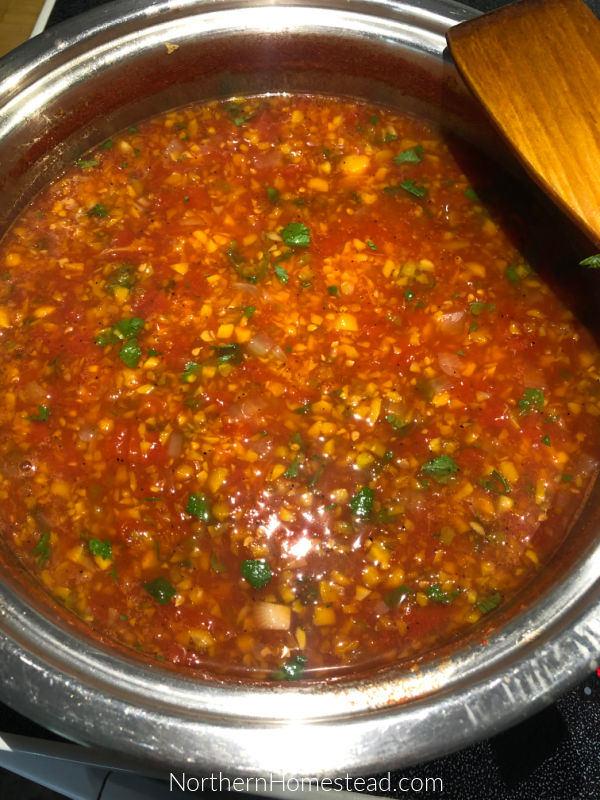 I often make a double batch, since we like it so much.
The pepper in this recipe refers to pepper as a spice, not fruit. It uses ground black pepper and hot peppers. Depending on how spicy you want it, you can add the seeds of the jalapeño peppers, or leave them out. I have substituted the jalapeños with a different kind of hot pepper if my jalapeños weren't ready yet.

Carrot Pepper Salsa Recipe
Author:
Anna @ Northern Homestead
Ingredients
1200 gram (6 Cups) tomatoes
360 gram (3 Cups) carrots
1½ cups cider vinegar (I substituted half with white vinegar)
1¼ cups lightly packed brown sugar (I substituted with ½ cup honey)
½ cup onion
½ cup jalapeno pepper
1½ teaspoon salt (I used ½ teaspoon)
½ teaspoon black pepper
¼ cup cilantro
Instructions
Coarsely chop-cored and peeled tomatoes.
Coarsely grate peeled carrots.
Finely chop onions and jalapeño peppers. Leave seeds in if you want more heat.
Combine all the vegetables in a large saucepan.
Add salt, sugar if used, and vinegar.
Cook until it thickens, about 1 hour.
Add honey if used, freshly ground black pepper, and chopped cilantro.
Cook for another 5 minutes.
Fill jars, wipe rims, apply lids, and screw on bands.
Process in water canner for 15 minutes (Adjust to your altitude).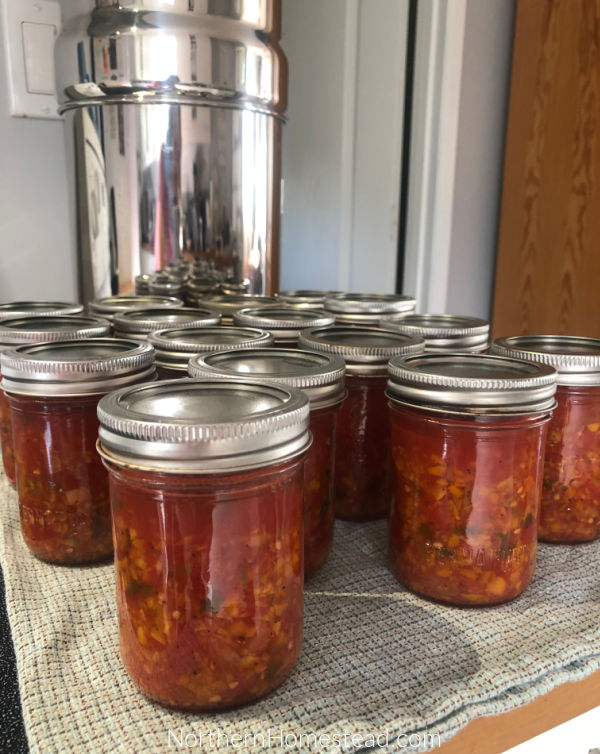 Try this yummy carrot pepper salsa recipe and let us know how you like it.
We invite you to subscribe to Northern Homestead and follow us on Instagram, Facebook, or Pinterest for more great recipes.
More Recipes You Might Enjoy: