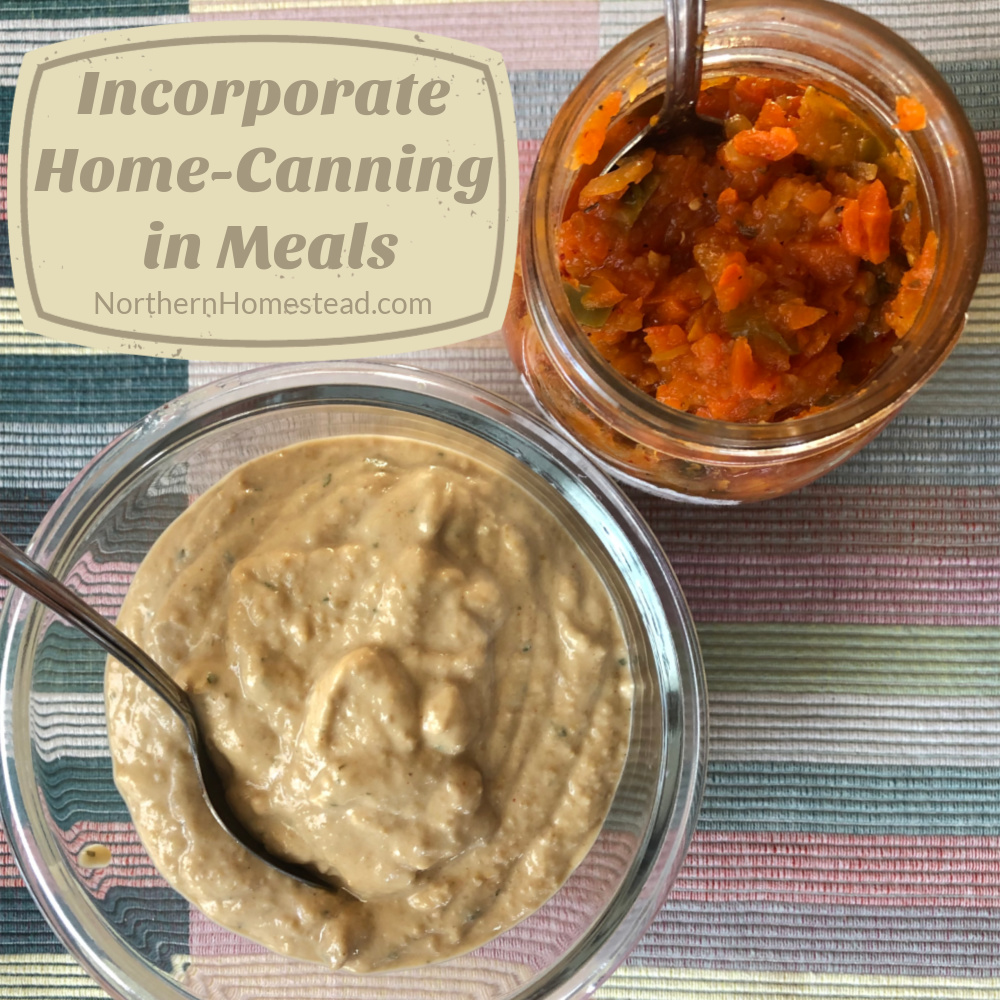 Canning and preserving, to fill shelves with colorful jars, is great, but what now? How do we incorporate home canning in meals? For me, it was a bit of a learning curve. Recipes usually do not ask for home-canned produce. Some popular brands of condiments or salsa on a grocery store shelf might have found their way into a recipe. For the most part, we had to find our own way.
My goal with food preservation is to create simple, nutritious, and delicious meals from what grows in our garden. Since our growing season is so short, we preserve a lot of what we grow for winter. Canning is one of the 5 ways we preserve food. Incorporating home-canning in meals is a big part of it.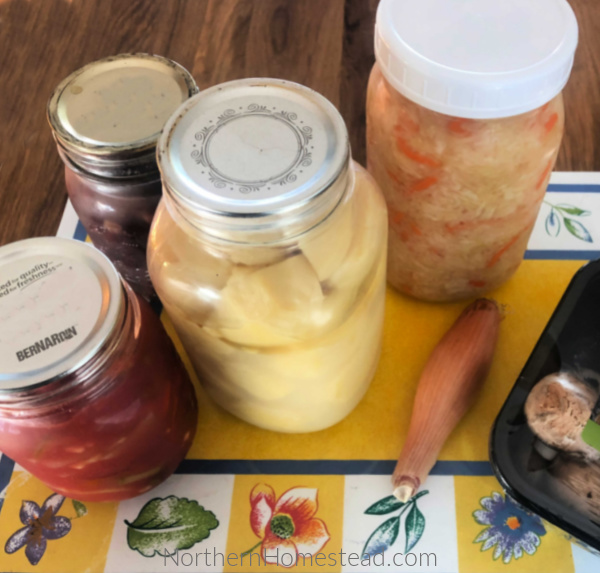 Cooking in freestyle allows us to use what we have in our pantry. If freestyle cooking is new to you, head over and learn the basics here.
In this blog post, we share many ideas on how to incorporate home canning in meals and two bonus recipes to use up all the home-canned goods in your pantry. We will cover:
Using home-caned condiments
Using home-canned side dishes
Cook with home-canned food
Using home-canned fruit
Using home-caned condiments
Condiments are usually used in two ways, as a table condiment or at preparation and cooking. We will cover cooking later. Here let's look into condiments that are added to food after cooking, to enhance a specific flavor, to complement the dish.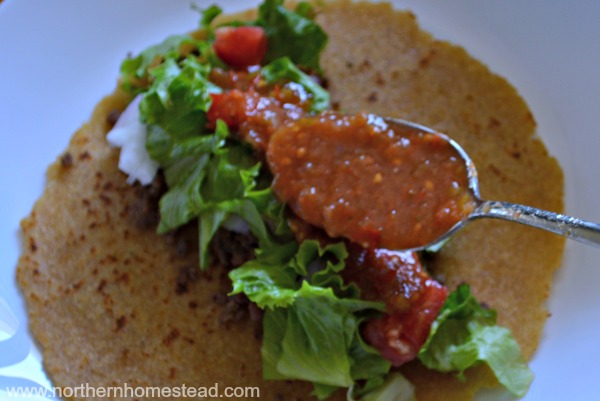 Ketchup, mustard, hot- or barbeque-sauce can all be made at home. Our first choice to make and use at the table is salsa.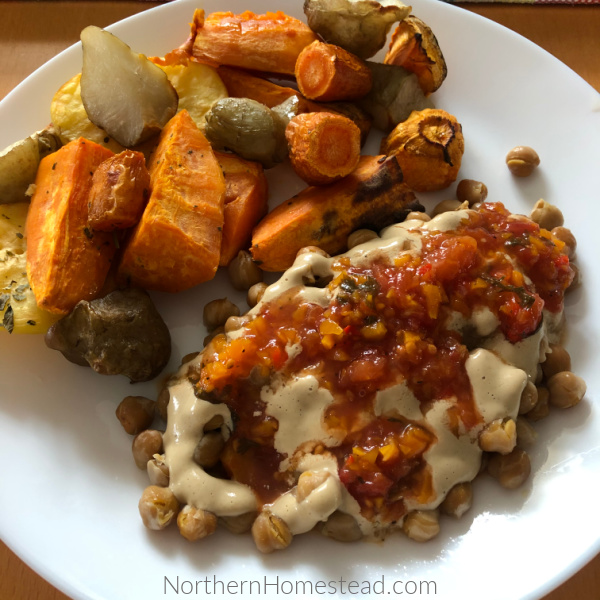 One of our favorites is Carrot pepper salsa with roasted veggies. Here in combination with Nut cheese sauce and home-canned chickpeas. Yum!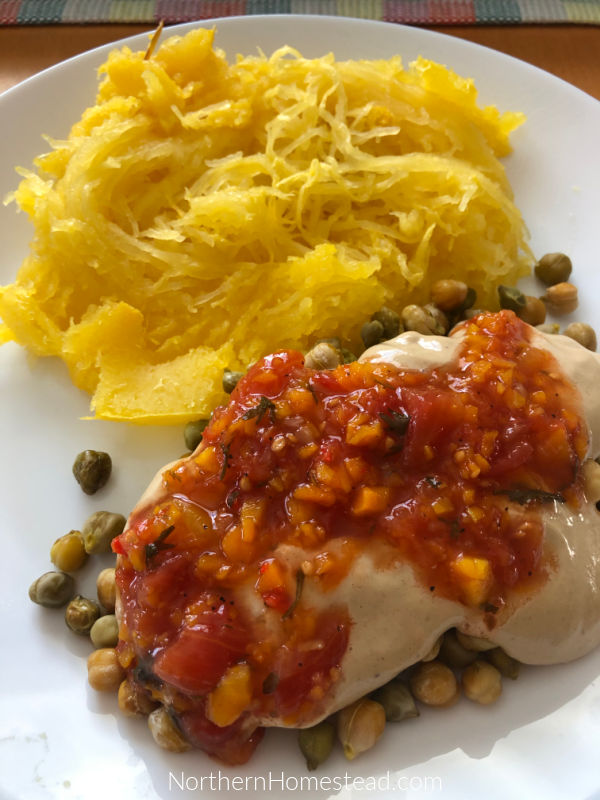 Any root vegetables as well as squash work with this combination. In this picture, we used homegrown chickpeas and roasted spaghetti squash.
Another favorite of ours is Ranchero Salsa. It is not as hot as the fermented hot pepper sauce that we also love, but way more flavourful than plain ketchup. It can easily replace it though, for example with homemade french fries.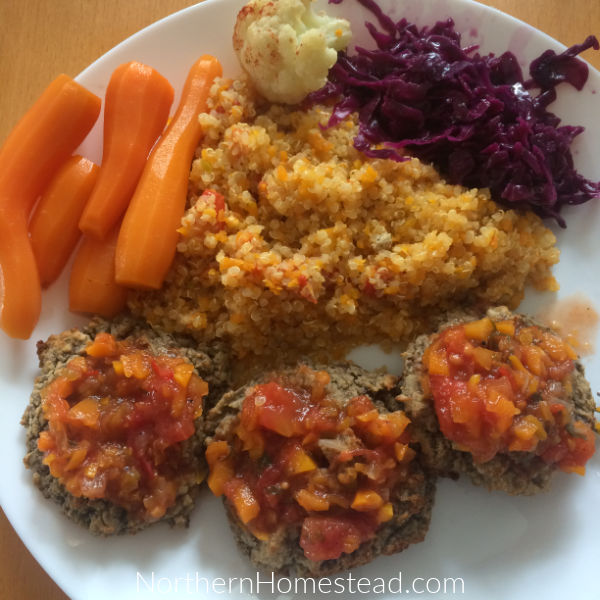 Salsa or hot sauce is great for bringing some color and flavor to a dish. However, it does not have to be a sauce that will spice up a dish. Pickled hot peppers and garlic scapes taste and look good, too.
Get creative with your home canning. If you use many condiments find recipes that can replace those you get from a store. The All-New Ball Book Of Canning And Preserving might give you some new ideas.
Using home-canned side dishes
To use pickled or canned veggies as a side dish is the simplest way to incorporate canned food in meals. Many common vegetables pickled or pressure canned find their way onto our plates.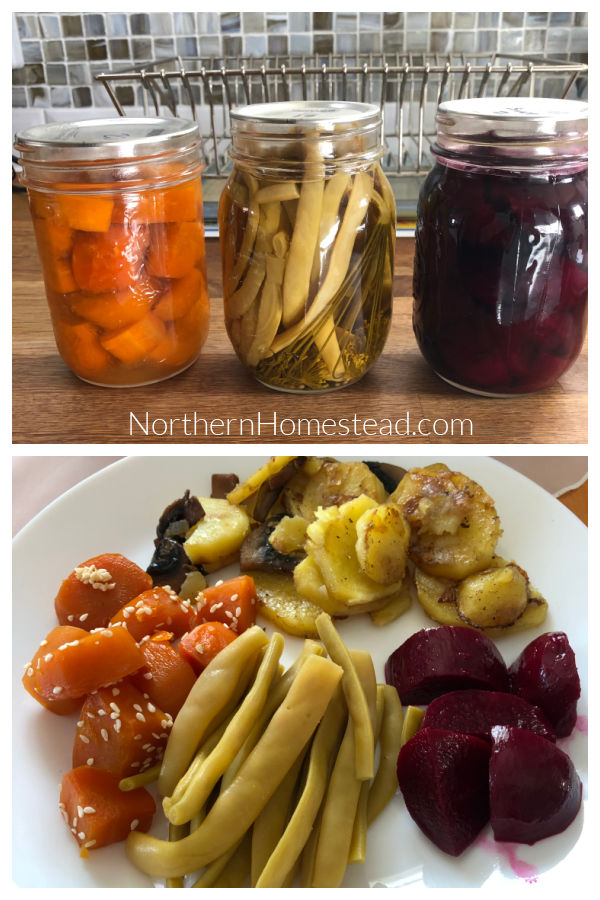 One day I served my pressure canned carrots in orange juice, warmed up with some sesame seeds to dinner guests. One of our guests wanted to know more about them, assuming it was some fancy recipe. I still remember her surprised look, when I revealed that they came out of a canning jar.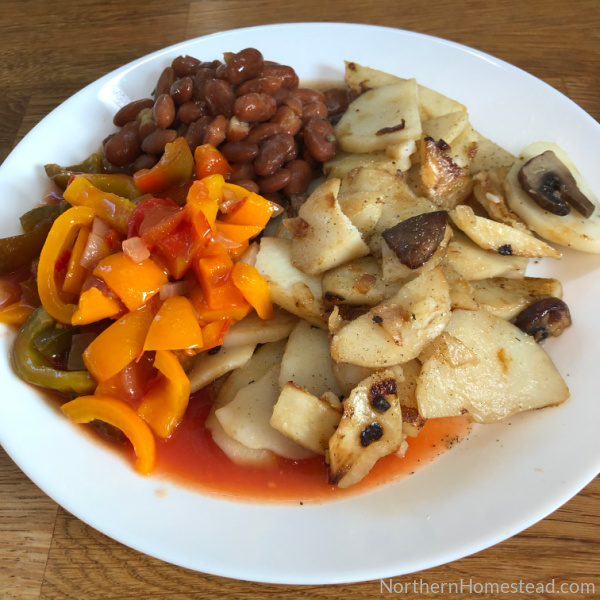 Many of our canning recipes are specifically made to be side dishes. Here is pepper lecho served with pan-fried potatoes. Potatoes go so well with home-canned veggies, and oftentimes the potatoes themselves have been high pressure canned.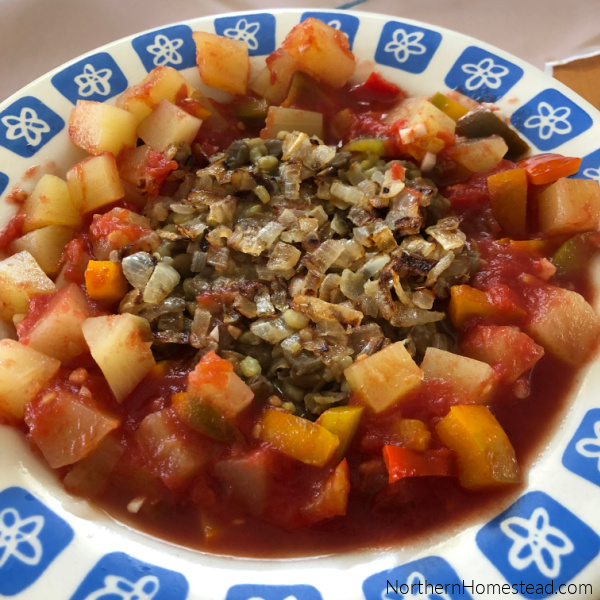 Here is our popular zucchini salad served with Mujadara (Lentils and Rice with Caramelized Onions) cooked in the Instant Pot. Mujadara is so filling and simple to make.
Mujadara recipe
1 cup lentils
3/4 cup whole grain rice
1 -2 cloves garlic
1 teaspoon or to taste ground cumin
1 teaspoon or to taste salt
3 cup water
Cook on high pressure for 25 minutes
Caramelized Onions in some butter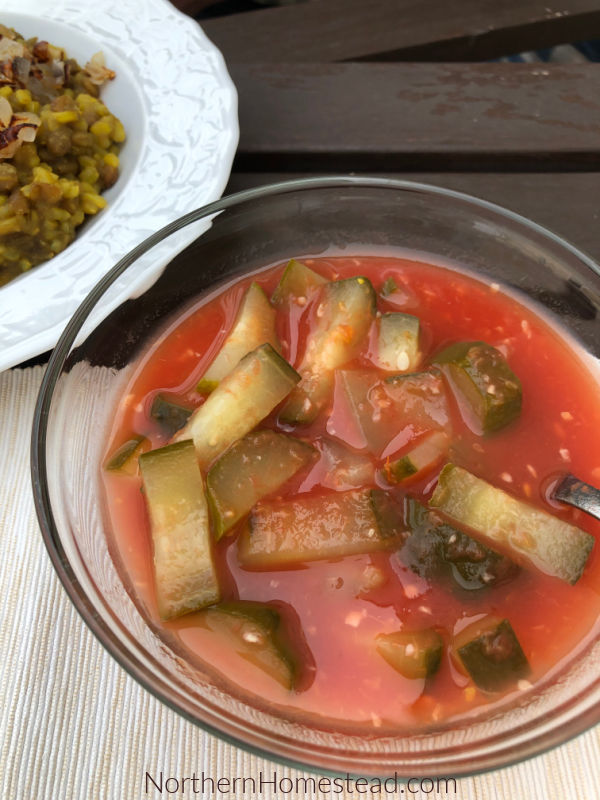 Mujadara can be served plain, however, we like it with one of our canned side dishes. Or as a reader worded it: "It's like opening a jar of summer" to add to a simple dish. Serve it in an extra bowl, or together on one plate.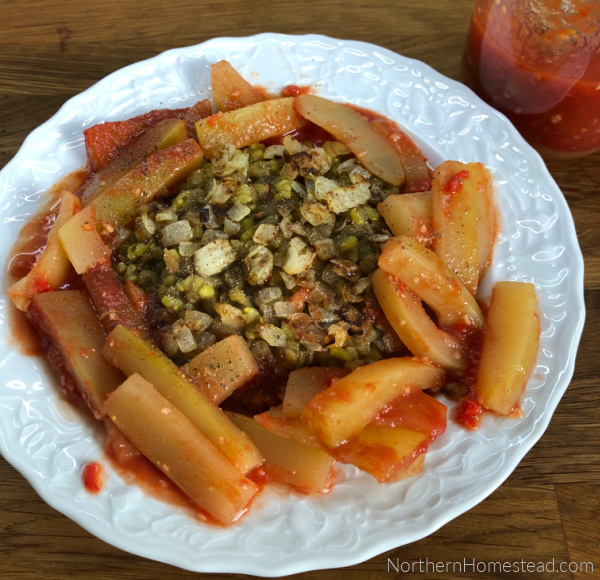 Here we served it with Zucchini tongue. Cucumber and tomato lecho or pepper lecho are other options. Each time the dish will taste a bit differently.
Cook with home-canned food
If you are canning soups and stews, that is great. Here we look into ideas that are not already a meal recipe. How we can incorporate home-canned food in cooking.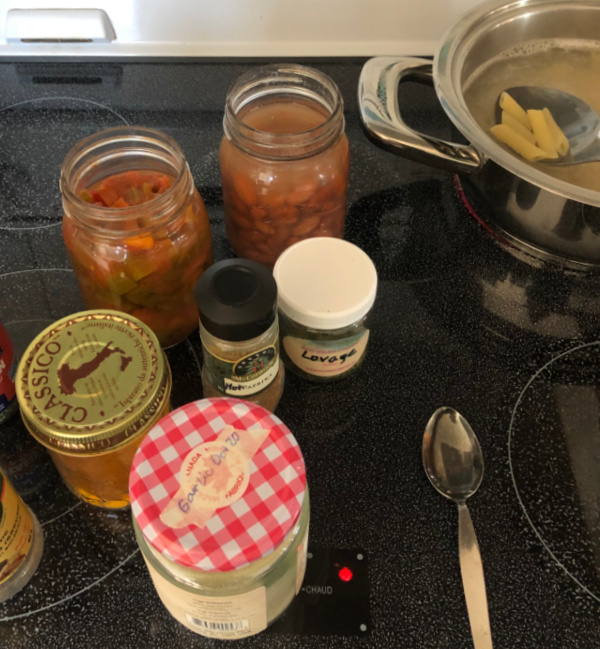 Cooking with home-canned food allows us to make homemade fast food without compromising. What makes a good side dish, see above, also makes a good soup. Zesty salsa is another option that you might have at hand for an instant soup.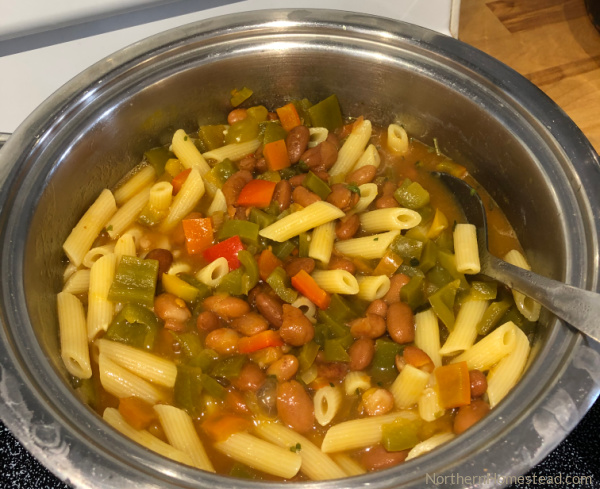 This is not an actual recipe here, I might just cook some pasta (about half a pound), add a jar of beans, a jar of veggies, a cup of homemade vegetable broth, spice it up with some homemade garlic powder, cumin, turmeric, hot pepper powder, or fire cider pulp and the soup is ready to serve. Instead of pasta, winter squash works well too.
Or I use a pound of pasta and a jar of Ikra and kidney beans and make it into a casserole.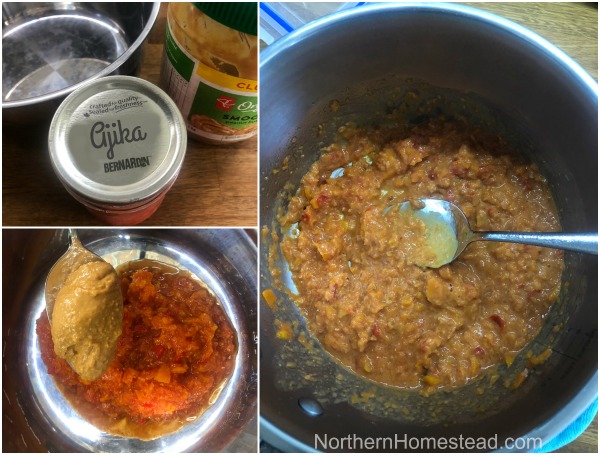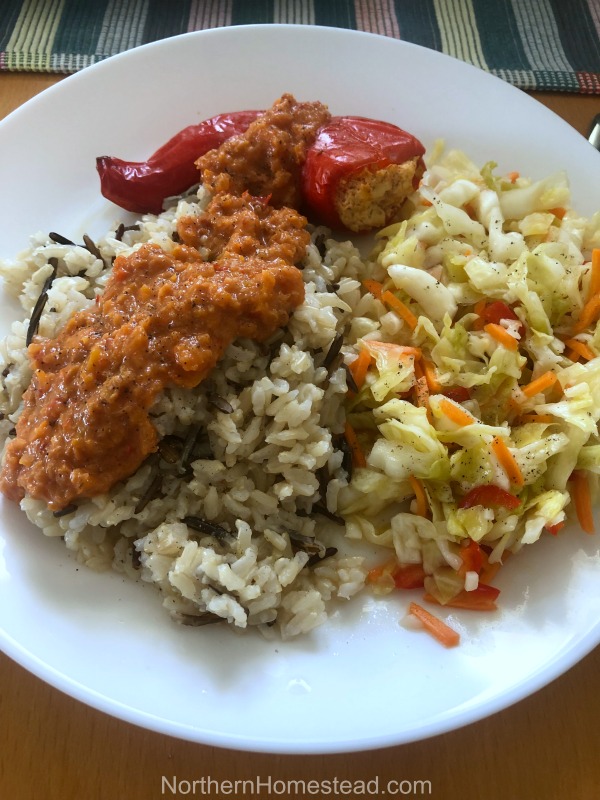 If I need an instant sauce, Ajika salsa is the way to go. It tastes great on its own but warmed up with a heaped spoon of peanut butter it turns into a creamy delicatessen. I'm sure any canned salsa would work, however, ajika is packed full of garden goodness, making it extra special.
Using home-canned fruit
Last but not least let's look into home-canned fruit. We all love jam on a sandwich, but home-canned fruit can do more. Here we look into brunch or desserts ideas or just a sweet treat in between.
Jam is a great place to start though. It is so simple to make. Mix it with some plain yogurt of your choice, and you have an instant dessert. I also like to add a tablespoon of chia seeds to thicken.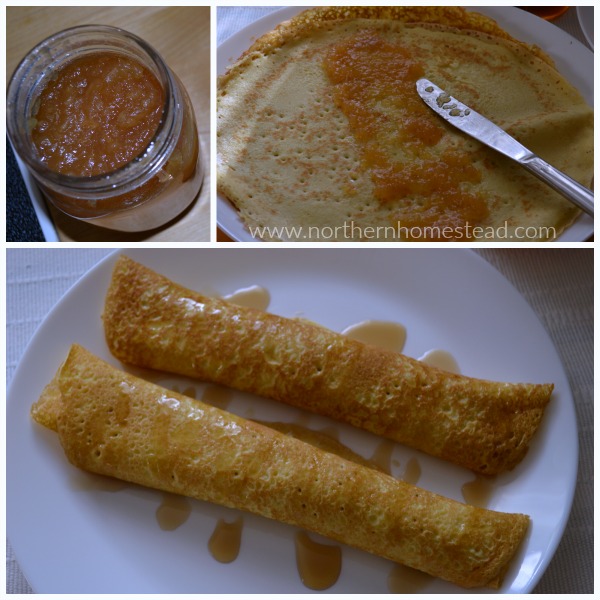 Apple jam topped crepes do not just look appetizing, they are delicious.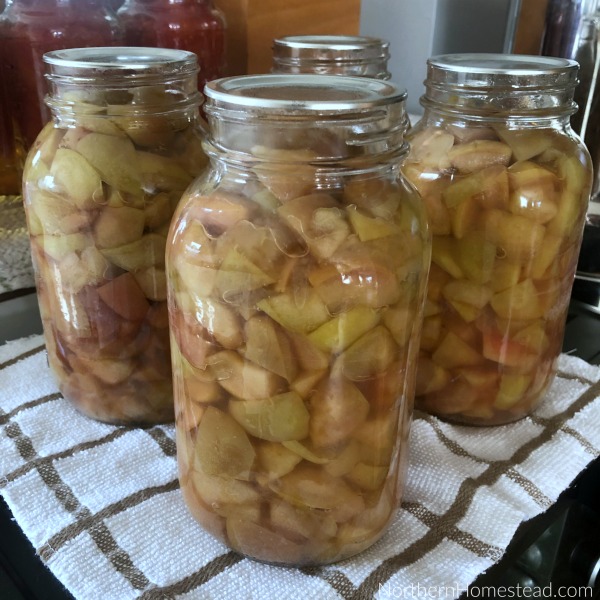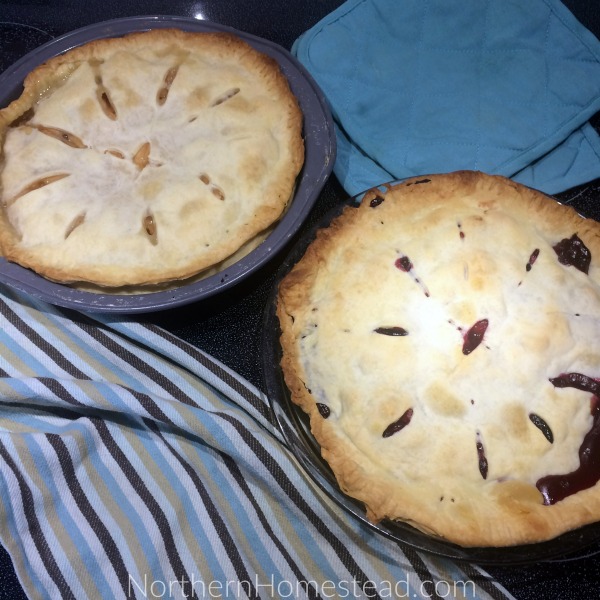 Canned fruit is great for backing. Find a dozen ways to preserve apples here.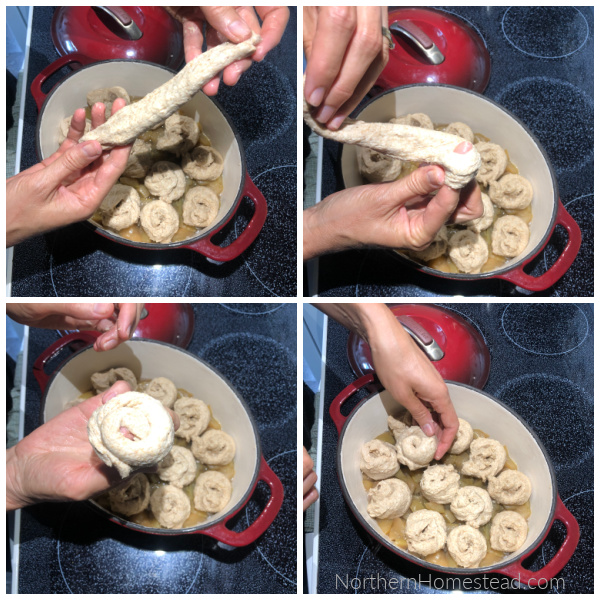 It does not have to be a pie, here are steamed buns backed on top of a canned jar of apples. Quite often I simplify this process with homemade buns, topped with canned fruit and or juice, and warm it up quickly in a microwave. Tastes almost as good and is done in a minute. If you follow us on Instagram you might have seen me sharing pictures.
And since sharing yummy recipes is so fun, here is one more for you. If you are not canning dry beans yet, learn here how.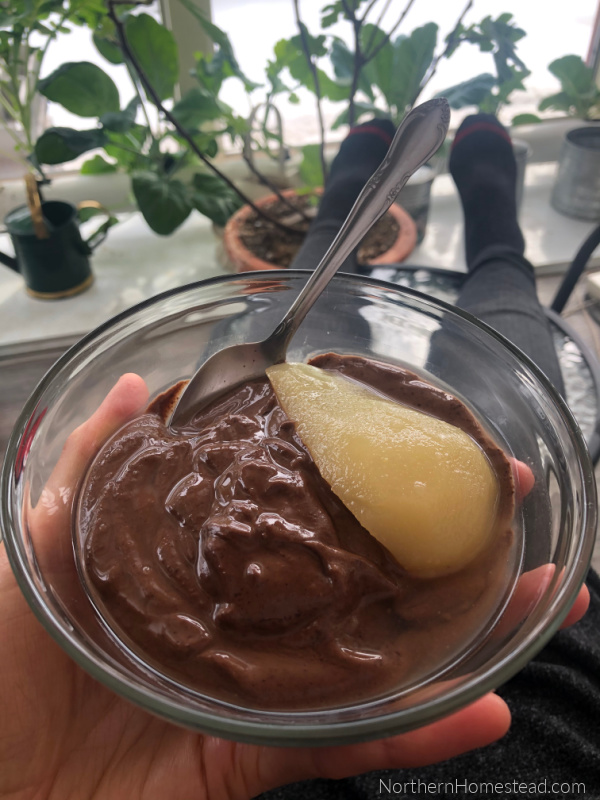 Black beans chocolate pudding recipe
1-pint jar (500ml) black beans, best home-canned since we use everything
1/4 cup honey or maple syrup
1/4 cup peanut butter
1/4 cup cacao powder
1/2 teaspoon vanilla (use less if using extract)
1/2 teaspoon cinnamon
Mix together in a food processor or blender till smooth.
Top with canned pears (Spirited pears taste best here) and enjoy.
Now it is your term, what are some ways you incorporate home-canned food in your meals? Please share in a comment below.
We invite you to subscribe to Northern Homestead and follow us on Instagram, Facebook, or Pinterest for more yummy recipes.
More Recipes You Might Enjoy: