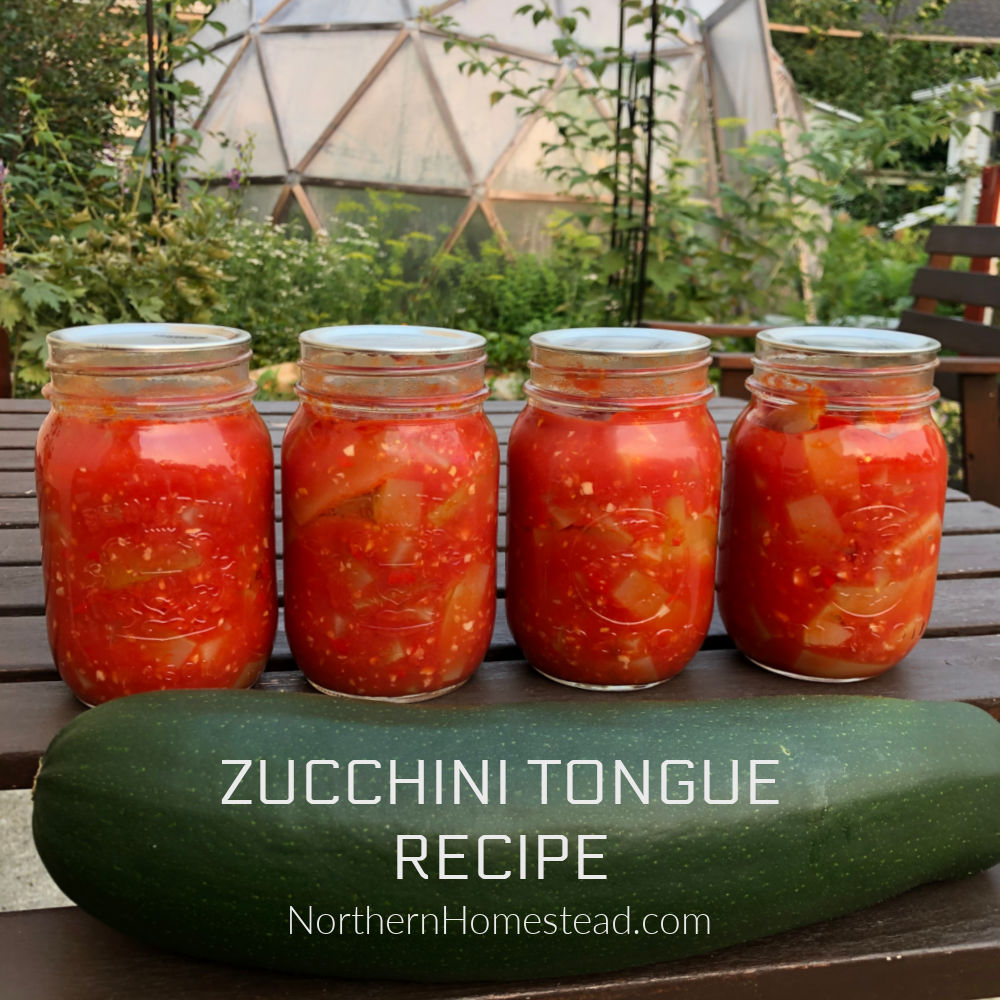 I came across this Russian Canned Zucchini Tongue recipe using all homegrown vegetables that sounded wonderful. The original name is "Тещин язык" meaning the tongue of his mother-in-law. I know eh what a name!
Canned Zucchini Tongue is a spicy recipe (sharp tongue?), if you prefer mild and sweet, see the zucchini salad recipe.
You know how it goes: There is always more zucchini in the garden than we can eat. This year I wanted to find another way to preserve them. Usually, I store some in the cold room, zucchini does store well for a few months, and I also dehydrate and freeze them. But zucchini can do so much more, and there is plenty to work with. See also a dozen ways to preserve zucchini.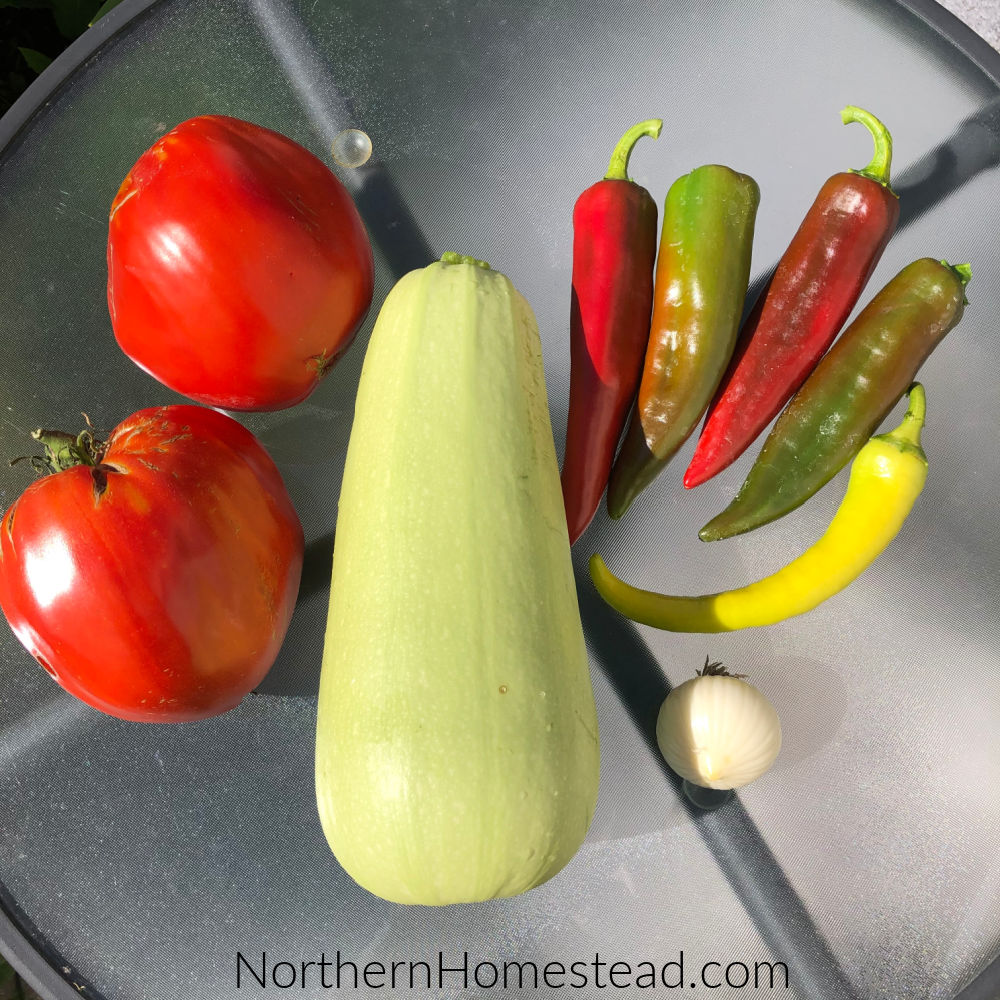 Lots of other vegetables are ripening fast along with summer squash and need to be preserved. This recipe works with any summer squash. Also, any pepper variety can be used. Since it is meant to be a bit more spicy use for example Annabel-type papers instead of sweet peppers.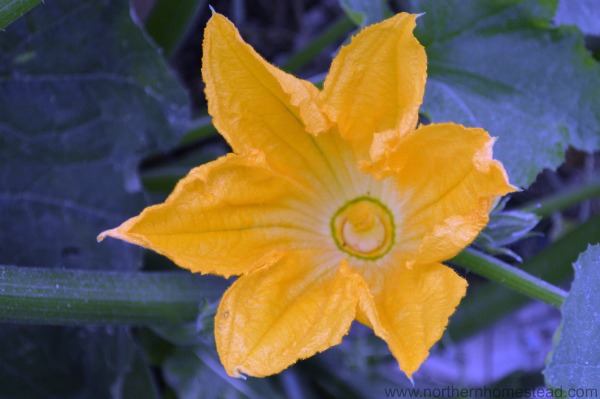 The Zucchini I used the first time for this recipe is the Dark Star Squash Zucchini. It is a great variety for a cool climate because it is more frost tolerant than other zucchini. The fruit also has a long shelf life and a great, creamy taste. It also is a beautiful plant with magnificent flowers and dark green-skinned fruits. Plant it in your flower garden and enjoy it!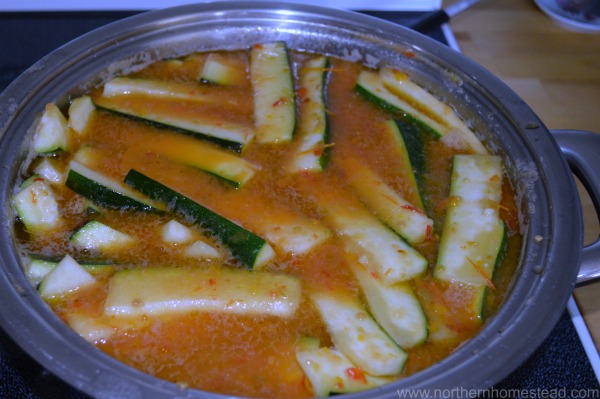 I cut the zucchini into about 1/5 x 3-inch long slices. It is better to scoop the seeds out because they do get soft. Peeling the garden-fresh zucchini is optional. Also, after canning it several times, I noticed that we like the pieces shorter, just bite-size.
The tomatoes and peppers are simply blended in the Vitamix on low, it does the job better than a food processor. I use whatever is ripe in my garden, so at this point, most of the tomatoes were yellow (Native Sun).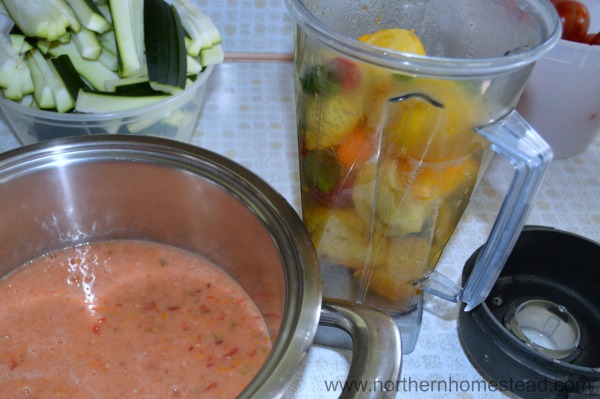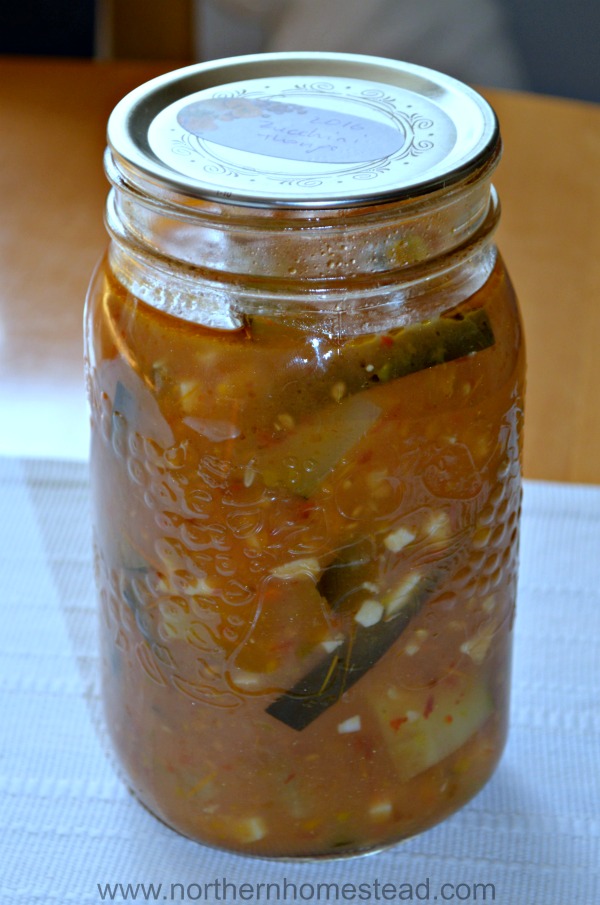 However, the peppers can also be sliced instead of chopped, which makes a different look. Especially if you like variety, play around with the vegetables. Different colors of vegetables and cutting vegetables can make a whole new look.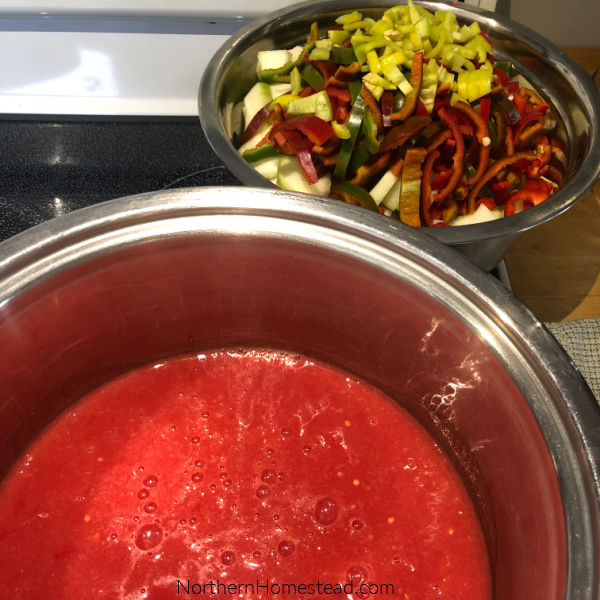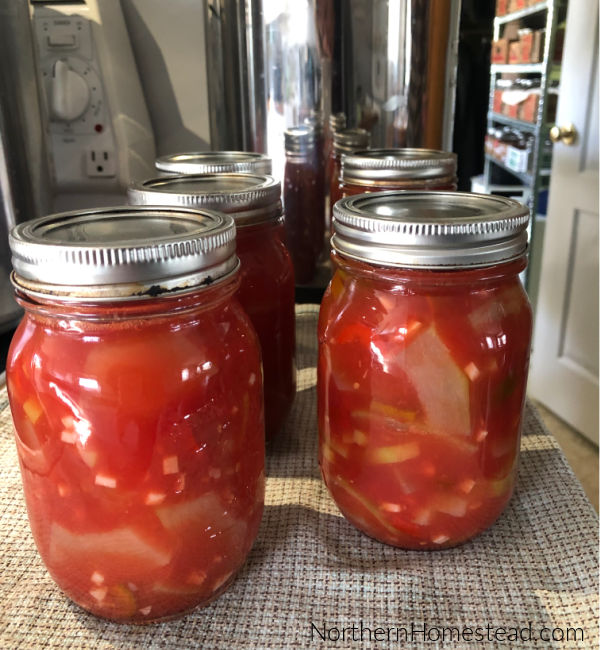 We enjoy canned zucchini with some mashed or baked potatoes. It's super yummy! 
Let's make it.
Canned Zucchini Tongue Recipe
Canned Zucchini Tongue Recipe
Author:
Anna @ Northern Homestead
Ingredients
1 kg (6 cups) zucchini
1 kg (5 cups) tomatoes
1-2 sweet bell pepper(s)
1 - 3 hot pepper(s)
5-6 garlic cloves
⅔ cup 5% white vinegar (see note)
¼ cup vegetable oil (optional)
½ cup sugar (or ¼ cup honey)
1 tablespoon pickling salt (or to taste)
Instructions
Cut the zucchini into long slices (about 1x3 inches).
In a food processor or blender chop all other ingredients except the garlic.
In a large pot bring the tomatoes, chopped garlic, peppers, sugar (if used), salt, and oil (if used) to a boil and cook for 8-10 minutes
add zucchini and stir gently so as not to break the zucchini and cook for 20-30 minutes (till done to your liking)
add vinegar, close the lid, and cook for another minute or two.
Fill jars, wipe rims apply lids, and screw on bands
Process in a water canner for 20 minutes
Note: This is a traditional recipe with homegrown, sun-ripened ingredients, use at your own risk. The original recipe is asking for 70 ml 9% vinegar, I adjusted it to 2/3 cup 5%. It is up to you how much you use just make sure it is not less than the original recipe. You can find the original recipe:
here
.
We recommend boiling the preserve in a saucepan, even if you detect no signs of spoilage.
At altitudes below 1,000 feet, boil foods for 10 minutes.
Add 1 minute for each additional 1,000 feet of elevation.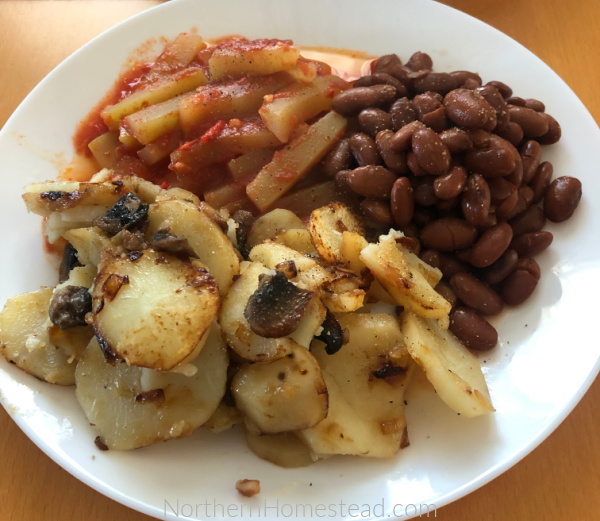 Canned zucchini tongue is a great side dish for pan-fried potatoes. For more ideas on using home-canned food in meals go here. 
We invite you to subscribe to Northern Homestead and follow us on Facebook or Pinterest for more great recipes.
More Recipes You Might Enjoy: