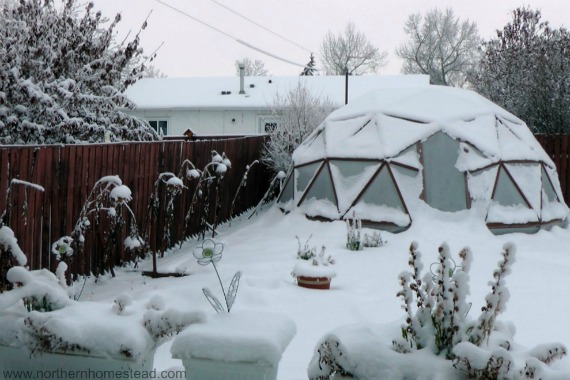 Can you grow food in a Geodome Greenhouse in the winter?
This is an important question. The answer is – it depends. It depends on the cover of the greenhouse, additional heating, and the temperature you get in your area in the winter.
We are in growing zone 3a and can expect the temperature to drop to -40 degrees in the winter, too cold for any greenhouse. Also, even though a GeoDome structure has an optimal light absorption, being so far north we would need grow lights to keep plants growing. We figured that it is not worth it. But I have started as early as March (our last frost day is end of May) in an unheated greenhouse with peas and greens.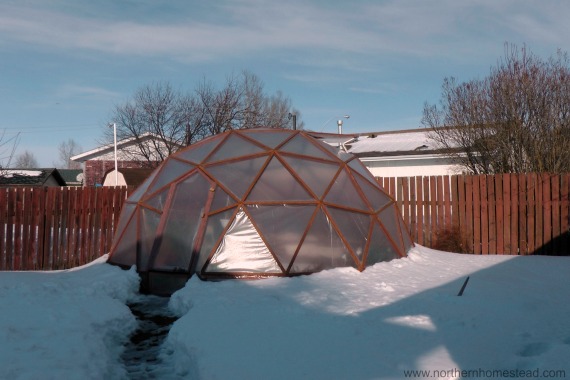 I sprouted the peas indoors and then planted them. Additionally, I covered them with two extra layers of frost cloth. Frost Blankets for Plant Cover & Winter Protection
are great to use in the greenhouse. The peas grew! But instead of 50-55 days to maturity (according to the package), it took them about 3 months.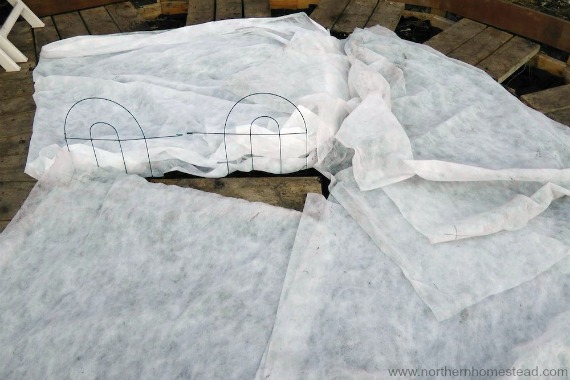 Also radishes, beats, and spinach did quite well. So think winter crops, plants that do not mind a bit of cold or even frost. See how different plants react to frost. Those cold loving plants will do well in an unheated greenhouse.

Is the GeoDome greenhouse stable in wind and under snow?
When winter storms are hitting, you want to be sure that your greenhouse can stand it. Also it's not fun to go out and shovel snow off of the greenhouse. Our GeoDome had no foundation and we never worried about wind or snow. One morning it looked like this – hmm, an igloo in our back yard :). We took pictures and waited till the sun melted the snow off.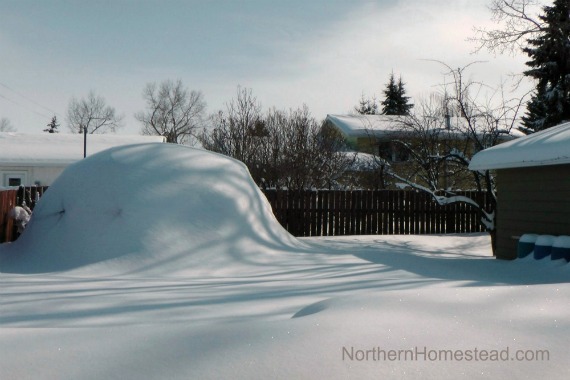 Can you heat a GeoDome greenhouse in the winter?
You sure can. Adding a additional heat trough for example a Propane Heater would work. We would not recommend adding a wood stove since heat will be needed in a weather, and at times when you don't want to be in the greenhouse to heat that stove.
We used a Water Tank for passive temperature regulation and also an active heating and cooling system through a radiator. It worked very well till night temperatures dropped to about -10C (14F), lower than that there is a danger that the water freezes. Again, this would be different with a different greenhouse covering.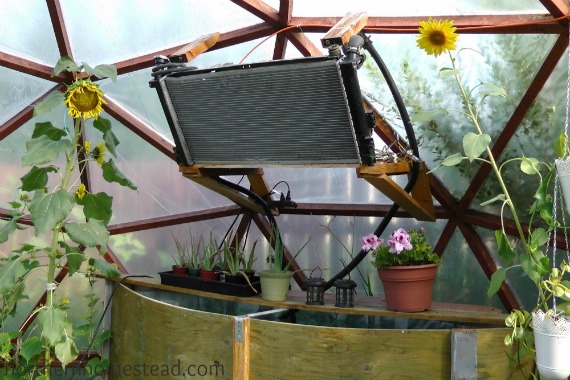 Depending on how much you want to use your GeoDome greenhouse in the winter, you can make it work. But even just for the warmer months of the year, it is a great addition to any garden!
Inspiring books for winter gardening:
A Geodesic Greenhouse Book: Building and Using a Solar-Heated Geodesic Greenhouse.

Don't forget to subscribe to Northern Homestead and follow us on Facebook or Pinterest for the latest updates.
More about a GeoDome Greenhouse: