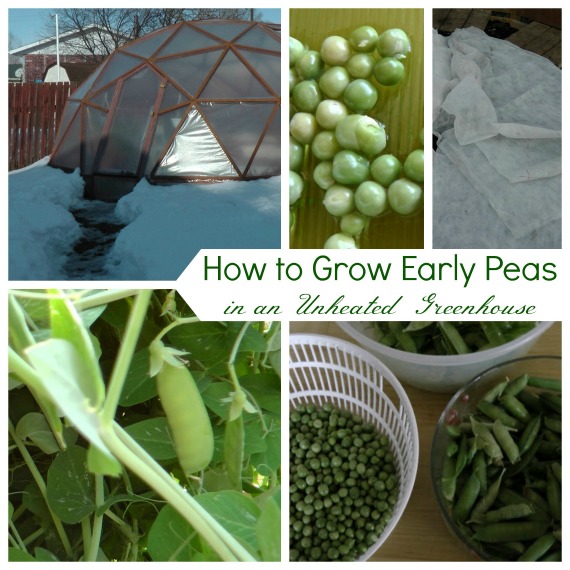 It was still pretty much winter here (March 10) at my first attempt to grow early peas in an unheated greenhouse. Now, you need to understand that we are in Zone 3, March IS winter with 2 feet of snow on the ground and possibly more snow to come. How to grow early peas in the winter in an unheated greenhouse under freezing winter conditions?
How to plant early peas
All peas are winter crops, but for growing in such cold conditions it is good to go with a specially cold resistant variety. I grew Alaska – very cold resistant, and Tom Thumb a very dwarf growing pea, extremely cold resistant and early.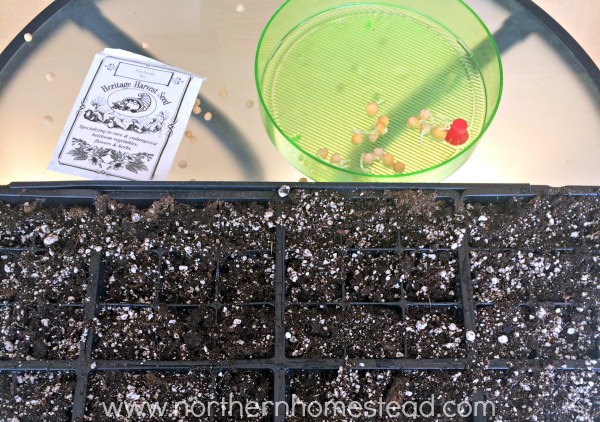 First I sprouted the peas because it speeds up the process. I used the Biosta sprouter
. It does not take long for peas to sprout, then gently plant them careful not to damage the little sprouts.
In my first attempt I planted the sprouted peas directly into the unheated greenhouse. This year the weather forecast was extremely cold with temperatures dropping to -20C (-4F), so I did not risk to plant the sprouted seeds into the unheated greenhouse but planted them into starter pots indoors instead.
Still, I planted some seeds into the greenhouse to see what happens.
How to protect early peas
A single layer of greenhouse plastic keeps it in the greenhouse about 4 degrees warmer at night than the outside temperature. That is not much if we are talking about freezing temperatures usually around -12 C (10F) at that time of the year. Those little sprouts needed more protection. I covered them with two extra layers of Frost Blankets
. Each layer about doubles the protection. The peas grew!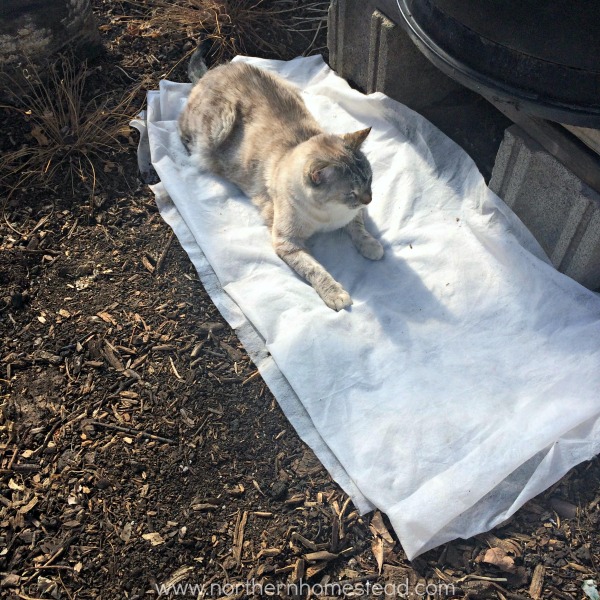 My trial to plant seeds at -20C worked, too. Under 3 layers of Frost Blankets
the seeds sprouted and grew. Very slowly though. Maybe the fact that our cat thought it was a great place to hang out helped too ;).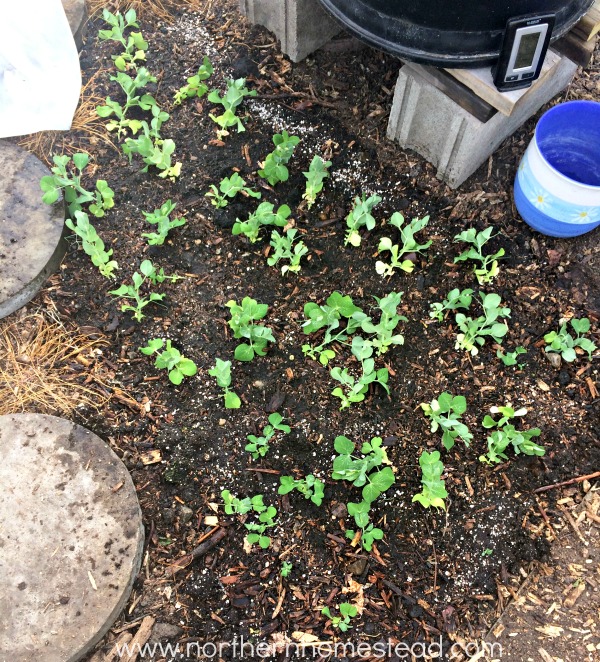 Right in time before the next load of snow I planted out the seedlings. After a month in the seed tray they started to flower, I could not possible wait any longer. The size difference between the tiny plants that were planted directly, and the plants that were started indoors is huge. Again after trunsplanting, I covered everything with Frost Blankets
.
How to harvest early peas
Cold conditions slow down the growth of a plant. Instead of 50-55 days to maturity it took the peas that were planted directly into the unheated greenhouse 2 months to start and 3 to be ready for harvest.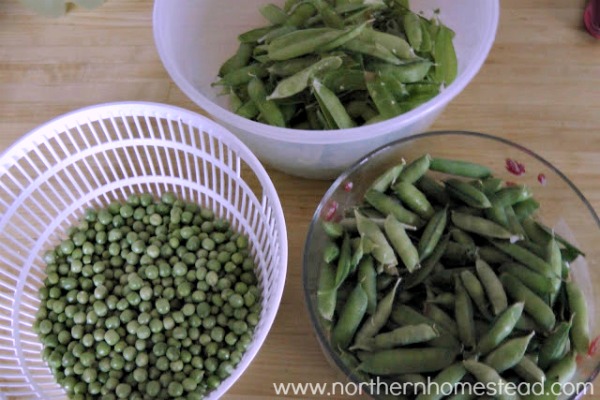 However, to eat the first peas while just starting the planting outside was so nice. Since the space in the greenhouse is needed for warm weather crops, the peas could not stay there for to long. However, peas can be planted again right after maturing. Take some of the fresh harvested peas and plant them outdoors for another crop.
Was it worth it?
Speaking of profit – not sure. Speaking of the fun – absolutely. To see those peas grow, while outside our world was still covered in deep snow, is priceless. As you see, we are doing it again and I'm curious to see the difference between the seedlings and the direct planted seeds. We will keep you posted.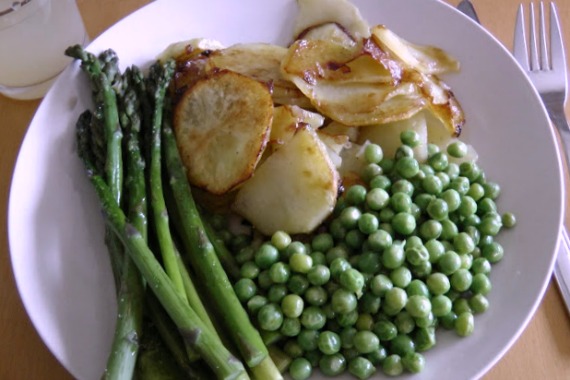 We sure enjoyed the fresh peas, along with some fried potatoes and asparagus. Mmh, yummy!
Summer update on early peas
As per usual, I sprouted some early peas at the end of March. This time however I also planted some of them directly into the garden with no protection whatsoever.
We had a cold blizzard just a month into the experiment. Again, I did not protect these peas at all. The seeds still germinated and grew.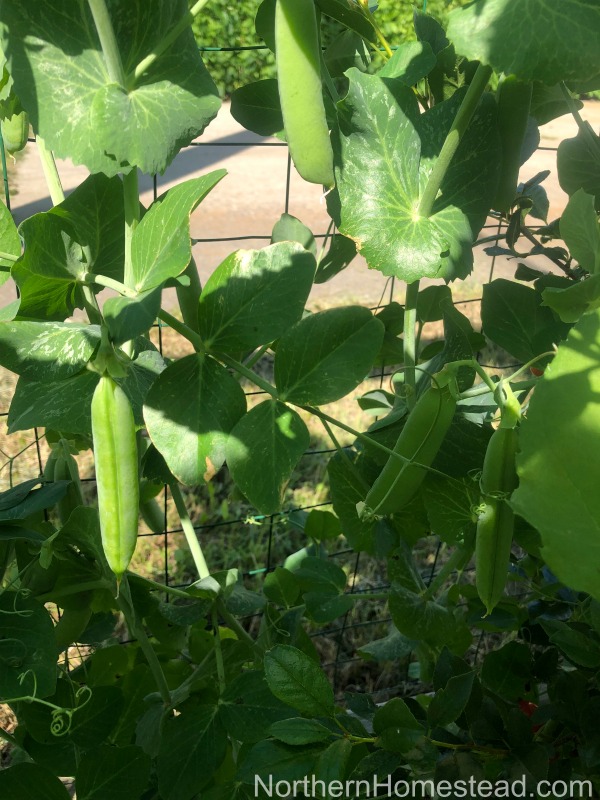 The plants are healthy and productive, but they are not much ahead of the peas planted much later in spring.
In conclusion, peas can be planted very early in the greenhouse or even outside with no protection. They will start growing and producing though, whenever the conditions are right. The more protection you give, the earlier they will grow and ripen.
Have you started any peas yet? As you see peas are very hardy. If you have an unheated greenhouse grow some early peas before space will be used for heat-loving plants.

More Gardening Posts You Might Enjoy: