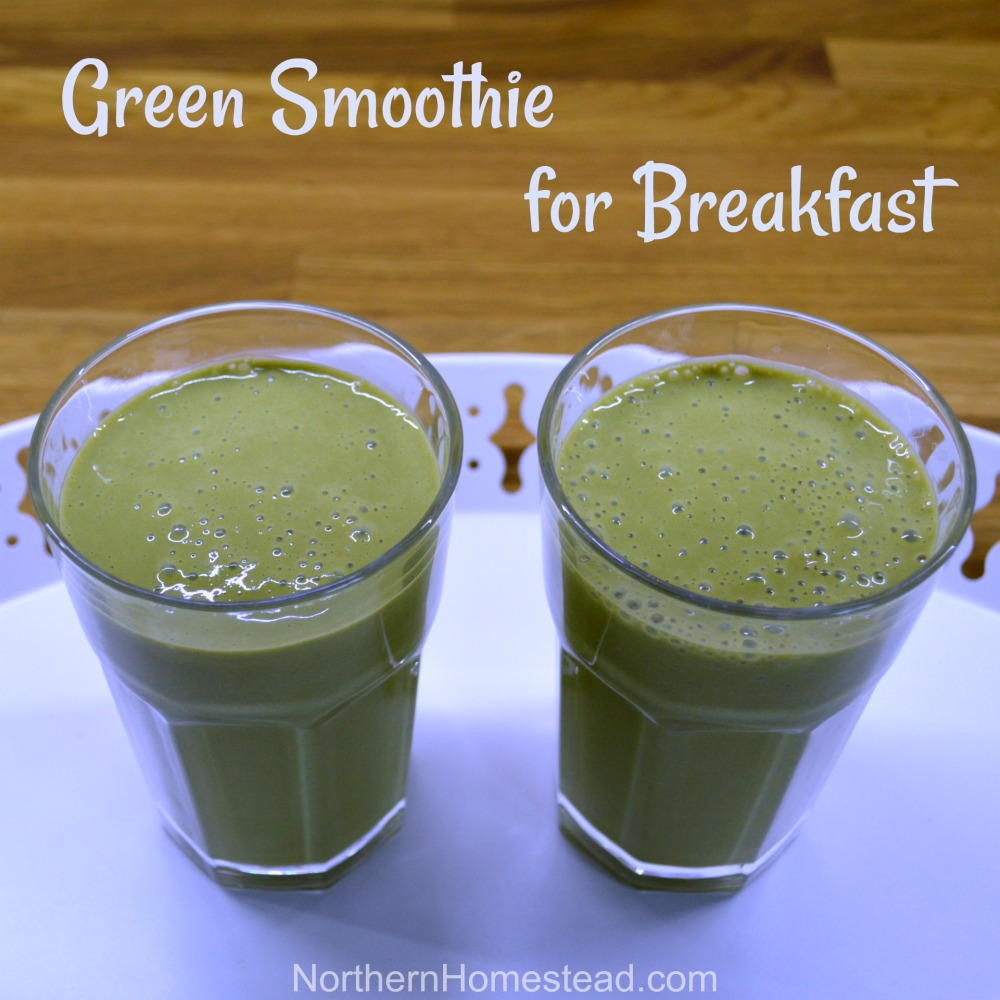 To enjoy a green smoothie for breakfast is a great healthy choice. It's delicious, easy and quick to make and fills you up for hours. It's our go-to recipe whenever an instant breakfast is needed, or for a breakfast to go on a busy day and even to take with us on the road.
What is a green smoothie for breakfast?
A green smoothie for breakfast is a different smoothie in our house than just a smoothie in between. We want it to be creamier and more filling. Some days we make it thick, so we eat it with a spoon.
If you worry about protein for breakfast to feel satisfied for longer you should know that an egg has about 6 grams of protein and 1 cup of cooked oat also has about 6 grams of protein and uncooked almost double as much. Nuts and seeds have lots of protein and even greens have some.
To make smoothies you will need a blender, preferably high-speed. We use the Vitamix blender, it does a great job. It even warms the smoothies up in seconds for a cold winter morning.
The ingredients for a green smoothie for breakfast
We like to have most of the ingredients for a green smoothie for breakfast in the freezer ready to be used. Of course, things don't go into the freezer by themselves, we have to preserve them to be ready to use. But it is so worth it.
We grow a lot of greens during the summer months and freeze them. Here is a blog post on how to freeze greens. Since we freeze them by the bag as they are ready, we hardly notice the extra work in the summer. During the winter, however, it is so convenient to have all those leafy greens washed and ready. We like to grow kale, spinach, beet greens, and swiss chard for smoothies.
Berries also grow well in our climate, and we also freeze them raw. My favorites for smoothies are strawberries. Raspberries, cherries, and blueberries are good choices as well. Be careful with very sour berries like black currant, they might thicken when blended, add them after blending the smoothy and just chop them quickly.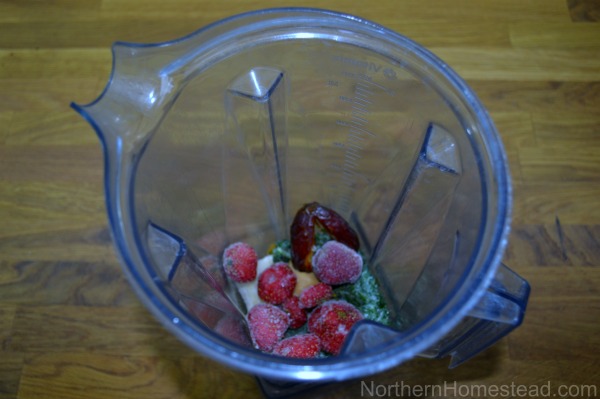 Bananas are an important fruit at our house. No, we can't grow them here, but whenever there are more ripe bananas than we can eat, we freeze them peeled and cut into 3-4 pieces. This way they are ready in the morning for a breakfast smoothy.
Tip, if you do not like the idea of buying bananas, they can be substituted with zucchini for the same creaminess. We like to freeze or dehydrate zucchini for meals and smoothies in the winter.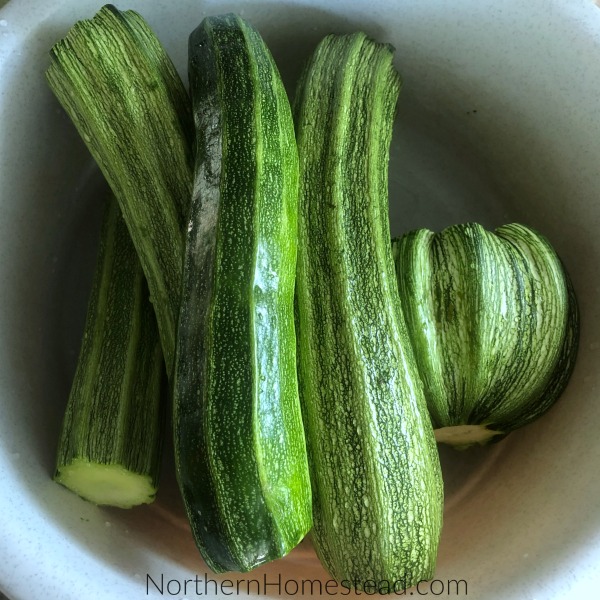 For extra sweeteners in our smoothies, we like to use dry fruit with high sugar content like dates, raisins, apricots, or pears. Stevia fresh or dry, or honey are also great sweeteners.
To add some good fat and protein, we use hemp seeds, chia seeds, or peanut butter.
Spice it up with ginger, turmeric, cinnamon, vanilla, cacao, etc.
Did we say cacao? Yes, try it, cacao (about a tablespoon per serving), makes a chocolate smoothie for breakfast, yum!
And last but not least we add dry oatmeal to our breakfast smoothie, to make it more creamy and satisfying. We use 1/4 cup per serving.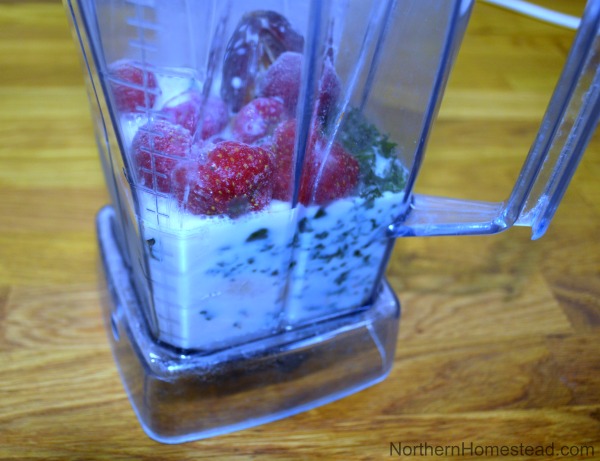 Top everything with liquid of your choice. We like soy milk, it also adds some protein and taste. We use 1 1/2 cup per serving.
Here is an example green smoothy recipe for breakfast
This recipe is just a suggestion. There are so many ways to combine different greens and fruit along with nuts, seeds, and grains. Get creative and tell us your favorite combination.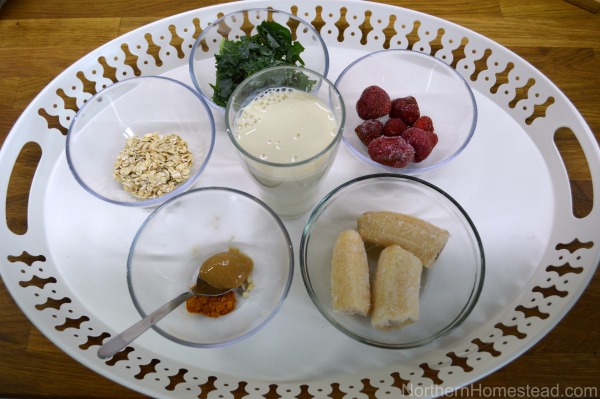 Green smoothie for breakfast
Author:
Anna @ Northern Homestead
Ingredients
½ - 1 banana
1 handful of chopped kale
1 handful of strawberries
1 teaspoon peanut butter
¼ cup dry oats
½ teaspoon turmeric
¼ teaspoon ginger
pinch of black pepper (to make the turmeric more bioavailable)
1½ cups soymilk
Instructions
Put everything into a high-speed blender
Blend till creamy, in the winter I like to blend it till it's slightly warm.
We invite you to subscribe to Northern Homestead and follow us on Instagram,  Facebook, or Pinterest for more yummy recipes.
More Recipes You Might Enjoy: