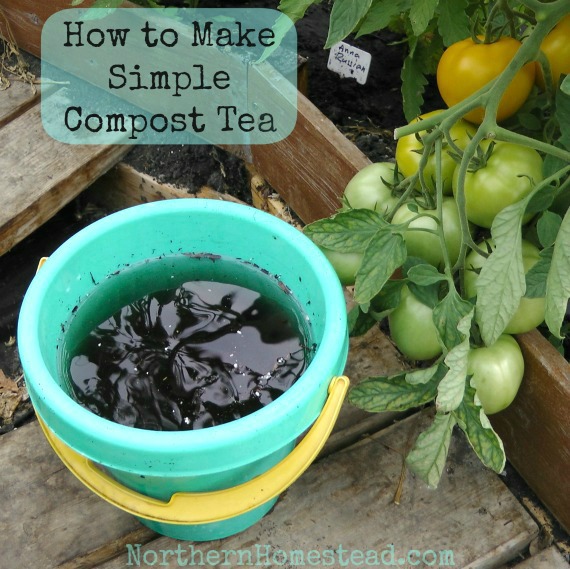 It is mid-summer, the gardening season is halfway over. Time for a plant boost. The easiest and effective way to give the plants some instant food is by using compost tea. Compost tea is simply tea made out of good, finished compost, a liquid plant fertilizer. Plants love compost tea.
Compost tea is also a good way to extend the good compost you have. Diluted in water it goes a long way. A little bit of compost makes a lot of liquid compost tea, an all-natural fertilizer.
There are two kinds of compost tea: there is brew and there is steep, or compost extract. To make tea you need an air pump and the compost is submerged in a nylon stocking, more about that below. We like the steep, extract, or maybe I should say just the mix. Let's get started and you will see what I mean. Compost tea can be made very simply, and this is the way we do it.
How to make simple compost tea
Put some good quality compost into a container, add water, stir, let it steep, and water the plants with it. So simple, right? The water to compost ratio is about 1 to 30, but there is no science to it. More will just make stronger compost tea. You can use composted sheep manure, worm castings, or any good-quality compost.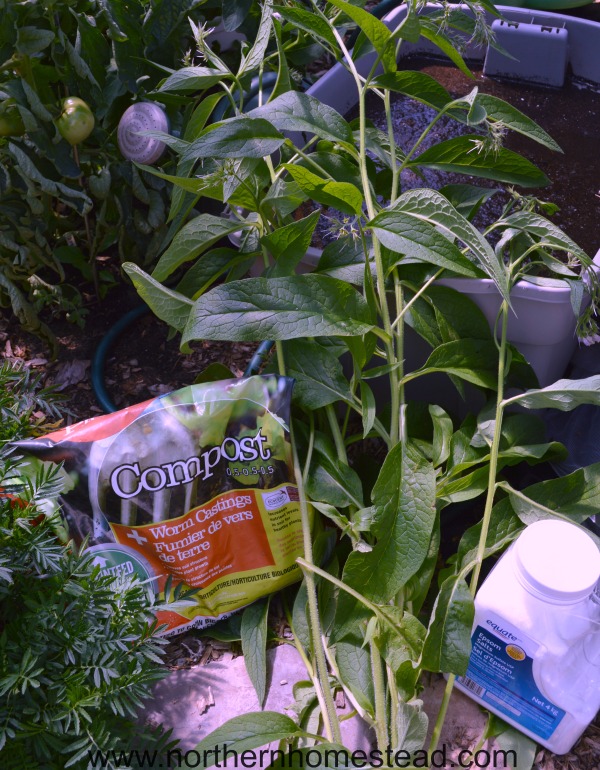 You can also add comfrey to the compost tea. Comfrey is a wonderful mulch for chop and drop permaculture systems, a fabulous flower for pollinators and beneficial insects, and a fantastic fertilizer, make sure to grow some in your garden.
Eggshells or Epson salt can also be added for more minerals.
We would recommend letting the compost tea steep for about 24 hours if you use a cold tap or well water. Plants do not like cold water with or without compost. If you happen to let it sit a bit longer, make sure to stir it occasionally so the mixture does not start to smell. Usually just a short steep is enough.
The notion the longer the better, so that it starts to smell is not true. If it smells bad, it probably is bad.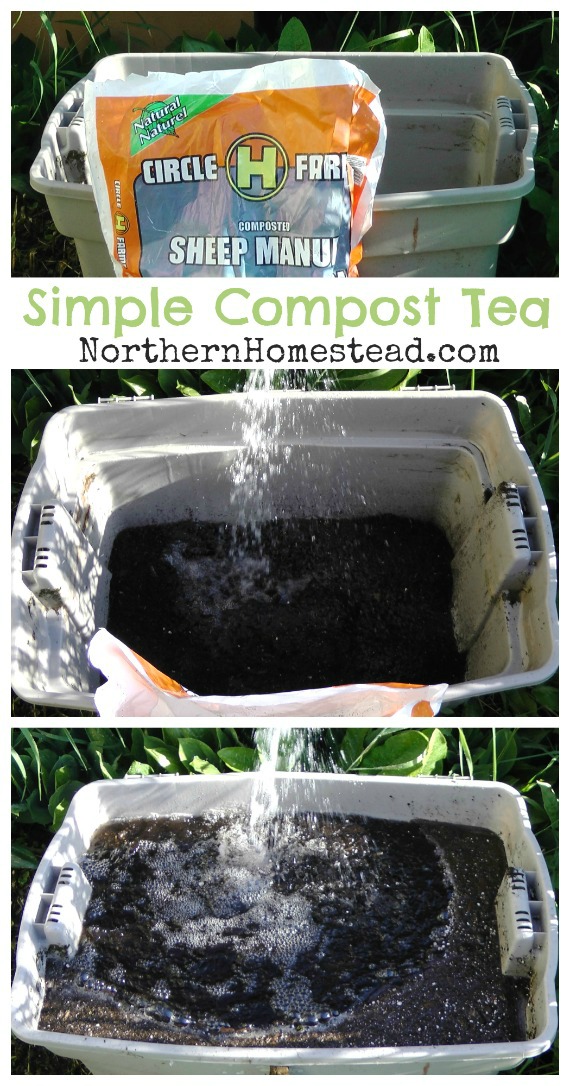 Where to use compost tea
In nature, the ground is covered with plant material that slowly decomposes, resulting in a layer of compost. Whenever it rains, the compost and plant material gets soaked into the ground. A natural compost tea for the plants, if you will.
In our garden, we imitate the same result with mulching the garden area with compost or wood chips. Whenever it rains, the plants in our garden too get watered with this natural compost tea.
However, in a greenhouse or raised beds, the environment is not as natural. There is either no natural soil or no rain to water the compost in. This are the places we make simple compost tea for.
If your garden is not mulched, you can also use simple compost tea for the whole garden. However, we would recommend covering the soil each year with 1-2 inches of compost instead.
How to use simple compost tea
Water each plants with about a gallon of simple compost tea. If some compost happens to be left in the bottom you can add more water until everything is gone, or just scoop the compost out and cover the ground around the plants.
If you used comfrey, take the leaves out ad use them in the compost pile or as mulch for the plants.
This simple method has worked for us and many other gardeners. Plants just love compost tea, it provides them with much-needed nutrients in a liquid, easily available form.
——————————
Now, if you are not as simple, you can make real compost tea.
Use an old sock or nylons as a "teabag" filling it with good quality compost, making sure the compost does not touch the bottom of the bucket. Add some organic molasses to feed the bacteria. Fill the bucket with water. Add an aquarium aerator (Air Pump
) and let the compost tea brew. You will end up with awesome compost tea, and your plants will grow just as great as with a simple compost extract.
Happy gardening!
We invite you to subscribe to Northern Homestead and follow us on Facebook or Pinterest for the latest updates.
More posts you might enjoy