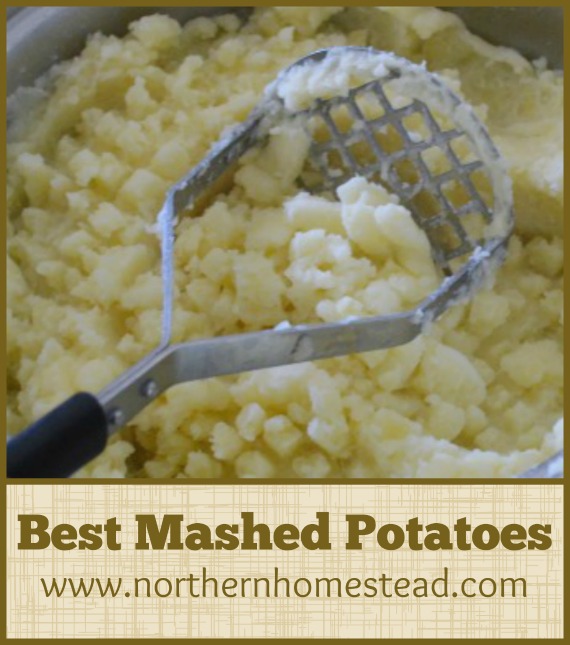 It's quite a statement to suggest that these are the Best Mashed Potatoes Ever. If you read my post on How to Steam Vegetables Without a Steamer you know that vegetables, and potatoes too, do not need to be boiled covered in water.
Potatoes taste much better just steamed in a pot with very little water at the bottom. Even plain they taste great. The reason is simple: all the vitamins and minerals stay in them, nothing gets drained out. Nothing gets lost.
Do not cook potatoes in water and drain all the good stuff down the drainage!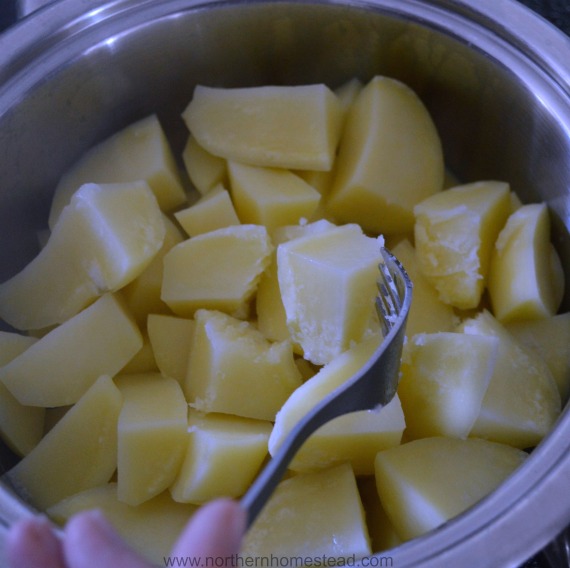 The variety of potatoes matter, too. Choose a yellow potato with a buttery flavor. We like the German Butterball potatoes with creamy and waxy golden flesh. Steamed these potatoes taste so good just plain.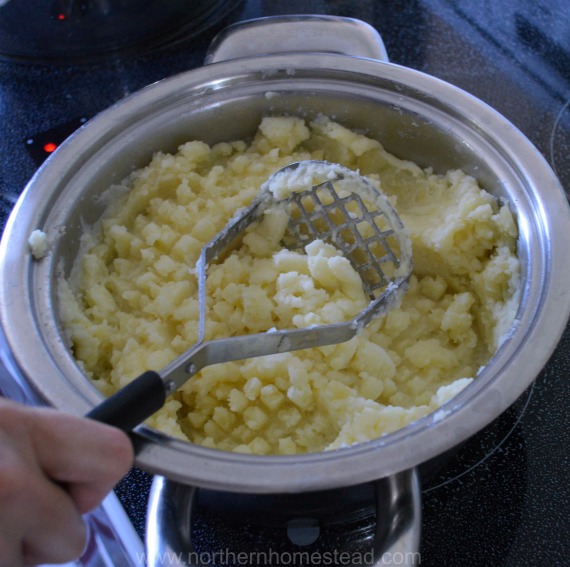 Now, when you mash these yummy potatoes that are full of natural flavor, you get the Best Mashed Potatoes Ever!
Add any yummy things you like in mashed potatoes: milk of any kind, garlic, dill, thyme, herbal salt, and the list can go on.
What will make these potatoes the best is not what you add (even though it is all just so yummy), it's what you do not take away.
We like our mashed potatoes simple, and serve them with a whole lot of whole-food plant-based mushroom gravy or cream sauce.
Let's get started.

Best Mashed Potatoes Ever
Author:
Anna @ Northern Homestead
Ingredients
6 potatoes
½ -1cup water
1 cup milk (we use plant silk)
Salt and any flavoring of your choice to taste (optional)
Instructions
Peel and dice 6 middle-sized potatoes.
Choose a pot that will fit the potatoes, so that it is at least half full.
Cover the bottom of the pot in about half an inch of water (use less or more of the cup of water as needed) and add the potatoes and salt if used
Cover the pot with the lid and turn the heat to medium-high.
When the lid gets too hot to touch, turn the heat down to medium low/low. Do not uncover the lid.
Let it steam for 25 minutes then check to see if the potatoes are done. You want the potatoes to be well done. It this point there should be little to no water left at the bottom of the pot.
Add the milk to the potatoes.
Mash the potatoes. If the mashed potatoes are too dry (depends on the potato variety), add more milk till you get the consistency you like.
Bonus: whole-food plant-based gravy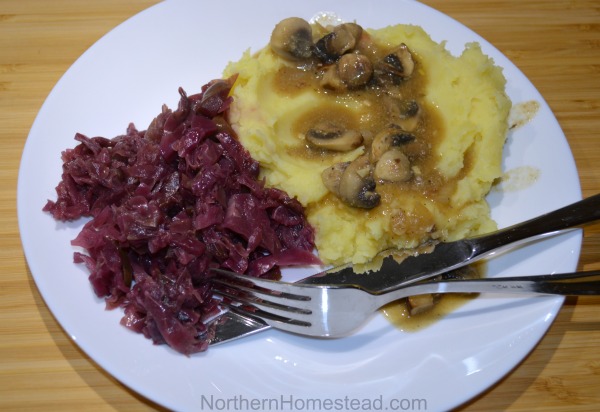 Mashed potatoes do taste best with gravy, don't they?
It is very easy to make plant-based gravy.
Saute 1 chopped onion and 1 crushed garlic
add 1 cup of vegetable broth
Mix in a hipped tablespoon garbanzo beans flour (it's gluten free and thickens nicely) and cook down to thicken
Season with soy sauce of your choice, some nutritional yeast, and herbs (sage, thyme, rosemary whatever you like).
Blend all in a blender till creamy and serve.
To make a mushroom gravy do the same, just add 1-2 cups of mushrooms to the sauteed onions. Blend part of it or leave all whole. Either way, it will taste great. Serve with red cabbage with apples and you have yourself a hearty meal.
We invite you to subscribe to Northern Homestead and follow us on Instagram,  Facebook or Pinterest for more yummy recipes.
More Recipes You Might Enjoy: