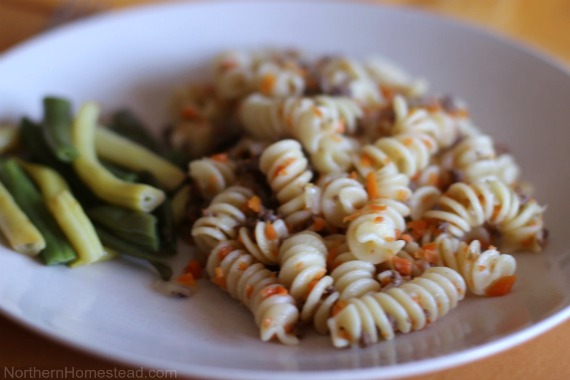 Note: This is an older recipe. We have since changed to a plant-based diet and love it. It's better for our health, all living and the planet. This recipe can easily be made with vegan ground meat too.
Pilaf (also known as pilau and plov) is a rice dish that we really like, I will share our recipe another time. This is a diversion of the original pilaf, and we call it noodle pilaf. This very simple recipe has done the job of feeding a large amount of hungry teenage boys, a needy family as casserole, a satisfying dish for hard working men, or a dinner for guests – and it always was a winner.
For this recipe you can use fresh or frozen carrots. Also we like to use real onions, preferably homegrown, but if needed it can be substituted with onion powder. Just do best you can to make a wholesome meal.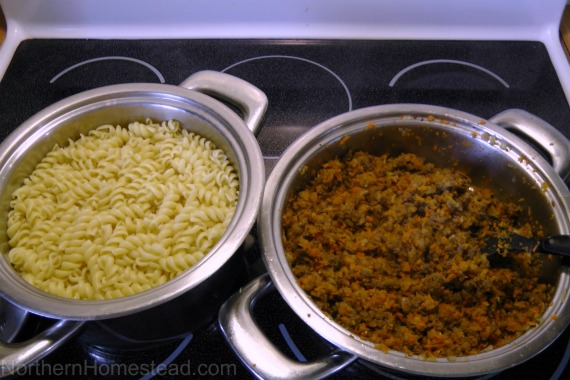 We have made this dish for years using two pots and it is fairly easy. You can use any pasta of your choice just don't overcook it. But it can be made even easier using the Instant Pot.
Instant Pot Version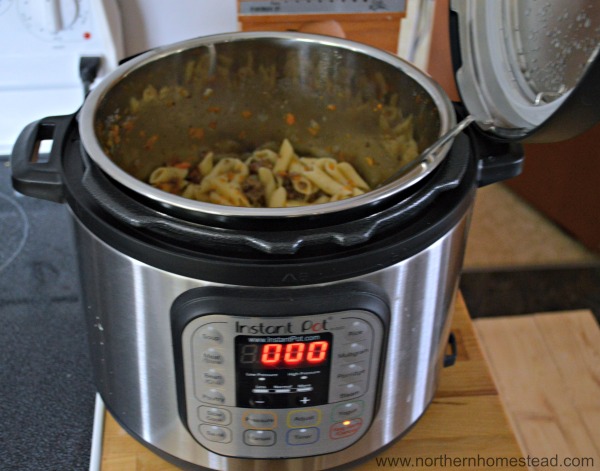 The Instant Pot really brings out this recipe. Grains are better digestible when cooked in a high pressure cooker, and cooking it all in one pot makes a very yummy dish.
Start according to the recipe instruction (see below). Just instead of using a frying pan, use the Instant Pot on Saute, Fry everything till it is half done, than add the dry  noodles and mix well.
Now add 3-4 cups of boiling water. The water should just cover the ingredients.
Cover the pot and hit the manual button and set for 4 minutes.
Allow the pot to come to pressure, when the timer is off do a quick release. (If you like pasta well done, wait another minute or two before releasing the pressure).
Your noodle pilaf is all done to be eaten as is all to top with cheese for a casserole.
Casserole version
(Great for making ahead of time): put the ready-made pilaf into a baking dish and sprinkle it with your favorite cheese or cheese sauce. Refrigerate up to 24 hours or freeze.  
Preheat the oven to 375ºF. Bake casserole, covered, for 30 min. or until heated through, uncovering after 15 min and let the cheese brown if so desired.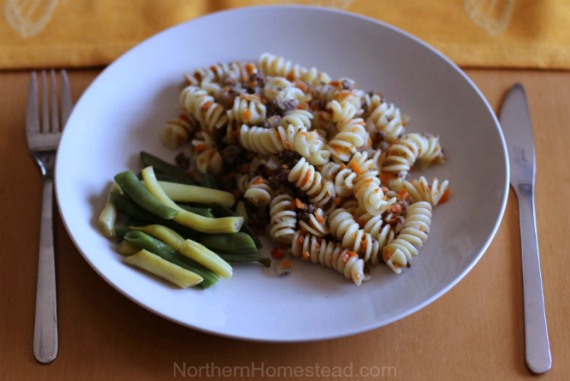 For vegetable lovers
Green beans go very well with this recipe. You can even replace half of the noodles with green beans, or add green beans to the pilaf. Also a good way to extend the leftover pilaf to a new dish.

We invite you to subscribe to
Northern Homestead
and follow us on
Facebook
or
Pinterest
for more great recipes.
More Recipes You Might Enjoy: