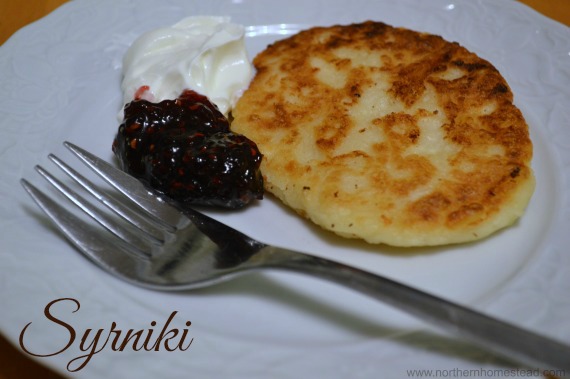 Note: This is an older recipe. We have since changed to a plant-based diet and love it. It's better for our health, all living and the planet.
Growing up, my mom would make some kind of Cottage Cheese Pancakes. However, my mom made them differently, not as cheesy, so I actually forgot about them and never considered making them.
Until,
well, until a friend pinned the Syrniki (Сырники) recipe to her Pinterest board. They looked so good, I just had to try them. You know how it is with Pinterest pictures, don't you? Not sure how I lived 40+ years without these yummy Syrniki. They are so good, specially served with my homemade sour-creme.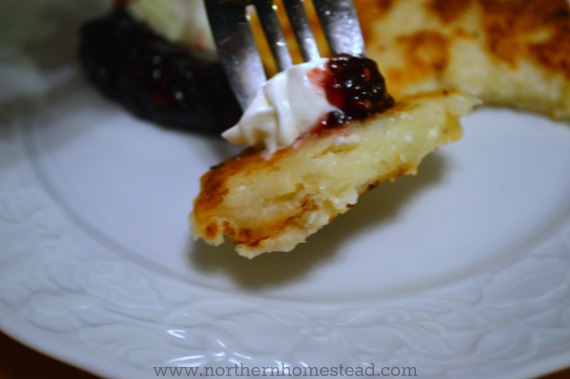 Syrniki look a bit like pancakes but actually do not taste like pancakes at all. There is simply not enough flour in them. The main ingredient is Dry Cottage Cheese, also known as farmer cheese or baker's cheese. It is the solid portion, or curds, that remain after milk has been cultured and slowly heated. If you are into cheese making, it is the same process as making quark cheese, just needs a bit more heat to get rid of moisture.
You want the cheese to be dry, but not hard. I did try to make them with my homemade quark, but the quark is too moist. I had better success with store bought Dry Cottage Cheese.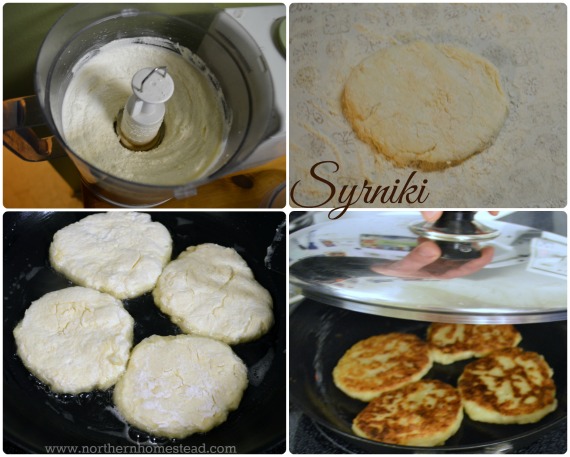 You want the cheese to be really soft, not wet, just smooth. To make the Dry Cottage cheese smooth we used the food processor or blender, and added a tablespoon of sour cream. It worked fine both ways but was just easier to get out of the food processor. Now, let's get started with the recipe.

Syrniki Recipe (Cottage Cheese Pancakes)
Author:
Anna @ Northern Homestead
Ingredients
500 g (18 oz) Dry Cottage Cheese + a tablespoon of sour cream to get the perfect texture
1 egg
2 -3 tablespoons sugar (or honey / maple syrup)
pinch of salt
1 cup all purpose flour not used at once, see description! (unbleached, preferably organic)
oil to fry, I use coconut oil
Instructions
In a food processor or blender combine the dry cottage cheese, sour cream and the egg, and process till all smooth.
Add sweetener and salt
Add about half a cup flour to a clean work space. You need just as much flour to be able to work the dough, not more. Add the cottage cheese mixture ant work the dough till you can shape a roll.
Cut the roll into pieces and form about egg sized balls
Roll them in flour and form the pancakes
Heat the pan on medium high with a table spoon of oil.
Fry the syrniki on one side till golden brown
Turn over and cover the pan with a lid. Turn the heat down to medium low and let fry for 3 minutes.
Serve immediately with sour cream and/or fruit jam.
We invite you to subscribe to Northern Homestead and follow us on
Facebook
or
Pinterest
for more great recipes.
More Recipes You Might Enjoy: