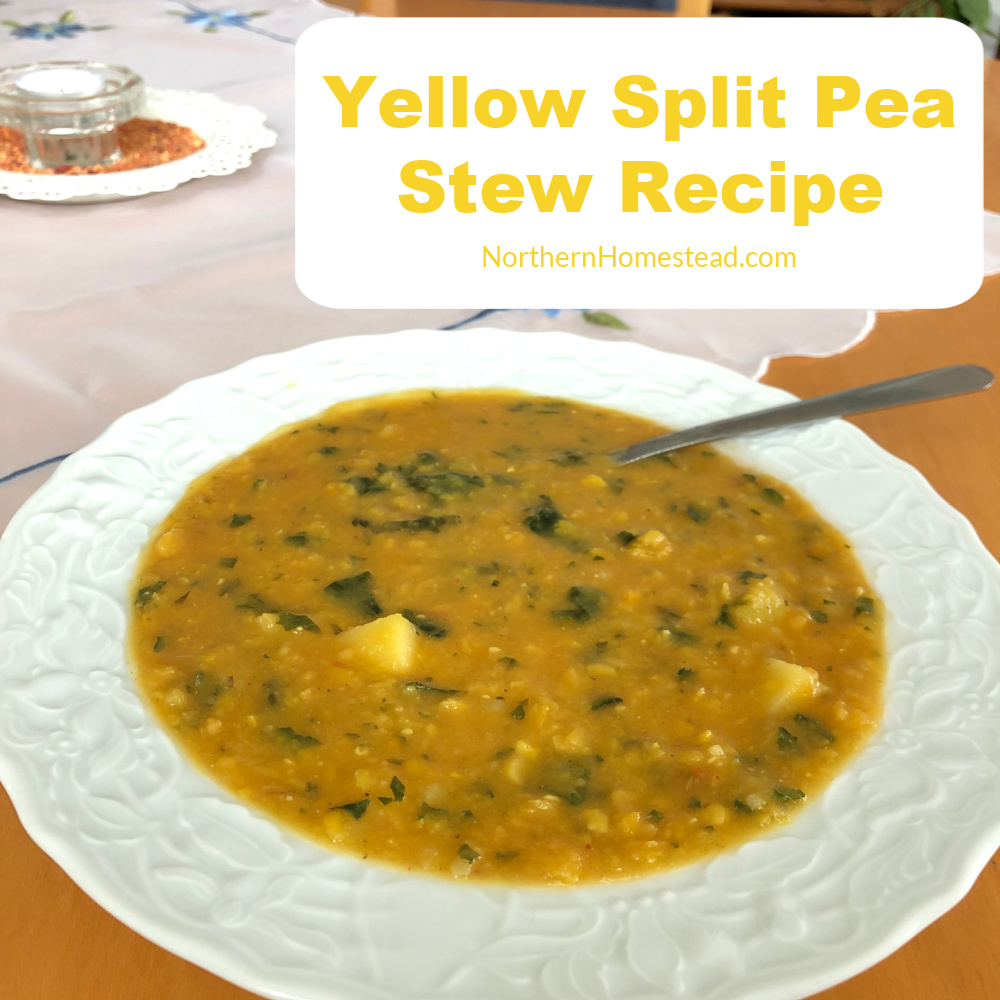 The yellow split pea stew recipe is a great dish for busy times. Either make ahead for a weekend and have a big pot full of filling goodness ready for mealtimes, or serve in different versions on weekdays.
Cooking time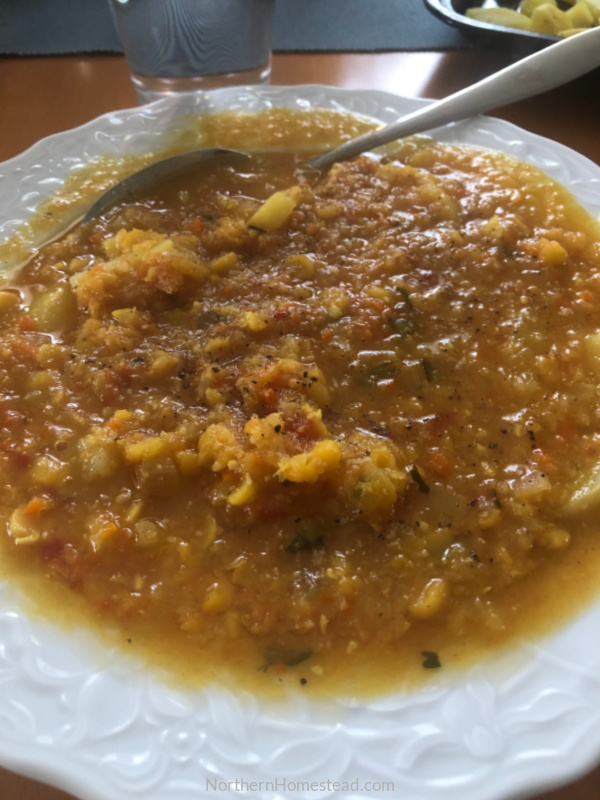 The Stew, or Dall, since we are using dried pulses, is very versatile. Make it with fresh greens in spring, cauliflower in the summer, and cabbage in the winter. Whatever is available, goes. 
You like the idea but are not so sure about yellow split peas, use lentils instead, it works just the same. 
Freestyle cooking opens a whole new world of possibilities in the kitchen. Once you understand the simple combinations, you can make as many stew or soup recipes as your imagination and ingredients will allow you.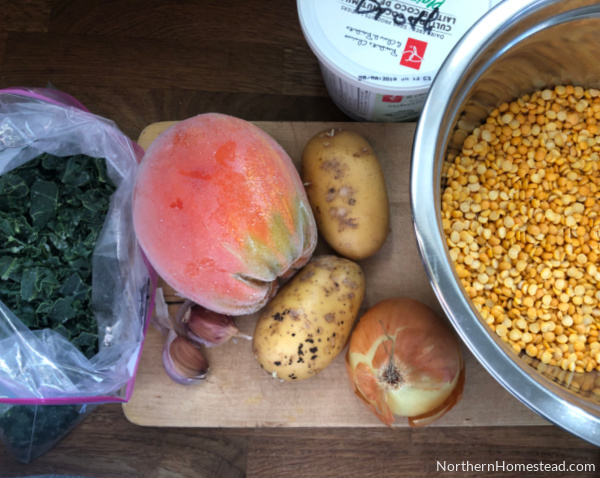 On this sunny, snowy, and everything in between April day I used a frozen Bulls Heart tomato, those are my favorite and I still have fresh tomatoes in the freezer. Also from the freezer were used kale, carrots, and homemade vegetable broth. Not in the recipe, but since I still have homegrown frozen peppers and leek, I added some to the stew, too. 
Add more er less water depending on how long the peas have been soaked and how thick you like your stew. I only soak for about 20 minutes, till I have everything prepared and sauteed. 2 cups broth and 3 cups water work well for me, and I use the instant pot for cooking. 
Cooking in the Instant Pot
Yellow Split Pea Stew is a staple in our house, it is simple and quick to make, especially in an instant pot. In an instant pot, I start with sauteing and then cook the Yellow Split Pea Stew for 20 minutes on high pressure and let it slowly release on its own.
When using kale, I add that after the pressure cooking is done along with miso, cilantro, and seasoning, let it come to a boil and it's done.
Serving Yellow Split Pea Stew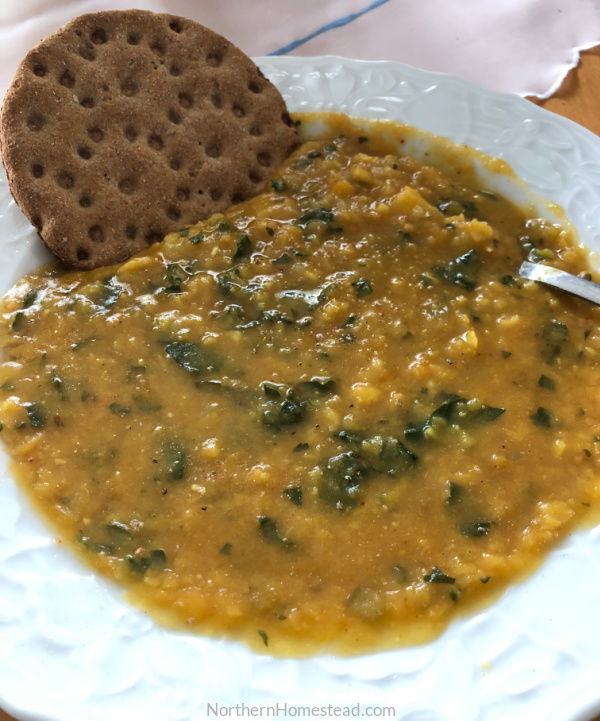 If you prefer a different dish each day, here you have 3 different versions: The stew can be served with crispbread, my favorite. It also tastes great as a Dal on rice. Thickened leftovers can be served in homemade pita bread. 
Cook once, serve multiple times. The recipe can easily be doubled. 
Yellow Split Pea Stew Recipe
Yellow Split Pea Stew Recipe
Author:
Anna @ Northern Homestead
Ingredients
1 tablespoon coconut oil
1 cup onion, chopped
½ teaspoon ground cumin
½ teaspoon ground turmeric
½ teaspoon ginger chopped
1⁄2 teaspoon red pepper, crushed
2 garlic cloves, minced
1 carrot chopped
2 cups cauliflower florets, chopped (or kale, cabbage, kohlrabi)
1 cup potatoes diced
2 cups tomatoes, chopped
2 cups vegetable broth
2 -3 cups of water
1 pound Yellow Split Pea
1 tablespoon fresh cilantro, minced
1 tablespoon miso paste
Pepper, Salt, Braggs liquid soy to taste
Instructions
Start with rinsing and soaking the split peas
In a large saucepan over medium-high heat saute onion, add cumin, turmeric, ginger, hot peppers, and garlic
Add carrots, cauliflower, and tomatoes; saute for 1 minute.
Stir in broth, water, and peas; bring to a boil.
Cover, reduce heat, and simmer for 35 minutes or until peas are tender.
Stir in miso, cilantro, and seasoning
We invite you to subscribe to Northern Homestead and follow us on Instagram, Facebook, or Pinterest for more yummy recipes.
More Recipes You Might Enjoy: