Real sauerkraut is raw, fermented, and packed full of nutrition and good bacteria. Most sauerkraut in stores is heat treated and soured through vinegar, so it is a totally different product. It is worth it to make your own.
The ingredients for sauerkraut are cabbage and salt, to add some diversity you can add other ingredients as well. Also not only white cabbage makes sauerkraut, the red cabbage can be used just as well and makes a beautiful color.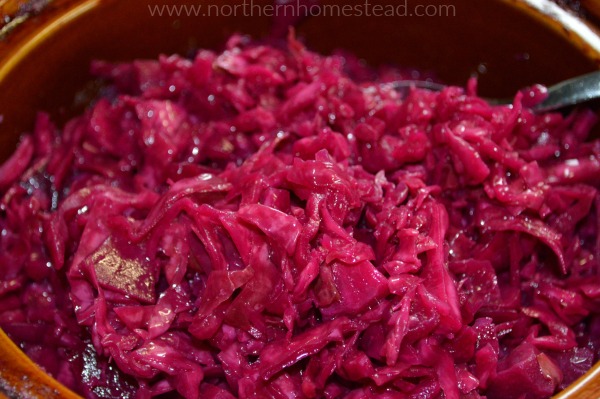 If you have seen your grandma making sauerkraut, you will remember that it involved a lot of work, a special pot, and lots of time. But making sauerkraut can be simple. If you have a fermenting crock, great! If you don't, you can still make sauerkraut – just use what you have.
This recipe will make a crispy and crunchy sauerkraut not too sour or salty. If you like a soft very sour sauerkraut, use a traditional recipe the way grandmothers did it.
What you will need to make sauerkraut
A cutting board, a good knife, a food processor (optional), a big mixing bowl, and hand gloves (optional), fermenting crock or a container to ferment the sauerkraut in (slow cookers make great fermenting crocks), weighing stones or a container to keep the moisture up (I use a salad bowl and a glass jar), a clean kitchen towel, and a warm place in your house.
Recipe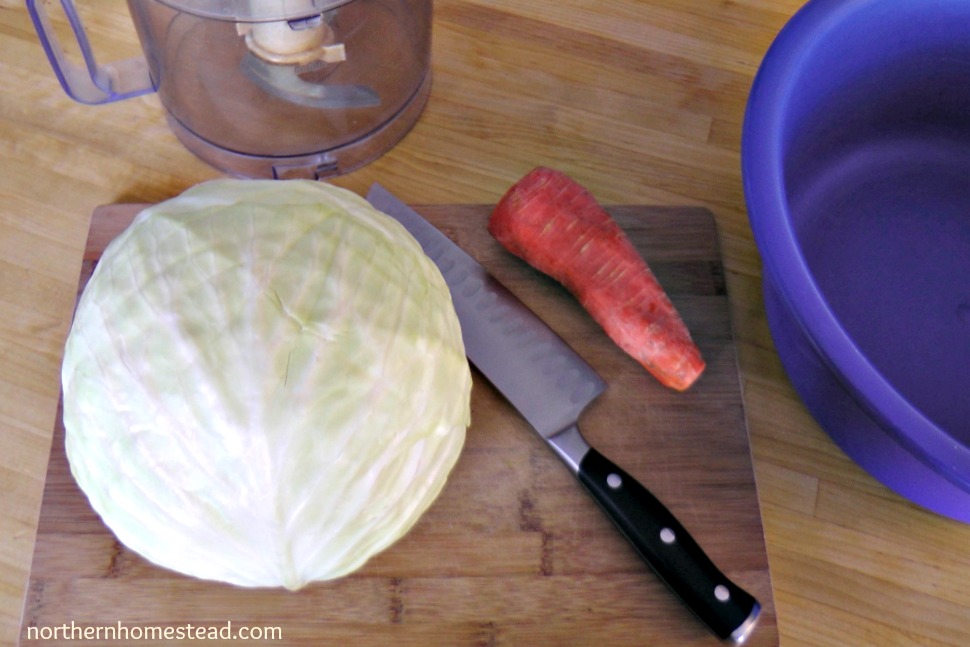 1 about 2-3 pound cabbage (white or red)
2 carrots or apples, apples go well with the red cabbage variation
1 tablespoon of salt (I use coarse Canning and Pickling Salt
and make it heaped), but please taste your cabbage. It should be salty, but not unpalatable. I think one reason people do not like sauerkraut is that it is way too salty to begin with. You should like it fresh, then it will be even better fermented.
Add pepper, juniper berries, or herbs to your liking.
How to make sauerkraut
Take the outer leaves off of the cabbage so that it is nice and clean. Then take two or three more leaves off to cover the sauerkraut for the fermenting process, and put them aside.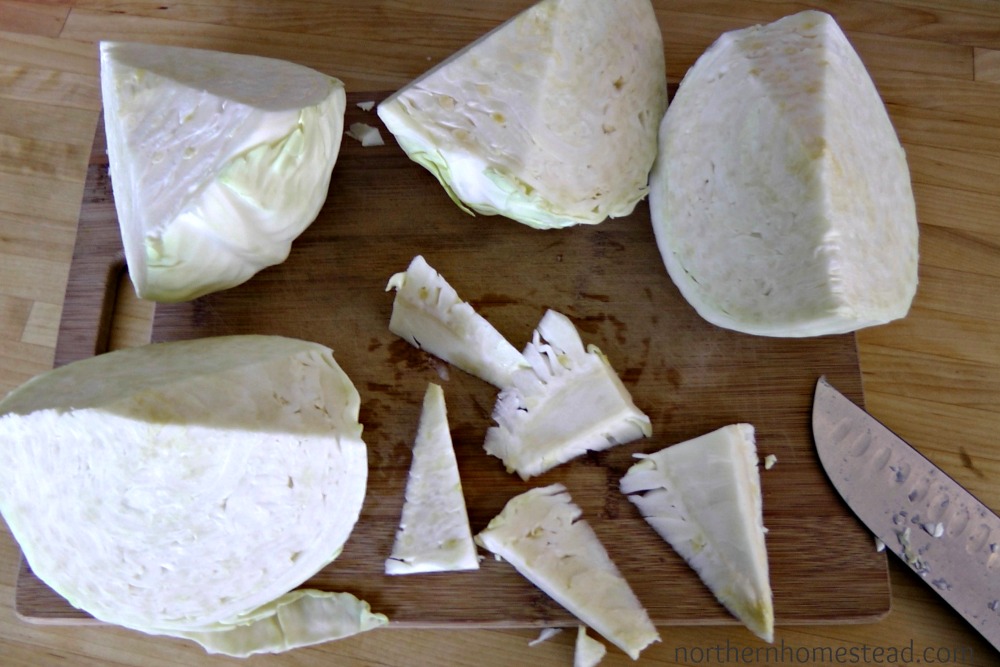 Now divide the cabbage into 4 pieces and cut the stem out.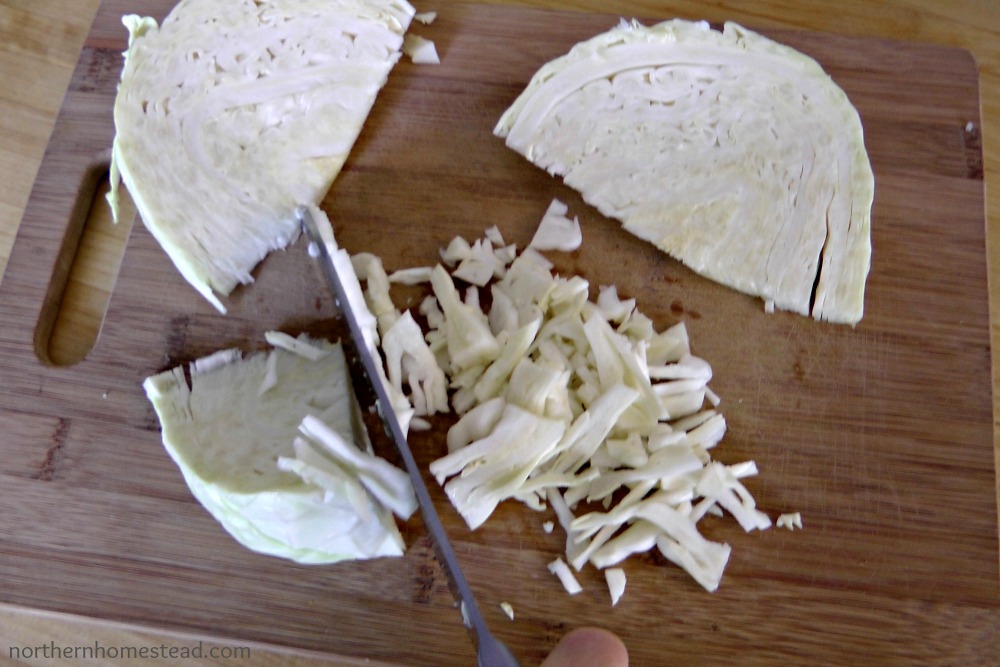 Divide every piece into 3-4 smaller pieces and chop the cabbage, here you can use a food processor. I prefer cutting by hand – it gives it a bit more bite. If you prefer longer slices, make them longer; it is all up to you.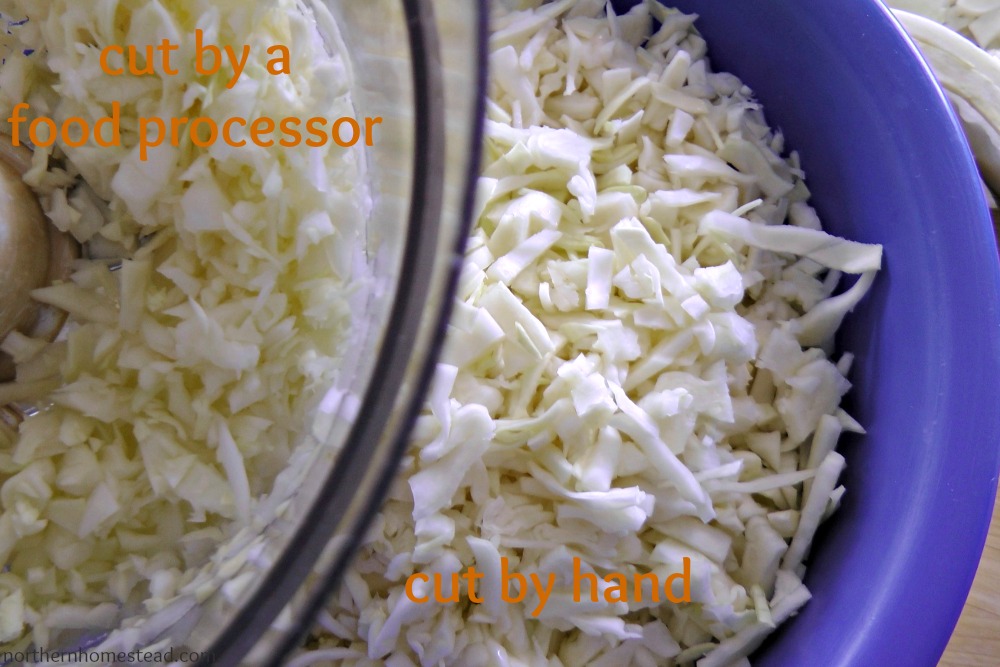 Depending on your cabbage it might be good to use a food processor instead, at least for the thicker parts of the leaves. You do not want big chunks in there!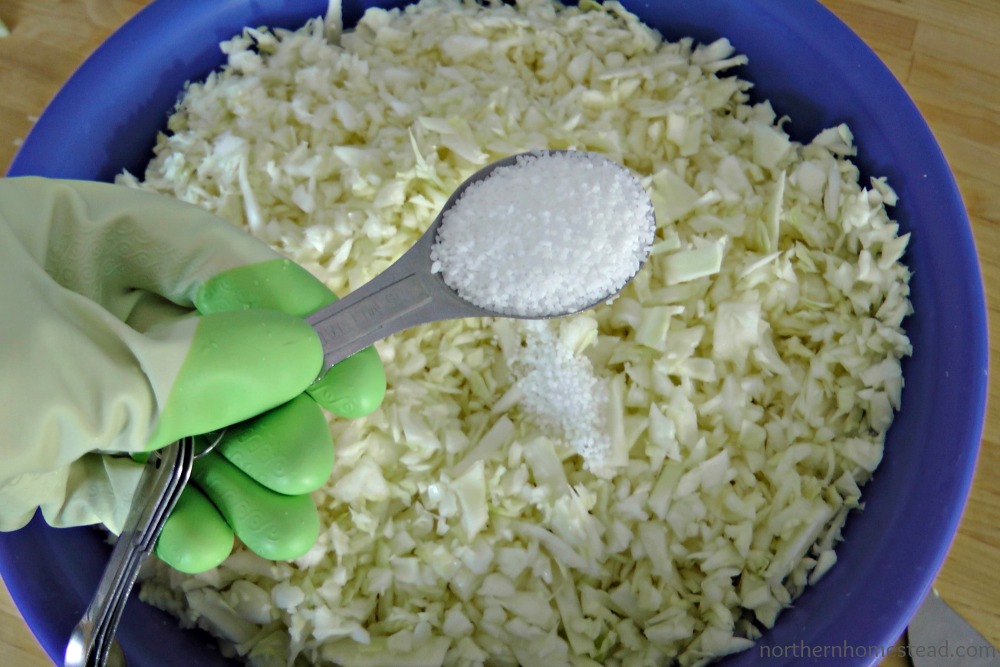 Once the whole cabbage is cut, add the salt and mix well, massaging the salt into the cabbage.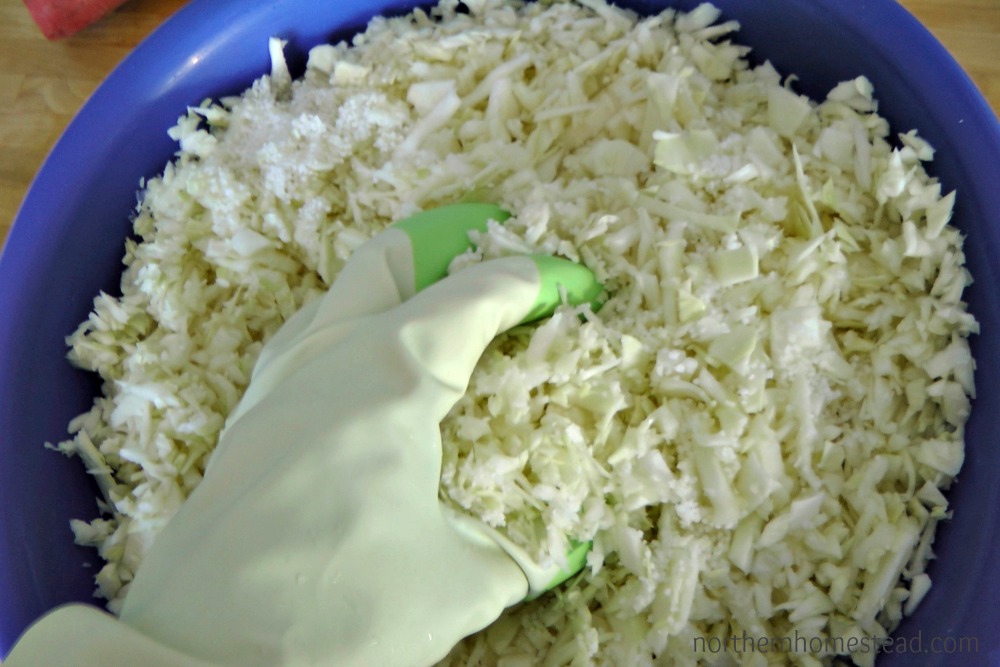 You can use hand gloves to protect your hands. You should see the cabbage starting to look wet. Now leave the mixture for the salt to take more moisture out of the cabbage. You do not need to stomp it, time (about an hour or more) can do it for you.
Note, the more you massage your kraut the softer it will become. If you like sauerkraut crispy and crunchy be gentle with massaging it.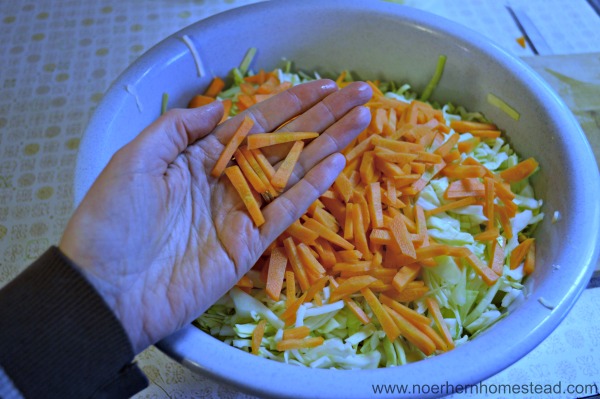 Now cut or grate the carrots, I find cutting them looks and taste better, even if it is a bit more work. If you use apples instead, cut them into about half inch peaces. Add carrots or/and apples to the moist looking cabbage, mix it in and fill it to the fermenting pot, pushing everything down so you don't leave air pockets and the moisture comes up. Cover the sauerkraut with the leaves you put aside for it and place the weighing stones or a smaller bowl and a glass jar on top.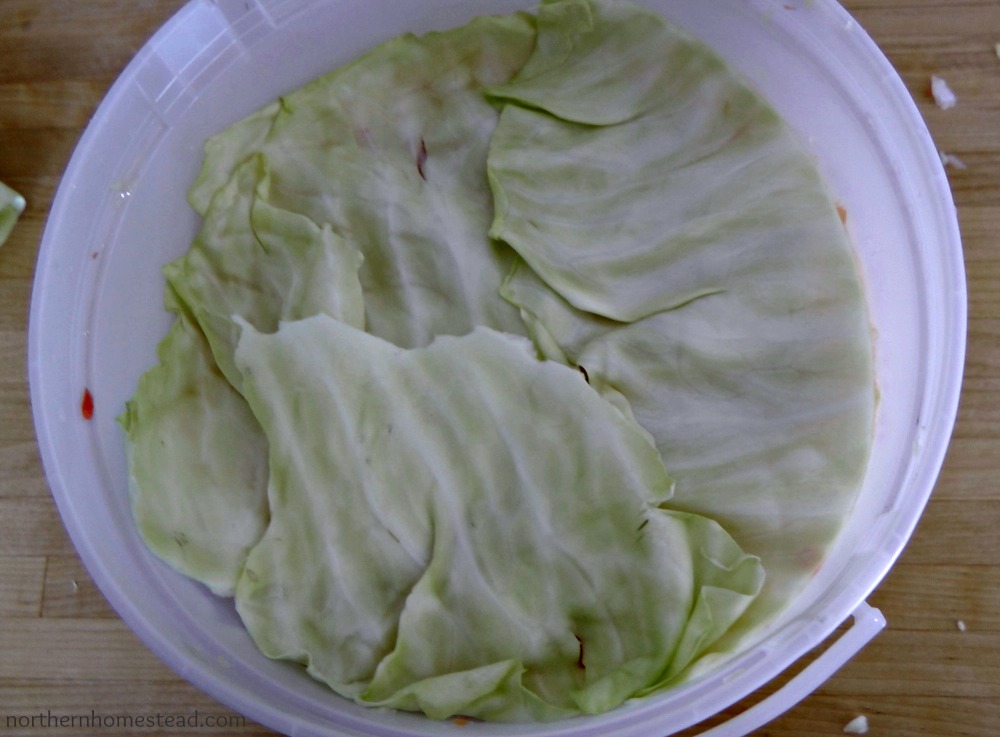 Pressure (weighing stones  or a glass with water) is important, to keep the brine up. Usually it needs a heavier glass the first day. Make sure that your sauerkraut is fully covered in liquid. This might not be the case right away, since we did not stump the kraut. But should be the second day. If not add some pressure. Cover the whole thing with a kitchen towel to protect it from dust and leave it at room temperature (55 – 75F).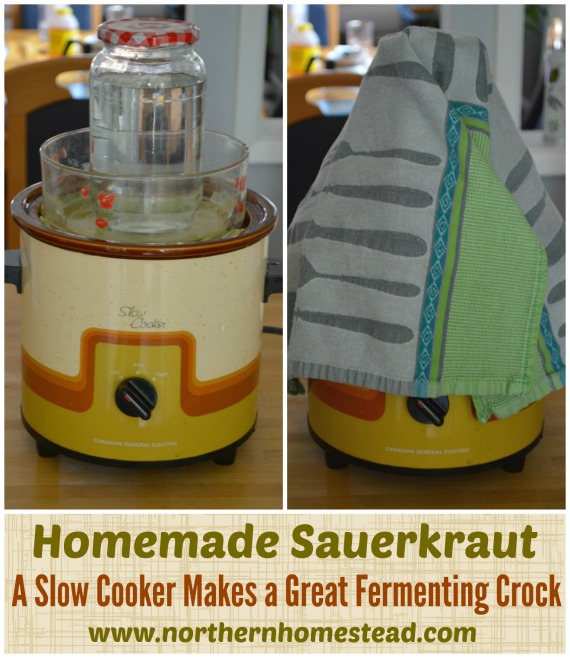 Leave for about 3-6 days, depending on the temperature. A warmer place will speed up the fermenting process, a colder might need a few more days. If you are making a double, triple, or more batch, it will need more time. About once a day, or whenever you remember push the wight down a bit, so the air can be realized. Once you see bubbles and it smells sour and delicious it is done.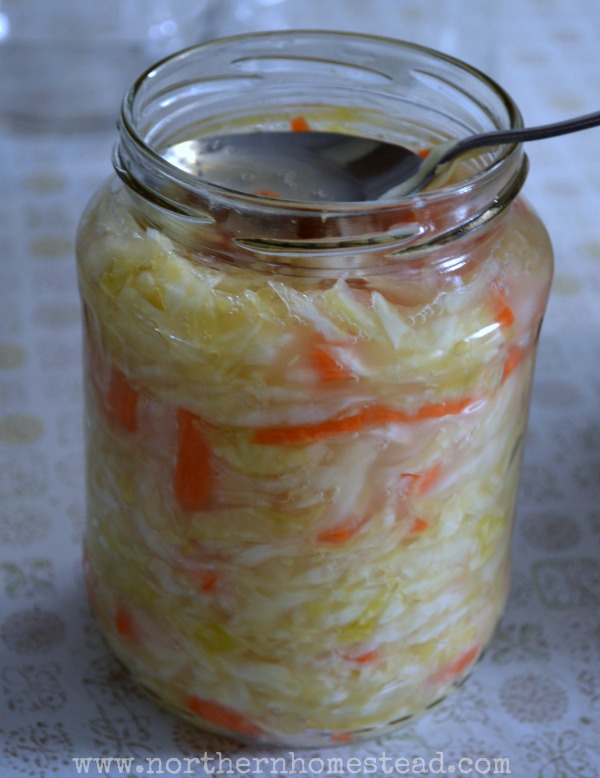 Refill the finished sauerkraut into jars, pushing it down so it is covered with liquid (very important!), close the jars tightly and keep them in the fridge. It is good for several weeks, maybe months, I do not know, since it is always gone very quickly at our house.
Enjoy!
To learn more about fermented vegetables we would recommend the book:
Fermented Vegetables: Creative Recipes for Fermenting 64 Vegetables & Herbs in Krauts, Kimchis, Brined Pickles, Chutneys, Relishes & Pastes
.
We invite you to subscribe to Northern Homestead and follow us on Facebook or Pinterest for more yummy recipes.
More Recipes You Might Enjoy: