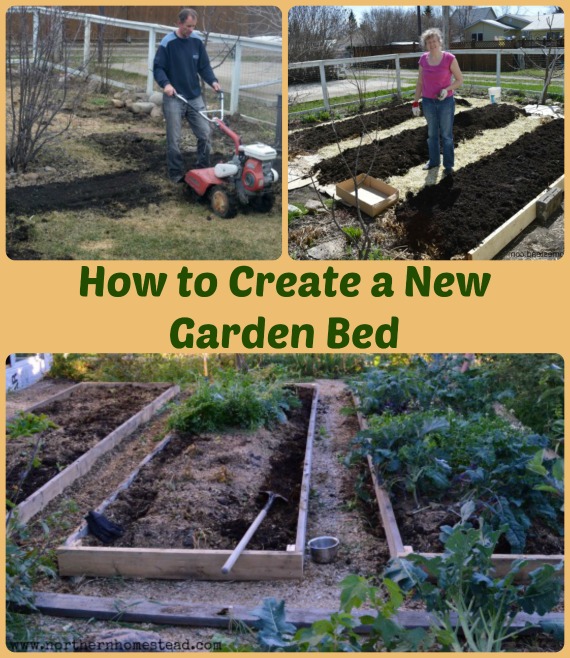 I'm always thrilled to hear about new (and not so new) gardeners creating a new garden bed. We need more gardens and more growers. Not even 100 years ago every family had a garden. Gardens are rewarding and fun. But how to create a new garden bed if you have none?
A few things to consider first
New gardens aren't comparable to new cars, or new shoes, where if it's new it runs smooth. A garden runs (or better, grows) better after a while. New is not better. Usually it takes about 3 years for a garden to be established. To compare your new garden to Aunty's established garden will not work. So the main thing is to get started. Even if you do everything kind of wrong the first year, do it anyways. Because not only are you working on your new garden, there are thousands of worms and bacteria who work along side with you. They do a better job than we ever could. However, they can only start working on your garden bed if there is one.
Where to create a garden bed
1. Note where the sun is. The ideal garden should have morning and midday sun and some shelter from the afternoon sun. In cooler areas, it is good to have sunshine all day. If you only have morning sun, you can still grow lettuce, herbs, radishes, peas, and other cold-weather plants. If you have a lot of afternoon and evening sun, then the place is better suited for warm-weather plants, such as tomatoes and zucchini. Even if you do not have the optimum solar conditions, you can still grow a garden. Unfortunately, a garden in total shade will not produce.
If you are far north, or far south away from the equator, your sun angle will change dramatically over the course of the year. Where there is shade in the winter might be total sunshine in the summer, and the other way around. It is helpful to make a shade survey.
2. Stay away from trees. If there are branches above you, then there are also roots in the earth. If you can, go a little further from a tree. Trees that have shallow roots should be avoided all together.  American elm and maple trees, along with birch and poplars, are common trees with a shallow root systems. If you have them in your garden, make mulch out of them.
3. Use micro climates. A garden on a hill will be dry and windy, a garden down in a valley will get frost sooner and be wet. Windbreaks will make the spot warmer, good for northern and winter gardens, but may heat up the spot too much in hot areas. A slight slope to the sun will work for you and a slope away from the sun will work against you.
How to create a garden bed
There are many ways to garden. Especially for beginner gardeners, we would recommend one of the easy and effective no till methods. See the 3 Great No Till Gardening Methods for more information. Depending on your needs and resources you can go for a sheet mulch, just mulch, or a square foot Garden.
Even though all of these are no till methods, for a brand new garden, to have good results from the start, we find that it is better to dig the weeds out first to avoid to have a lot of weeds.
We also would recommend actually to build garden boxes for the garden beds, and not just raise a garden bed. We put boxes around our raised beds afterwards, because just to make hills did not work as anticipated.
See a good way on How to build a raised garden bed with Wood – Easy (EZ) & Cheap.
If you do not want raised beds at all, but still are looking for an easy and productive garden method, check out this resources.
Have some fun
Last but not least, have fun. Don't take your new garden too seriously, enjoy what is growing and learn along the way. Remember, no comparisons with Aunty's beautiful garden. You will get there eventually, but do not stress yourself along the way.
We invite you to subscribe to Northern Homestead and follow us on Facebook or Pinterest for the latest update.
More posts you might enjoy