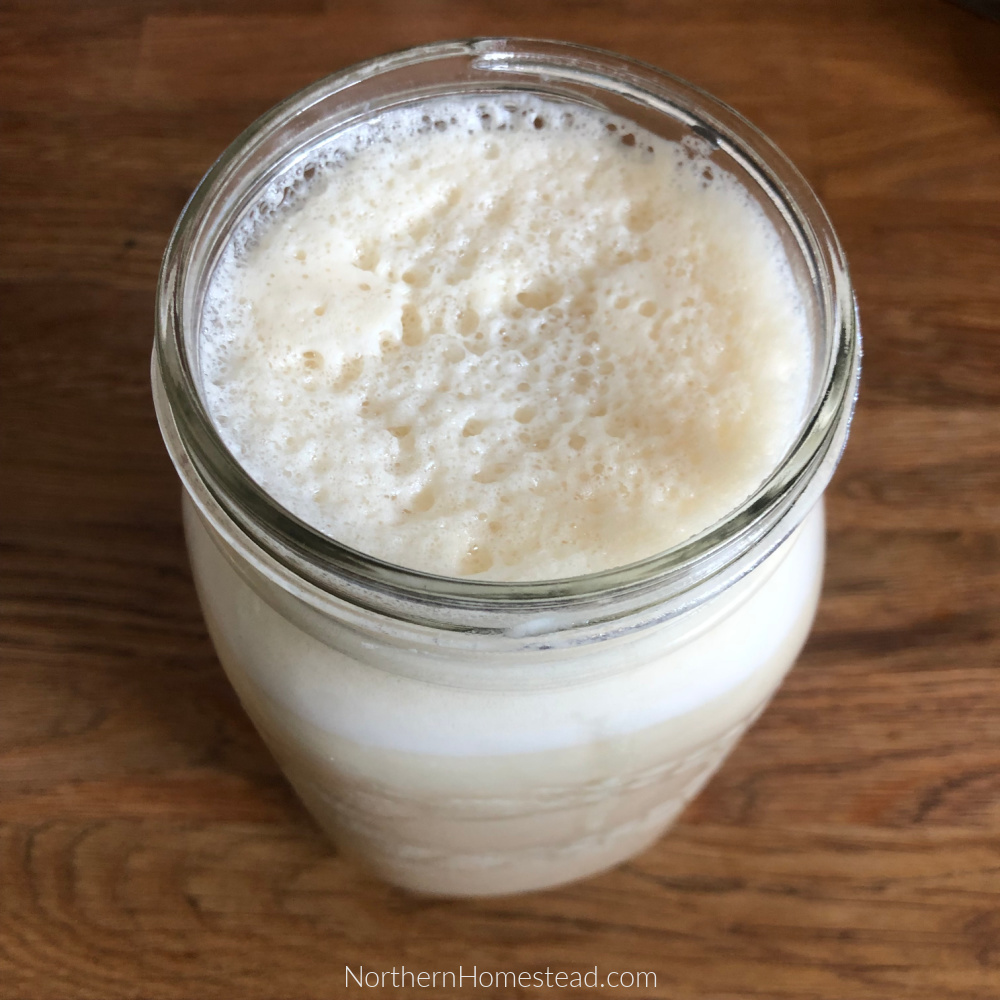 This whole bean homemade soy milk recipe is the simplest way to make soy milk. The nice thing about it is that the whole bean gets used, there are no leftovers. If you don't know what to make with okara (soy pulp), but hate to throw away perfectly good food, this recipe is for you. 
Growing up on a homestead with a dairy cow, milk has always been an important ingredient in our diet. My mom made sure I learned how to milk fairly early. It was a lot of work, and not something I enjoyed. 
Now when making my own plant milk, I often think back and wonder why one would go through all the struggle with dairy if plant milk is so simple and just as good. 
Speaking of simple, this is probably the most straightforward recipe out there. Try it, you might like it just as much as we do. 
Why whole bean soy milk?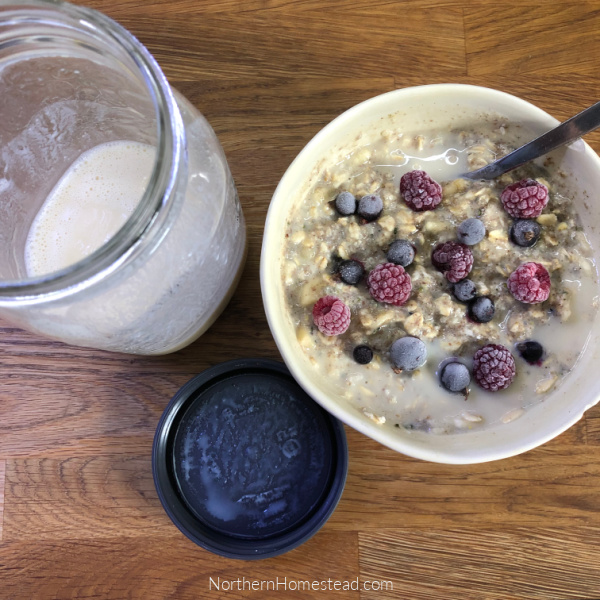 Plant-based milk beverages have really become popular. One can find different varieties for every taste and situation. Different kinds of plant milk also have different nutritional content. It is a good idea to get some variety into your diet. 
For baking, we like oat milk, for cooking coconut milk, and for breakfast porridge soy milk. Soy milk is the one we use the most.
Since we like homemade food, the question came up if we could make homemade soy milk. After some research we found that it is fairly easy to do, the challenge we found was the amount of okara that was left from the milk production. 
Sure there are yummy recipes out there, and some are really tasty, but we are not used to using so much of the okara. We use the milk daily for breakfast, but to use okara also daily just didn't appeal to us. 
Just so it would not be wasted, Jakob started adding some of it to his breakfast muesli. That's when it occurred to us why do we separate it first (as most soy milk recipes suggest) and then add it back in? We had to try not to strain the milk in the first place. 
We like whole grain bread, so why not also have whole bean milk, to add to the whole-food plant-based diet.
After experimenting with it, we have come up with a recipe that we find is very wholesome and delicious. 
A nice side effect is, that whole bean milk uses about half the amount of soybeans. 
The benefits of soy
Soy has been a very controversial bean for a long time. But it really is just another variety of beans, that happens to be particularly healthy and mild in taste. 
Like other beans, soy is high in fiber, iron, magnesium, potassium, protein, and zinc. Soybeans naturally contain a class of phytoestrogens called isoflavones. What that means and why it is so good for us you can read here. Simply put soy is great for women who have a risk of breast cancer and is beneficial for kidneys. 
Also, this study shows the positive effects of the combination of a low-fat plant-based diet and soybeans on the frequency and severity of menopausal hot flashes. 
If you have questions about hormones in food, here is a book to read: Your Body in Balance: The New Science of Food, Hormones, and Health.
Some people do react negatively to soy, in that case, it is not a good option for that person. That does not mean however that soy is bad. Personally, I react to almonds, so almond milk is not a good option for me. 
Where to get whole soybeans
There are many different varieties of soybeans. They do taste a bit different, but as with most store-bought products, we do not really have a way to choose between them, since they are all labeled the same.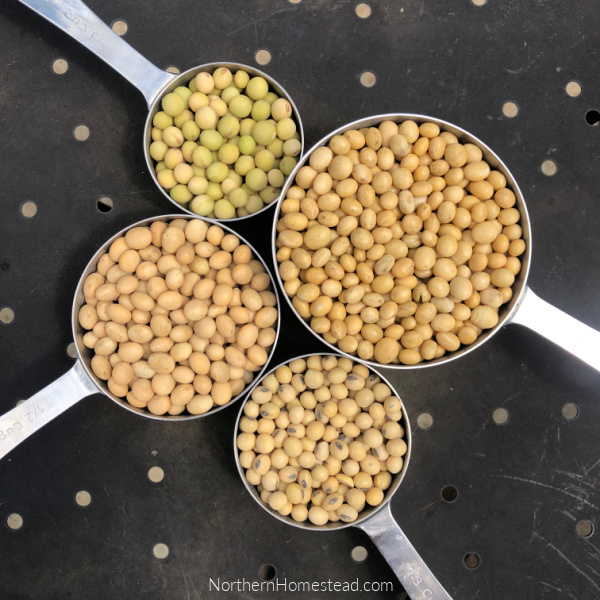 Here we have 4 different varieties. They all taste a bit different, but not enough to despise one or the other. Likewise, homemade milk does taste a bit differently from store-bought. We find it's just a matter of getting used to it. If we have homemade milk for a while, and for some reason buy soy milk, we really don't like the store-bought milk. But also when we started to make the milk at home, it took a bit of getting used to. 
The 1/4 cup in the picture is filled with homegrown soybeans. Yes, it is possible to grow your own. Soy likes it a bit warmer than our climate is, but overall it's just as easy to grow as any bean. We mainly grow them for companion planting in the greenhouse.
I don't recall seeing soybeans in stores. We order it from a local bulk store. Ordering organic soybeans online is another option. 
To our knowledge, all soybeans used for human consumption are non-GMO (read a correction in a comment section). You will more likely get GMO soy through animal products than through actual soybeans. 
What will you need to make whole bean homemade soy milk?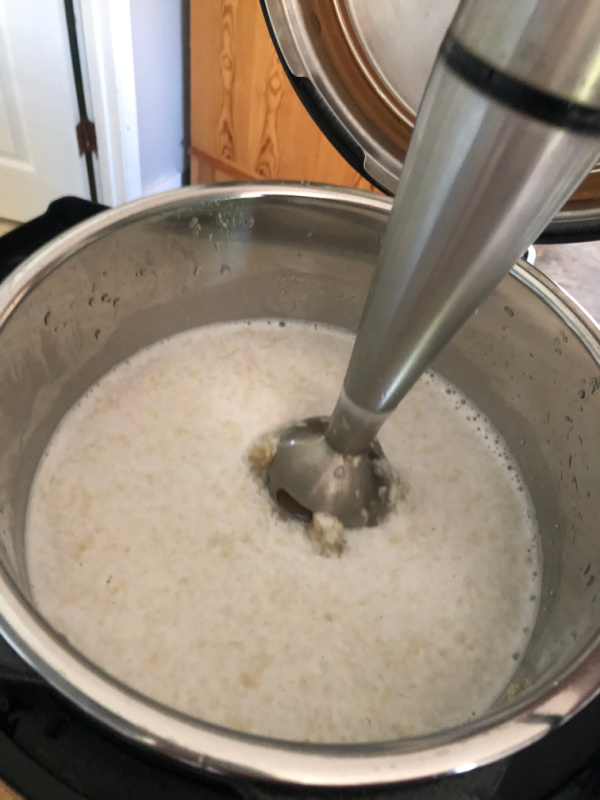 We make the soy milk in the instant pot. It makes the process easy. Any other high-pressure pot would work just as well. You can also make it in a normal pot but would have to watch it so it does not burn. 
To blend the milk to a consistency that straining is not necessary, you will need a high-speed blender. We use the Vitamix, again, any other high-speed blender will work. We do not know what the milk would be like blended in a simple blender. If you do not have a high-speed blender, it is certainly worth trying. 
Since we already have a hand blender as well, we use that for the first step since it's simpler that way. However, it could be done in Vitamix too. However, it is important not to over-blend the milk before cooking. Otherwise, it sticks to the bottom and burns. So you really just want to crush the beans to get all the goodness out. 
Whole bean home-made soy milk recipe
Whole bean home-made soy milk recipe
Author:
Anna @ Northern Homestead
Ingredients
½ cup raw organic soybeans
4 - 5 cups of filtered water depending on your liking
Salt to taste (optional)
Instructions
Rinse the beans well
Soak in one of 3 ways
Option 1 - Cover the beans with water and soak for 12 to 18 hours, then drain.
Option 2 - Cover the beans with water and bring them to a boil. Cook for 2 minutes, remove from heat and soak for 1 hour. Then drain.
Option 3- In a high-pressure pot cover the beans with water and cook at high pressure for 0 minutes. After the pot comes to pressure let rest for 1 hour. Open the lid and drain.
In a high-pressure pot cover, the beans soaked by either method with water
Crush the beans with a hand blender (do not over-blend)
Cover the lid and set on high pressure for 8 minutes
Let the pressure come down in a slow relieve
Transfer the mixture to a high-speed blender
Blend on high for 1 minute
Fill into glass jars, cover, and let cool
Store in a cool place for 3-4 days
Shake before use
We invite you to subscribe to
Northern Homestead
and follow us on
Facebook,
Instagram
, or
Pinterest
for more great recipes.
More Recipes You Might Enjoy: