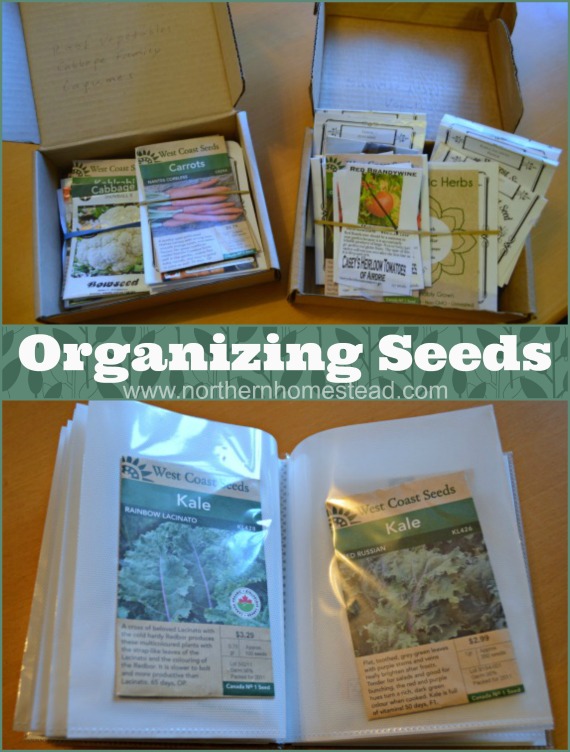 As gardeners, we have lots and lots of seed packages. Old seeds, new seeds, and empty seed packages. Some kind of organizing is needed. When organizing seeds you can go from very simple to super fancy. As you know, I am all for simple. Here I share how we do it.
Storing seeds in a box
Usually, in the death of winter, I take my seedbox (often messy at this time) and sort all the seeds into categories.
Root vegetables
Cabbage family
Summer vegetables
Greens
Legumes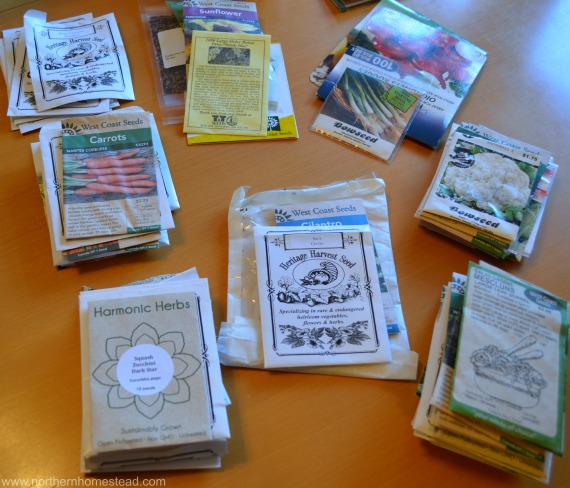 Depending on how many are there in one category, I may sub-divide them into plant varieties. Then I hold the sub and main categories together with a rubber band. I know, it is not fancy and not even really pretty, but it sure works. I like it that I can take one package bundle and work on it without bringing all the seeds up.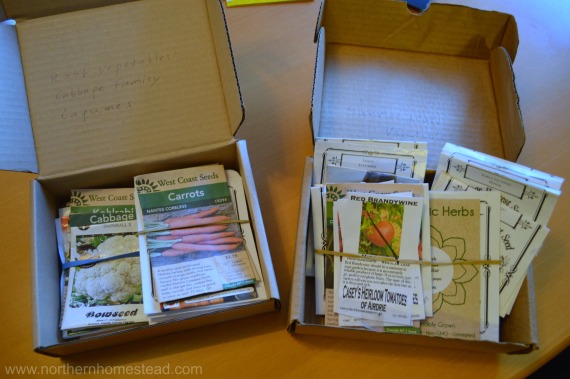 Now, I simply store the seed bundles in small cardboard boxes. I use the ones West Coast Seeds ships their seeds in. I like to separate seeds that I plant directly into the ground (like root vegetables and legumes) in one box, from seeds that have to be started indoors (like tomatoes and peppers). But I am not super fussy about it. Rubber bands and labeling the boxes are the two important things in my simple storing seeds in a box system.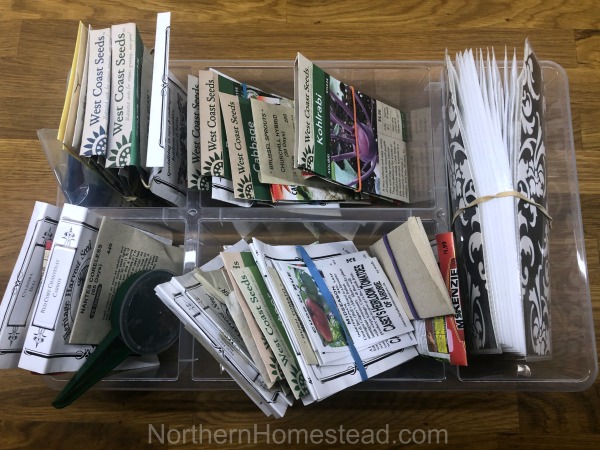 Organizers of any kind can store seeds. Here is an organizer from Ikea. Photo Keeper Box also makes great seed organizers.


Storing seeds in a photo album
Another great way to store seeds is in a photo album. If you only have about 30 seed packages, this is the way for you! We have about that many packages of different greens and herbs, so I have them in the photo album. Starting with salads, spinach, kale, and other greens and herbs. It is nice to have them all in one place and easily accessible. Greens are seeds that are used multiple times in our indoor and outdoor garden.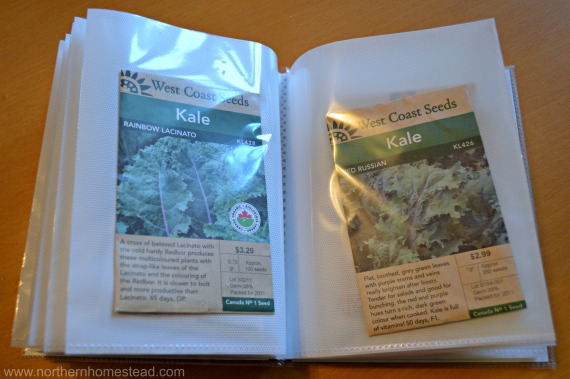 For storing seeds in a photo album you want to choose a photo album about 5 x 7 inch in size with around 30 pocket pages. This way there is room to easily access the seed packages and the album does not get too bulky. Again, I hold the photo album together with a rubber band. You can get both (the albums and the rubber bands) at dollar stores.
Seed storage place
Seeds are best stored in a cool and dry place. If you live in a hot and humid climate you would want to store your seeds in an airtight box. The fridge is not the best place, because of the humidity, but if it is the only cool place you have, it would work.
Expiring and reordering seeds
Seeds do not last forever and they are not good forever either. Your seed package might have a date on it saying when it was packaged. If not, and you care, make a habit to add a date when you purchase new seeds. In our home garden, I do not care that much about the dates. I will notice soon if the seeds are still good or not, I just take it easy. However, if you grow a lot from the same variety you might want to know at least a rule of thumb since there isn't a set expiry date.
Short living seeds are parsnips, onions, sweet corn, beans, and peas. Good for 3 to 4 years are carrots, turnips, rutabagas, peppers, chard, pumpkins, squash, watermelons, basil, artichokes, and lettuce. And good for even longer than 4 years the seeds from the cabbage family: beets, tomatoes, eggplant, cucumbers, muskmelons, and celery. (Source Veseys)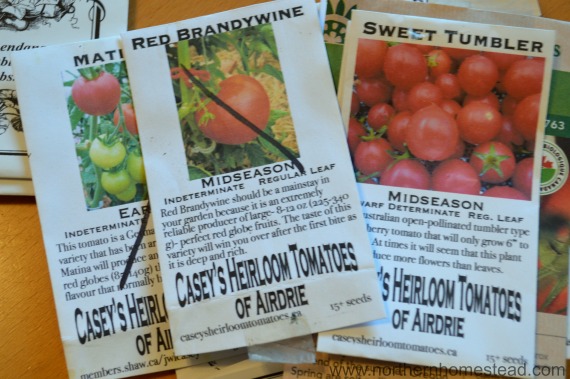 Sweet corn, beans, and peas are usually all used in one season, so I just keep the empty package to know what we did grow. For other seeds that last longer and are gone, I like to mark the package, so I remember to reorder them before next spring. See also Getting seeds for the new growing season.
We invite you to subscribe to Northern Homestead and follow us on Instagram, Facebook or Pinterest for more great tips.
More Seed Related Posts You Might Enjoy