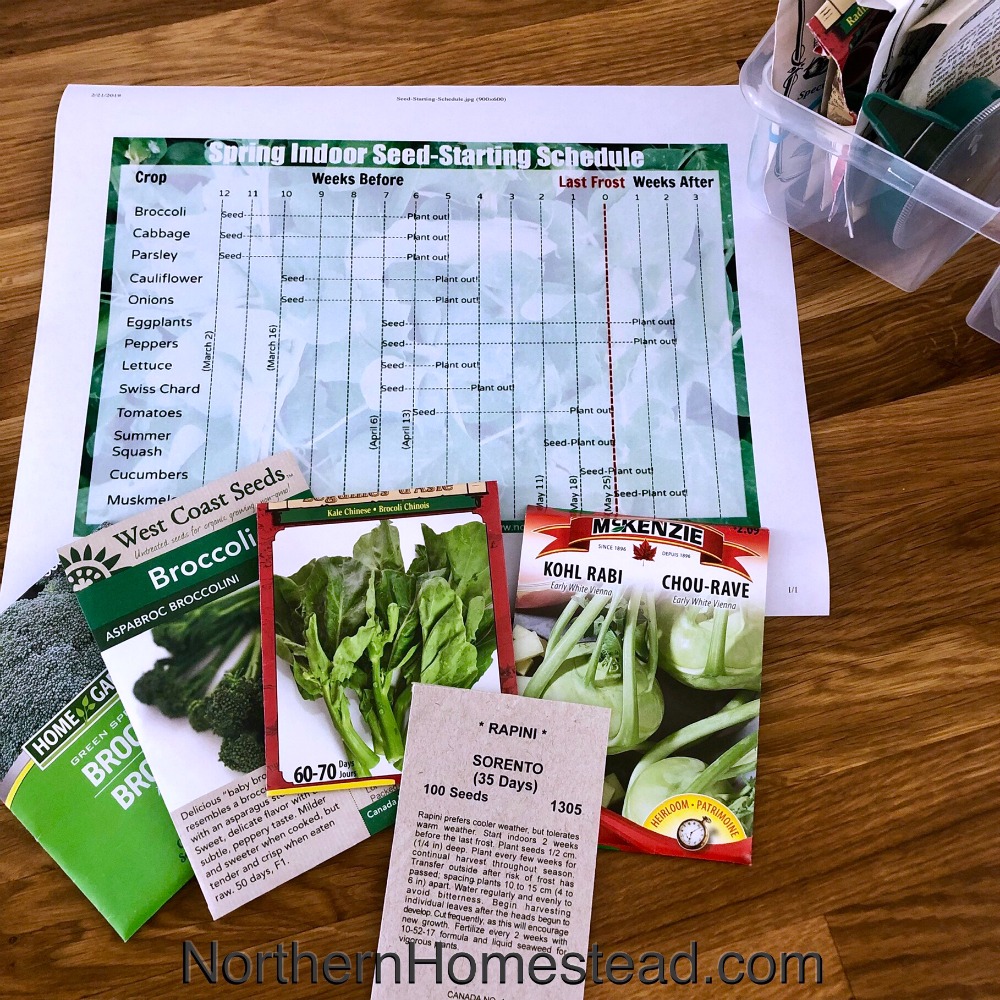 After using this spring indoor seed-starting schedule for several years now, do we still recommend it, or is it time for a new plan? The schedule comes from the All New Square Foot Gardening
book. Mel Bartholomew, the author, is known for simplifying things. That attracted me to his work in the first place. The schedule is very simple, and it is still all we use.
In this article, we want to take a look at when and why we start seeds following this schedule. Plus you can print yourself a schedule to follow with your exact dates.
Note, this is a schedule for annual vegetable seeds for an edible garden. There is a free printable indoor seed starting schedule for you at the end of this blog article.
What is special about this schedule?
There are different ideas about when to start seeds indoors. Many gardeners like to start very early, and others like ourselves follow an indoor seed-starting schedule that starts at a later point in time. We have good reasons for that, and years of good experiences support this approach. Seedlings grow best into robust plants when planted out small. It does not disturb the roots so much and it is much easier to plant.
Even though we do understand that it might be hard to wait. Personally, we would recommend growing an indoor garden, or at least some microgreens instead of starting seeds for the summer garden so early.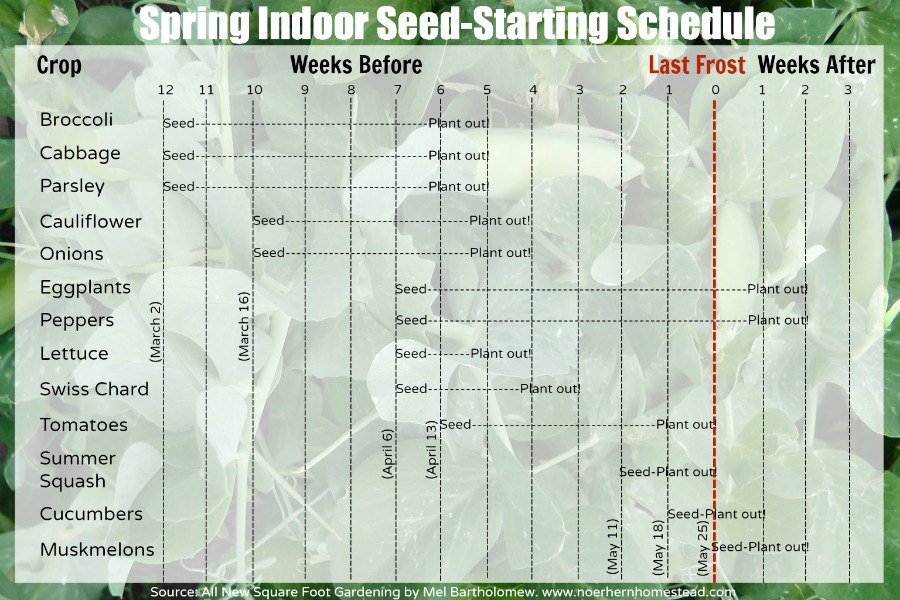 The indoor seed-starting schedule from the All New Square Foot Gardening
book does not just show the seed starting date, but even more important the planting out date. Those are really the important dates to consider. The starting times are just simple math.
Knowing that you can add any variety from your seed collection that might not be on the schedule. For example: if the seed package says that the plant needs 10 weeks from seed to plant out, and can only be planted after all danger of frost is gone, you place your plant out date a week after the last frost day, so it sure will have no frost. Now you count 10 weeks back, and there you have your starting seeds date.
If the planting out date on the schedule does not work for you, move the seed starting accordingly.
But wait, there is more.
Understanding the growing conditions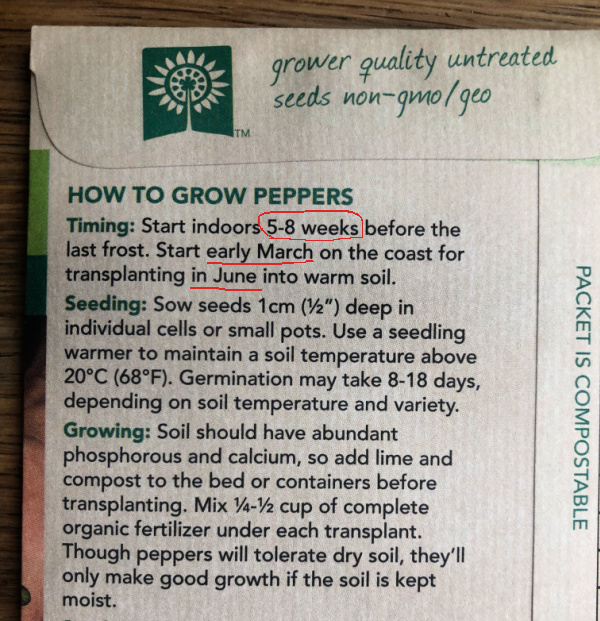 Here we have a pepper seed package from West Coast Seeds. It reads: "Start indoors 5-8 weeks before the last frost". We just covered that. If you know your last frost day, count back 5-8 weeks and there you have your seed starting date.
But that's not all the seed package says. Being local to the west coast, and wanting to be especially helpful to the local growers, the seed company adds: "Start early March on the coast for transplanting in June into warm soil". Now if you do the simple math we have been doing, the time period between early March and June is 14-15 weeks!
So, what now, is it 5-8 or 15 weeks? That's a huge difference.
Here is where understanding the growing conditions and generally times to maturity comes in.
A pepper seed needs 5-8 perfect growing condition weeks to become a healthy seedling. With perfect we mean, since peppers are a heat-loving summer crop, those days are preferably to be warm and sunny, with soil temperature for germination above 20C (68F).
The west coast is known for its overcast, cool weather. An average gardener, who would start pepper seeds there, would on average have just enough sunny days between early March and the beginning of June to grow seedlings. All other days are basically lost days for that seedling, they do not count.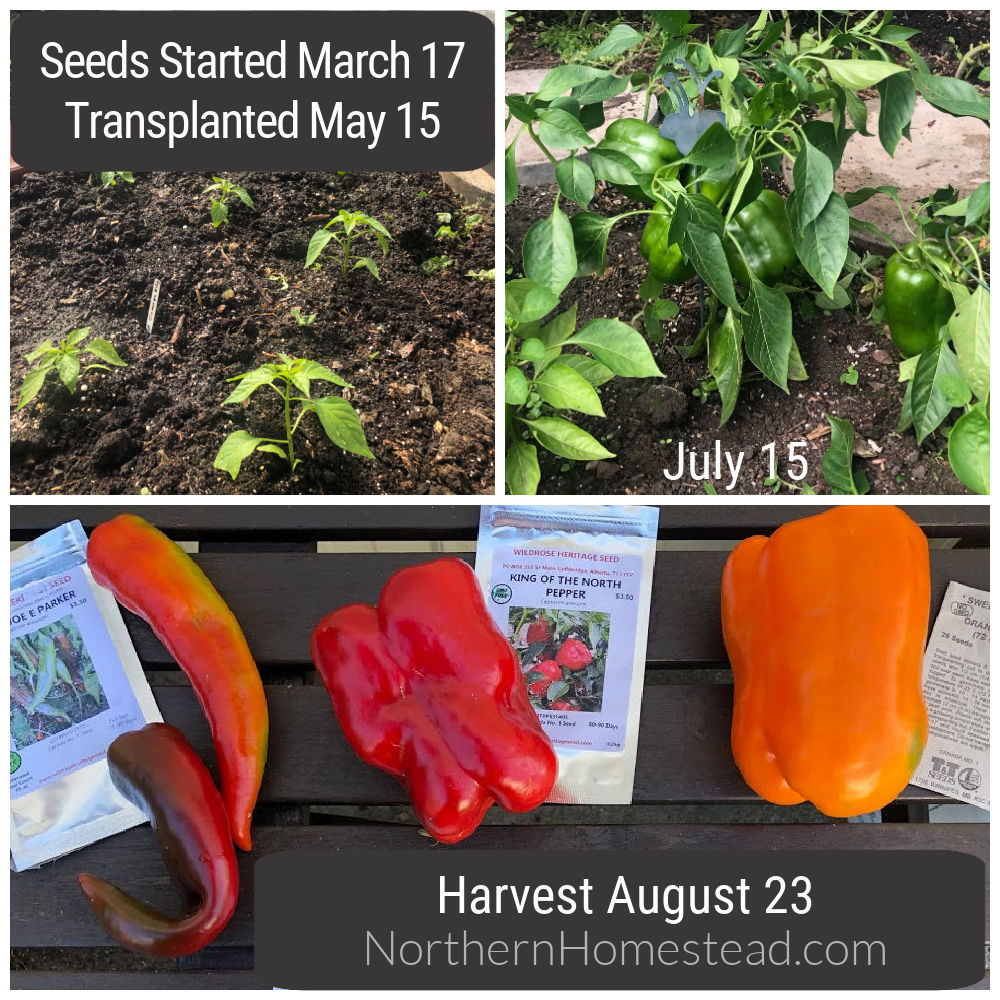 Here is an example of peppers that were started in March and harvested in August. How was that possible? We created the growing and maturing conditions that a heat-loving plant wants.
The times on the seed package for a seed starting and days to maturity (the time from transplanting a seedling to harvest) are perfect growing condition times.
If you know that your growing conditions are not ideal for any given plant variety, you have two options: You can add more time, or you can create better conditions. We aim for the latter.
Starting time for cold weather crops
Following this schedule, you will be starting cold-weather crop plants like brassicas and onions first. The reason is that they also can be planted out first. Cold weather crops generally like it cool. As we have mentioned before, this schedule does not just give you a starting time, but also a plant-out time.
Cold weather crops can take some frost, but you will still have to watch the weather and give them a frost blanket as needed. See also how different plants survive frost.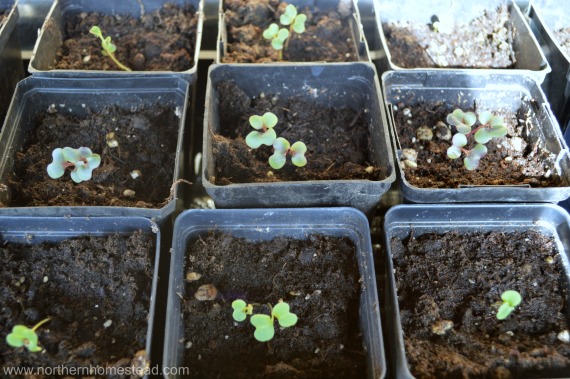 The advantage of planting cold-weather crops out earlier is to prolong your growing season, but also while cold weather crops do like it cool and often will grow better in cooler conditions. Also, the cabbage butterflies tend to come out in late summer, so harvesting the broccoli before that is a win-win.
Since our weather is very unpredictable, and I never really know what our early spring will be like, I have moved the schedule for the cabbage family plants about 2 weeks later. This gives me a bit more time if our spring does not come at the usual time as expected.
Another good option is to start cold weather crops on schedule but in winter sowing instead of indoors. This way they are already out in the elements and will germinate according to the weather.
Of course, not all plants we might grow are on the chart, only the main crops from a plant family. So if you also grow Brussels sprouts and shallots, start them with other brassicas or onions. Compare the seed starting and planting out dates on your seed package and add them where you see fit.
Starting time for nightshade family plants
Nightshade family plants like tomatoes, peppers, eggplants, etc. are summer crops and like it bright and warm. In our area, the daylight from October 28 to February 14 is below 10 hours.
If you start your seeds before or right at the edge of the 10 hour day, they will grow very slowly and there is a danger that they become spindly. Spindly and weak seedlings, for the most part, are no good. They do recover after being transplanted, but that takes time, precious time that a short growing season gardener does not have.
To avoid having spindly seedlings you can use a grow light, but then your seedlings will grow fast, and mature at the time the seed package was saying it would. If you started them too early, the result will be overgrown plants.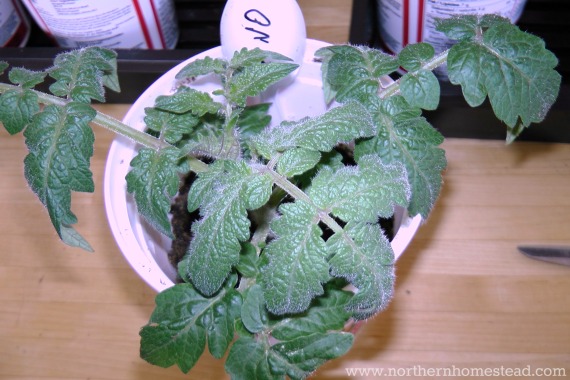 The focus of every plant is to bring forth seeds. If the plant is healthy and the growing conditions are right, the plant will concentrate on getting a good root system, leaves, flowers, and then fruit – and lots of it. However, if a seedling sits for too long in a small pot, it gives the plant the signal that it can't get any better roots or leaves. All it wants to do now is to produce some fruit before it perishes.
As a beginner gardener, you might be excited to see the first flowers and even fruit on your seedling, thinking that you really got a head start. But that is not true. What you got is a desperate plant that has put all its energy into producing that one fruit. It will not have the energy to produce much more than that.
In our experience, it is much better to wait till spring progresses and there is enough natural sunlight and warmth. If you do not have a sunny window or enough sunshine (like on the coast) use grow light. Using a heat mat can be helpful too.
Some plants do need longer, like for example ground cherries, started them earlier, simply because they need longer to germinate.
Remember the important date is the planting out date on the schedule, it is what we are aiming for. If you are not sure about the weather, start at 6 weeks; in this case, if you have to wait longer, the seedling will not overgrow.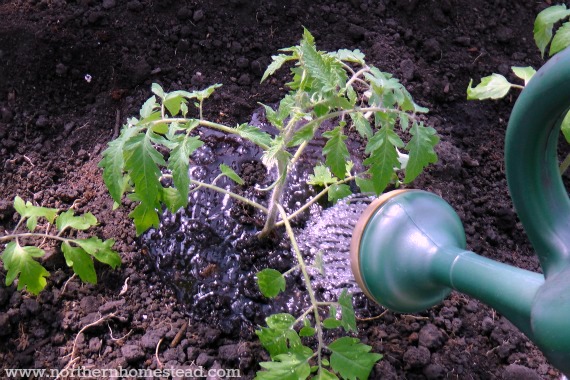 Seedlings that are at a stage where they are almost putting forth buds are just right. The roots are still young and will adapt easily to the new location, and the plant is ready to grow and produce a lot of fruit. Read more about when to start tomatoes here.
By the way, if you can't wait, start a plant or two early and give it the best conditions possible indoors. This way you can have really early tomatoes. Read more about growing tomatoes indoors.
Peppers and eggplants are particularly heat-loving, eggplants even more than peppers. Do not rush planting them out, making sure all danger of frost is over.
Starting time for cucumbers family plants
Cucurbits family plants are squash, zucchini, cucumber, pumpkin, etc. Most of them are very fast-growing plants, and they too like it summery bright and warm. Most of them also don't care much about being transplanted. If you want or need to start them indoors, give them a bigger pot (4-6inch), and do not start too early.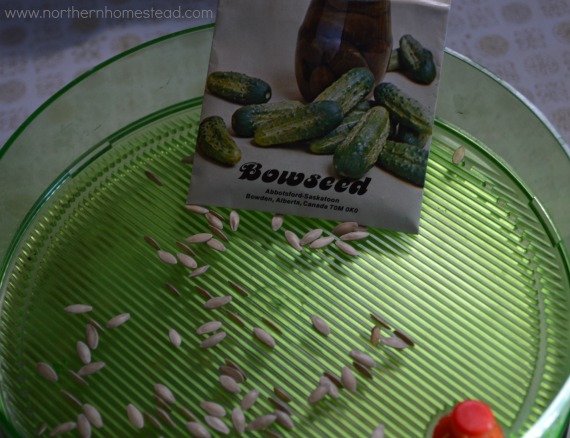 Personally, we start spaghetti squash and winter squash indoors and wait to plant them out a week or two after the first frost. Zucchini we mostly just start in the garden directly, even though during cool springs (and we never know ahead of time what spring will be like) starting indoors is a better idea.
Cucumbers can be sprouted to give them a head start and planted directly into the garden or greenhouse.
Starting time for growing in a greenhouse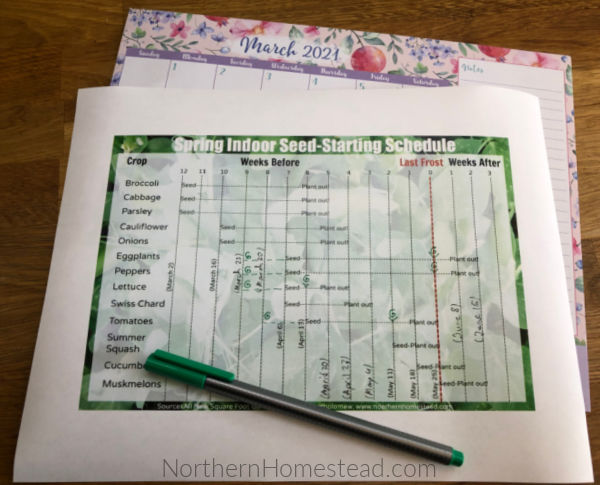 If you grow a greenhouse garden, you can adjust the seed starting times accordingly. It will take some practice to see how your greenhouse performs. A simple plastic poly gives you only about 3 degrees of protection at night. If you don't use any heat source, you might want to wait with heat-loving plants till the last frost day, just like whiteout a greenhouse.
In our Geodesic Dome greenhouse, we use a car radiator to heat and cool the room. This allows us to plant about two weeks earlier than the last frost day (still watching the weather though).
Again, using the same idea, counting the seed starting back from the plant out date, adjust the seed starting date for a greenhouse to your situation. I simply add a "G" – for greenhouse, to my schedule. Or you can print out two chards, and make one for the greenhouse and one for the garden.
Print your own seed starting schedule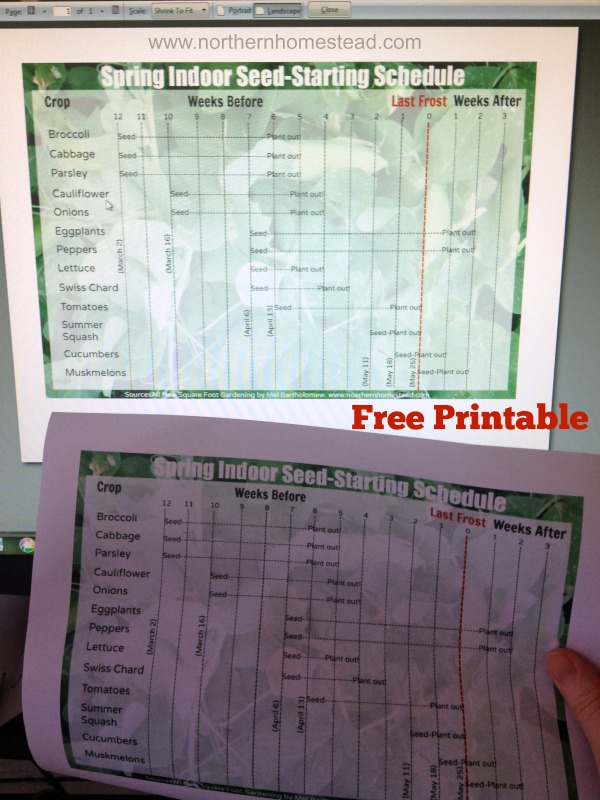 Here you can print out your very own indoor seed starting schedule. We have two pictures for you below. The first is the picture without dates, it is for you to make your own if your last frost date is different from ours. Write your dates into the schedule counting back from your last frost day.
To find your last frost date go to the link for Canada and USA.
If your last frost dates are the same as ours, choose the second picture with the dates on it.
It is free printable for you. 🙂
To print out the schedule, click on one of the pictures below to open it in full size. Now you can print or save it on your device.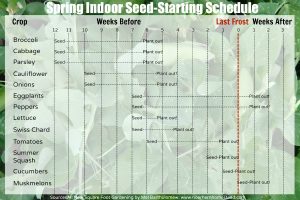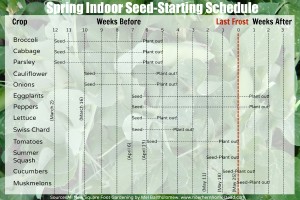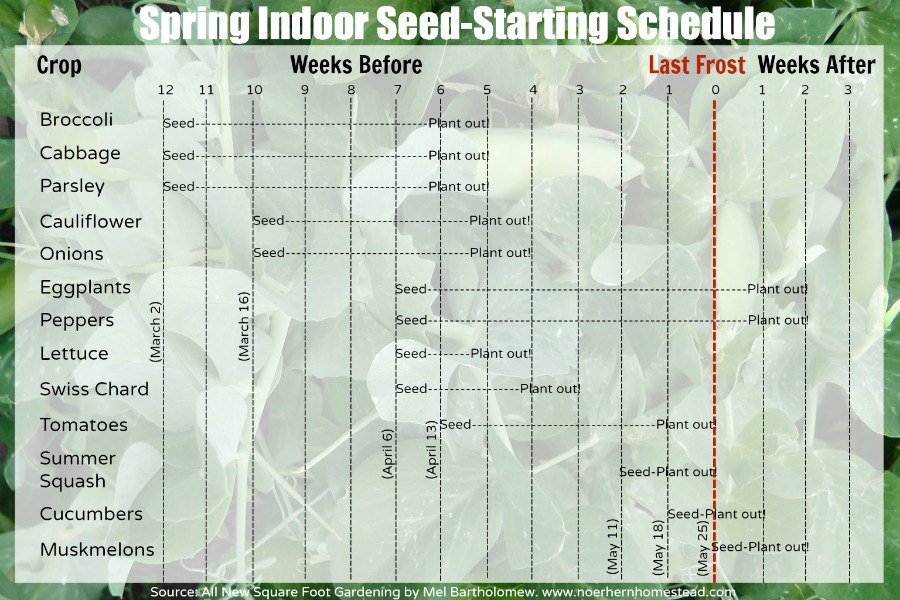 Happy spring seed starting!
We invite you to subscribe to Northern Homestead and follow us on Instagram, Facebook, or Pinterest for the latest updates.
More Posts You Might Enjoy