Winter in our area isn't over yet. The last frost day is still more than two months away. But spring is coming, and with it the next growing season! Since our growing season is so short we get only about 100 frost free days in a row (if it is a good year, that is), we try to make the most of it by starting seeds indoors. Here we share some tips and a free printable schedule.
Growing plants from seed is a lot of fun. I am always amazed at the miracle of life, how out of a dry little something (seed) a new plant grows and produces delicious fruits that contain the same seed to produce new plants. What an amazing creator God is!
For starting seeds indoors you will need pots, good potting soil, seeds, and a sunny window or grow lights. You will also need a seed starting schedule, see Free Printable below.
A sunny window or grow lights in the house
For germination, a seed needs moisture and warmth, but not so much light. As soon as the seeds are up, young plants need a lot of light. A south facing window might be all you need. An east or west facing window would be better with supplemental light. A north window is not a good choice for seedlings. With a grow light you can start seedlings anywhere in the house, and it also helps to supplement the light you have so that the seedlings don't become spindly.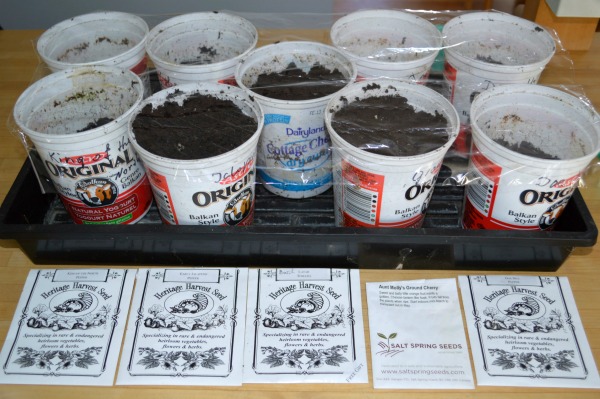 Temperature for seedlings
Seeds need warm temperatures to germinate, so find a warm spot in your house. The top of a fridge would be a better place than a cold but bright window. Placing the tray on top of a heating vent in the winter is great too. You want about 85F degrees for fast germination. A Germination Station with Heat Mat can be helpful.
After germinating not all seedlings like it warm. Winter crops like the cabbage family like it rather cool. We find they do better in a sunny basement window or out in the garage greenhouse. Check out winter sowing for cold weather crops.
Pots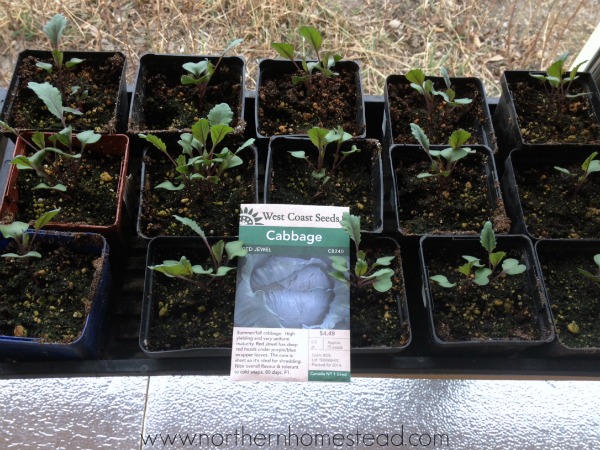 I use small planters to save space for plants that are not staying inside long: like cabbage or sunflowers. For peppers and tomatoes I mostly use the (free) yogurt containers. It seems like they have the optimal size for those plants and save me some replanting work. Toilet paper rolls make great planters for cucumbers. They can be planted with the seedling into the ground, not to disturb the roots. For squash and bigger plants we use a bigger container so that the roots have more room to grow and are not disturbed by transplanting.
Good potting soil
We like the Sunshine mix potting soil for seed starting. You can use advanced, or professional mix, as well as all purpose. #4 is suitable for organic gardening. In Canada we order the Sunshine potting soil through a local Home&Hardware store. It is a great soil for anything and everything you want to grow in containers, not just seedlings.
Seeds
I like to grow heirloom or at least open pollinated varieties. I also like to buy the seeds locally, since our weather conditions are very unique. I make sure all plants have a short growing time (days to maturity), preferably less than 70 days. Read more about getting seeds for the new growing season.
Labelling
Labelling is important so I know what varieties I am actually growing. I would never remember them all. It does not matter what kind of labels you use. Garden labels are great, but a plastic spoon works just as well. If I have many plants of the same kind, I just label the plastic containers. Also a garden notebook is a helpful gardening tool.
When to start plants indoors
There are different ideas about when to start seeds indoors. Some gardeners like to start very early. I am not very patient when it comes to planting, but every year I start a bit later because it does not help much to start plants too early. For most plants it's written on the package when to start them.
Here is a great schedule from the All New Square Foot Gardening
book. I start the tomatoes, peppers, and eggplants a bit earlier then he suggests, along with the ground cherries. But overall it is a great chart. The dates are our dates, yours might be different.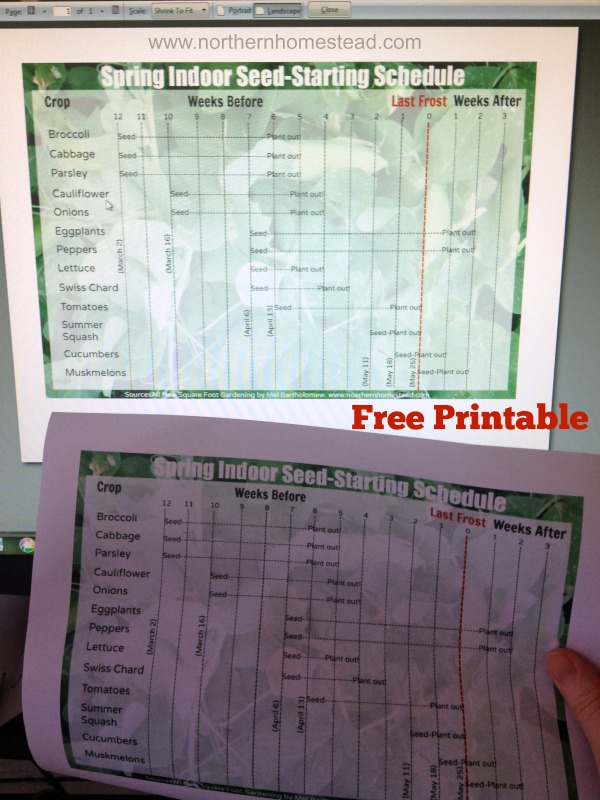 To make your own schedule, click on the picture below, print out the picture without the dates, and write your dates into the schedule counting back from your last frost day. To find your date go to the link for Canada and USA. If your last frost dates are the same as ours, choose the one with the dates on it.
It is a free printable for you. 🙂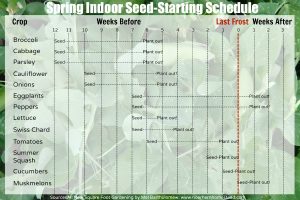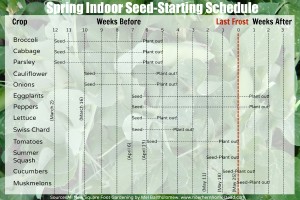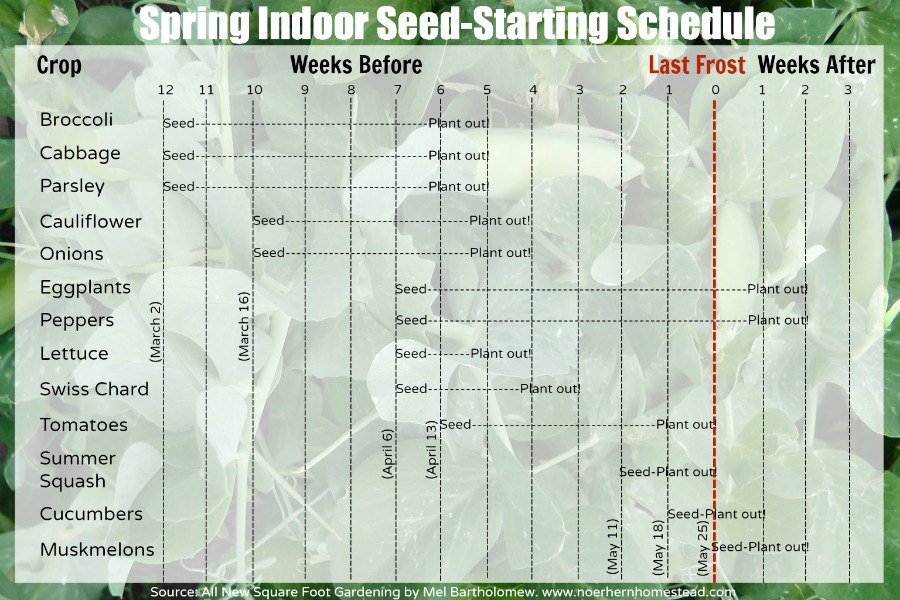 Do you like to start your plants from seeds or would you rather buy seedlings?
We invite you to subscribe to Northern Homestead and follow us on Facebook or Pinterest for the latest updates.
More Posts You Might Enjoy