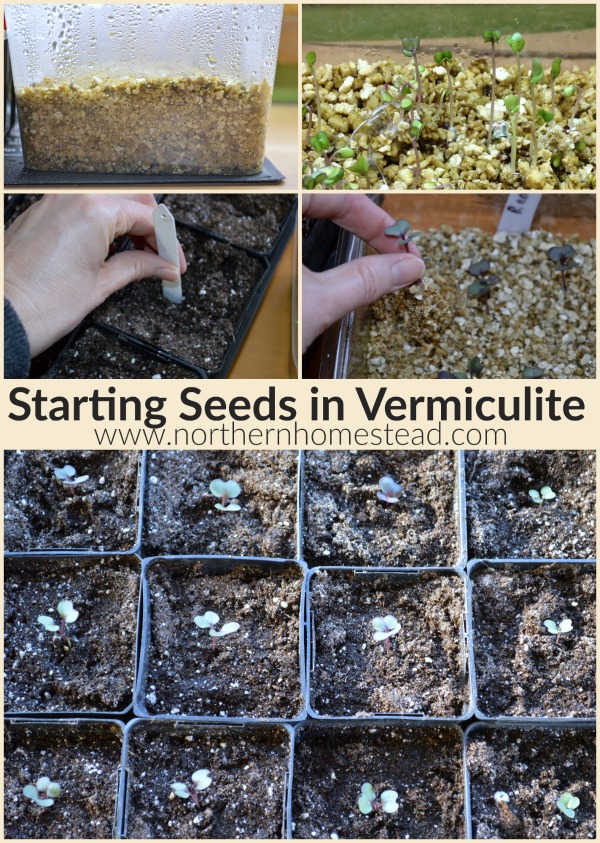 Starting seeds in vermiculite is one of many great tips from the All New Square Foot Gardening book. It is a good method that can be used to start indoor seedlings grown in soil, outdoor planting, and hydroponics. Try it and let us know if you like it.
There's no one-size-fits-all approach to how to start seeds, you can experiment with several different methods and see what works for you. We already covered how to start seeds indoors in soil and for hydroponic growing, as well as how to start tomatoes from seeds. You can combine starting seeds in vermiculite with all the other methods by using it as a first step.
What is vermiculite anyways?
Vermiculite
is a micro rock mined out of the ground. The rock is ground up and heated until it explodes just like popcorn. It can hold a tremendous amount of water while still remaining airy, creating an ideal environment for seeds to sprout. It is used in the horticultural industry to improve soil aeration.
Vermiculite in itself does not contain any fertilizer, nor can it give the plants nutrients to grow. It only holds moisture and with its lightness is ideal for seed starting.
Instead of buying expensive seed starter soil, use vermiculate. When the seedlings are pricked out, add the rest to the potting soil mix to improve its lightness and moisture-holding capacities. A win-win situation.
Why start seeds in vermiculite?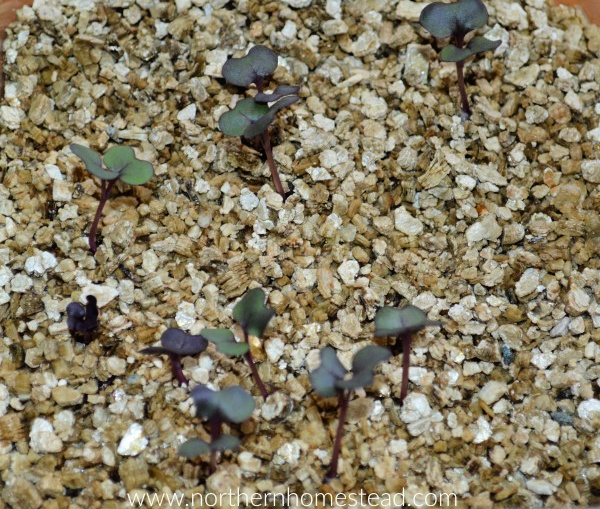 The vermiculite is just the medium to start seedlings in that might be new to you, but the method is as old as seed starting is. You start seeds in a container and prick out (transplant) the healthiest seedlings.
Starting seeds in vermiculite is first of all easy, and seeds germinate fast. The transplanting is also uncomplicated because the vermiculate is so lightweight.
Since there is no soil involved, the process is clean. Also, a great project to do with children.
Can all seeds be started in vermiculite?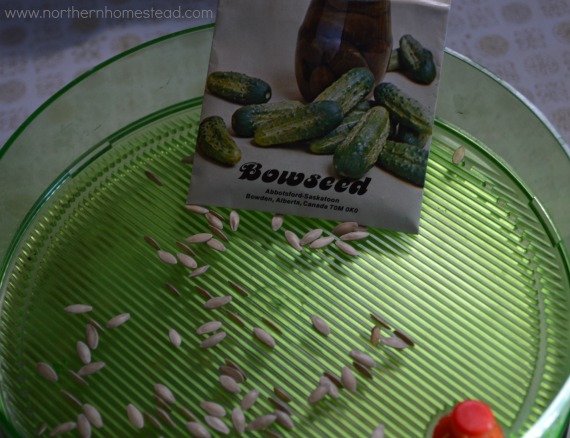 Apparently yes, however personally I would not start any seeds from the cucumber and squash family in vermiculite. Those plants are very sensitive and do not like it if the roots are being disturbed. You can sprout them and plant them directly into the soil.
Starting seeds in vermiculate is a great method for cabbage, tomatoes, peppers, lettuce, and more.
What container to use?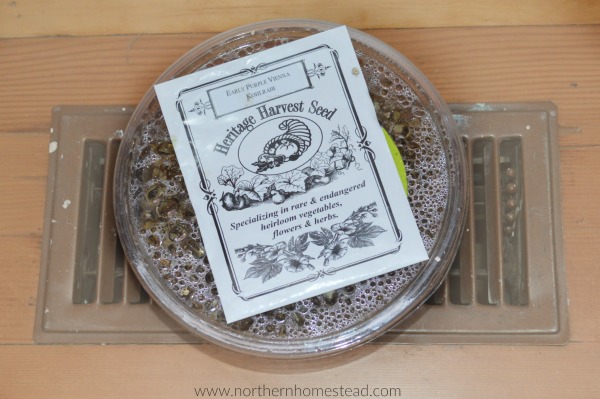 Recycled plastic containers, preferably with a lid, work great. You can see in the picture how much moisture is in the container and also the sprouting process.
Water the vermiculite as much as it can take; you do not want the water to sit in the bottom of the container. Moist vermiculite changes color and gets darker, this way you can tell if it is moist or not.
You can also cut a small hole in the bottom of the container filled with vermiculite and set it in a shallow bowl with water and let the vermiculite soak it up until you see that no more water is being taken up. If the container does not have a lid, cover it with plastic wrap.
How to plant seeds in vermiculite?
Below is a little wordless video to show you the simple process. If you can't see the video turn off the add blocker and you will be able to watch it.
Sprinkle the seeds on top of the moist vermiculite, cover them with a thin layer of vermiculite, and then spray with water. Cover the container to keep the moisture in. If you are starting heat-loving plants, set the container on top of a heating vent, heat mat, or any place warm.
As soon as you see that the seeds have sprouted, take the cover off and transfer the container to a bright location.
Prick out (transplant) the healthiest seedlings
When the seedlings have their first leaves use a chopstick or a pencil to loosen the soil if needed, and gently lift it out of the seedlings. It should come out easily with all the roots attached, that's the beauty of starting seeds in vermiculite.
Transfer the seedlings to containers filled with good potting soil or directly into your garden if the weather is already right.
Water the little plants and let them grow into mature and healthy plants.
Happy gardening!
We invite you to subscribe to Northern Homestead and follow us on Instagram, Facebook, or Pinterest for the latest updates.
More Planting Posts You Might Enjoy