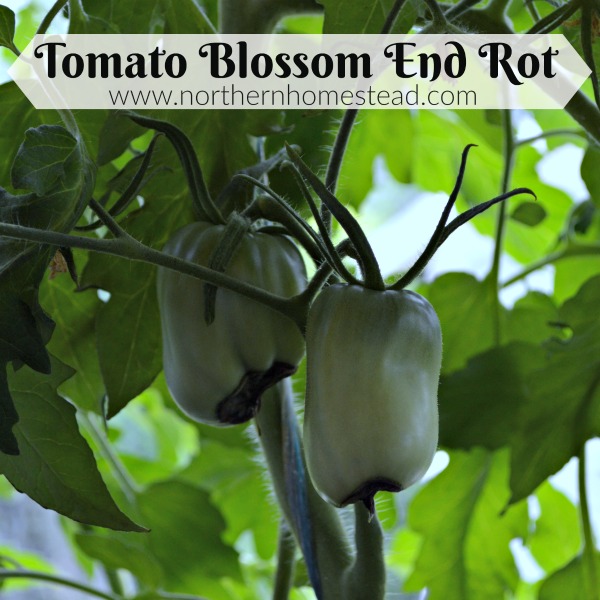 Now that tomatoes are planted and growing, let's take a look at some of the tomato problems and diseases. Tomato blossom end rot is a physiological condition, not a disease. It is not contagious and the tomato is actually still edible.
Causes for blossom end rot
If you search for causes for blossom end rot you will end up with the same explanations all over.
Simply put, blossom end rot is a lack of calcium. Vegetables need calcium for healthy development. When tomatoes, peppers, melons, and eggplants can't get enough from the soil, the end of the fruit starts to break down.
However, in practice, it is not that simple.
It may be that the soil lacks calcium, or the pH of the soil (or mineral solution in hydroponics) is too low so that calcium is not available for the plant.
Also, drought or moisture, heat, and cold stress can reduce its uptake into the plant.
Another reason is that too much fertilizer causes the plant to grow so fast that the calcium can't move quickly enough. Or the roots have been damaged, and the plant is struggling because of it.
As a gardener, it is hard to know which one of the reasons apply to your garden. Does the soil need more calcium, or has it already had too much fertilizer?
Our experience with blossom end rot
We do get blossom end rot on our tomatoes growing in the garage greenhouse. Not a whole lot, but enough to be aware of the problem. Interestingly enough we had the same problem growing tomatoes in grow bags, in hydroponics, and in the wicking bed. Always the heirloom, bigger tomato varieties will get it, like Brandy Wine, Anna Russian, and this year Bull's Heart. Our cherry tomatoes have not had blossom end rot.
Even if all of the plants grow in the same conditions, soil, or solution, not all plants have blossom end rot, and not even all tomatoes on the same plant show the problem. Here is a cluster of tomatoes, one has blossom end rot and the other one does not.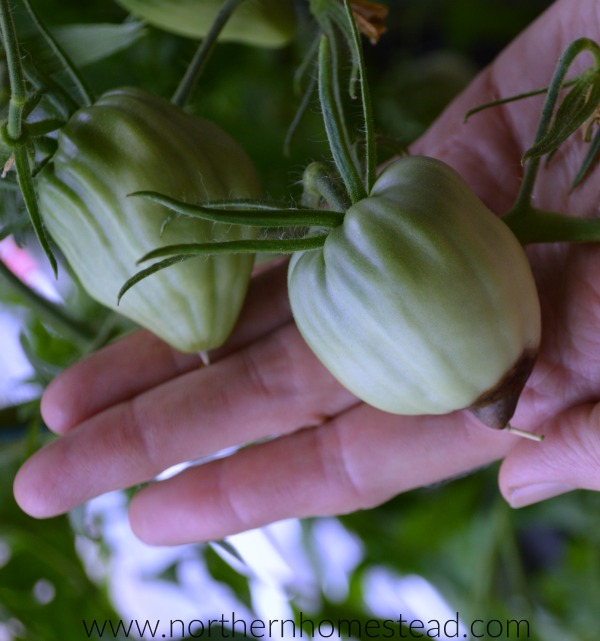 This rather random experience does make me question what is commonly known about tomato blossom end rot. It makes me wonder if the problem isn't in the plant itself, not so much the soil. Maybe it's an unhealthy start or roots that have not developed properly.
How to treat blossom end rot
When we first had blossom end rot I went to the store to look for a solution for it. A local organic farmer happened to be there and hear about what I was looking for. He recommended Bone meal fertilizer, which is a good fertilizer for so many things. We also use worm castings and Epsom salt.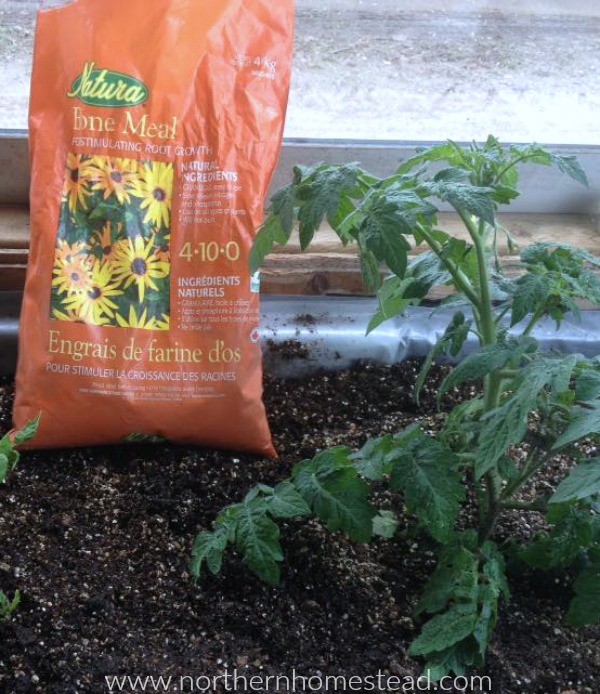 Using calcium supplements is known not to bring anything, since plants cannot take that form of calcium.
Instead make sure to improve your garden's soil with natural materials like compost, manure, and worm castings.
Using mulch to even out the moisture is a good idea also.
Remember healthy soil gives you healthy plants.
Is the Fruit with blossom end rot still edible?
Yes, because blossom end rot, is not rotting in a sense of rotten, the fruit is still edible. Just cut the affected area off and enjoy it.
If you have many tomatoes affected, make a roasted tomato sauce and freeze it.
We invite you to subscribe to Northern Homestead and follow us on Facebook or Pinterest for the latest updates.
More Growing Tomatoes Posts You Might Enjoy: