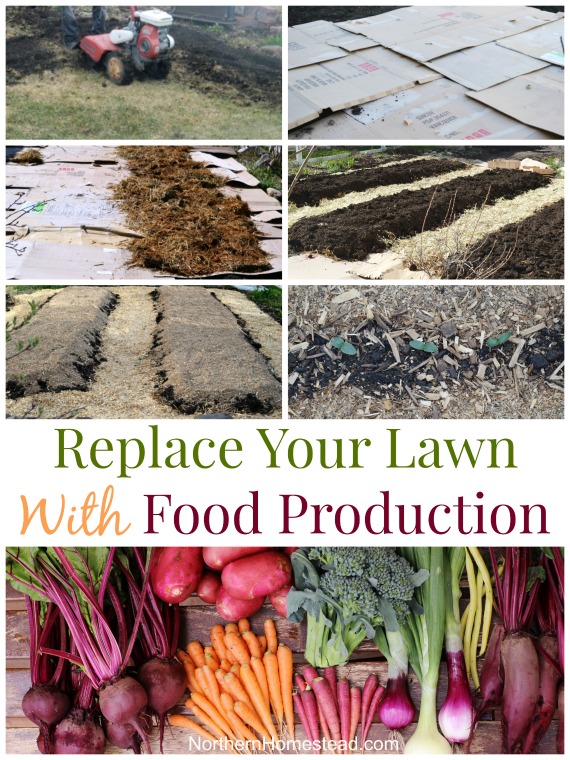 While mowing the lawn the other day (the little bit that is still left) I could not help but think how much work lawn mowing actually is. I was hot and sweaty and mosquitoes were bugging me. This was only the first lawn mowing of the season, many more to come. Thankfully we replaced most of our lawn with food production. It was work too, but seriously not more than mowing is. And God willing it will bring us an abundance of food all summer long and for the years to come.
Here are 7 simple steps how we replaced a good portion of our lawn with food production using a combination of the Back to Eden and Lasagna no till gardening methods.
1. Till the new garden area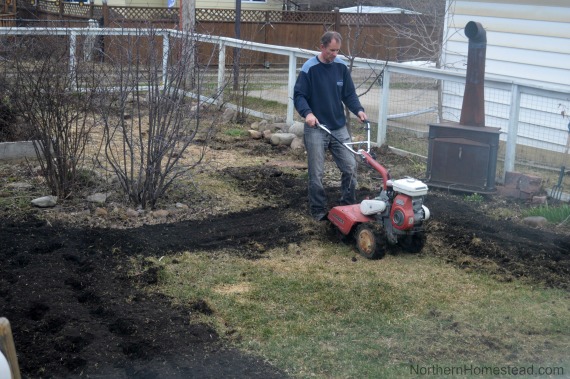 Even though we were planning on no till garden methods, we decided to till the lawn area first. This is not recommended for most no till methods. You can totally skip that step. However, our whole yard was quite a bit uneven, we wanted to level it. Plus we wanted the soil to be softer right away, and not wait three years till worms, added mulch, and compost did it for us. Brett L. Markham explains this nicely in his book Mini Farming: Self-Sufficiency on 1/4 Acre . He compares double digging to a no till garden system. Instead of double digging though we used a rototiller.
We did not use Roundup weed and grass control to kill the lawn. Roundup is a very aggressive chemical, not good for any garden.
2. Cover the area with cardboard or newspapers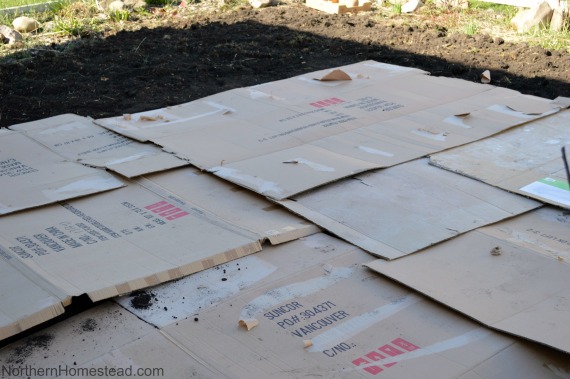 Some gardeners prefer cardboard, some newspaper, and some say you need both. We went with cardboard. We made sure the cardboard was mostly brown, not to much ink on it. It was a nice calm day, so the task did not take very long. This layer of cardboard is there to prevent weeds (and lawn) from growing. Over time the cardboard will decompose and turn into soil. In the proccess it will kill the weeds and feed the worms, a win win.
3. Add a layer of straw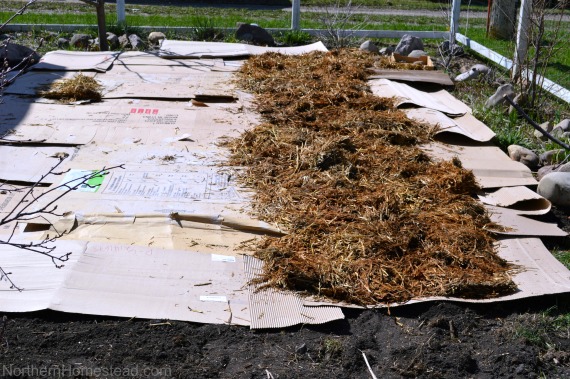 The Back to Eden the Film does not recommend to use straw, the lasagna garden method does. Our beds are a bit of both. Since we wanted raised beds, the straw was great for gaining some height. In one bed we added another layer of straw and compost, but the main beds have just straw underneath.
4. Add a layer of compost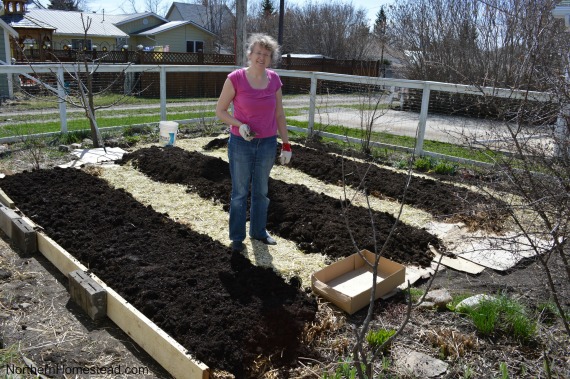 Compost is good for any garden. We have a mushroom facility close by that offers free compost to whoever wants it (what a blessing!). We used lots to build our garden beds.
5. Cover with mulch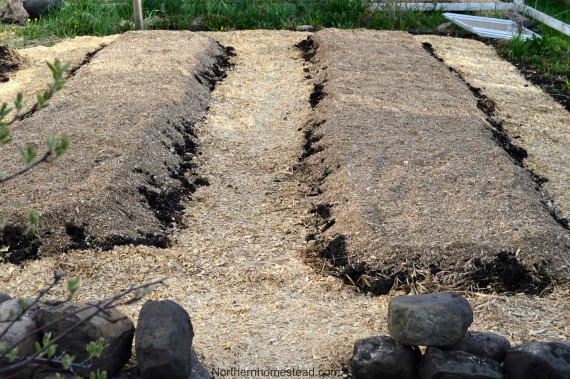 Once the beds were made we covered them with wood chip mulch. Wood chips are great to keep moisture in and improve the garden soil. It also prevents the weeds from growing. Back to Eden the Film explains all the benefits of wood chips. The walking paths have wood shredding on them. We had so many to get rid of from our building project. Wood shredding is not suited for the garden, but works for the walking paths. In the future we want to build wooden boxes around the raised beds, but this spring we had too many projects going on. It works like this for now too. See in update in How to build the garden beds.
6. Plant the seeds and seedlings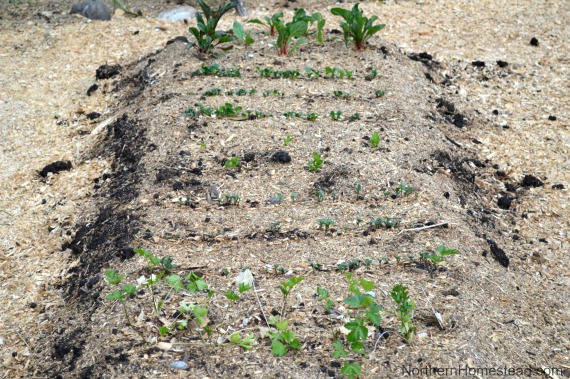 New beds are better prepared in the off season so the soil has time to settle and micro-organisms and worms move in and make the garden even better. But it is okay to plant right away too. To plant we put the wood chips aside and planted the seeds and covered them with some compost. Once the plants were up and growing we put the wood chips back on the plants. The picture is from June 12, some of the plants were planted as seedlings, others were sown. Everything grows nicely, promising a great harvest.
7. Harvest and enjoy an abundance of homegrown food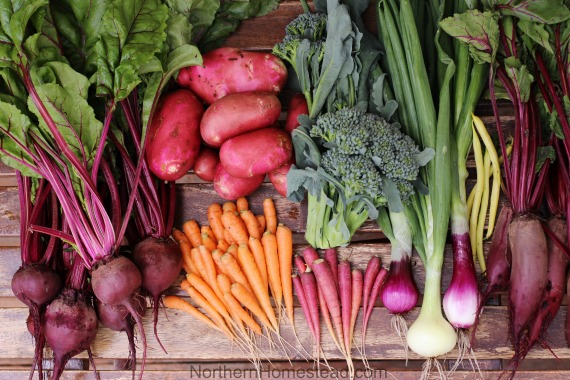 There is nothing like homegrown food, even expensive organic produce does not come close. It is well worth the effort. Sure, we are not there yet for this garden, it is still early in the season. The picture shows goodies from a previous garden, but we will keep you posted with what our good Lord will bless us with.
What about you, do you still mow your lawn or grow an abundance of homegrown food?
We invite you to subscribe to NorthernHomestead and follow us on Facebook or Pinterest for the latest updates.