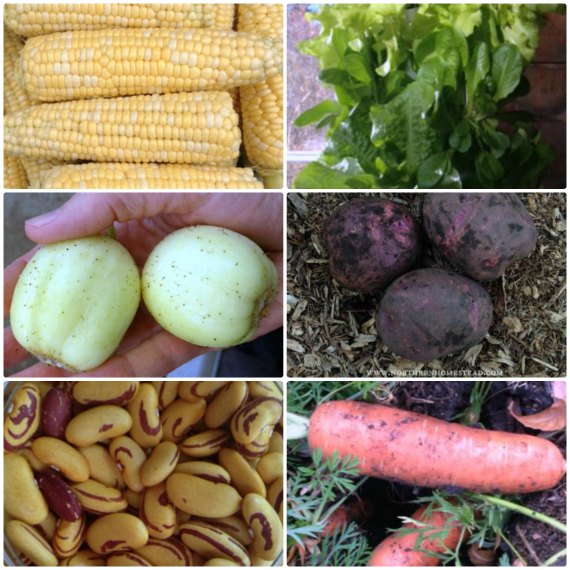 Another gardening season officially is coming to an end, and with it our monthly garden updates. We have been doing monthly garden updates for 4 years now. It was fun every month to record what was growing and how. Last year, for the first time, we went till November, and started again this year in January. There is a lot of winter growing in those posts. You can see all of them here. However, for the future I want to reduce the garden updates to more seasonal, occasional posts. In this post I want to do a review on our annual garden, what worked well in this year's garden and was worth growing and what is really more just for fun.
Things worth growing
Potatoes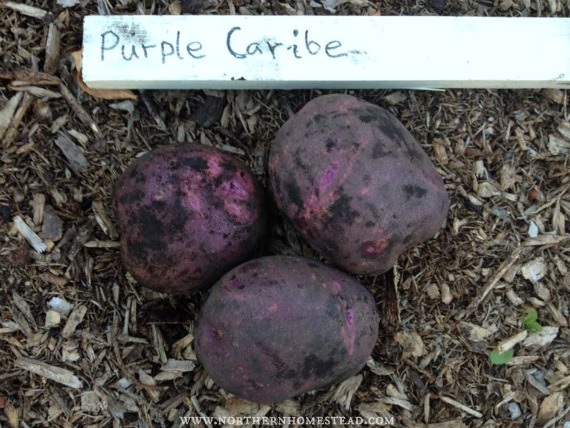 Our proven and still loved is the Norlantd potato. These potatoes are early, good size, taste good, and store well. Great for baking and potato pancakes.
Yukon Gold is a favourite for many, but we are not so into them. A good boiling potato for sure, a potato good to have for mashed potatoes.
Purple Caribe potatoes are a first for us this year. We really liked them. Good size potatoes and productive. Also grown very compact, so more dense planting would be possible. Not sure about storage life yet, I thought the skin of them was thinner than most potatoes.
German Butter Balls are a very yummy potato variety for a special meal or potato salad. They are late potatoes, but well worth waiting for.
Carrots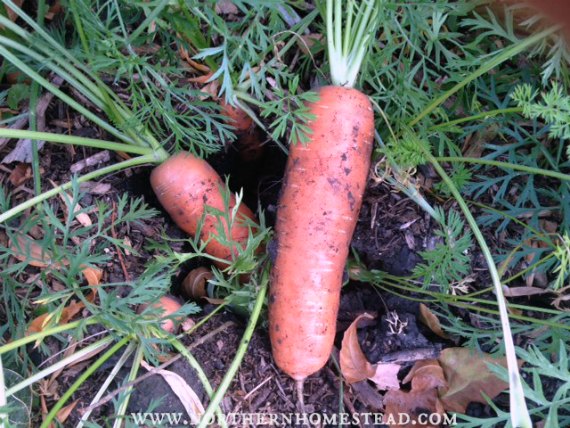 This year we grew Naopoly – an early sweet carrot, Bolero – sweet and crunchy – we really liked them; and Danver – a huge carrot that is great for juicing, shredding etc. You need less carrots for more results.
Onions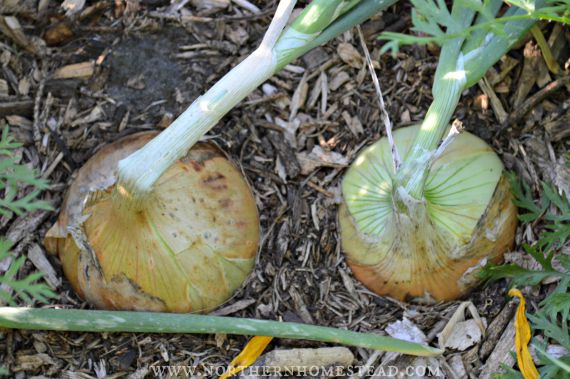 This year for the first time we tried seedlings and are blown away with the result. Normally I would just pick up little onions and stick them into the ground, good enough for our short growing season. The seedlings did very well too. Will think about starting them myself next year. And we need lots of onions. Here are 3 great ways to store onions.
Garlic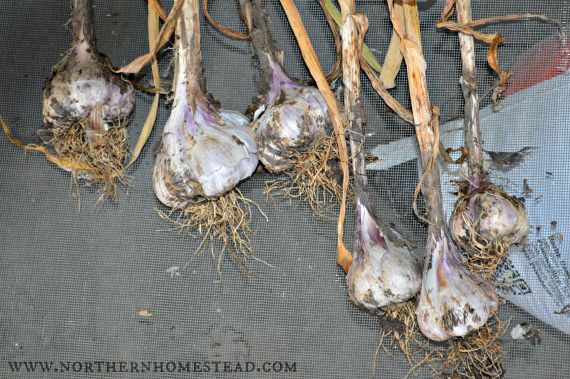 We planted some last year in the fall and some this year in spring just to see the difference. The spring planting is not worth it, so eh, this should go in below, but the fall planting was great. So this fall I planted lots more Russian Red garlic.
Beans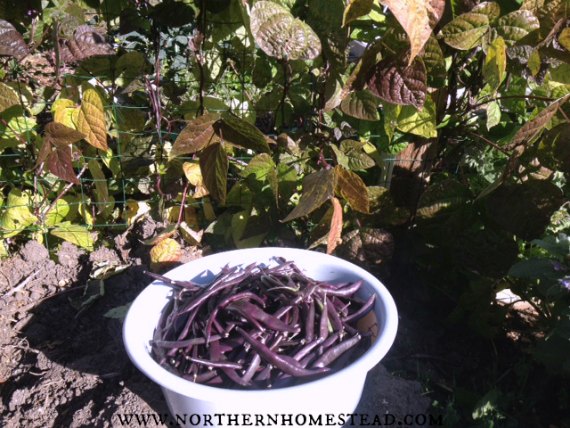 We love growing beans, not just for food, some of them are pretty too. We stopped growing green beans a while ago, simply because there are great colourful beans that taste just like green, but so much more fun to grow. Our favourite is  Purple Peacock, a very beautiful, productive, and yummy bean variety. The Roma Yellow wax bean is good too. It is a bush bean and much earlier then the purple pole beans. Also the scarlet runner beans are so pretty and yummy.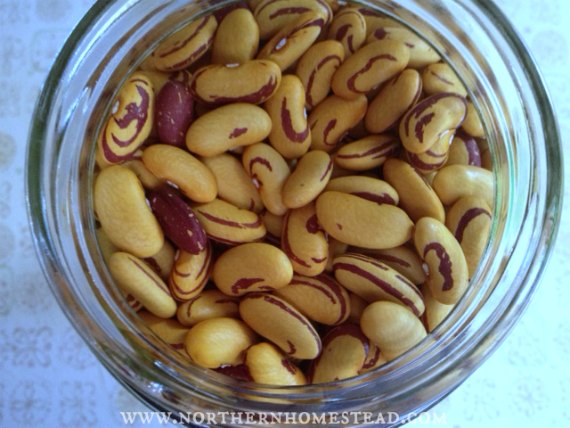 We also grow dry beans. This are Tiger's Eye Bean. This beans can be used as snap or shell beans as well. The reason we love them is that they mature to a dried bean in 85–95 days. Optimal for our short summer. Aren't they pretty! Tiger's Eye Beans have a creamy texture and the skins dissolve with cooking, a must have bean.
Squash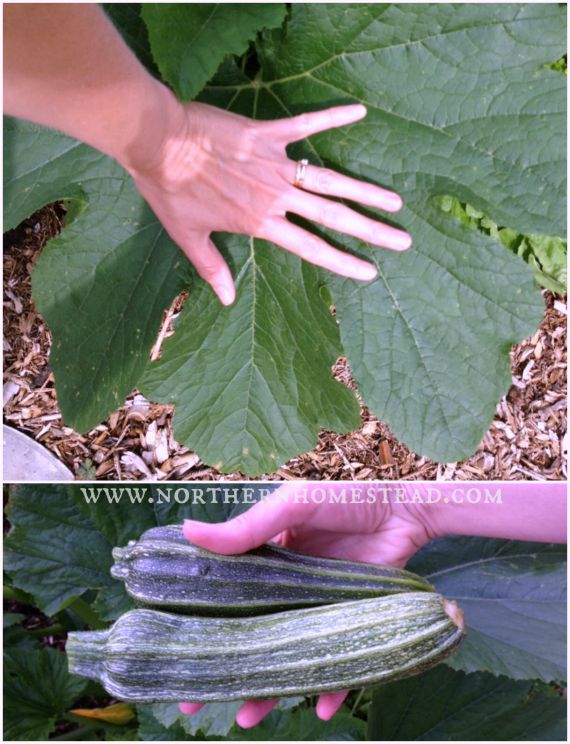 The Dark Star Zucchini is the number one in our garden. A beautiful plant with dark green zucchini that have an amazing storage life. The plant gets its name for the star like flowers, it really is pretty. We grew them right next to our sitting area. The Costata Romanesco zucchini is worth growing for the taste. It is more susceptible to diseases though.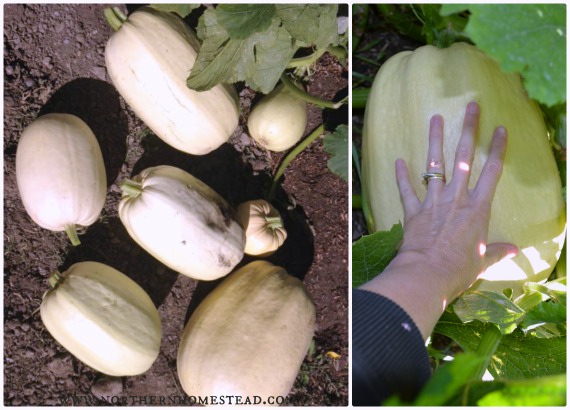 Spaghetti Squash was a first for us this year. We love them, but I was afraid our season would be too short and our garden too small to grow them. So we tried the Hybrid Tivoli and are very pleased with them. We got about 3 per plant that did not take much more space up than a zucchini plant does. A keeper.
Peppers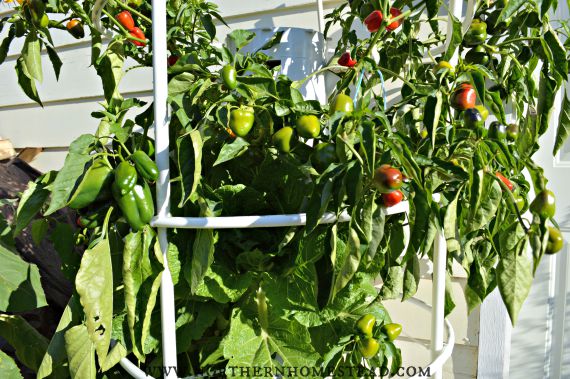 Homegrown peppers are so yummy. Plus, peppers are on the dirty dozen list and expensive. However, I must admit that peppers are not the easiest plant to grow. In the greenhouse they tend to get bugs and outside it is often too cool for them. So this year we grew them in the Tower Garden next to a south wall outside. It worked very well, we got lots of yummy peppers. Our favourite varieties are the Doe Hill, King of the North, and Early Jalapeño peppers. The Mini Bell Red peppers and some hot varieties are more in the 'fun growing' category.
Tomatoes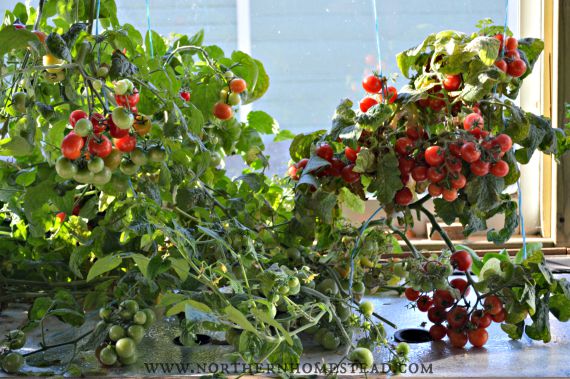 Tomatoes are a must have in our garden. The Back to Eden style greenhouse did very well for us, as well as the tomato plants in the greenhouse. For varieties we grow see Heirloom tomato varieties we grow in a northern garden.
Kohlrabi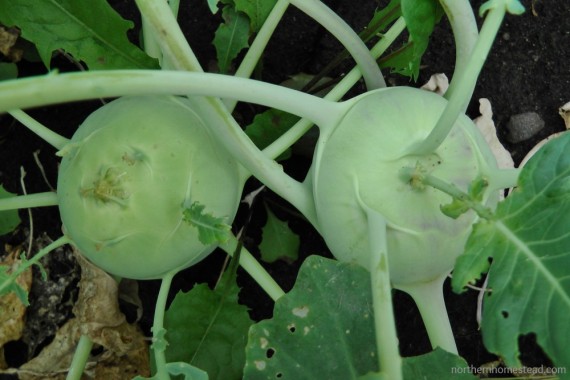 Kohlrabi is the easiest plant  in the cabbage family to grow. Even if bugs get to it, it will not ruin the fruit. The taste is very much like cabbage and the plant looks good too.
Celery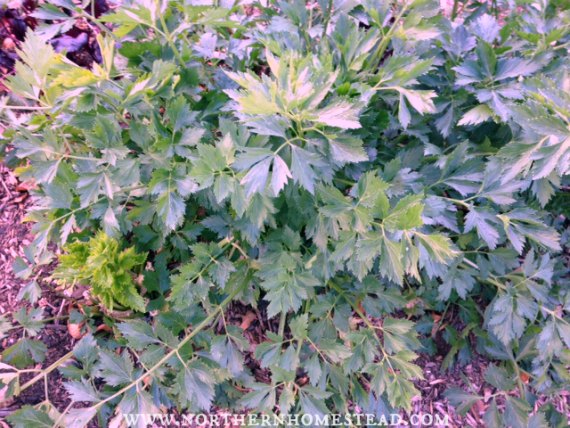 Most people do not even know how well celery grows in our cold climate. It is a gorgeous plant too. Since celery is on the dirty dozen list, it is good to have some in the garden. For soups and meals, celery can easily be frozen.
Sunflowers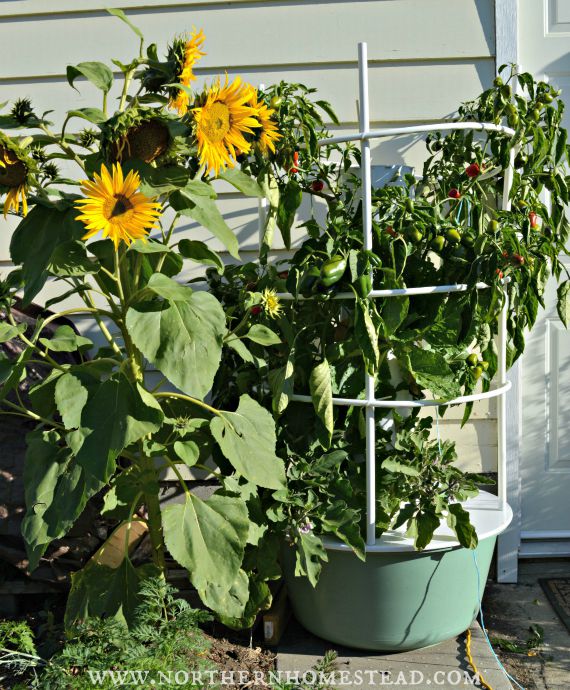 Sunflowers are a must in the garden. We like the Peredovic Sunflower. It is early and edible. The seeds are great for food and also for growing micro greens in the winter.
Peas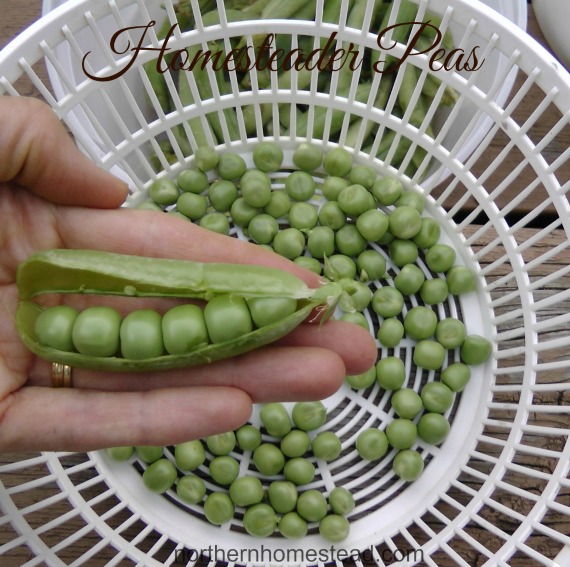 Peas are absolutely fun, and we would not want to miss them. But if the only good thing about them were the peas we get, it would hardly be worth it. But to snack on peas in the garden, and the soil improvement makes it a good plant to have.
Greens and herbs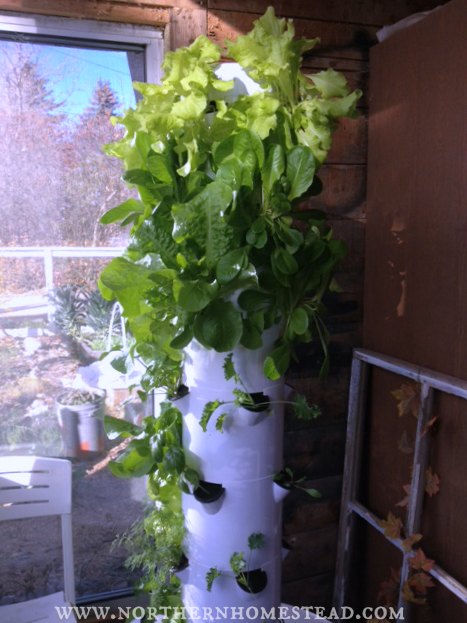 We grow salad and greens year round. In the summer in the ground, and in the winter in our Tower Garden and greenhouse. Spinach and Tropicana Lettuce are probably our favourites, but there are so many more that to list them here would be too much. We have a whole album of seeds for greens. We grow more of them in the off season than we do in season. We love dill and Curly and Italian parsley.
Things fun growing but not necessarily worth it
Cucumbers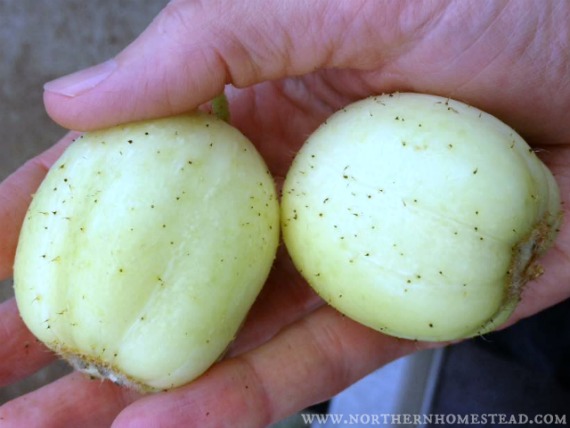 We love cucumbers, but in all the years we have hardly had a harvest worth talking about. Sure we do get some, and it is fun, but worth the space? Not sure.  This year we we actually did harvest 4 lemon cuces, not much more from other varieties, and a few more in the greenhouse. Do we give up on them? Not yet!
Corn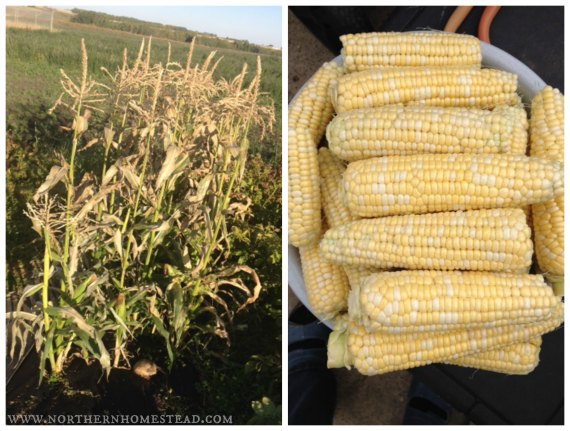 Corn is another fun plant to grow, maybe because it is so challenging in our short and cool summer. And even if we do succeed, I find the local farmer has better corn :(. But eh, ours is homegrown, right!
Beets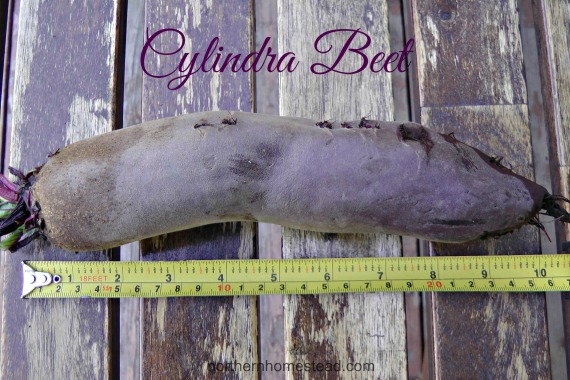 Beets grow very well here and should be in the 'worth it' category. But somehow I react to them. We still grow them for fun, for some colourful smoothies. The Bulls Blood beets with the red leaves are great for that. And they make a great give away in the garden. I also freeze some for the Borscht soup.
Cabbage family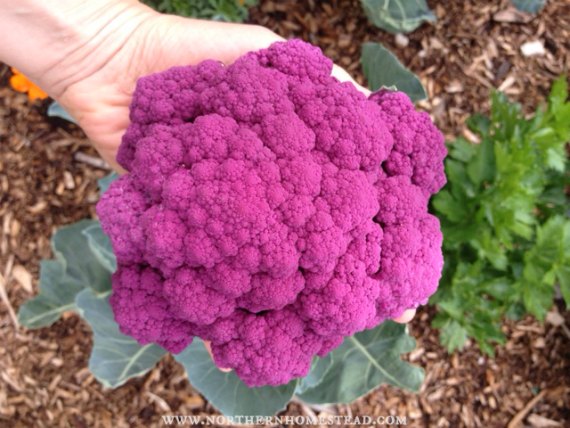 The Cabbage family plants are all great in the garden. Especially if growing some colourful varieties, like purple cauliflower, red cabbage and green pointed cabbage, just gorgeous! And yes, we do eat some of it and the rest makes great chicken food. Spraying the plants against caterpillars is just not our way of gardening.
And more …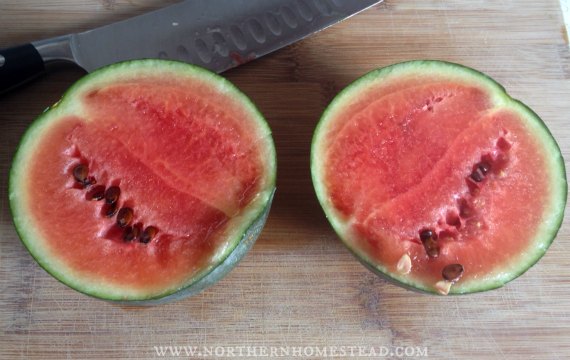 What else did we grow this year? Well we grew a Sugar Baby water melon that produced one melon. It was really yummy and fun too. The Burgess Buttercup plants also brought two fruits. Hardly worth talking about, but how fun to wait for it.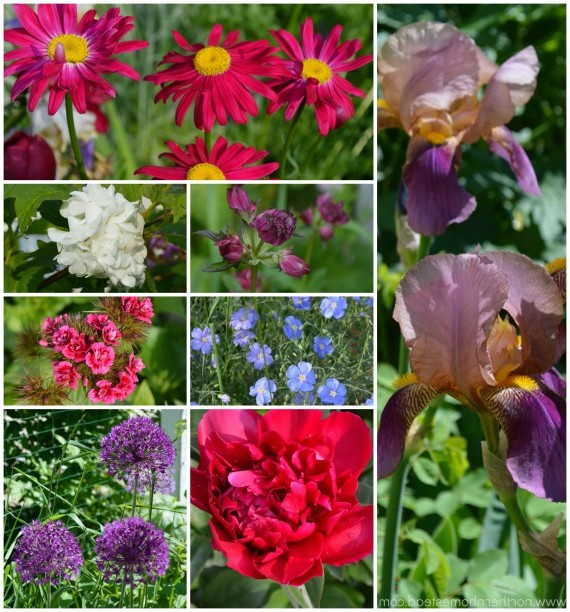 Well, I think this about sums it up for the annual garden. We also grow lots of perennials like asparagus, many kinds of berries, herbs, rhubarb, and more. Last but not least we grow flowers. From very early spring, till late into the fall there is always something blooming here. Our garden just makes me so grateful, it is so much fun and brings us a wealth of joy and yummy foods.
We invite you to subscribe to Northern Homestead and follow us on Facebook or Pinterest for the latest updates.