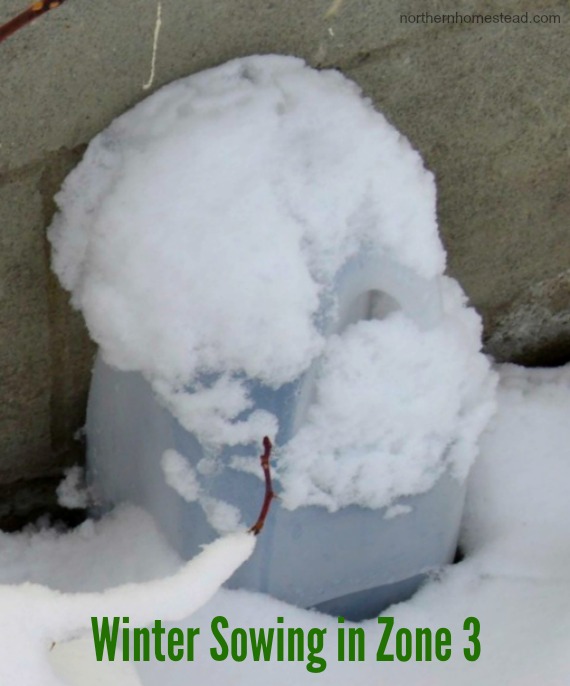 Winter sowing is a way to start seeds outdoors in a small container greenhouse while it is still winter. Since the most common containers are used milk jugs, it also sometimes is referred to as milk jug sowing. It was first invented by Trudi Davidoff. It sounds so good that one wonders if it can be true. Well, you will never know if you do not try it, so we did.
I did not doubt the system, it sure sounds possible, seeds will germinate whenever it is naturally time for them. In zone 3, however, that time might come way too late. Still, we did try it out hardcore, and here are our first results.
After our experience with winter sowing in zone 3, we updated this blog post with detailed instructions. Our experience has also shown, that using winter sowing in combination with a greenhouse works even better in zone 3.
Why winter sowing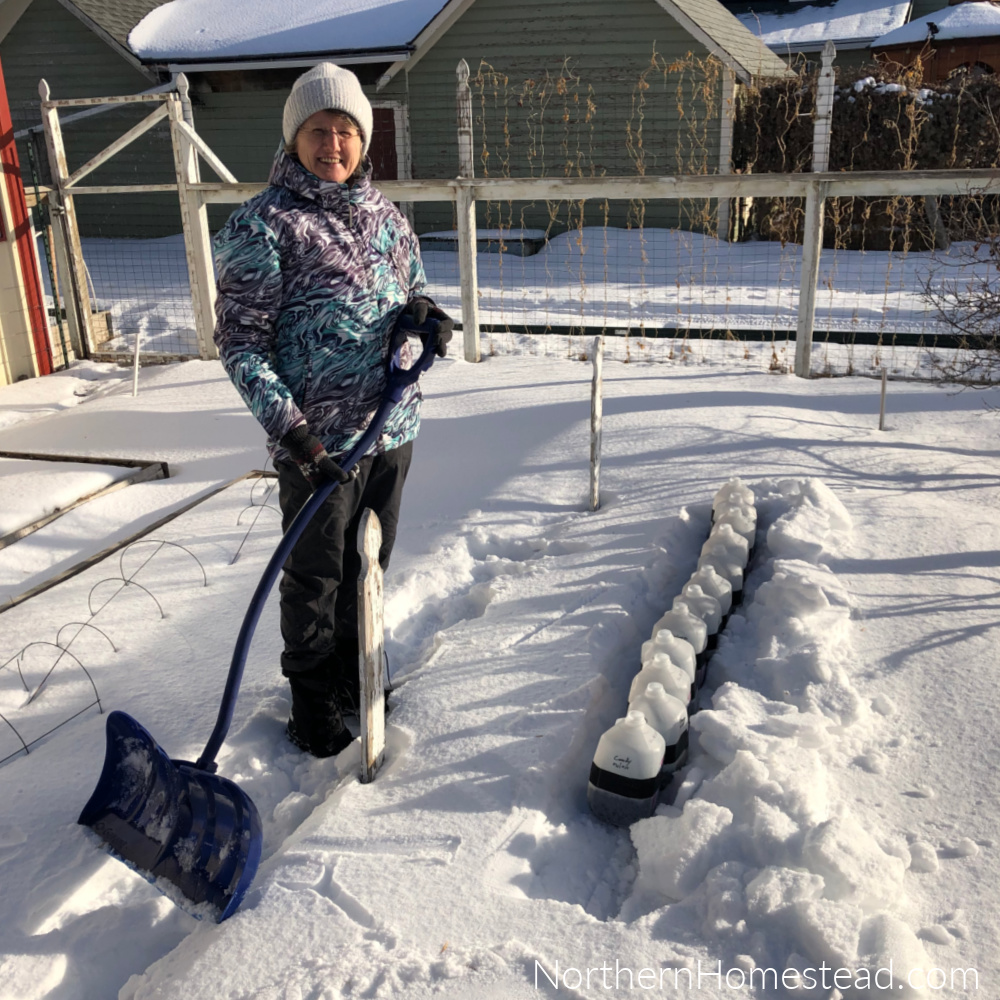 Winter sowing is a great way to start seeds without a growing room, grow lights, or a greenhouse. If you have no optimal conditions indoors for seed starting, consider winter sowing.
For winter sowing we use recycled containers (gallon jugs), reducing the cost and plastic needed for seed starting.
Winter sowing makes seed starting easy, less care, and less work with hardening off plants. However, some care and hardening are needed here too.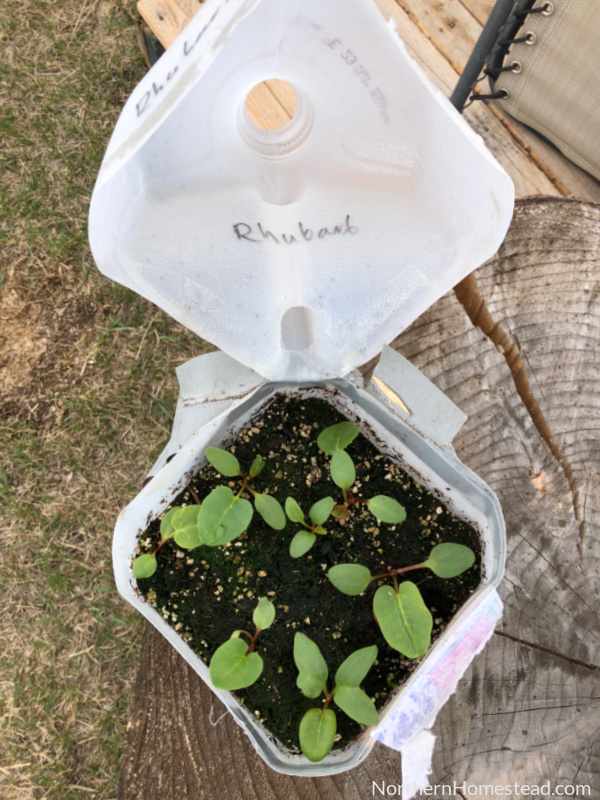 If you do it right, winter sowing produces more robust seedlings. Especially perennial plants and cold-hardy plants do well in winter sowing.
What seeds to start in winter sowing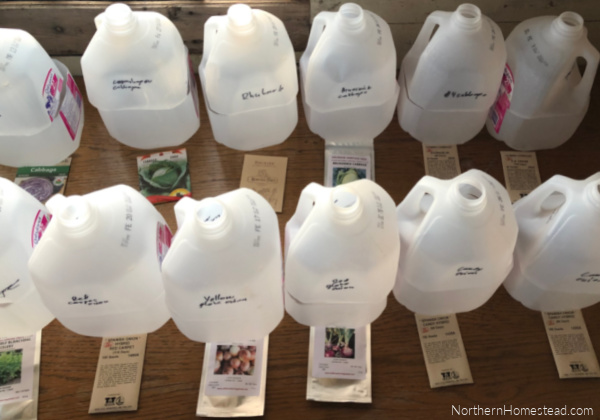 Winter sowing does not have any magic to it. What we do here is create a somehow sheltered environment to let seeds germinate whenever the conditions for that seed are right.
So if a plant variety germinates under cooler conditions, that seed will germinate earlier. If a plant variety needs warm soil to grow, that seed will germinate later accordingly.
In a more temperate climate, any seeds can be started in winter sowing. They will germinate and start growing whenever the conditions in the little container greenhouse are suitable.
In zone 3 however, only cold-hardy seeds germinate in time to make it worth it. The little container greenhouse is not able to create an environment for heat-loving plants if the outdoor temperature is too cold.
If you still want to start all seeds with winter sowing, that is possible with a bit more care. We will talk about it later.
When to start winter sowing in zone 3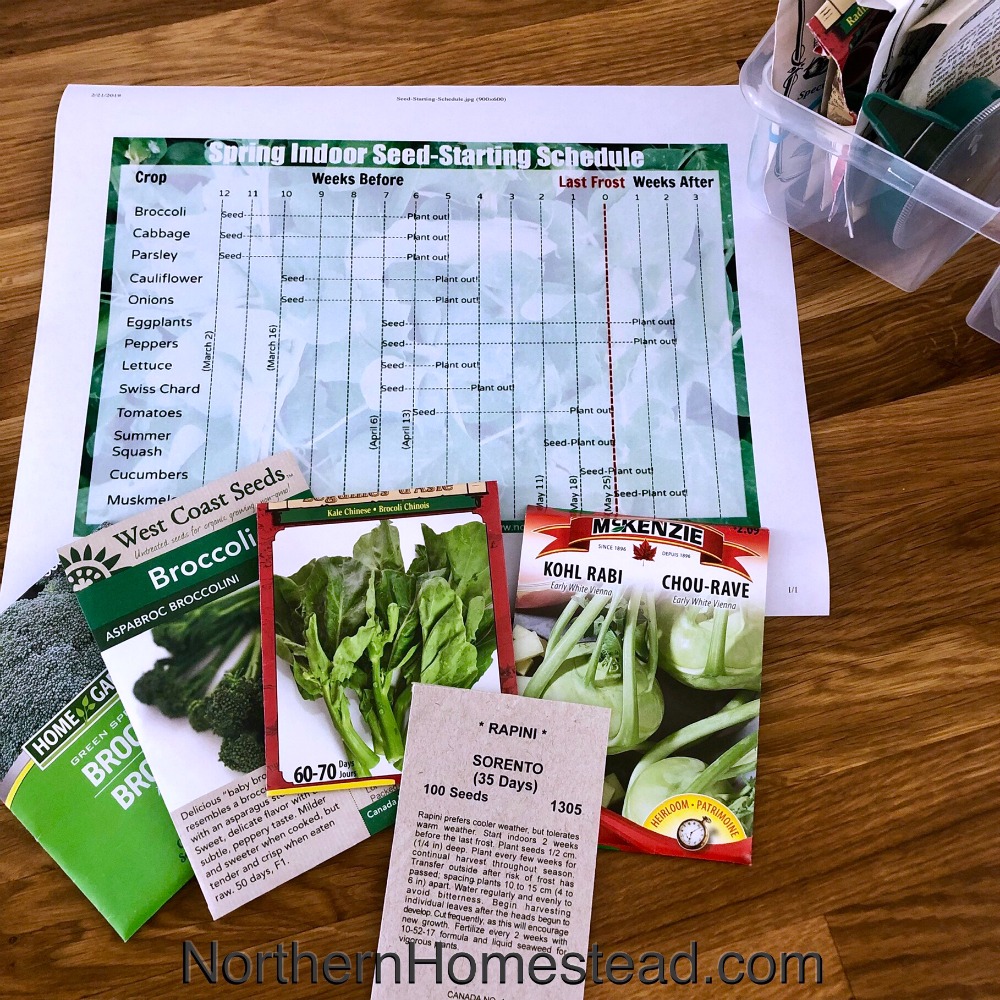 The whole idea of winter sowing is that it can be done in the middle of winter and it will work. This is true for a tempered climate. Any seed that would naturally survive being frozen and then germinate after that, would work for winter sowing in zone 3 too.
We have all seen hollyhocks, dill, cilantro, and more come up in spring after a long cold winter. Winter sowing is the same idea, just more controlled, and since we create a little microclimate, the seeds will come up a bit earlier.
With that being said, -40 degrees are hard on the containers and may cause damage to some seeds. There is no need to expose them to it. The seeds will not come up any earlier if we start them in winter sowing earlier. They will come up when the soil reaches a minimum temperature.
In my first experiment, I waited till March, and that was plenty of time. If you want to start hardy perennials, mid to end February is good timing.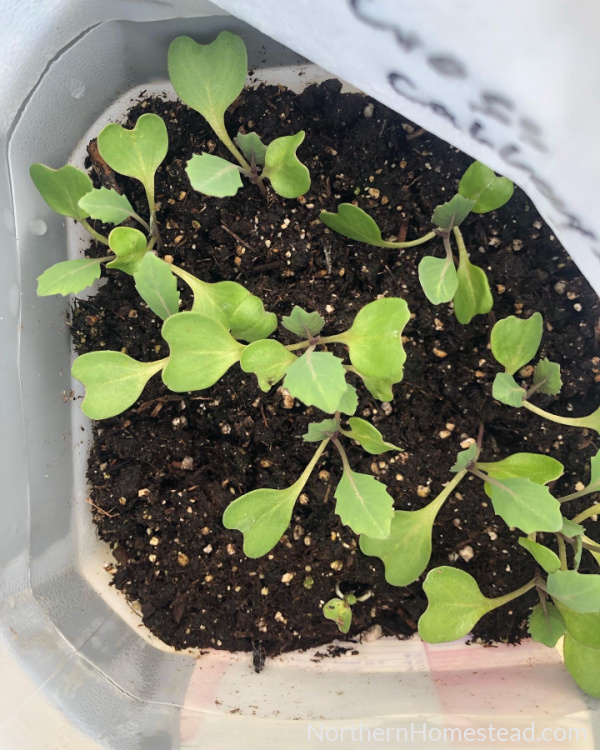 In winter sowing we are aiming for young, healthy seedlings. For the most part in zone 3, it seems to be a good idea to go with the same seed starting schedule we use for indoor seed starting. You can find a free printable schedule here.
Preparing the container greenhouse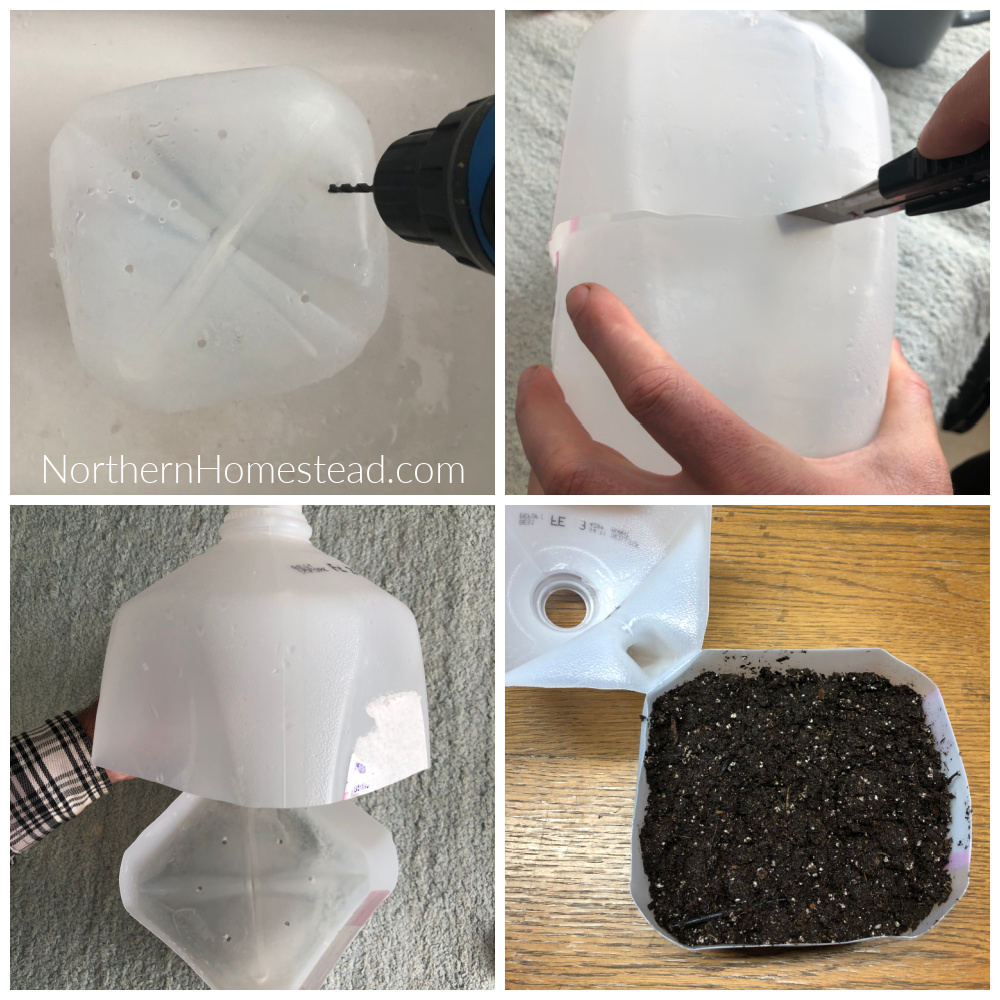 Any translucent containers can be used for winter sowing, the most common ones are 1-gallon jugs.
Make 10-12 holes at the bottom and lower sides in a clean container for drainage.
Now cut the jug just below the handle, leaving 1-2 inches by the handle, so that the top can be closed and opened. You want to have enough room for the roots to grow.
Soil for Winter sowing
Fill the container with light, well-draining soil. Do not use seed starter soil, it usually has no nutrients in it. Use for example Promix organic veg and herb mix soil for starting seeds.
Or if you use a soil mix that has no fertilizer in it (read the labels) simply mix in compost about 1/3 by volume. This is important because we will not transplant or water the seedlings regularly as you do with indoor seed starting. The seedlings need some nutrients to be able to grow on their own.
Water the soil throughout, and let it drain. You are ready to plant now.
Planting the container greenhouse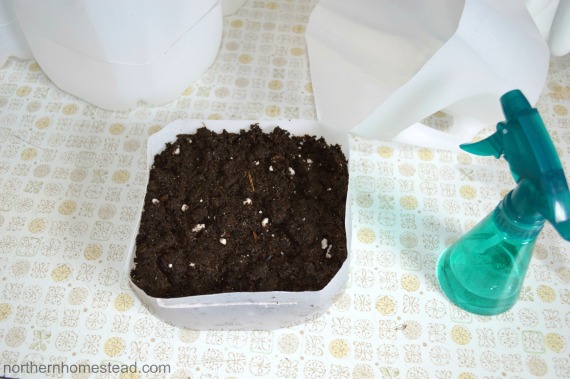 Plant the seeds as usual reading the label of the seed package. Most seeds need to be planted about 3 times their size deep.
If using very small seeds, just sprinkle them on top and cover them lightly with some soil. Push the soil down lightly to ensure the seeds are in contact with the soil.
Do not overplant. Keep in mind, that these seedlings will be in the container till it is time to plant them in the garden. Generally, they will be smaller than your usual seedlings started indoors. They still need some space to grow healthy roots.
Label the container so you know what is inside. Labeling also inside the container seems to work well since the outer surface will be exposed to the elements. Use a marker that will last.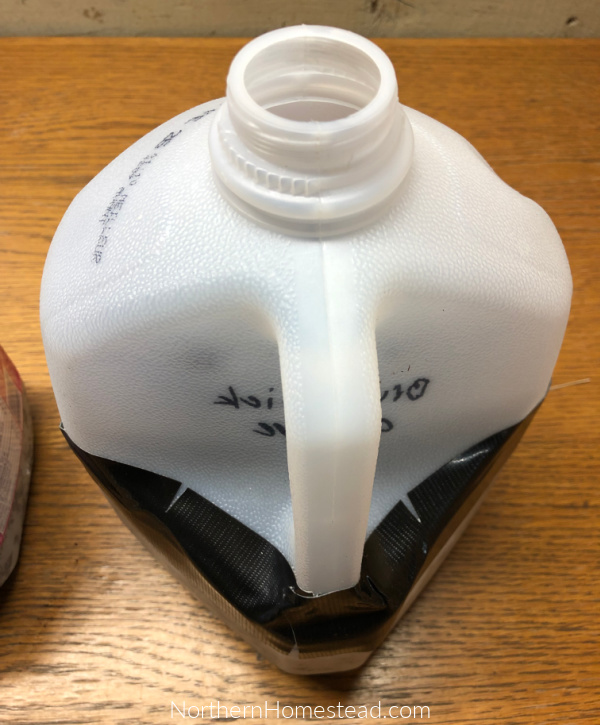 After planting close the jugs and seal them with duct tape. We want to be able to keep all the moisture in and have no wind or airflow in the container. Only the lid is left open.
Bring the winter sowing container outside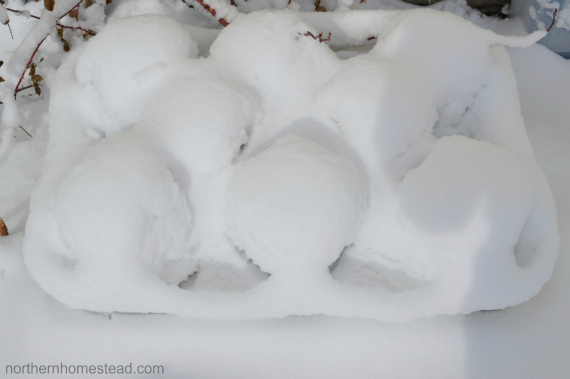 Now it is time for the winter part of the sowing system. In our first experiment, we placed the containers on the south side of our house. A few days later we got snow, and some more snow and heavy frost. Too cold for my liking. But I wanted to try the winter sowing in zone 3, so we did not pamper the seedlings at all.
I also had all the containers in a water-tight box, which I would not recommend.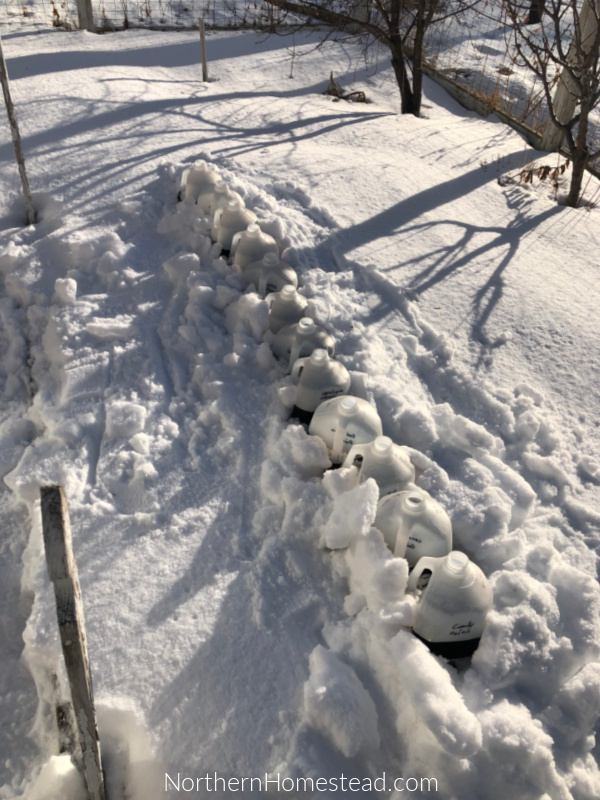 Instead, bring the containers out into the garden to a snowy location. If you can, give them a sunny, but somewhat sheltered location from the wind. Place them into the snow, so the snow gives some temperature stability and insulation.
If there is no snow and the night and day temperature fluctuates, you can either cover the containers for the night with a protective blanket or bring them in. This will help to speed up germination and protect young seedlings. Especially if you are trying to start warm-weather seeds, protecting them is a must.
Frankie-Lou Fuller who loves winter sowing in zone 3 has another great tip for a no-snow situation: Make a protective wall all around the container greenhouses with containers that are filled halfway with water. It helps keep the temperature somewhat more stable, not totally exposed during the night, and from overheating during the day.
Seedlings care in winter sowing
Once the seedlings are up and growing they do need some care. Now, in my first trial, I did not do anything except rescue them a couple of times from drowning. If you do not keep them in a trey, that will not happen.
As the seedlings grow, they will need water. You will know if they need water by lifting the containers. A dry container will feel very light.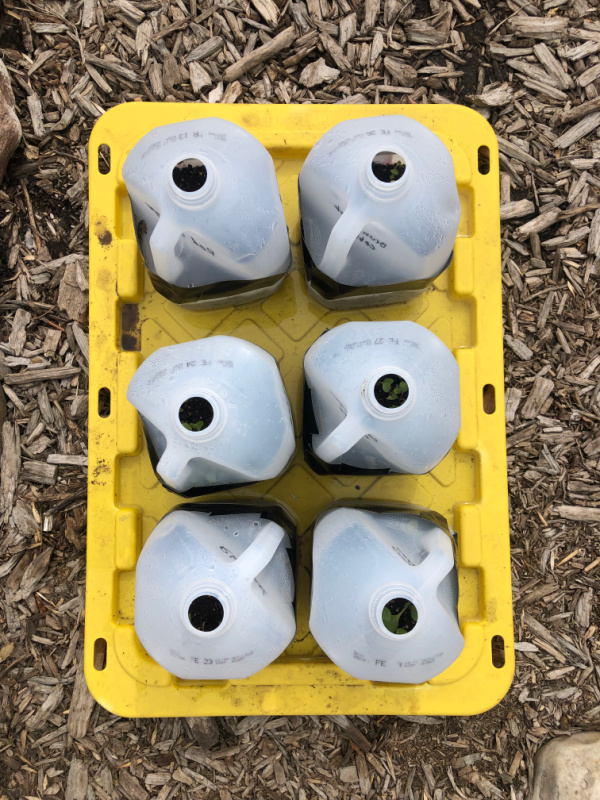 Watering from above is not a good idea. Instead water from below by placing the jugs into a tray with water. They will soak up the water.
The winter-sowed seedlings will be pretty hardy, but if you are growing a frost-sensitive plant, and a sudden deep freeze is coming, bringing them indoors is a good idea.
Note, that protection is not needed before the seeds germinate. It would only mess up the natural timing for germination (the whole idea behind winter sowing). But if we get a spring blizzard, that's when we want to step in.
Moving the containers in and out during unusual cold spells will help to have more constant growth. If you have a greenhouse, keeping the seedlings in the greenhouse overnight or in bad weather is a great way to combine winter sowing with greenhouse growing.
Later in the season overheating might be an issue. Spring sun can be very intense. After the snow is melted, a location with some protection from the afternoon sun is a good idea for the growing seedlings. In a greenhouse, the containers can be opened later in the season.
Hardening off plants in winter sowing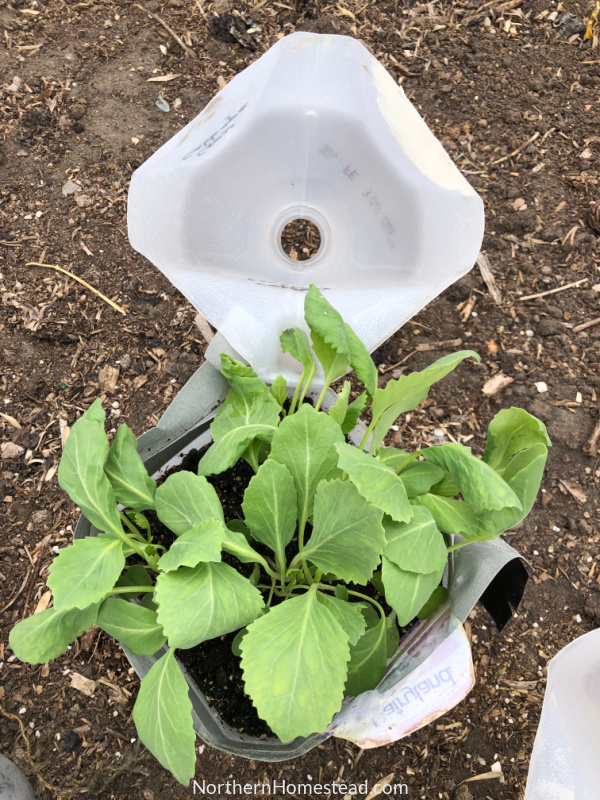 The plants in a milk jug container are not used to direct sunlight or air movement. If you leave them closed for too long, they might be very weak seedlings.
About a week before planting seedlings in the garden, open the containers. Start that process in a shady, sheltered location. Slowly introduce them to sunlight and wind. Covering at first with fleece is a good idea. After that, they are ready to be planted and grow into healthy plants.
The planting out is the same as planting multiple seedlings from one pot. Here are the 8 steps.
If you want to learn more about winter gardening, here are some inspiring books:
Do not miss a thing! Subscribe to Northern Homestead and follow us on Instagram, Facebook, or Pinterest for the latest updates.
More Planting Posts You Might Enjoy