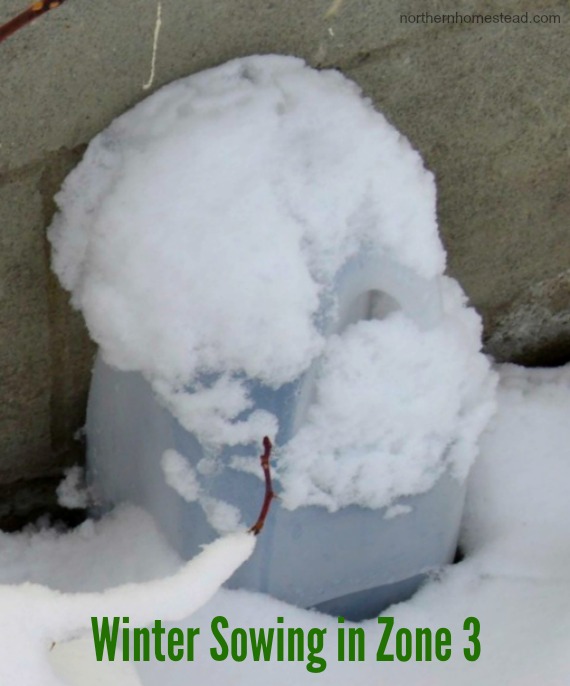 Winter sowing is a way to start seeds outdoors while it is still winter, in a small container greenhouse. It was first invented by Trudi Davidoff. It sounds so good that one wonders if it can be true. Well, you will never know if you do not try it, so we did. I do not doubt the system, it sure sounds possible, seeds will germinate whenever it is naturally time for them. In zone 3, however, that time might come way too late. Still, I'm trying it out and will keep you posted. In our zone 3, I waited till March and used a warm-weather break so the seeds would not be totally choked right away.
Preparing the container greenhouse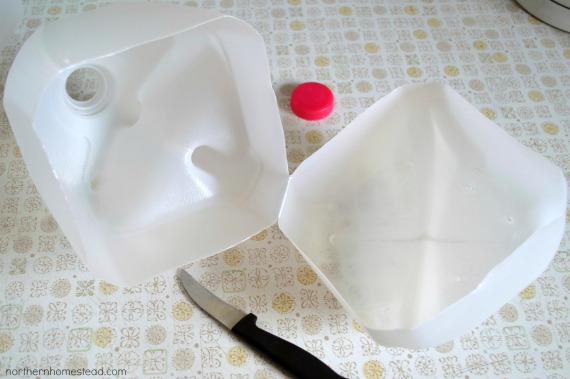 Any containers can be used, the most common ones are the gallon milk jugs. First rinse the container and remove the label sticker. This can easily be done by filling the jug with hot water, after a few minutes the label will come off. Now cut the jug in about half, leaving 1-2 inches, so that the top can be closed and opened. Make some holes at the bottom and lower sides for drainage. Now fill the container with light, well-draining soil. Water the soil throughout, and let it drain. You are ready to plant now.
Planting the container greenhouse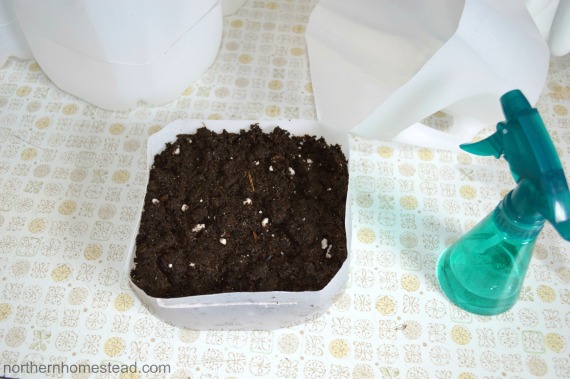 Plant the seeds as usually about 3 times their size deep, but plant them more dense. I only planted winter crops, meaning plant varieties that can stand some frost. It is still freezing here. After planting we closed the jugs with some duck tape.
Bring the winter sowing container outside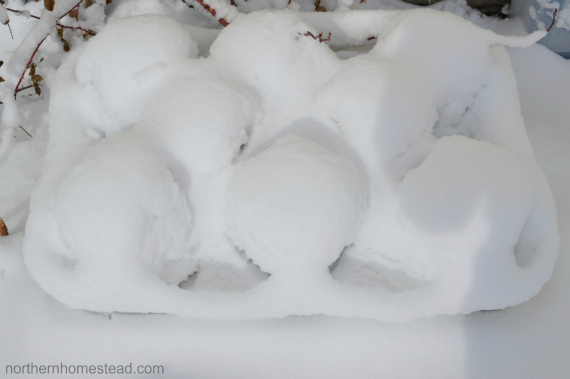 Now it is time for the winter part of the sowing system. We placed the containers on the south side of our house. A few days later we got snow, and some more snow and heavy frost. Too cold for my liking. But I wanted to try the winter sowing in zone 3, so there we go. I will update this post as we go. If you have any experiences with winter sowing, please share.
See update: Winter Sowing Works in Zone 3
Inspiring books for winter gardening:
Do not miss a thing! Subscribe to Northern Homestead and follow us on Instagram, Facebook or Pinterest for the latest updates.
More Planting Posts You Might Enjoy