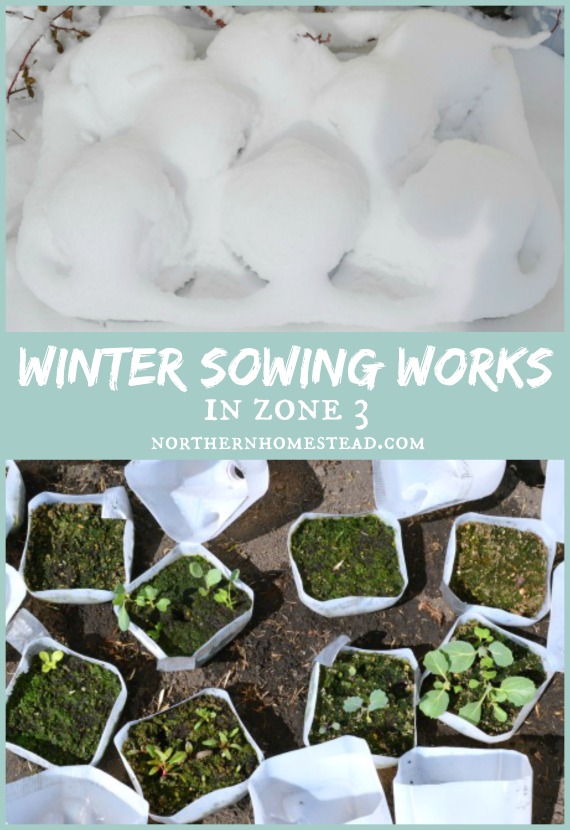 Back in March, when there still was snow and it was cold, I started the winter sowing project. Well, what is winter sowing anyways? Winter sowing is a way to start seeds outdoors in the winter, in a small container greenhouse. It was first invented by Trudi Davidoff. Seeds will germinate whenever it is naturally time for them.
I did not doubt the system in general, I just was worried that in zone 3 the seeds would come up too late. Read about the planting here: winter sowing in Zone 3. This post is an update on how it did.
Normally when I start seeds I carefully look after them. I want the seedlings to grow strong and healthy. For this trial, there were no frills. In snow, in frost, even in heavy late frost when the seedlings were already up, they had to stand it all or die. And they did not die. Many of the seeds germinated and grew. Yes, winter sowing does work in Zone 3 too.
What did well with winter sowing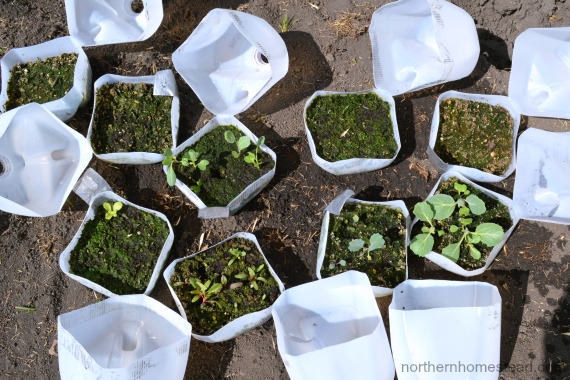 Cabbage and swiss chard germinated the best. So the hardier the plant, the better it works.
Dill and celery are just coming. I did not plant any summer crops, but looking into the out-coming, I do not think it would be good in our cold climate, if you have experience with a summer crop, please share.
The seeds that did germinate grew healthy and sturdy. They actually look better than those that I started indoors. Here's a comparison broccoli plant.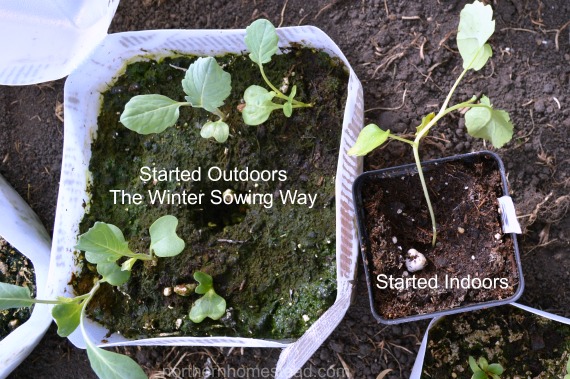 Also, the spot on the south side of the house seems to be a good one. Till today (May 14), I did not water, protect, or open them. They did very well on their own. A real 'Plant and Forget it' system.
However, pampering them a bit more would have brought even better results.
What I would do differently
I had all the little greenhouse jugs in a container, so it was easy to carry them out and have them all in one place. However, after the snow melted they were sunken in water and I had to rescue them a few times. Drainage is important, having them in a water-tight container is not a good idea.
I also would like to plant more (veggies, greens, and flowers) and all denser, just in case some do not germinate.
I would want to give them some more protection during very cold times, that would speed them up a bit more.
Bottom line
Winter sowing is a great system, especially for those who live in a more predictable climate where spring comes gradually no matter what zone they are in. But even with our ups and downs, it did work.
A keeper!
I updated the planting blog post, to add more detailed information. Head over if you want to learn more: Winter sowing in Zone 3.
We invite you to subscribe to Northern Homestead and follow us on Instagram, Facebook or Pinterest for more great tips.
More Planting Posts You Might Enjoy