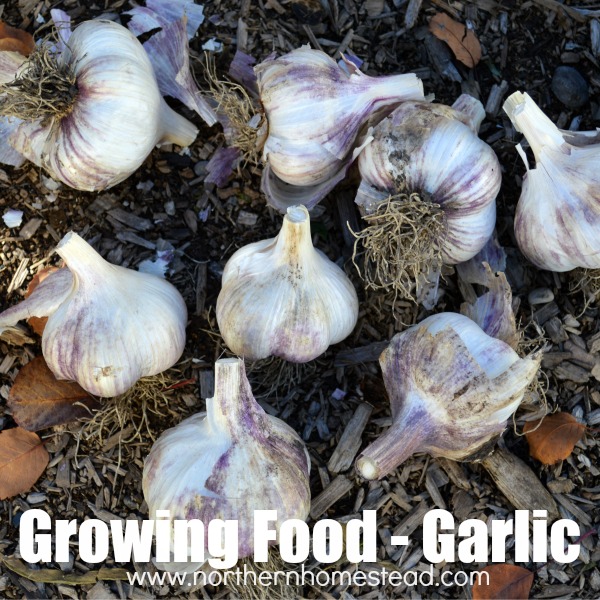 Garlic is a food that is easy to grow and goes a long way in the kitchen. So many dishes just taste better with garlic. Some people love garlic more than others, but it's good for everyone. Good quality garlic is expensive and bad quality you would not want to have. It is definitely worth growing your own.
If you are into growing food – garlic is a must have in the garden. Find how to plant, grow, harvest, store and use garlic. All about the super food, garlic.
Garlic varieties
There are many garlic varieties for different climates. At the store you will mostly get the soft neck garlic (artichoke), in our cold climate we grow the hard neck garlic, with the hard stalk in the middle. If you can grow all types of garlic or need to choose your special one, here is a great tool: Choosing Your Garlic Favorites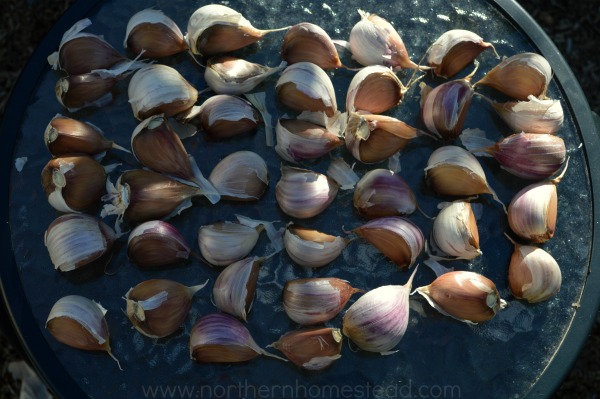 Russian Red is the varieties we grow. This year I got some Music as well. Since I get the "seeds" from a local farmers market, I already know this garlic will grow well in our climate. I'm not always so sure about the variety though.
Planting garlic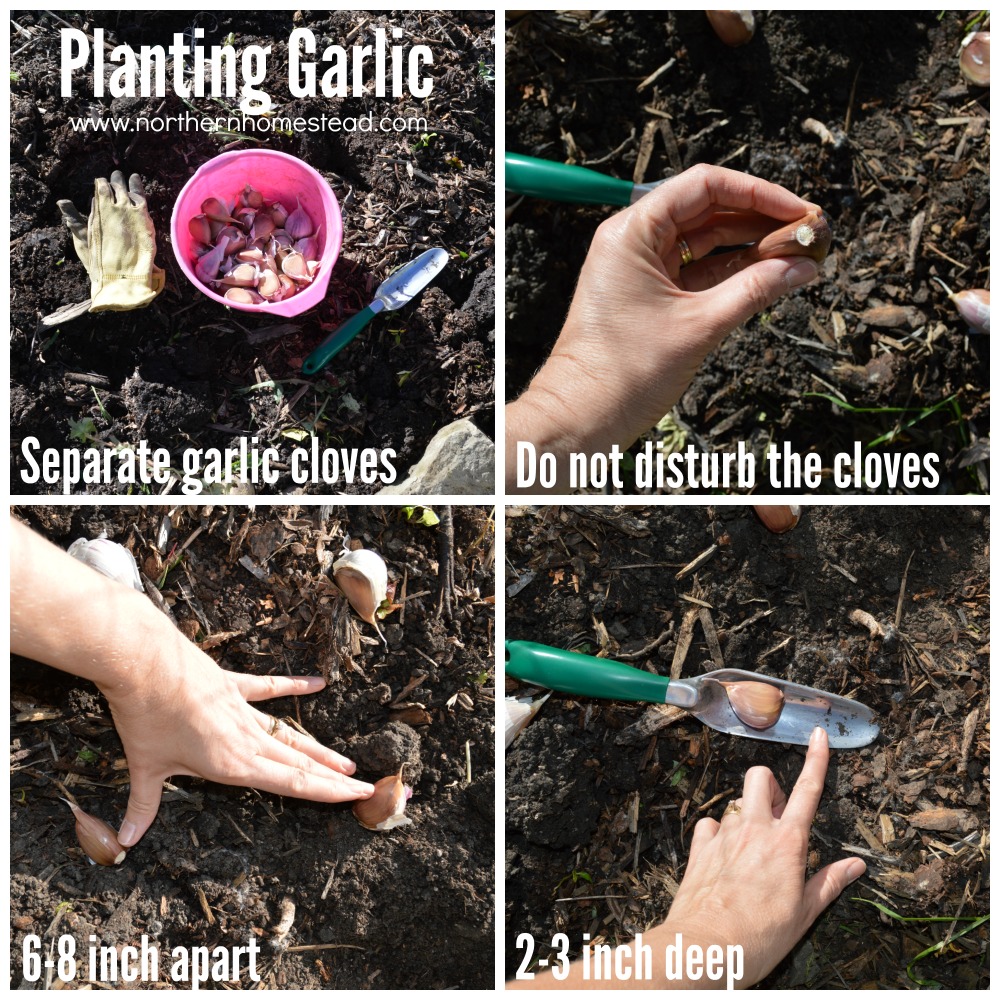 We plant garlic outdoors in September, before the weather changes to cold and rainy. For planting separate the bulbs carefully so that you do not disturb the cloves. The upper and lower growing points still need to be intact.
We plant garlic 6-8 inch apart in every direction. In our cold climate we plant garlic a little deeper, about 2-3 inch pointing side up. Before winter we also mulch the soil.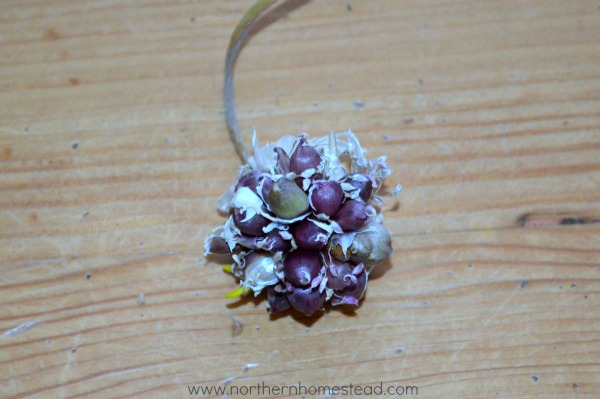 Garlic can also be grown from bulbils, find helpful tips on that here. The bulbils will take 3 years to become a full size garlic. You can also plant some in a container for garlic chives.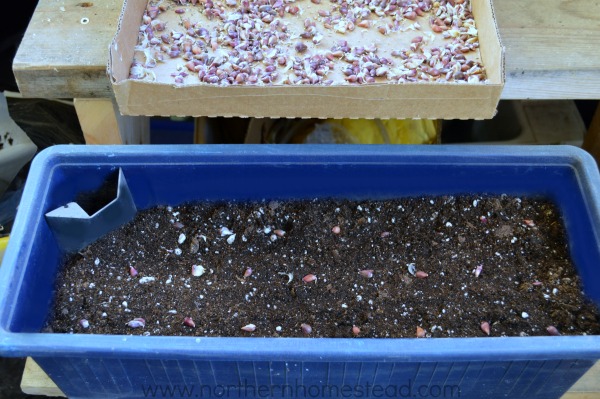 Harvesting garlic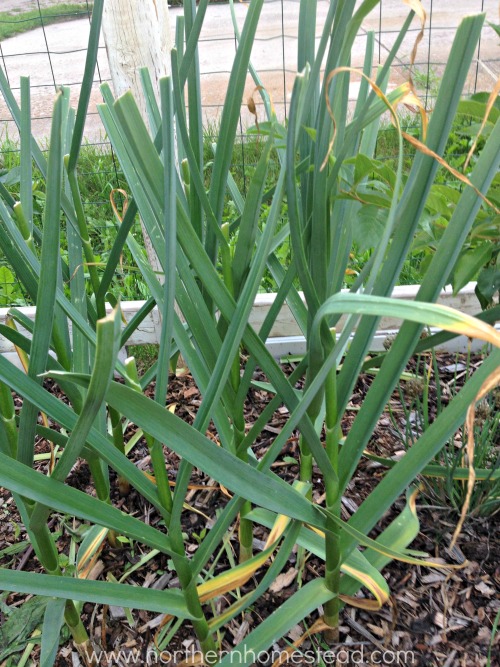 To ensure good size garlic you should harvest the garlic scapes and prune the leaves back a little. Scapes are a great replacement for garlic in summer recipes.
Garlic is ready when the lower 4 leaves have dried, yellowed and the upper are still green. If you harvest too early, the skin will be very thick and your garlic will have a hard time to dry and store well. Too late, the cloves might split open.
Make sure to loosen the soil with a fork without disturbing the bulb instead of just pulling the garlic on the stem.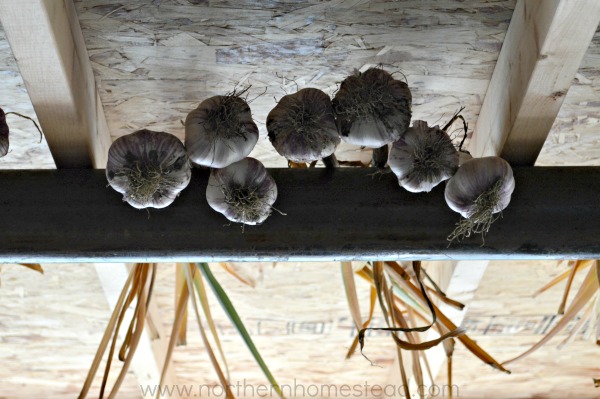 After harvesting it is important to cure (dry) the garlic before replanting or storing. Simple hang or lay out the garlic in a airy place so the leaves can dry out. After that cut the stem leaving about an inch and prune the roots back. Your garlic is ready.
Storing garlic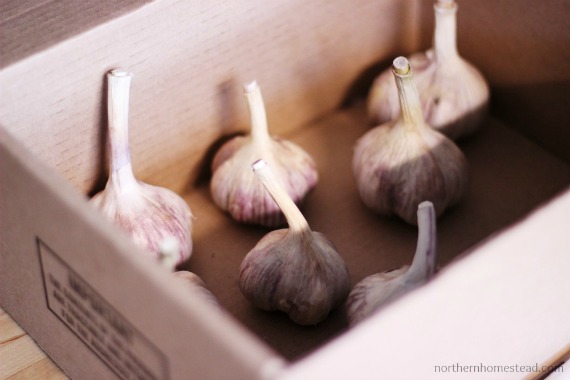 For storage choose healthy dry garlic, the bigger the cloves the better. If the garlic isn't dry it can get mold or start to sprout. So make sure to cure garlic first.
We store garlic in a closed cardboard box – it's dark and dry in there with some air circulation. The box is stored in the basement (not cold room), where it is a bit cooler and darker than in the house.
I wrote a whole post about how to store garlic a while back.
Using garlic
Garlic is super yummy and very healthy as well. Read more about the medicinal properties of garlic. Fermented, raw, or cooked, garlic makes everything more spicy. Here are some of our favorite recipes as well as from our homesteading friends (you might want to grow more garlic?).
Enjoy!
Making fermented garlic and ways to use it
Easy fermented garlic and 5 recipes
Pickled garlic recipe
All natural homemade garlic powder
Make your own health remedies
Master tonic (our favorite)
Foods for cold and flu
We love garlic in many recipes, please share your favorite in a comment.
Honey – garlic chicken
We invite you to subscribe to Northern Homestead and follow us on Facebook or Pinterest for the latest updates.
More Growing Food Posts You Might Enjoy: