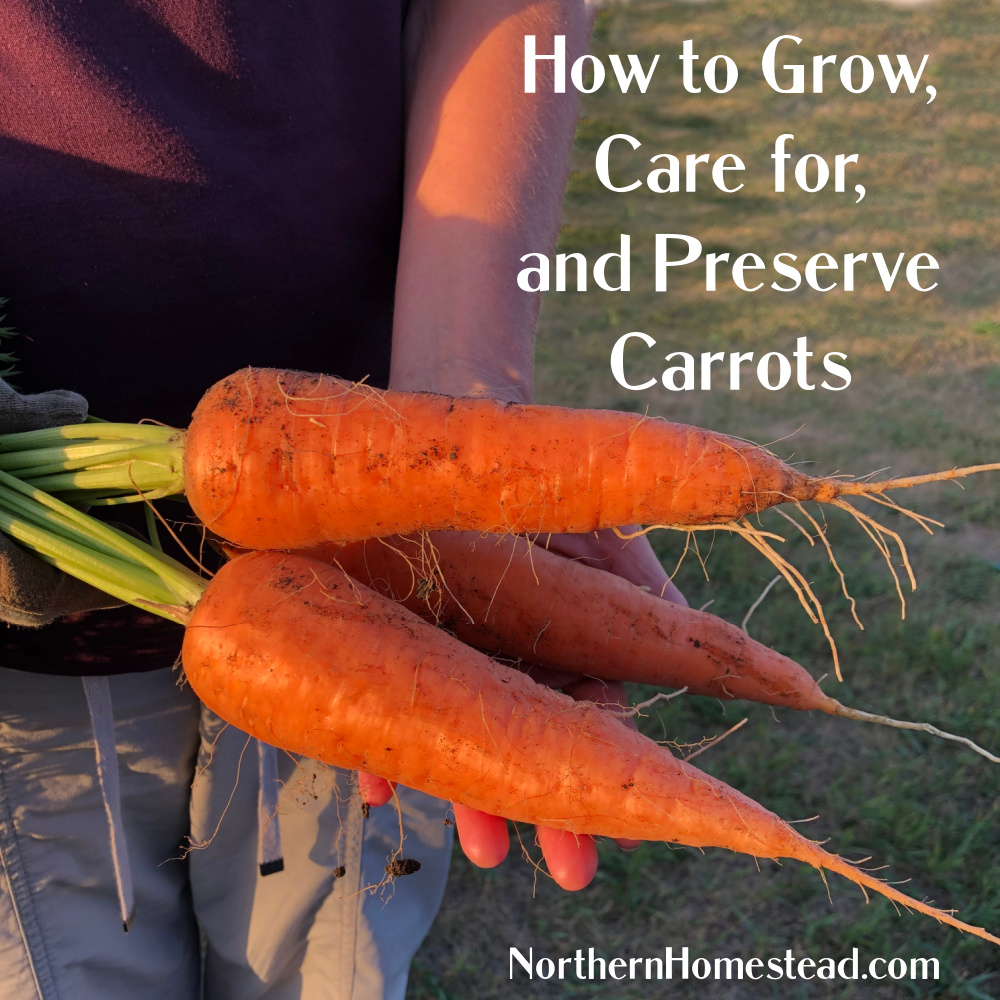 Beautiful, tasty, crunchy, and healthy—these are just a few words that describe the humble carrot. Whether you enjoy them raw or cooked, sweet or spicy, juiced, fermented, pickled, or baked, carrots offer endless culinary possibilities. If you're an aspiring gardener or simply someone who loves to eat, carrots are a must-have in your garden and kitchen.
In this comprehensive guide on How to Grow, Care for, and Preserve Carrots, we delve into the world of carrot varieties, share tips on planting and caring for them, troubleshoot common issues, and explore ways to preserve your carrot harvest.
Carrot varieties
Carrots come in a vibrant spectrum of colors—black, purple, red, orange, yellow, and white. They can be long, short, round, thick, or thin.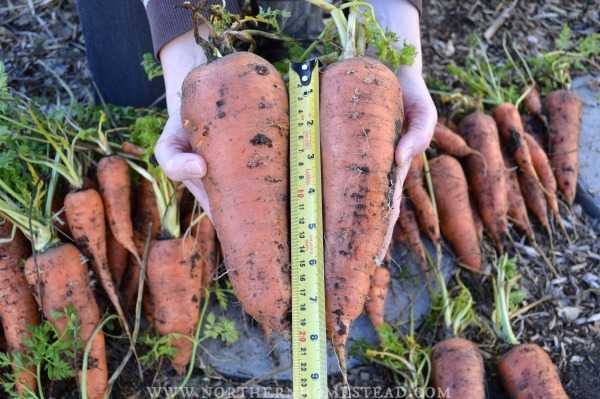 If you're planting carrots in your home garden, consider selecting a variety that suits your local climate, soil type, and personal taste. Carrots thrive in various soil types but avoid compacted soil. Have heavy soil? Opt for short and thick varieties like Chantenay. For sandy soil, long and thin types like Imperator are your best bet.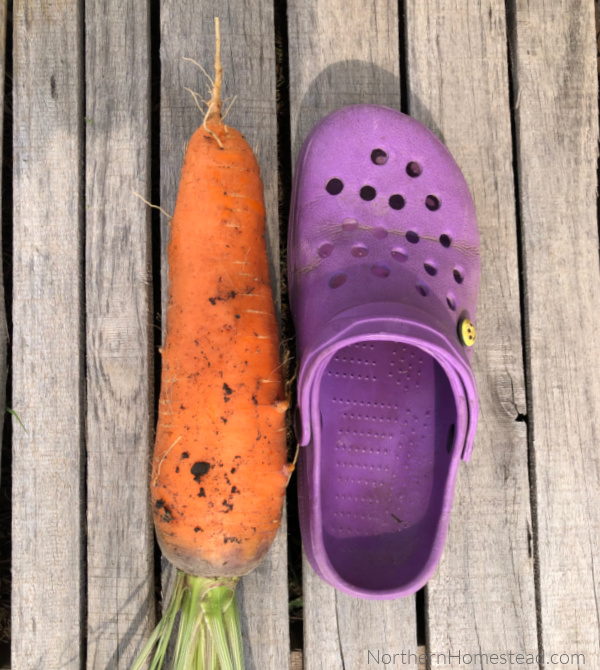 We personally love Royal Chantenay for its stout build and winter hardiness, and the Denver variety for its ease of harvest and storage longevity. For fresh eating, salads, and juicing, we prefer Nantes types like Touchon or Little Finger. While we find that the long and straight Imperator-type carrots aren't well-suited for our particular soil, experimenting with multi-colored and mini carrots adds a fun twist to the garden.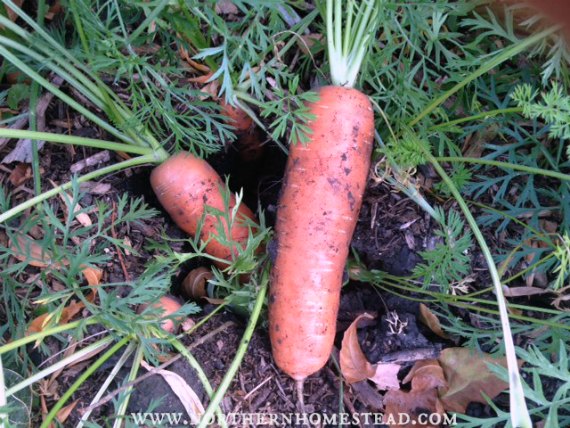 All carrots are biennial, meaning they go to seeds in the second year. That also means that they can be kept in the soil all winter long. More about this in harvesting carrots.
Planting carrots
Carrots prefer cool weather, making them ideal for our short summers. They can be planted in early spring when temperatures rise above 7°C (45°F). Because carrots dislike warm and dry soil conditions, early spring or late fall planting is key. If you live in a warmer region, consider growing carrots as a winter crop for the best results.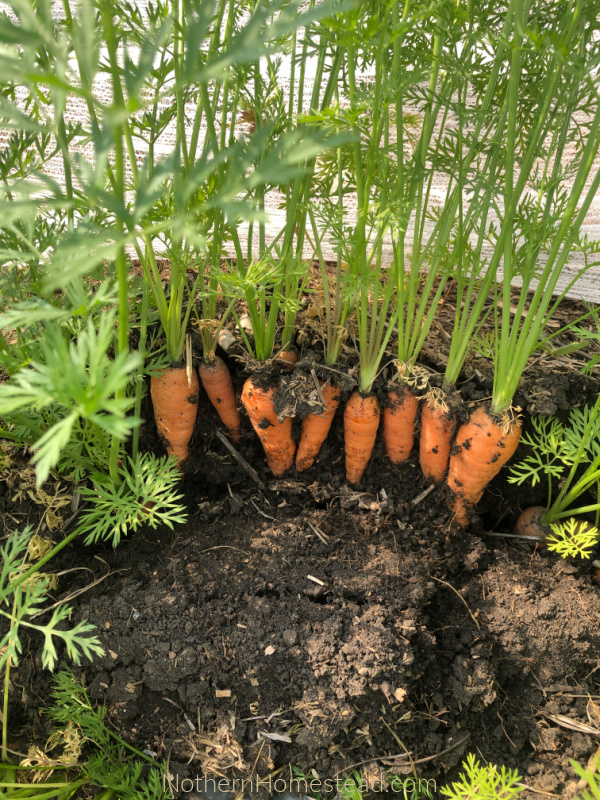 To grow big and delicious carrots, it's important to plant them correctly. Plus, you'll avoid having to thin them out, which can attract pesky carrot flies. Carrot seeds can be tiny and tricky to handle. To simplify planting, you can either use pelleted seeds or make your own seed tapes with toilet paper. This can easily be made ahead of time in the winter eliminating thinning work in the summer. Or carrots can be planted with tweezers, mixed with sand, or by using a Seed Sower
.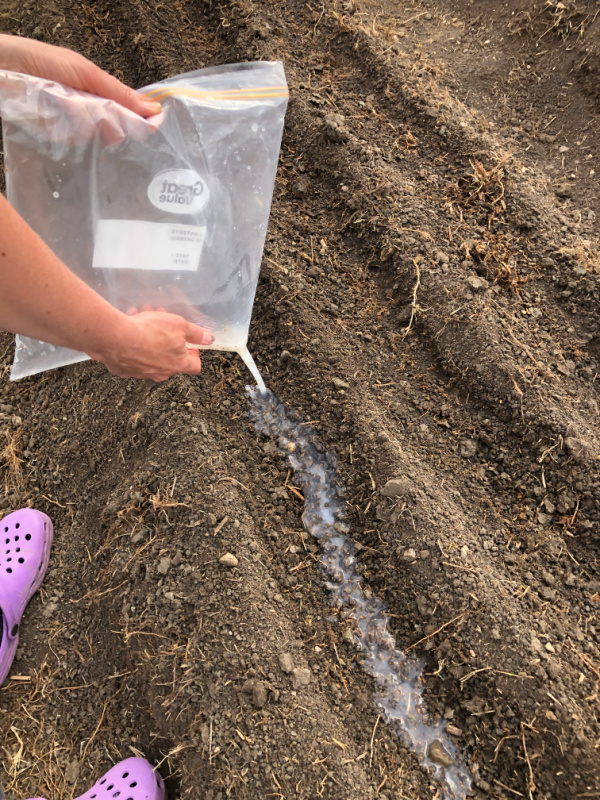 We've had great success sowing seeds in cornstarch—a method we cover in a separate blog article.
In the Square Foot Garden
Book, it is suggested to plant 16 carrots per square foot. Even when grown in rows, it is a good idea to plant a square-foot garden in the row. This way you can grow lots of carrots in very little space with no thinning.
In this video, I show you how. If you can't see the video below, turn off your ad blocker and it will show.
As shown in the video, I make sure to give each square foot of soil enough space by allowing only 1-4 seeds to grow together. This method works best in loose, mulched soil.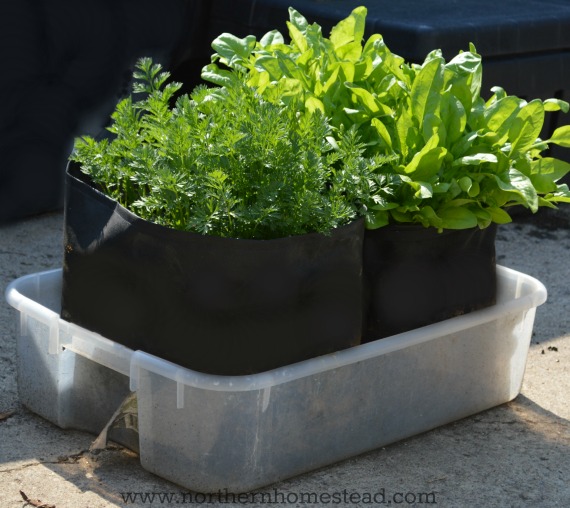 If you're short on space, no worries! Container gardening is a great option for carrots, and grow bags are the best choice for your veggie garden. You can fit up to 16 carrots in a single grow bag.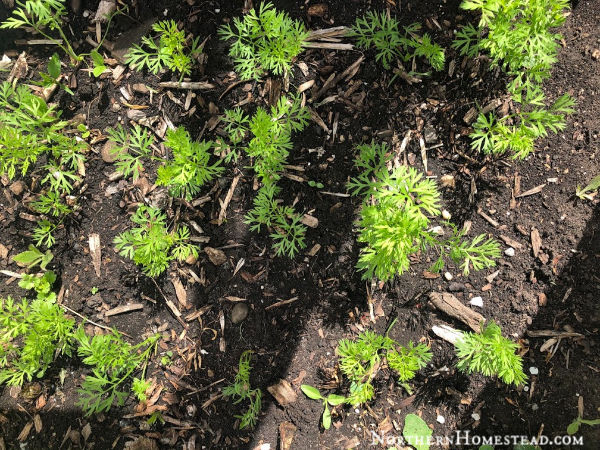 Carrots have a long germination time of 14 – 21 days. Whenever I start wondering if they will ever come up, they do. Covering the freshly seeded carrots with a board is said to help, too. Remove the board as soon as you see any germination. The wooden board will help to keep the soil moist and cool for better germination.
If you want winter or spring carrots, plant them a bit later, depending on your climate. Here in Zone 3, we plant them in late May to early June. Choose a location for the carrots with covering them for winter in mind. One where the snow accumulates anyway is best. If there is a blizzard, carrots need extra protection and snow is the best insulation in addition to the straw.
Carrot / Soil Metaphor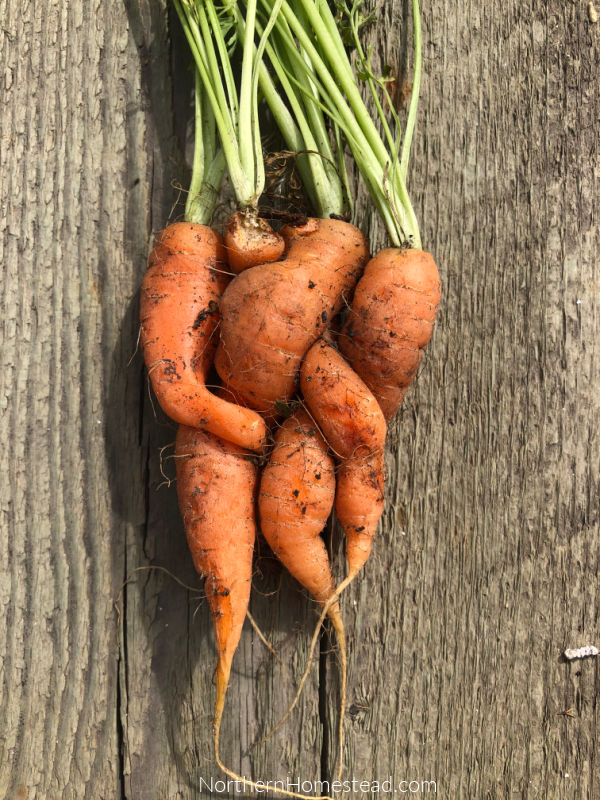 Just as carrots in hard, compacted soil tend to cling to each other to bolster their strength, we humans also reach for one another when life's challenges make our circumstances tough. But in the long run, clinging might not be the best solution for either carrots or us. For those root vegetables, the key to their growth is not more hugging and clinging, but better soil. A layer of mulch—whether it be compost, wood chips, or hay—creates a rich environment for them to thrive.
Similarly, for us humans, maybe the answer isn't just to cling tighter but to improve the soil of our lives. This could mean laying to rest old grievances, letting go of unattainable future expectations, or even introducing 'compost' of new experiences and insights. When we do this, we make the landscape of our lives more fertile, and more conducive to growth. We make it a place where not just one, but all can thrive. Just like a well-tended garden, a well-tended life becomes soft, forgiving, and full of opportunity. It becomes a place where everyone can grow to their full potential.
Caring for carrots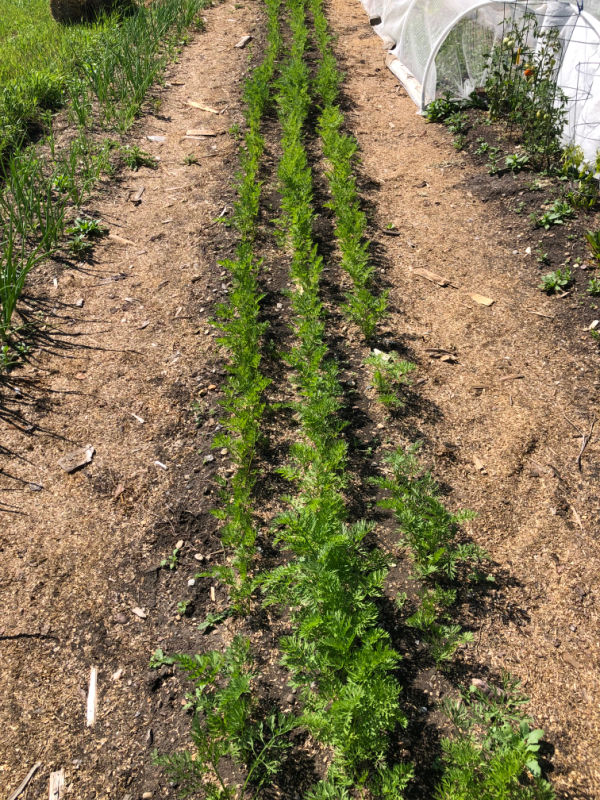 Ah, the humble carrot—a delightfully straightforward plant to cultivate in your garden, yet one that still benefits from a touch of tender loving care. The first step to a bountiful harvest begins at seeding. Invest a little extra time here to space your seeds appropriately, and you'll often find that additional thinning becomes unnecessary. This early attention to detail can save you a lot of effort down the road.
When Thinning is Unavoidable
Should you find yourself in a situation where your carrot patch is overcrowded, hold off on thinning until the seedlings have grown a few inches tall. This minimizes root disturbance for the carrots that remain in the soil, helping them to grow strong and robust. And remember, watering after thinning is essential; it helps to settle the soil and aids in the recovery of the plants you've chosen to keep.
Thinning as Harvesting
If your carrots are snug but not squashed, you can actually turn the thinning process into an early harvest. In this case, gently pull out the largest seedlings; not only will you get some young, tender carrots to enjoy, but you'll also make room for the remaining plants to expand and flourish.
To Weed or Not to Weed?
The question of weeding is often met with some ambivalence. In the early summer, it's crucial to give your carrots space to spread their roots and shoots. However, as the season progresses, your carrots will typically outgrow any competition. Their deep-reaching roots seek moisture far beneath the surface, while their leafy tops form a natural canopy that usually shades out would-be weeds.
The Watering Wisdom
As for watering, less is often more. Early-season watering is critical to help the carrots establish themselves, but once those roots reach deeper into the soil, they become remarkably self-sufficient, drawing moisture from deep within the soil. Be cautious not to overwater, as doing so can cause the roots to split, impacting the quality of your harvest.
By giving your carrots the right care at the right time, you'll cultivate a garden where this nutritious root vegetable can truly flourish.
Troubleshooting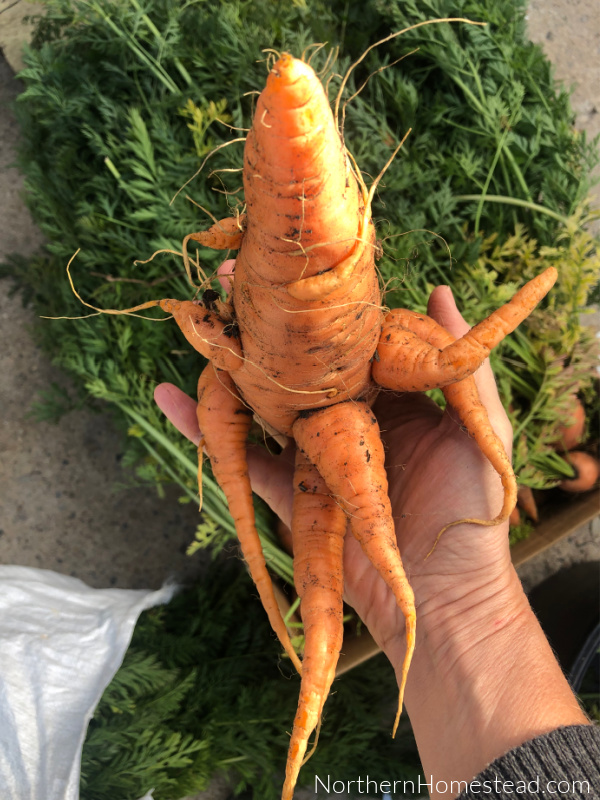 The Quirky World of Deformed Carrots
Ever pull a carrot out of the ground and laugh at how much it resembles an octopus? You're not alone. Deformed carrots are often amusing, but they're also a signal that something's up in your garden.
Too Cozy Neighbors: One common reason for these odd shapes is that the carrots are simply too close to each other. When that happens, they can merge, creating a spectacle—multiple roots shooting out in all directions from a single top.
How to Avoid: To sidestep the deformity drama, thin your carrot plantings as they grow. Also, don't skip early-season weeding. Your carrots need clear paths to stretch out their roots and form properly.
The Split-Root Phenomenon
If you've ever encountered a carrot with roots that look like they've been sliced in half, you know how perplexing it can be.
The Culprit: This usually occurs when the carrot encounters something hard it can't push through. In gardens that have been tilled, the topsoil might be loose and inviting, but the layer underneath is often compact and impenetrable.
The Fix: To tackle this, consider switching to a no-dig garden and lay down mulch. Double-digging can help if your topsoil is insufficient. Another workaround? Plant a short-rooted carrot variety like Danvers.
The Tale of Split Carrots
Split carrots are the garden's way of telling you there's been some inconsistency in the watering department. They're still tasty, but their shelf life is drastically reduced.
Why They Split: This happens when a carrot gets too much water too quickly after a dry spell; it grows faster than its skin can stretch.
What to Do: Aim for a consistent watering schedule. This will go a long way in avoiding the heartbreak of the split carrot.
The Pesky Carrot Fly
Ah, the carrot fly. These critters lay eggs near carrot, celeriac, parsnip, and parsley plants, and their larvae munch their way through your precious roots.
When They Visit: These uninvited guests usually make their appearance in late spring and early fall. Some years, you won't even notice them; other years, they'll come in droves.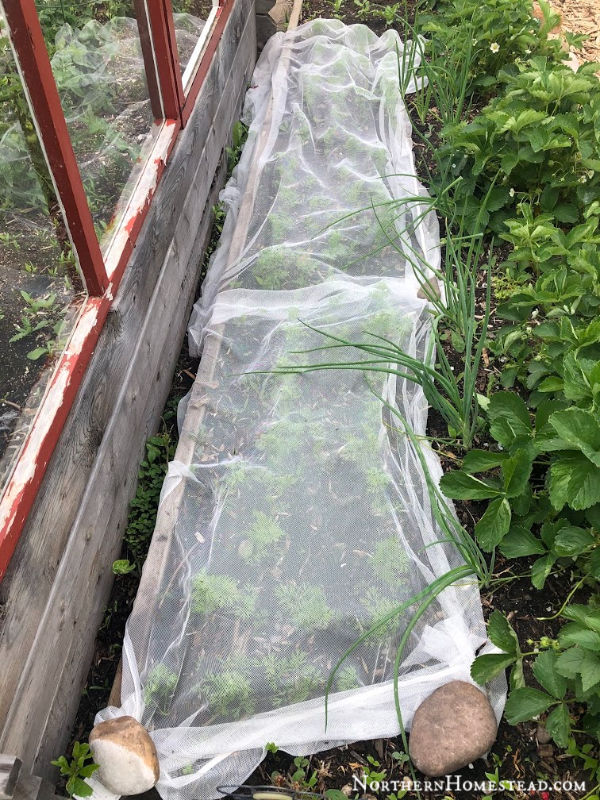 Preventive Measures: You can shield your carrots with netting or try companion planting with the onion family, although I've still found maggots even when onions were present. So, no guarantees there.
A reader shares some great advice on how to avoid carrot flies:
"I have always had about a 1% infection rate but rotating and never leaving ANY carrots in or on the ground or in the compost seems to hold them at bay. Plus I seed at final spacing, never thin, and have all weeding done by the end of May before the main hatch of flies from overwintering larvae in the neighborhood. Weeding/thinning is reported to attract new flies because the leaves get bruised and have a more intense smell".
Most years, we get it right and harvest beautiful, straight carrots with nary a blemish. But if you do run into any of these issues, it's critical to act. For instance, with carrot flies, don't just leave infected carrots in the ground—you're asking for a bigger problem down the line. Harvest early, and you might be able to peel away the damage. Over time, you'll get the hang of it, and your carrot harvest will be something to boast about.
Harvesting Carrots
First things first, harvesting carrots isn't a one-time event; it's an ongoing celebration. Whether you're plucking out baby carrots or pulling up fully grown specimens, the timeframe for harvest is quite flexible. Baby carrots are tender, while the mature ones pack a more robust flavor—there's something for everyone.
The Right Tools for the Job
Now, as for the how-to of it all, it may surprise you, but a simple fork is your best friend. But let's make one thing clear: forks are for loosening the soil, not for yanking out the carrots. Dig around the carrot to loosen the earth, then gently pull it out by hand. This way, you ensure that the delicate roots come out intact, unscathed by the jagged edge of a spade or hoe.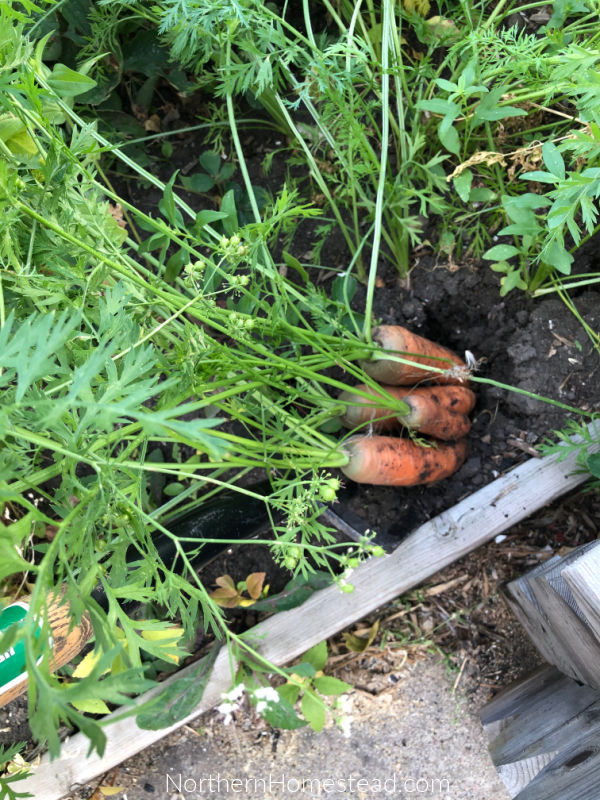 The Fall Harvest: Waiting for the Sweet Spot
Autumn brings its own charm to the carrot world. As the weather cools down, the carrots ramp up their sweetness. We're in Zone 3 here, leaving the carrots in the ground as late as November rewards you with some of the sweetest, most flavorful carrots you've ever tasted.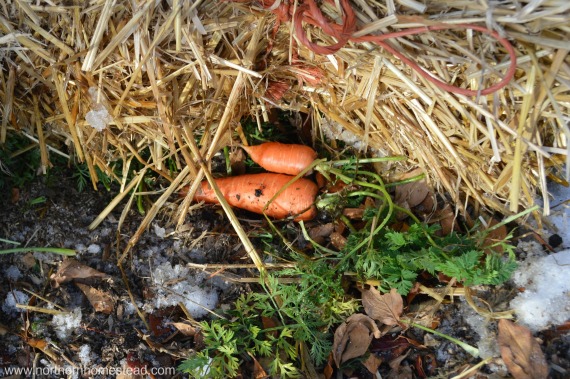 Overwintering Carrots: A Tale of Two Seasons
Now, what if you're not quite ready to harvest just yet? No problem. Carrots are hardy survivors; they'll happily hibernate all winter and continue growing in spring, eventually going to seed in their second year.
But beware: If you have a carrot maggot problem, leaving infected carrots in the ground through winter is like setting a welcome mat for more maggots. Only healthy carrots should be considered for overwintering.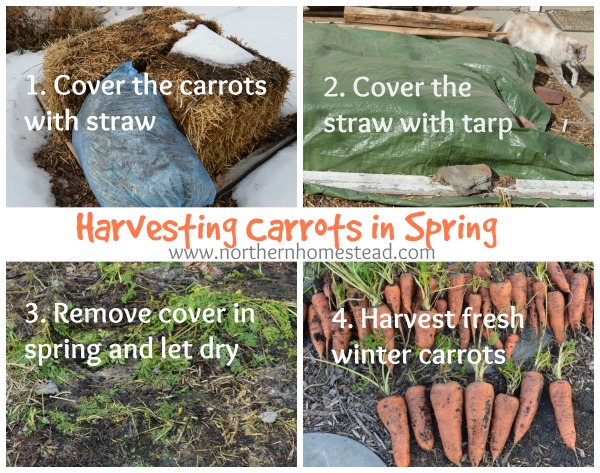 Winter-Ready Carrot Beds: How We Do It in Alberta
For carrots to see you through the winter, a little foresight is needed. If you're blessed with abundant snowfall, that should suffice as insulation. Otherwise, you'll want to layer your carrot bed with straw or leaves, then top it off with a tarp to keep out the moisture.
Pre-Winter Prep: Before the first hard frost, cover your carrots with either straw or bags filled with leaves.
Seal the Deal: Drape a tarp over the straw layer and let it be, occasionally checking to ensure a generous layer of snow piles up during extreme cold or blizzards.
Spring Awakening: Once spring rolls around, remove the covers and let your carrots air out a bit.
Reaping the Rewards: Harvest your winter carrots, still as crisp as the day they were buried.
Just to share a personal milestone—in March, we ate the last of our winter carrots on the same day we enjoyed our first greenhouse-grown carrot of the season. Both were, in a word, delectable.
So, there you have it! My tried-and-true methods for harvesting carrots, honed over years of soil-stained hands and bumper crops. Whether you're a first-time grower or a seasoned gardener, may your carrot harvests be both plentiful and satisfying!
Preserving carrots
We have a separate blog article on a dozen ways to preserve carrots with many pictures and tips, head over to read it next. Here are just the basics.
Long-Term Storage
Carrots are the keepers of the vegetable world. You can either leave them in the ground (you've read my harvesting guide, right?), stash them in the fridge, or let them lounge in a well-ventilated cellar. The ideal storage conditions hinge on a couple of factors: temperature and humidity. So it's about experimenting a bit to find out what clicks for you.
The Soil Method
Some folks layer their carrots in clean potting soil or peat moss. We gave it a whirl in our own cold room. The carrots did last until April, but let's just say they had lost their signature crunch. Turns out, our cold room's air is too arid for this method. But hey, it might just be the ticket for your storage conditions, so don't knock it 'til you've tried it!
Plastic Bags & Paper Towels
Keeping your carrots in plastic bags in the fridge? That's not a bad call. The real game-changer for us has been those Freshness-Preserving Food/Flower Storage Bags. Pop your washed, ends-trimmed carrots in there with a few paper towels to soak up any excess moisture, and you're good to go for a solid three months, easy.
Fermentation
If you've never tasted fermented carrots, you're missing out. They offer an entirely different flavor profile that deepens over time. Baby carrots work exceptionally well for fermenting, and they'll keep for months if stored in a cool spot. If you're new to fermenting, I have a guide that'll make you a pro in no time.
Canning
You can pressure-can them, pickle them, or use them in a range of canning recipes. Just to tantalize your taste buds, here are a few of our household staples:
Freezing
Now, if you're the sort who likes to freeze veggies, carrots have got you covered. We typically chop or grate them and freeze them in recipe-ready portions. Trust me, it's a real time-saver come winter. But if you prefer, you can also freeze them in larger pieces or even whole baby carrots—just make sure you blanch them first.
So, whether you're a long-term planner or someone who just ended up with more carrots than you know what to do with, these methods have something for everyone. And remember, the best storage method for you is the one that matches your kitchen's temperament and your personal taste! Happy preserving!
I hope this article on How to Grow, Care for, and Preserve Carrots encourages you to grow and preserve more yummy carrots.
We invite you to subscribe to Northern Homestead and follow us on Facebook or Pinterest for the latest updates.
More Growing Food Posts You Might Enjoy: