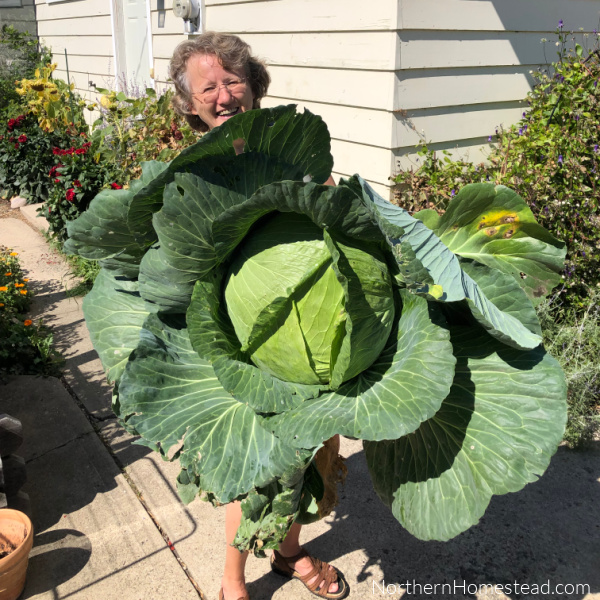 We have been growing cabbage for many years, but it seemed that we seldom got great cabbage from seed. So last year I set a goal to find varieties that do really well and grow more cabbage. Cabbage is a staple food of ours, so growing our own just makes sense. So here I am, happy as can be with this monster cabbage.
Cabbage is a must-have in the garden. It is one of those vegetables that can be grown no matter where you live. In warmer climates, you can grow cabbage in the winter, and in a cold climate, it can be grown in the summer. If you want to grow food, then grow cabbage.
Cabbage varieties
Cabbage is a favorite in the garden in so many parts of the world. No wonder there are so many varieties in color, shape, hardiness, and taste.
Green (or white) cabbage varieties come in different sizes and shapes, red cabbage is higher in vitamins A and C, savoy cabbage with crinkled outer leaves, pointed cabbage with conical heads, and Chinese cabbage.
By choosing your favorite, note how much time it needs to mature. We choose early summer varieties. Our winters are too cold for growing cabbage.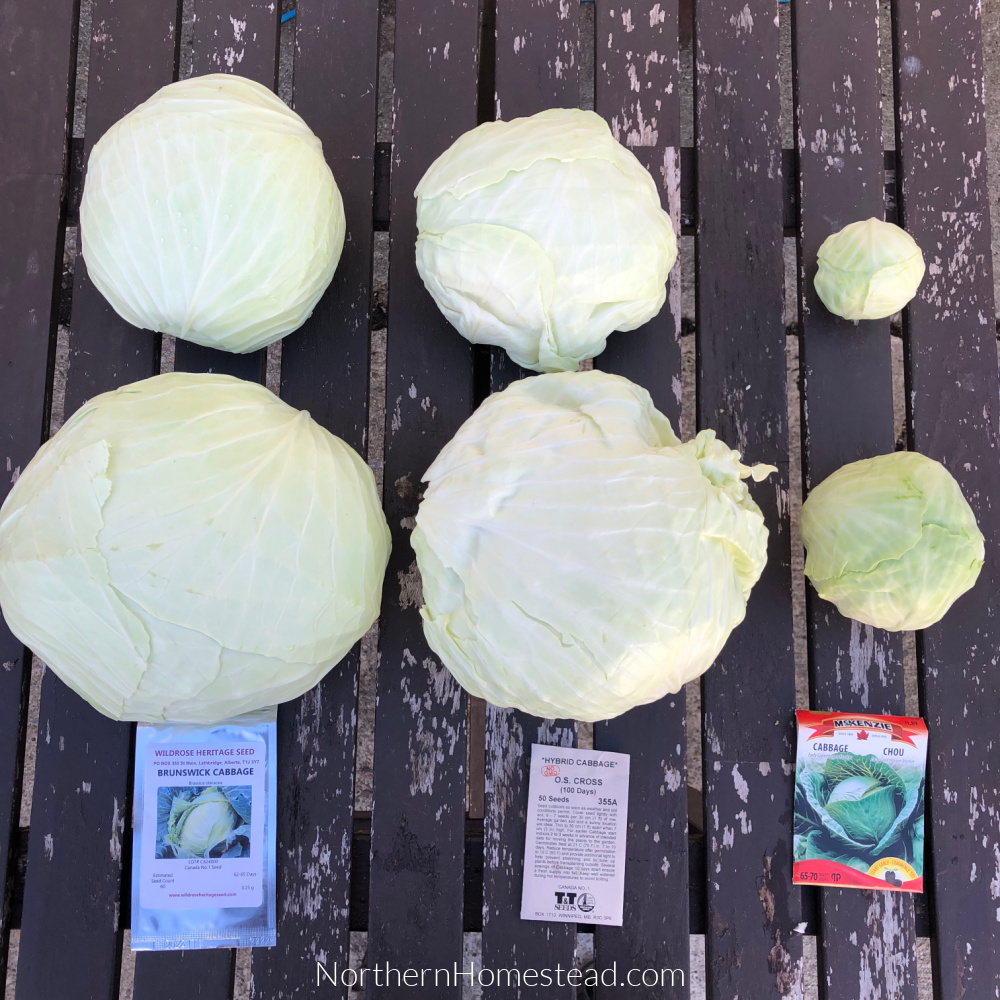 In our search for great cabbage to grow, we settled on 3 varieties for white cabbage and one for red.
Brunswick Cabbage (62-65 days)
Early Copenhagen Market (65-70 days)
O.C.Cross (100 days)
Red Integro (85 days)
The biggest of the three under the right conditions is O.S. Cross with over 5 kg. It is a flathead hybrid cabbage making it fun to grow and great for cabbage rolls. Brunswick cabbage 2-4 kg is great for sauerkraut and storage. Early Copenhagen is a great summer cabbage reaching 2 kg as well.
Starting cabbage seeds
Cabbage is a winter crop. Heat is not in its favor. We start cabbage very early and plant it out about a month before our last frost day. See our indoor seed starting schedule. We cover seed starting in detail in this blog article.
What is unique about cabbage, they do not like it warm. After germination if possible give them a bright and cool place to grow.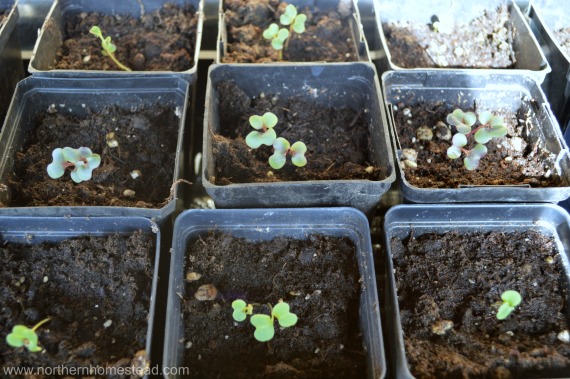 A greenhouse is a great place to grow cabbage seedlings. It gives the plants sufficient natural light, so they do not get leggy. If you have a leggy cabbage seedling transplant it deeper into the soil.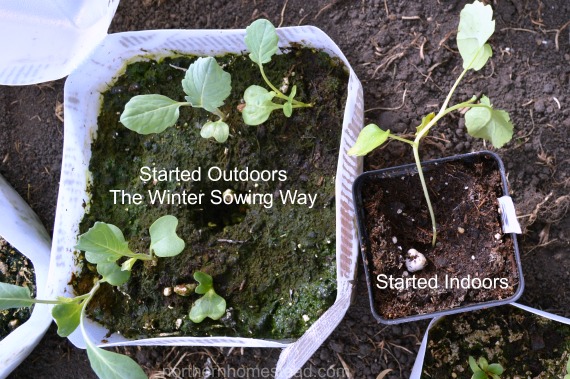 Winter sowing is a unique way to start cool-weather crops. However, I find in Zone 3 if we get a very cold spring the seeds germinate a bit late. A combination works better for a cold climate. Depending on the weather you can let the seeds germinate indoors and as soon as the plant is up, and the weather permits, bring the container outdoors.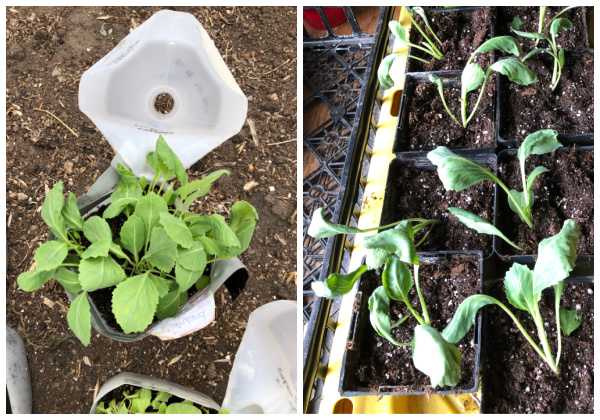 Or start the cabbage the winter sowing way and transplant the young seedlings into containers to get more mature. Read more about it in our winter sowing article.
In a moderate spring, winter sowing cabbage can just be left alone. Cabbage is very hardy, a bit of frost will not damage the seedlings as much as the heat would.
Planting cabbage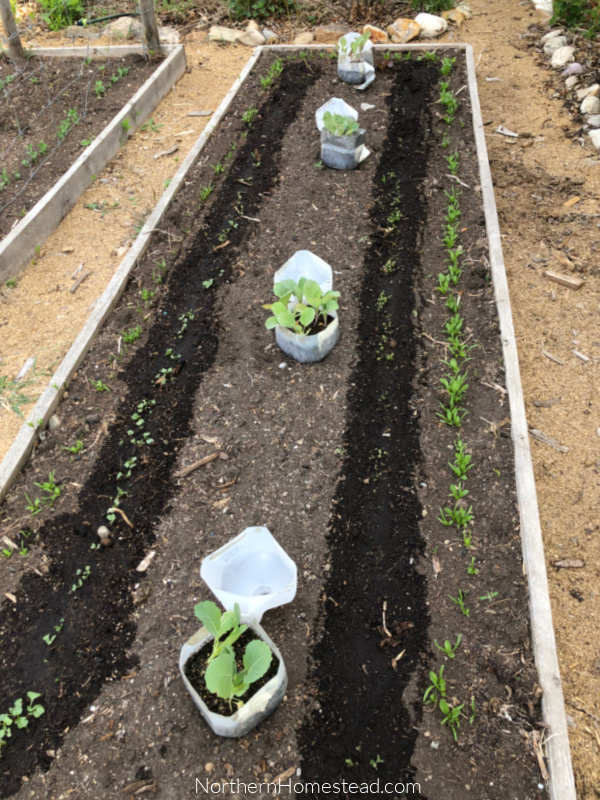 Cabbage can be planted very early in spring, about a month before the last frost day. For winter growing, plant cabbage in late summer. Read more about growing cabbage in warmer areas here.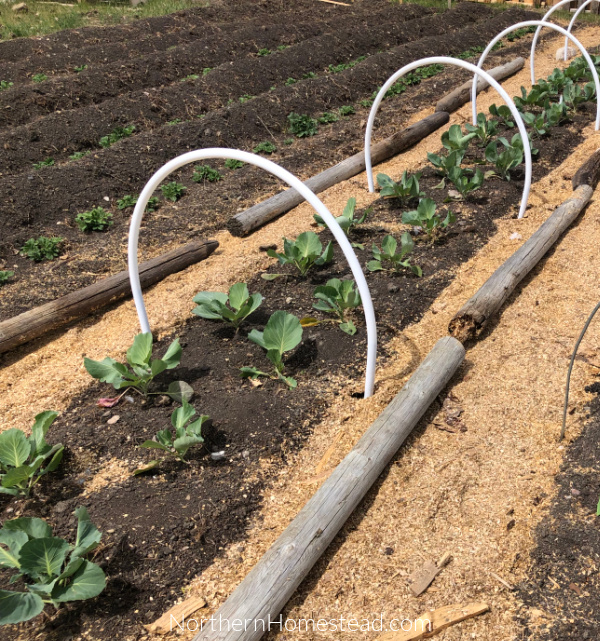 Cabbage needs a lot of space, do not plant too closely together. Here we planted them in a 2-foot bed in an offset pattern. It was still way too close.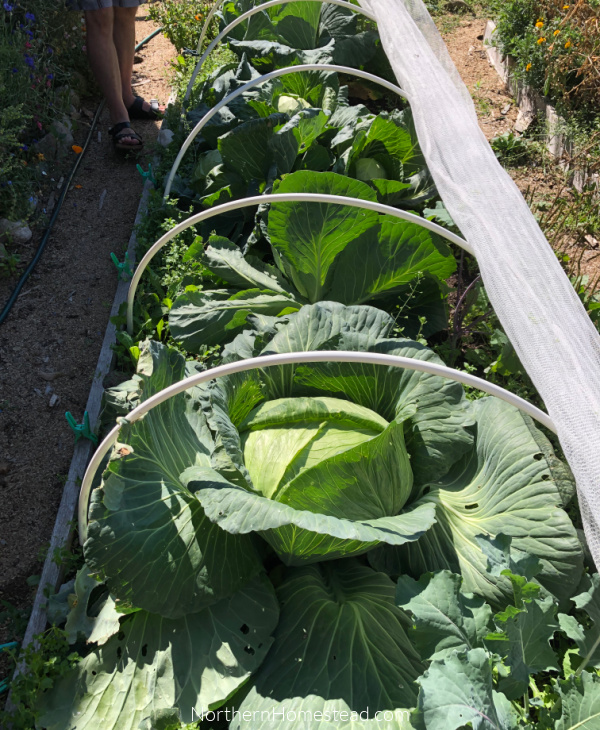 Here is a 4-foot wide bed and as you see the O.S. Cross cabbage fills it in. Other varieties can be planted 2 feet apart.
Excellent companion plants for cabbage are dill, beets, onion, and celery. Also, Spinach can be planted closer to the cabbage so by the time the cabbage needs all the space, the spinach will be harvested.
Crop rotation is essential for cabbage. Rotate with non-brassica plants for at least two years.
Grow a healthy cabbage
Healthy soil equals healthy plants, which is true also for cabbage. A healthy plant will also be more resistant to the many critters that just love cabbage.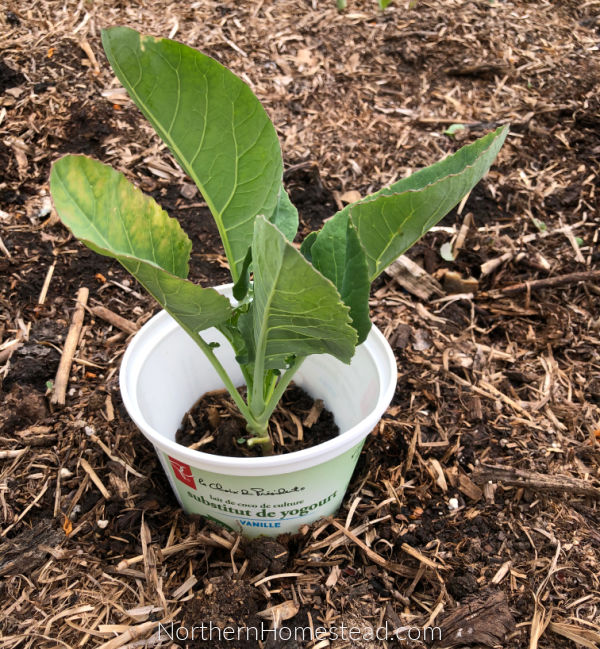 Young seedlings are in danger of cutworms. You can protect the plant by enclosing it with some kind of collar around the plant about an inch deep.
Maggots in the soil can be devastating for cabbage. However, I have harvested mature cabbage heads that had damaged roots by maggots. Somehow they coexisted. In extreme situations use Diatomaceous earth (DE) at the root level. Be aware though it destroys all bugs, worms, and insects.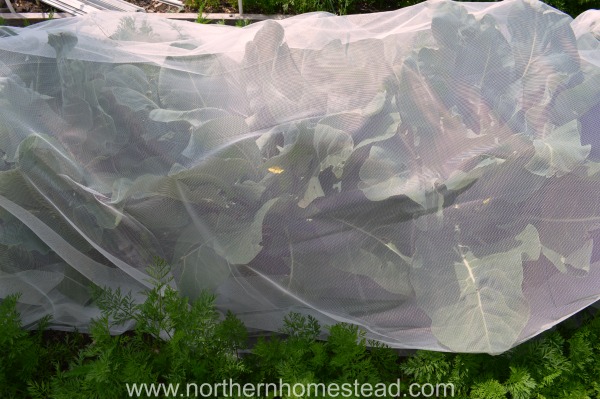 Beetles in early spring love cabbage as well. Covering with a very fine mesh could help in theories. In practice, I have not found a way yet to protect the young seedlings from the tiny insects. We just water the plants and make them strong instead of fighting with the beetles.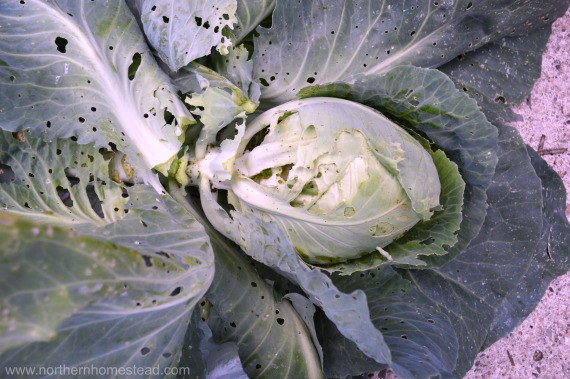 Caterpillars love cabbage too. I find planting early is the best prevention. If the head has not formed till the end of July, there will be too many caterpillars to allow an excellent cabbage to form. Caterpillars can destroy a cabbage plant completely.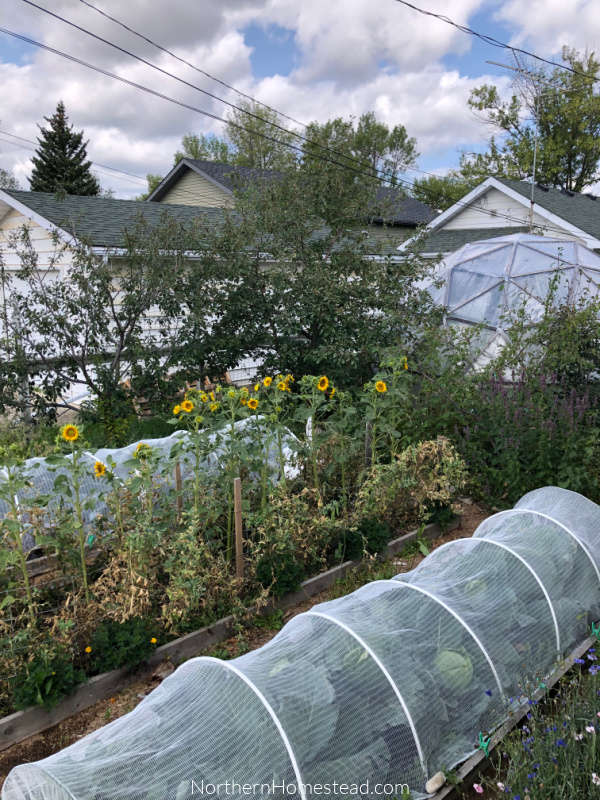 Hail protection netting works great for keeping cabbage butterflies (and Hail damage out). You can also use insect netting, or any netting if hail protection is not needed. Even Ikea net curtains give some protection but are not as durable. A finer mesh will protect you from more insects. Plants can be covered individually or a whole bed can be covered with protective netting.
Harvesting cabbage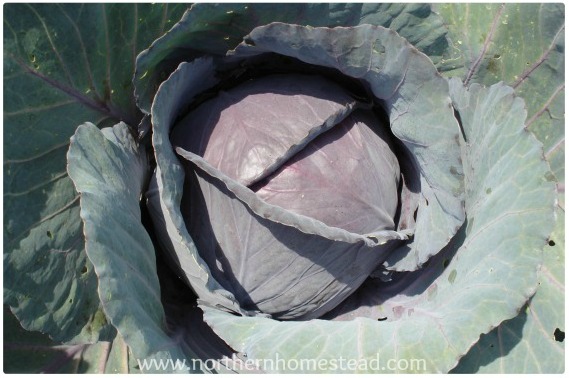 Cabbage is ready when the head has become firm. If the cabbage is almost ready, and heavy rain is in the forecast, it is better to harvest cabbage before the rain so the heads do not split.
Also when you see caterpillars on the cabbage, it's time to harvest. The caterpillars will eat themselves into the cabbage deeper if you just leave them. You might get a smaller head, but leaving it in the ground could result in losing the whole harvest.
Preserving cabbage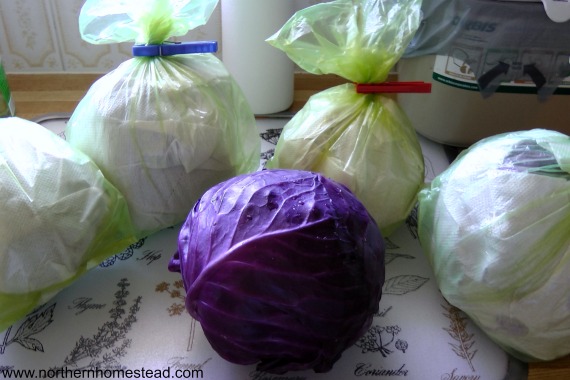 Cabbage stores well in the fridge or cold storage. Take the outer leaves off, making sure there aren't any hidden insects, then wrap the head in a paper towel and put it into a plastic bag. The GreenBags Storage Bags
are great. Cabbage can be stored this way for weeks in cold storage. In a good cellar, cabbage can be stored for months.
My mom used to store cabbage in the garden. I have not tried this myself, since it is too cold here in Zone 3; growing up we lived in Zone 6, I think. She would dig a hole in the ground place the cabbage in it upside down and cover it with dirt. Whenever she needed a cabbage, she would just dig it up and have a fresh head of cabbage. She says that it is best done at the weather turning point just before it gets cold and wet.
Cabbage can also be frozen. Separate whole leaves or slice them the size you want, blanch for a minute or two, depending on the thickness and size, and freeze in portions you want to use. Chopped small it can be frozen without blanching.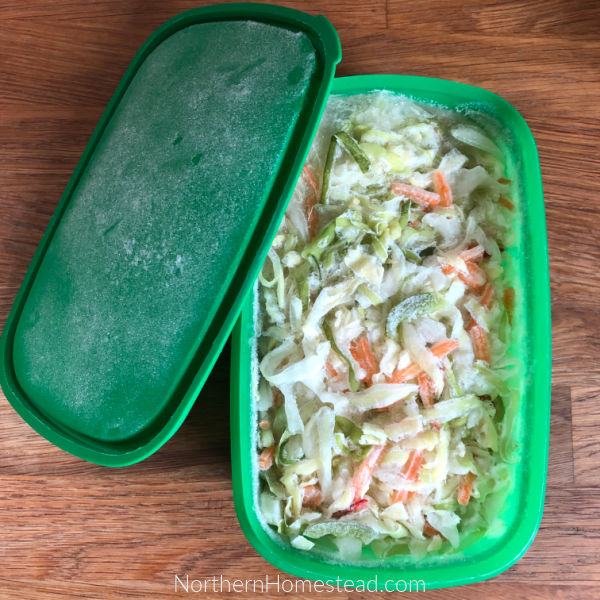 We have also had great results freezing our favorite ready-made coleslaw, and Apfelrotkohl, reheated it tastes just like fresh.
And do not forget fermenting cabbage. The ultimate cabbage storage is sauerkraut. Fermented, raw sauerkraut can last for many months, always fresh and ready to be used.
The nutritious value of cabbage
Cabbage is super yummy and very healthy as well. Read more about the health benefits of Cruciferous vegetables here. Fermented, raw, or cooked, cabbage is always a winner.
Of all the vegetables combined the red cabbage seems to be the most nutritious. Plus it happens to be the one cabbage that is easiest to grow, at least in our experience. Here is an interesting video to watch and eat more red cabbage.
Cabbage Recipes
Here are some of our favorite recipes.
Enjoy!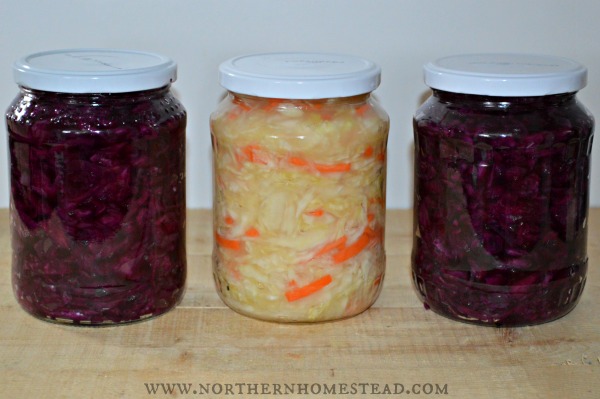 – Homemade Sauerkraut the Simple Way (with carrots or apples)
– Sauerkraout in the water sealed crockpot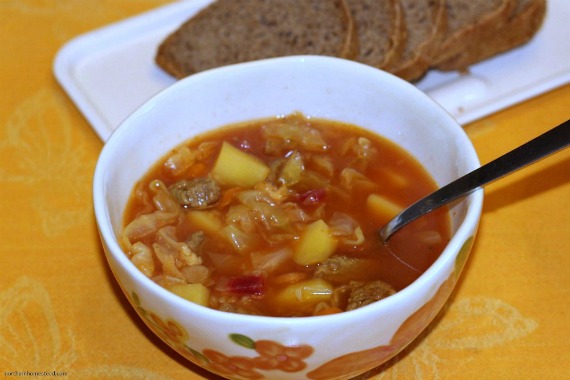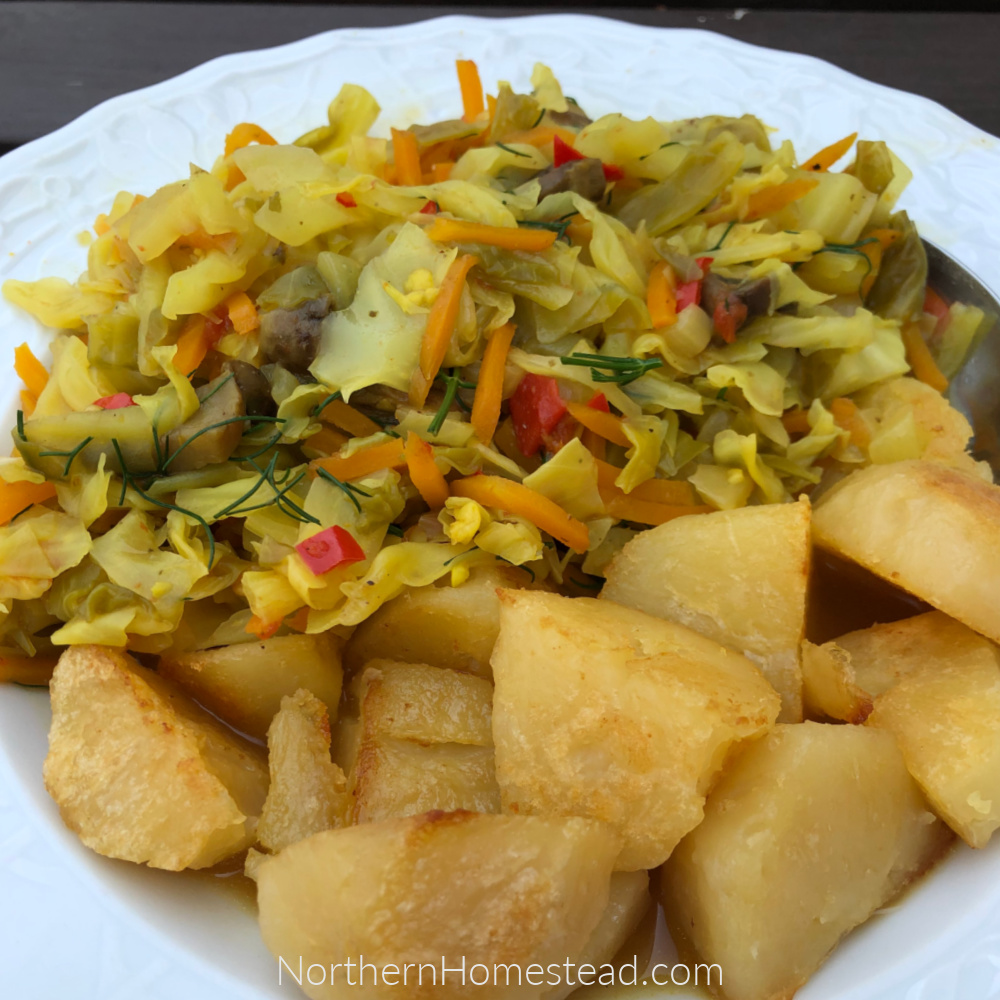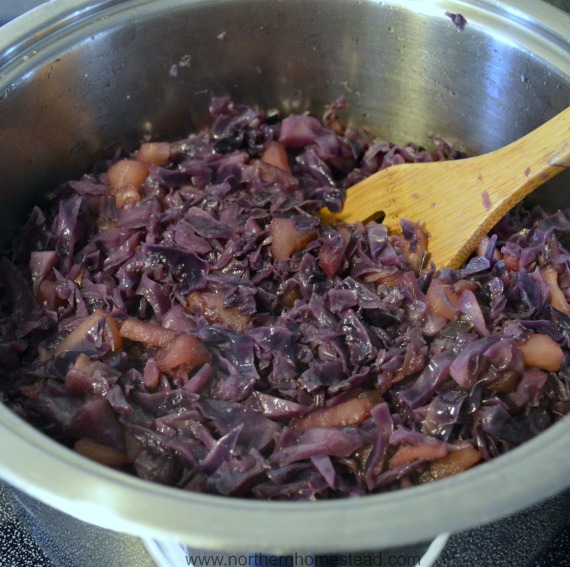 – Apfelrotkohl (Red Cabbage with Apples) Recipe
– Lazy Cabbage Rolls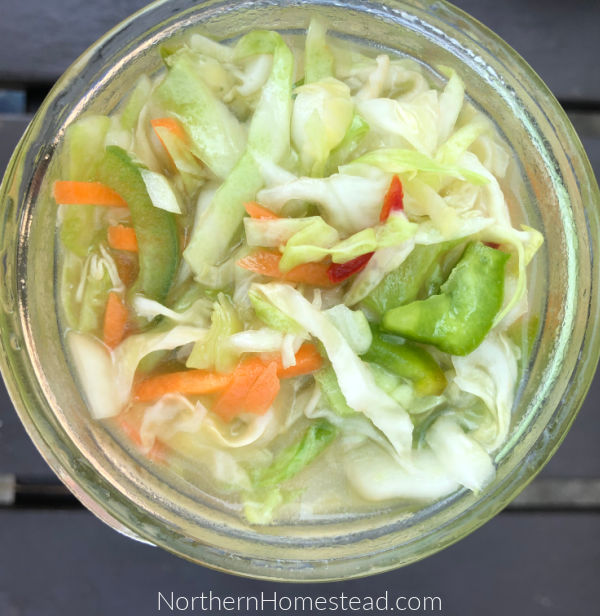 Make ahead overnight coleslaw.
What is your favorite way to enjoy cabbage?
We invite you to subscribe to Northern Homestead and follow us on Facebook or Pinterest for the latest updates.
More Growing Food Posts You Might Enjoy: