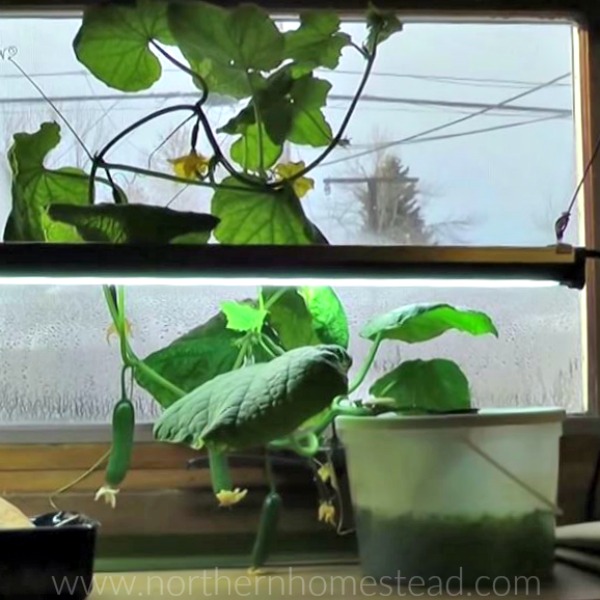 To grow edible plants successfully you need 10 hours or more of daylight (except for sprouts and microgreens). It does not have to be all sunshine, but it has to be a bright light. A plant will not die if it does not get the light needed, but it will not grow much either. Additional light for an indoor edible window garden may be needed.
Growing an indoor edible window garden with natural light
Natural daylight is the best light for plants. It is hard to imitate real sunshine with electric light bulbs and in many cases, it is not needed.
If you want to grow edible plants without supplementary light, you will need two things:
A bright, sunny window. North of the equator the window for winter growing has to be facing south.
Plant early in the season. Plant your plants in late summer to early fall/autumn so that by the time the short winter days come, the plant has reached maturity. For example, your kitchen indoor herb garden can look beautiful and even provide you with some harvest all winter when established before the days have become too short for growth.
What are those short days? If you live farther away from the equator, winter days will get very short. Those are the below 10 hour days. From October 28 till February 14 our daylight is less than 10 hours. Calculate your area's "below 10 hour days" here.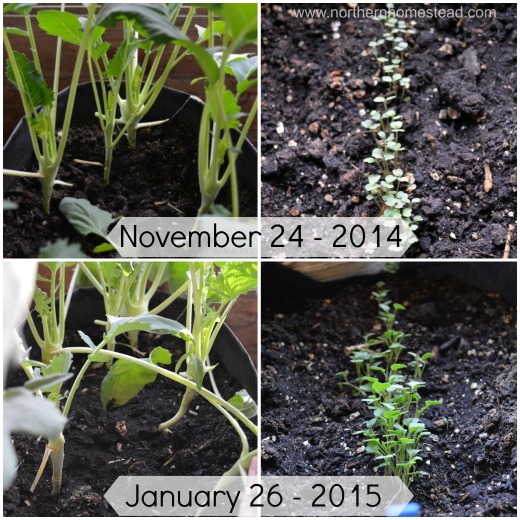 Here is a picture comparison of some plants in the winter. In two months there was no growth worth talking about. These plants were in a cooler location (we will talk about growing temperature in a later post) at large south-facing windows with no additional light. The plants look healthy and as soon as the days will get longer and the temperature warmer, they will take off.
Growing an indoor edible window garden with additional grow light
With a grow light you can grow an indoor garden in any corner of the house. There are many grow lights to choose from. Without a window, you would need a more expensive and advanced grow light. The beauty of an edible window garden is that you already have the best light available – real sunshine. You just need to supplement that light so you have more light hours.
We use 54W high output T5 fluorescent lights with a bulb life of 20,000 hours. Reflectors to improve light efficiency are helpful too. Of the fluorescent tubes that have been available in T8 and T12 models, this is by far the most efficient. The T5 grow light can produce 100 lumens per watt, which is almost unheard of in systems like this. This effectively means that it uses less energy to produce more light.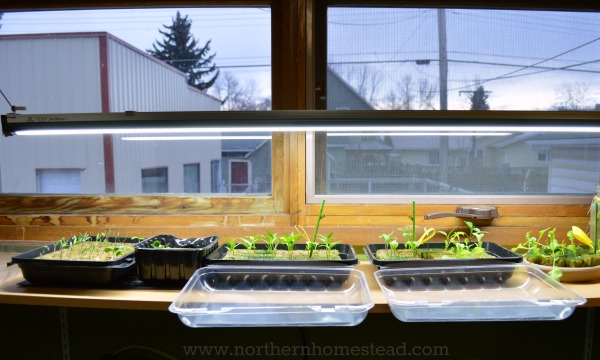 You want your grow light to be not more than 12 inches above the plants to make sure the plants can be flooded with as many photons as needed to grow, not just survive. With more powerful grow lights that radiate a lot more heat like HPS or HID the distance should be more than 12 inches. Remember that grow lights imitate the sun, but can't really replace it.
A grow light above your window will look good, illuminate the room, and give your plant the needed light to grow. We find the combination of a bright window plus a grow light works best for indoor edible plants.
Adding a grow light to a window can also benefit the whole room. In a kitchen window you might already have a light fixture above the window; just replace the regular fluorescence bulb with a grow light bulb.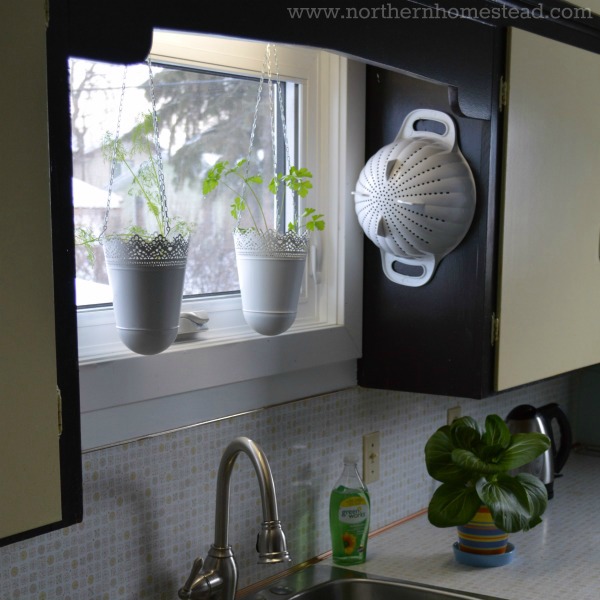 Does it have to be a grow light? Yes and no. Grow lights are suited for plant growth because of the similar color temperature of bright daylight. However, if you want to use a simple fluorescent bulb you can, just make sure that the output of light is at least equivalent to 100 watts. Warm red spectrum is recommended for flowering, and the cool blue spectrum is recommended for vegetative growth. But really, if you are going to burn energy, you might as well get a grow light. For you and the room, it will make no difference, for the plants it will make a huge difference.
The combination of a bright sunny window and additional light for an indoor edible garden is your best choice. The supplemental grow light plus the sun hours will make your indoor growing successful. You can even grow fruit like tomatoes, peppers and cucumbers at a sunny window with an additional grow light for 12 -14 hours.
Make sure to subscribe and follow us on Instagram, Facebook or Pinterest so you do not miss a thing.
More Indoor Gardening Posts You Might Enjoy: