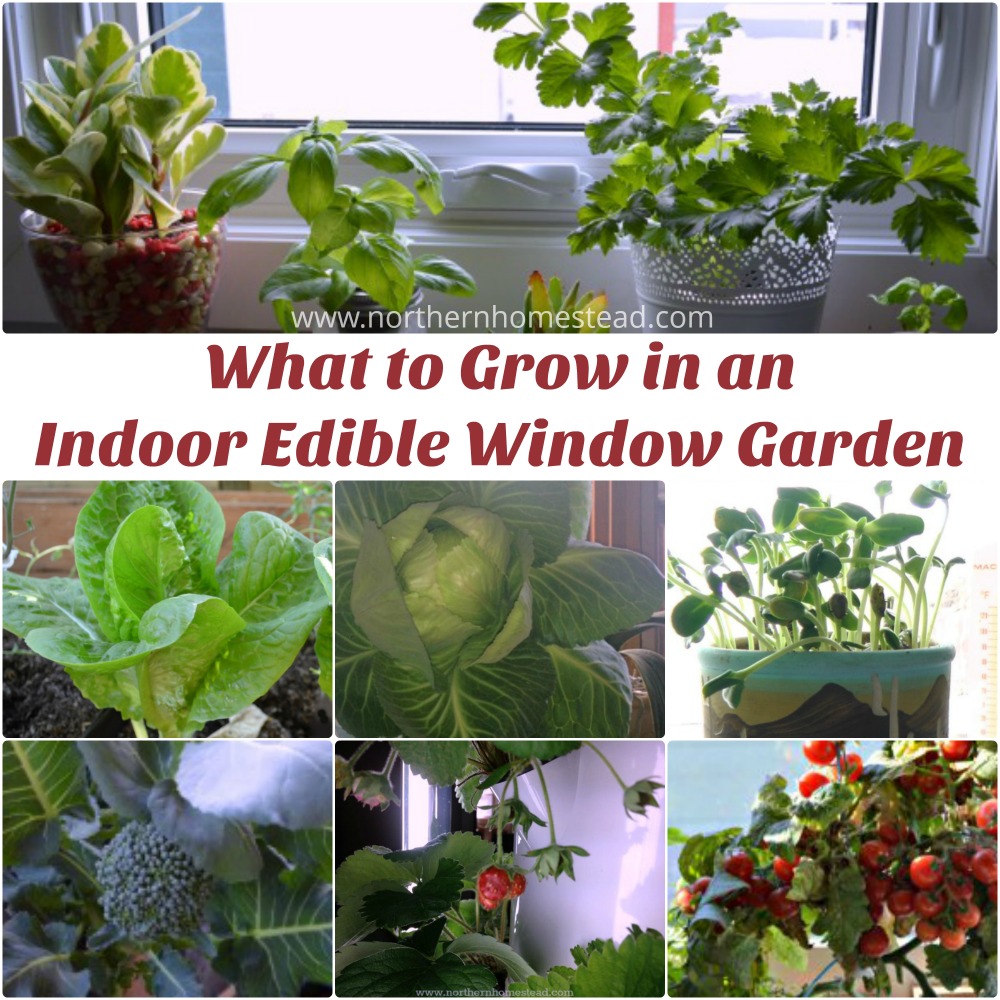 What to grow in an indoor edible garden? That's a great question. The answer depends on two things:
What are the growing conditions?
What do you want to grow?
If your indoor growing conditions are on the cooler side, and the light conditions present a cloudy day, grow leafy greens. With more light, you can grow winter vegetables. For summer crops like tomatoes, you need summer conditions, meaning a warm place with lots of sunshine or high quality grow lights. Follow these links to read more about temperature and light in an indoor garden.
Grow what you want to see growing, or what you want to harvest for food. The possibilities are almost endless.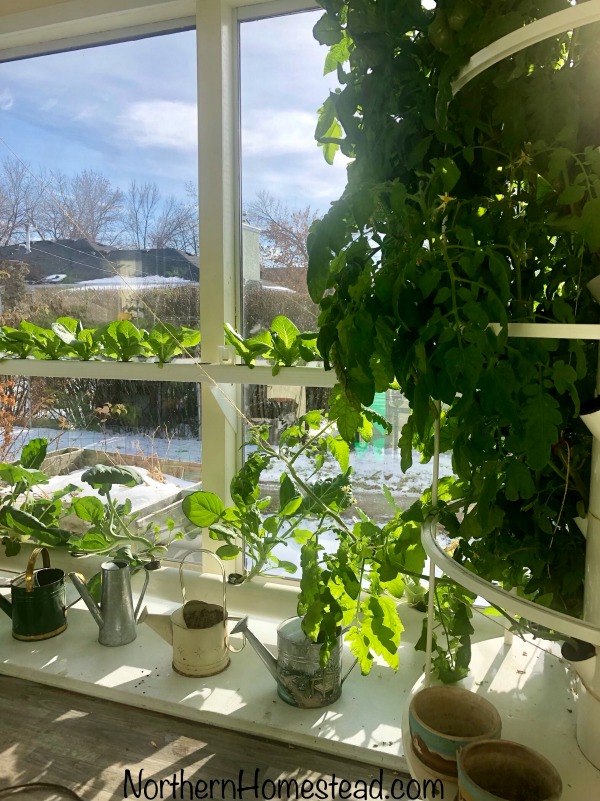 We grow an indoor garden in a room at the back of our garage that we converted into a food production place, as well as indoors at sunny windows.
In this blog post, we share what we have experimented with growing indoors over the years. We are retelling our experience, you can make your own. If something did not do well for us, it might do great for you. Also some years one variety might do great and another not so.
Microgreens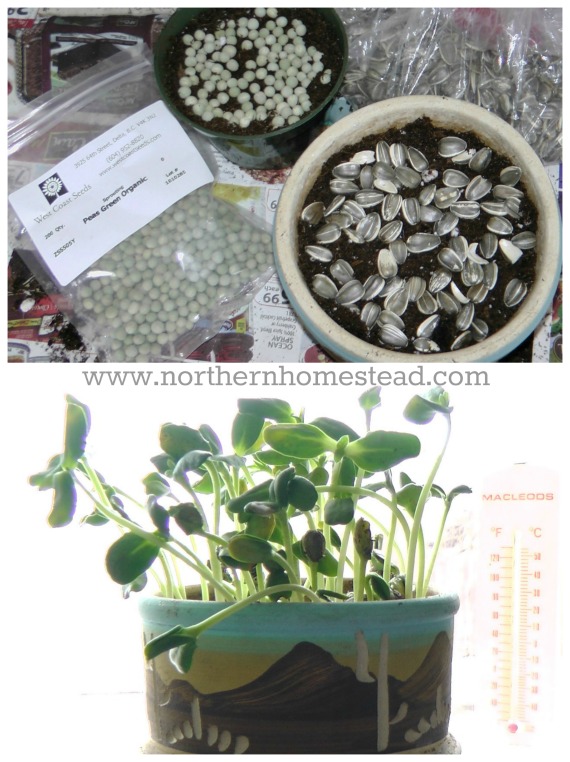 Microgreens are little plants that just have started growing. They do not require much space or light; nevertheless, they are very nutritious and delicious. You can go big or keep it small with just some sunflowers or pea sprouts. If grown in an ornamental pot, they also can look good in a kitchen window.
Microgreens are a great plant to start with if you have very limited space and less than optimal lighting at your windows.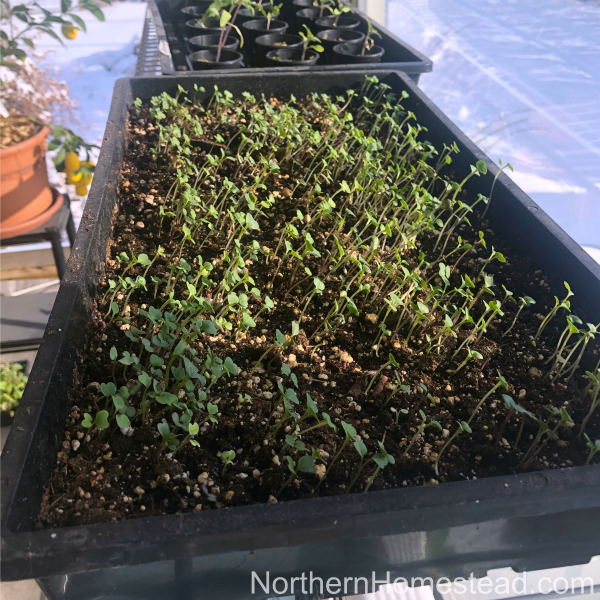 Microgreens do not need good soil. If you have some potting soil left over, no good for anything else, screen it so it is light to work with and grow some microgreens. You will harvest the plants before they will need any nutrition from the soil. Plus you just need about one inch of soil to grow microgreens.
Sunflowers and peas are the most common microgreens. But there are also microgreens mixtures with all kinds of greens that are good and easy to grow.
Plant seeds as dense as you can and cover them. It is good to weigh the seeds down for a few days. I have two pots that I stack one on top of the other. This way the seeds are weighed down. After 3-4 days, they will sprout and will need some light to grow. In 10 – 14 days, they are mature to be enjoyed. Learn more about growing microgreens and baby salad greens here.
Herbs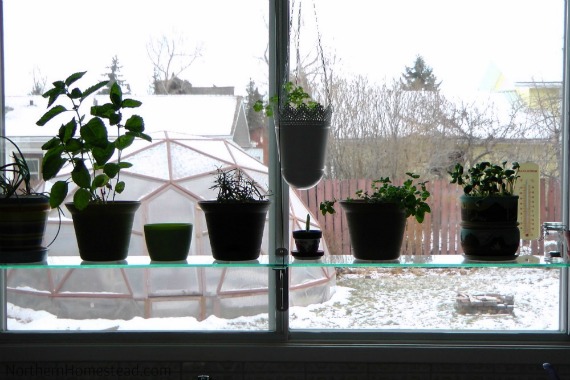 To grow a herb garden right in your kitchen window is so fun and rewarding. We have grown rosemary, cilantro, basil, parsley, dill, celery, stevia, and thyme. I am sure this list is not exhaustive. Try what you like, and it just might be a great herb to grow indoors. Herbs look great on a kitchen window and smell good, too.
Basil is a great herb to grow from cuttings. Just take a cutting to multiply a plant in the fall for a winter indoor plant and the spring again for a summer garden. Whenever a plant gets leggy or old just cut a new cutting and you will have a beautiful plant throughout the year. Learn more about growing basil indoors here.
Also, if you have celery, don't throw away the root end; place it in water and let it grow into a new plant. It will become the most beautiful green plant in your kitchen window.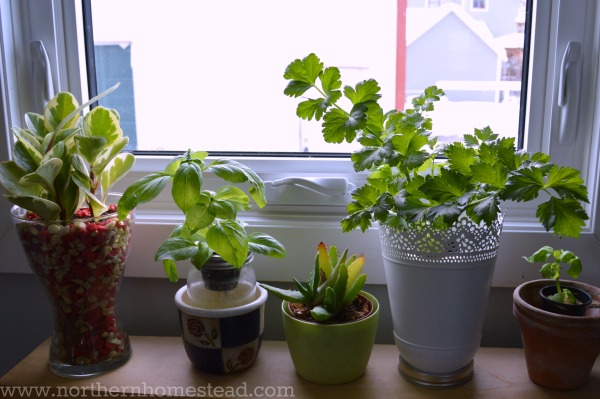 Plant some onions and garlic for indoor greens. They might not produce a bulb but will provide you with fresh greens for months.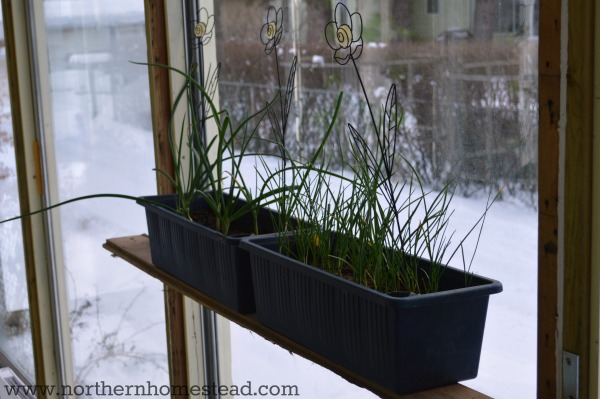 This is also true for scallions bought from a store. If you place them in water, or better, plant them in some good potting soil, they will grow.
Aloe Vera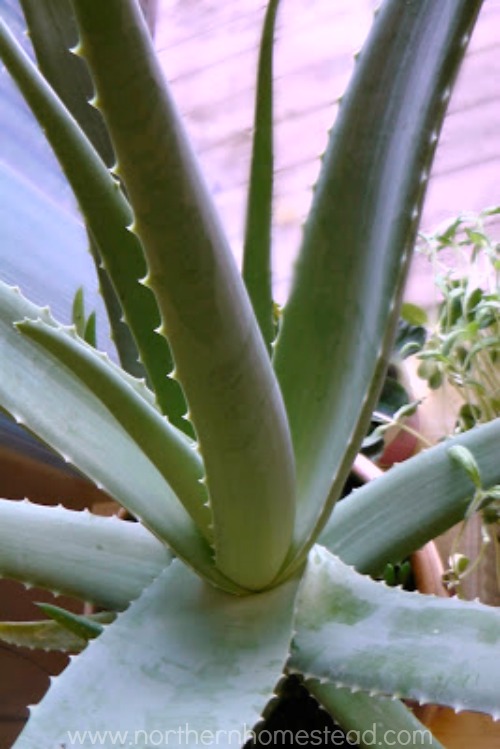 Aloe Vera grows well indoors in pots with good drainage. A sunny window is great; you will not need additional grow lights since the plant can have partial shade.
Just like in its natural environment, Aloe Vera does not like it wet. Water it well (soaking) about once a month, more in the summer or if the location is very warm. Let the soil dry out between waterings.
Use Aloe Vera as a refreshing Aloe Vera – Orange drink. For use, always cut the lowest leaf. It is okay to cut as much as you need at the time until the whole leaf is used up. If the lowest leaf is not big and healthy, remove it and start using the next lowest healthy leaf. After a while, when the stem gets so long that the plant starts to fall over, it needs a transplant. See how to do it here.
Lettuce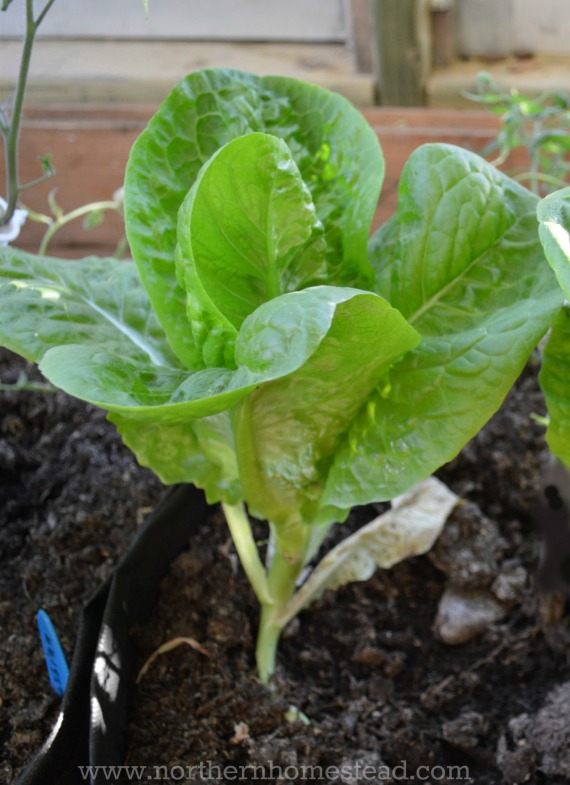 Lettuce is one of the plants we grow the most. We just love our daily freshly-harvested salad. It is quite easy to grow lettuce and here is more information on how.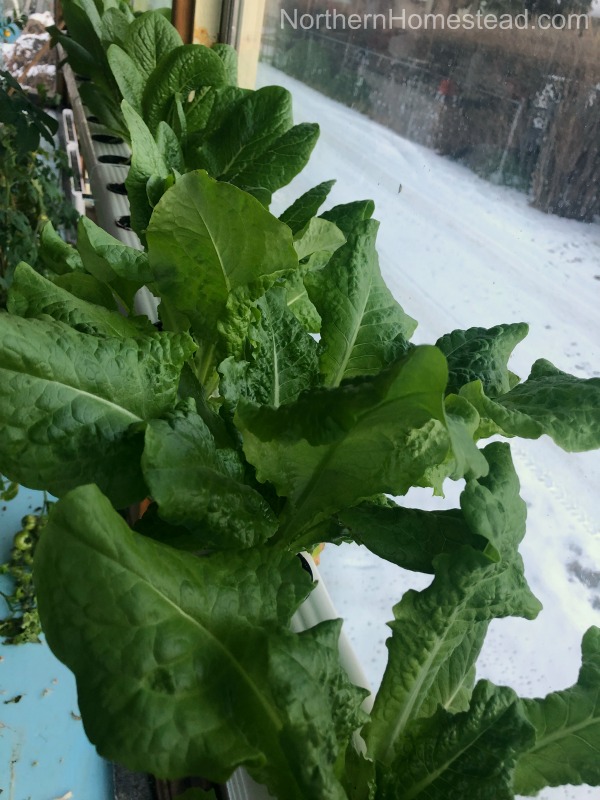 You can grow a lettuce head for each day or harvest the bigger leaves continually. This way you will need fewer plants, to have the needed greens for each day.
Besides all the health benefits of growing your lettuce, there is also a huge satisfaction. Imagine in a snowstorm or during a heatwave still to be able to harvest your fresh lettuce.
Winter greens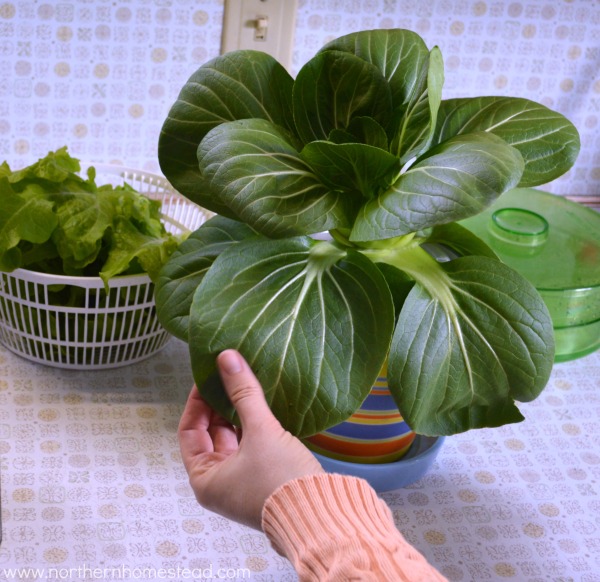 Kale, spinach, bok choy, Swiss chard, arugula… can all be grown indoors all winter long. They are not fussy about temperature. If your garden room is more on the cooler side, grow these winter greens. They are great for morning smoothies and salads.
Strawberries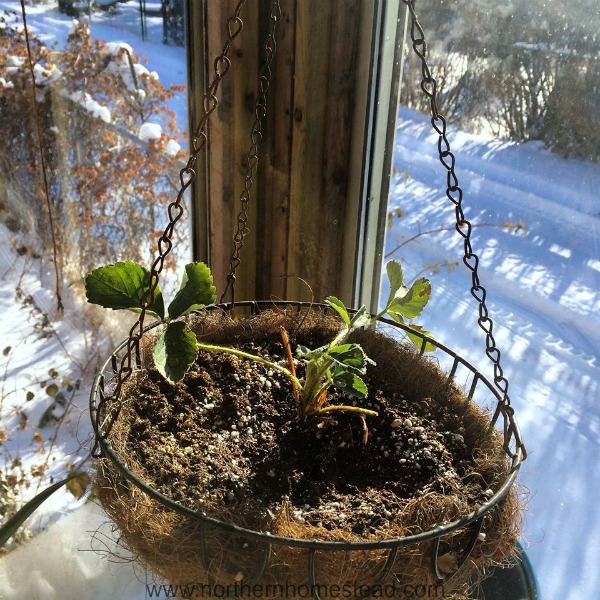 Strawberries theoretically are great for indoor growing. They do not mind a small pot and do not need pollination. The caution is not to bring in any disease or bugs with them (We have done that). We also have not found them to be worth the struggle, so we have since given up on growing strawberries indoors.
Root vegetables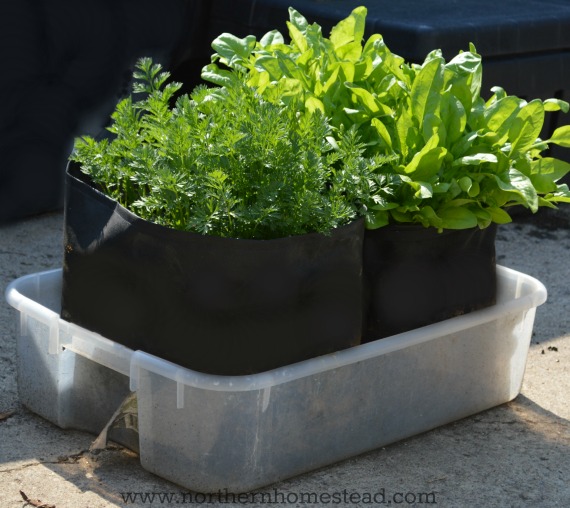 Plant some carrots in late winter so that you can bring them out in early spring when it is still cool outside. It will make them sweeter and ready to harvest in early summer.
Radish is a quick crop, and we have even tried to grow them hydroponically. A fun experiment, but not something we continue doing.
Winter vegetables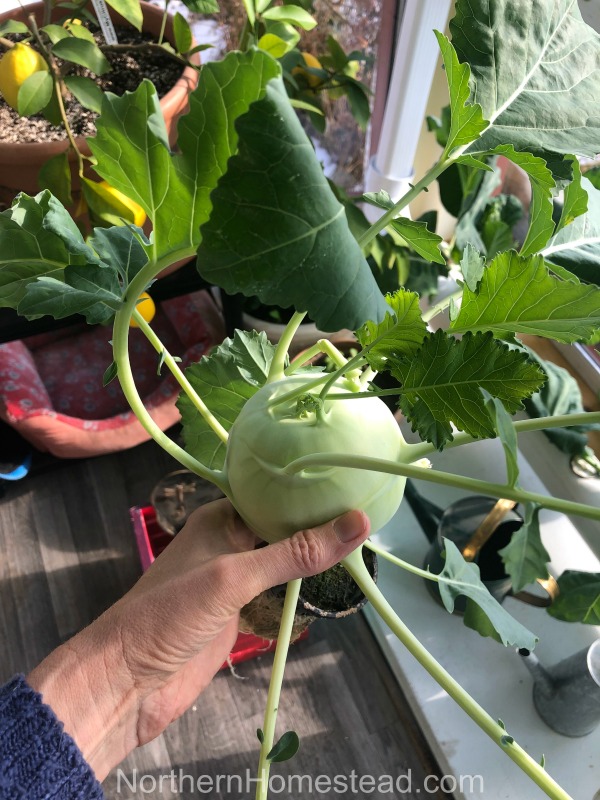 Kohlrabi is our favorite winter vegetable to grow indoors. Konan is a good variety for indoor growing. It's usually a no-fuss plant. We enjoy it raw sliced up like a cucumber, cooked as a substitute for cauliflower, and the greens as collard greens.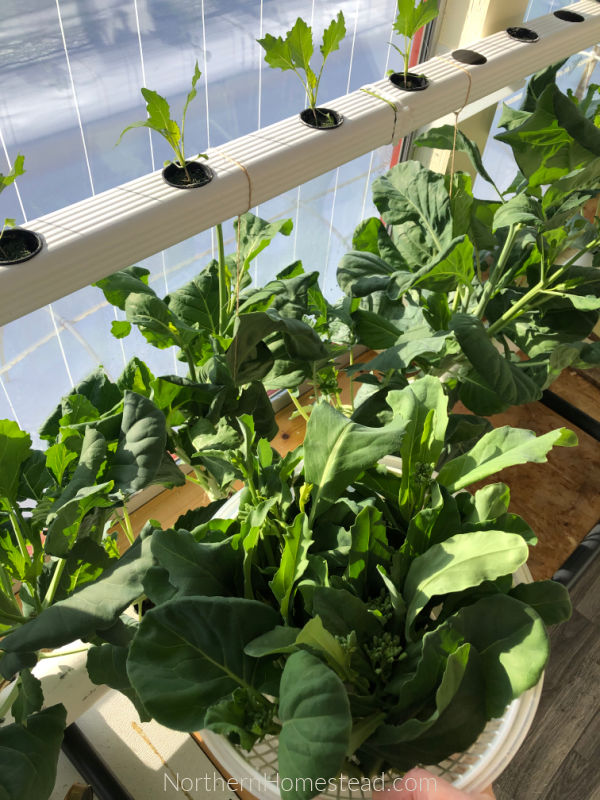 Chinese kale also called Gai Lan is another plant that we love growing. Similar to broccoli rabe, another good choice for indoor gardening.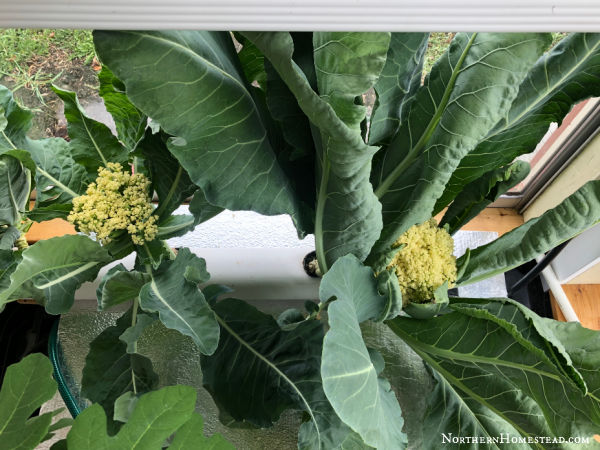 Broccoli, and cauliflower, can also be grown indoors. They do take a long time though even if the package might say 50 days. For example, I started some broccoli plants on December 21 and harvested them on April 9, cauliflower needed about a month longer, and those can become massive plants.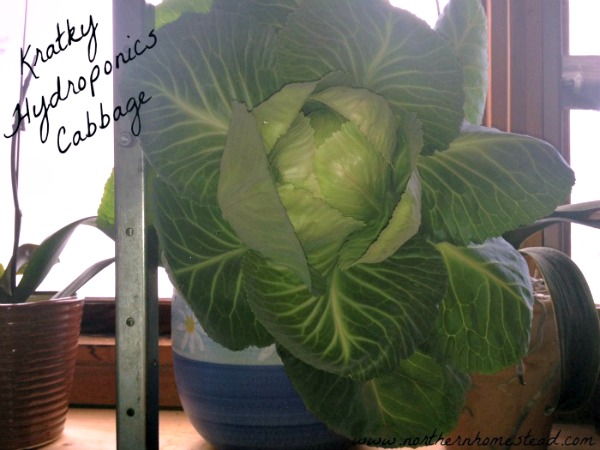 And even cabbage can all be grown indoors, however, to be honest, it's more fun than food. We grew that one the Kratky way.
Summer vegetables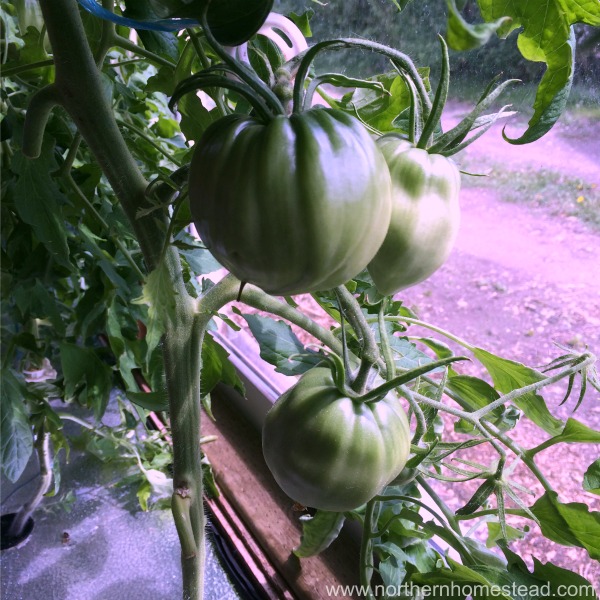 Go big or go home, eh? Yes, you can grow tomatoes, peppers, cucumbers, etc. indoors. A nice sunny kitchen window could already host one plant. To grow summer crops and also get some fruit out of it, you will need a constantly warm spot and lots of natural light.
During the winter months, you might want to supplement the natural light with grow lights. Don't expect too much from your summer crops in the middle of winter. However, even if you just keep them alive to get some more cuttings once the days get longer and warmer, it is still worth it. It will give you an early start in spring.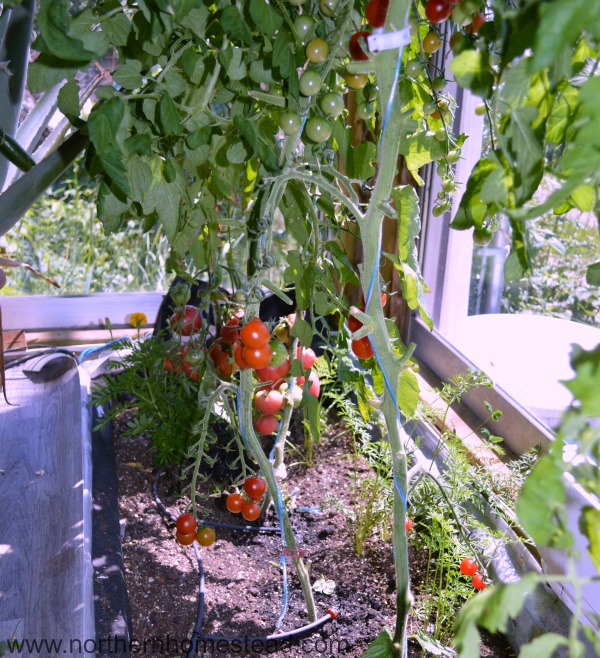 Tomatoes do very well at our big windows all summer long. If we keep them over the winter, they usually keep producing well till about the end of December, after that the fruit gets really small. The plants recover once the daylight hours get longer, but we have not found it to be worth it to keep tomato plants all winter long. See also how to grow tomatoes indoors.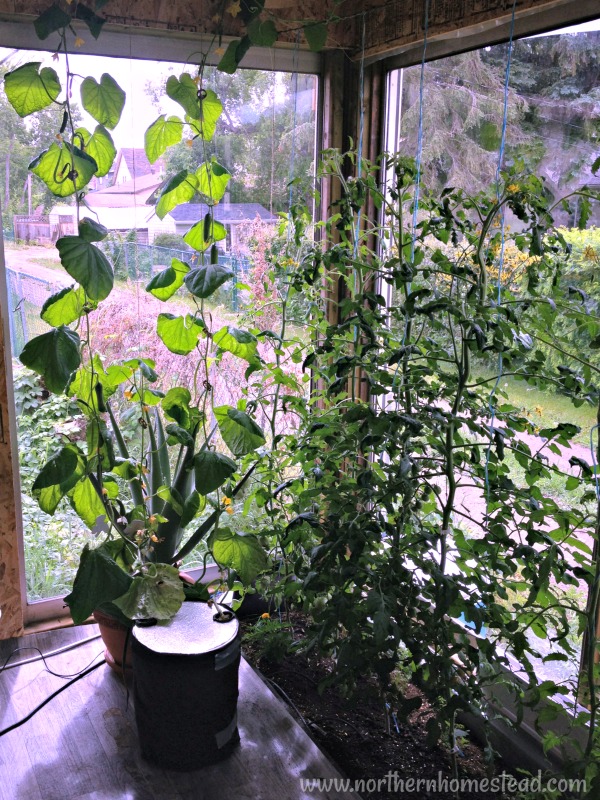 To grow cucumbers indoors, you will need greenhouse varieties that do not need pollination. Look for seeds with all-female flowers for greenhouse growing. Also, cucumbers grow at night; they need temperatures that do not go lower than 50F at any time.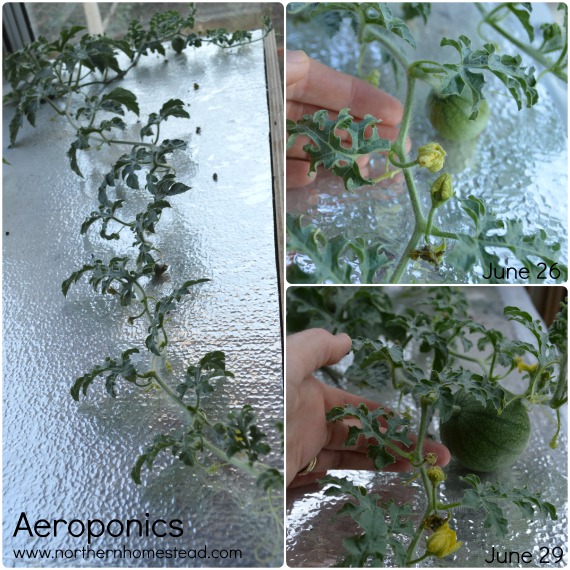 We have even grown a watermelon indoors and harvested one. However, watermelons do better outdoors in the sunshine, plus we are not as good as bees to pollinate the plants. But eh, indoor gardening is also about fun.
Peppers and eggplants are sensitive to bugs; we have not found them to be a good plant for indoor growing.
Okra is another plant that we have given up on. Even in the summer, it did not seem to be warm enough for that heat-loving plant.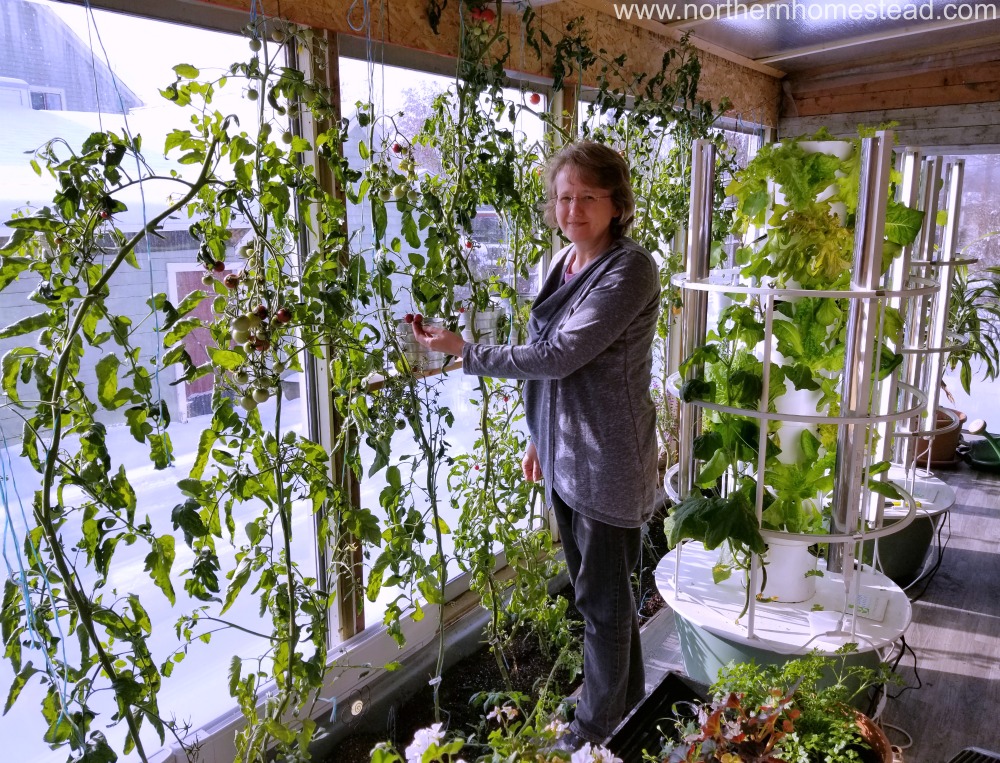 Tropical trees
We also grow Mayer lemons over the winter months and give our fig tree an early start in the window garden room. Follow the links to read more about it. These small trees spend the summer in the geodesic dome greenhouse.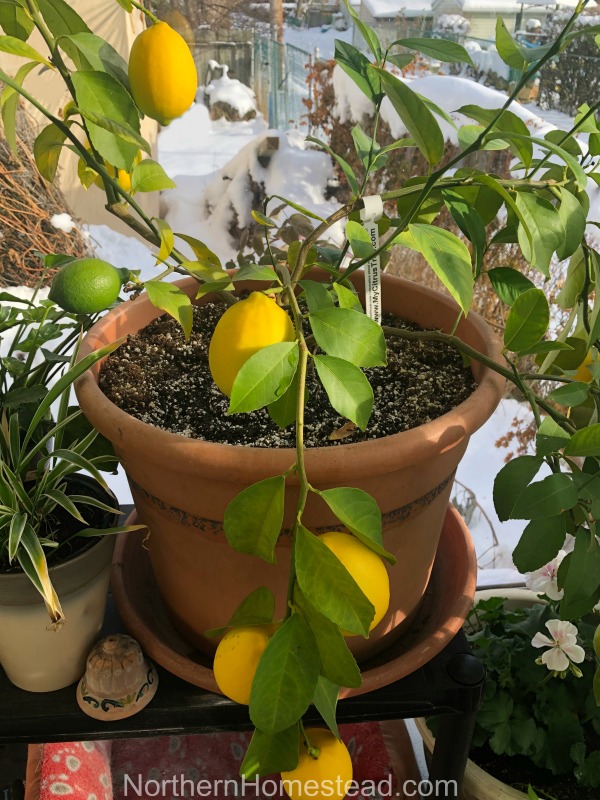 We would love to hear what you have been growing in an indoor edible window garden.
Make sure to subscribe and follow us on Instagram, Facebook, or Pinterest so you do not miss a thing.
More Indoor Gardening Posts You Might Enjoy: