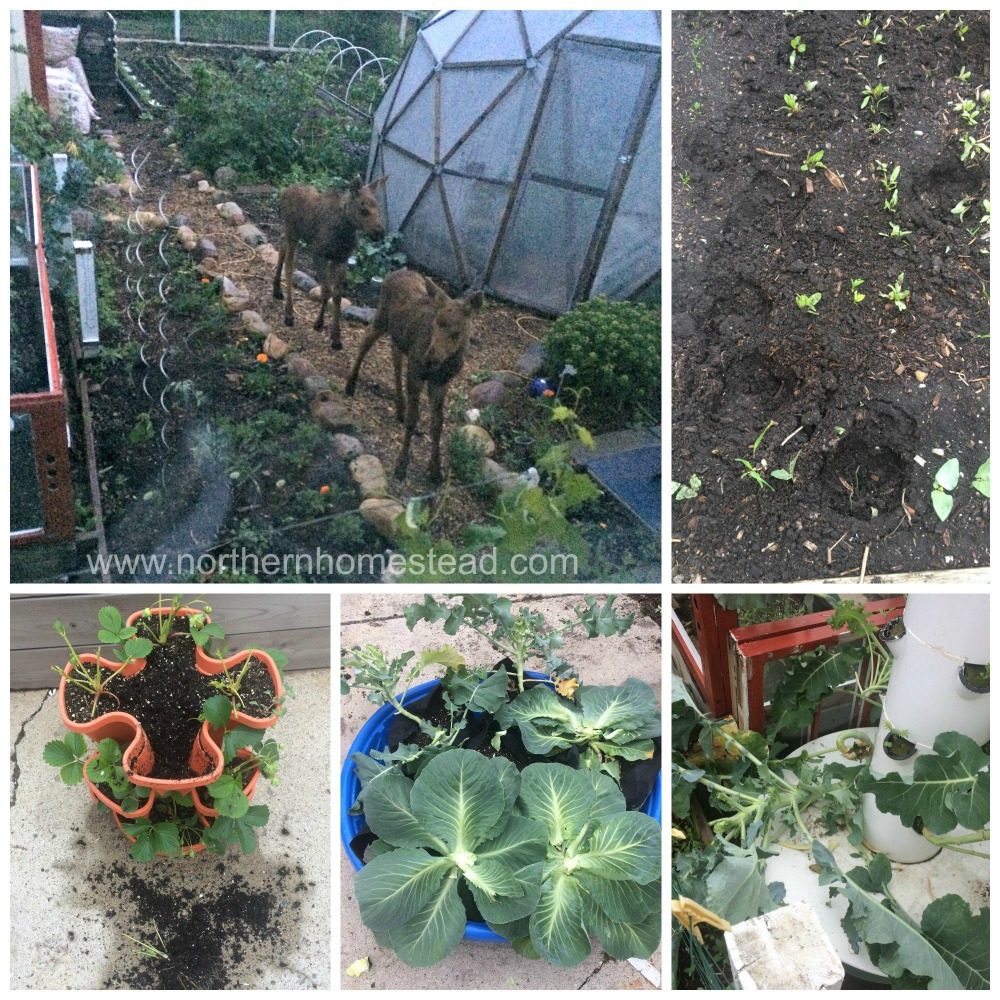 If you live in a rural area gardening and wildlife might have to coexist. We do not garden for wildlife, as some animal lovers suggest, but we also don't garden against animals. We just garden while creatures big and small pass by. Here we share our and some of our readers' experiences and how we protect our garden from wildlife.
Squirrels
Squirrels are one of the cutest guests in our garden. As cute as they are, they can create a lot of damage to the garden. They love our overwintering spinach. It greens long before anything else is growing. To get some fresh greens seems so valuable to them. They also love to get the buds of some plants assuming they are nuts or so, but most of all they love sunflowers.
What do we do to keep peace with the squirrels? We have a garden cat that has been a real blessing. She does create some of her own challenges, but not as much as squirrels do. Our garden cat does not just keep the squirrels out, but we also have fewer problems with birds and no moles.
Gophers and moles
As I said before we do not have any gophers and moles problem in our home garden but we do have a mole challenge in our community garden. Since it is not our garden, we do not do anything against the moles at the community garden, except planting a little bit more, so there is enough for all of us.
If it would be a problem in our home garden, we would lay a mesh, chain link fence, or chicken wire under the garden beds, as we did in our raised bed. The product should depend on what you want to keep out from your garden. It is an easy but very effective way to keep the garden free from anything that can come from underneath.
Deer and moose
Deer and moose are frequent visitors to our small town and also to the community garden. Thankfully they do not care for all garden crops alike. Plants from the nightshade family (like potatoes and tomatoes), onion family plants, beans, and cucurbits family plants (like squash, zucchini, and cucumber) do not seem to be the favorites on their menu plan. We can grow all this in the open fields with little to no loss to predators.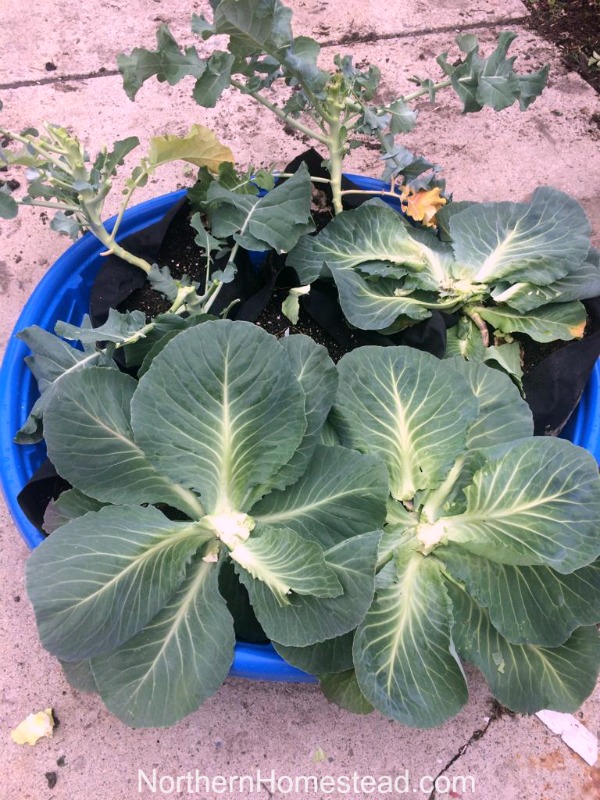 Cabbage family plants seem to be the big love for moose. Honestly, if we had not seen the moose in our garden we would have thought someone had cut off the cabbage heads with a knife. To grow them in a moose area they do need to be covered. We find that covering the crops they particularly like is easy.
A fence will keep moose out to some extent. If they are just browsing the streets, we find that they do pass our garden, even though there are so many delicatessens growing for them. Moose has a very poor vision, and if the fence separates them and they are not desperate, they will move on. But they will also come in over the fence or hedge if for some reason they do want to come in.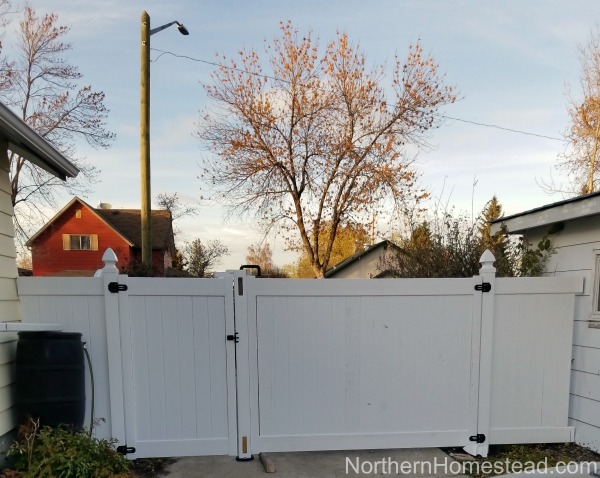 For our home garden we do have a fence and also added a gate to keep deer and moose at least to some extent out. However, it is not a moose-proof fence.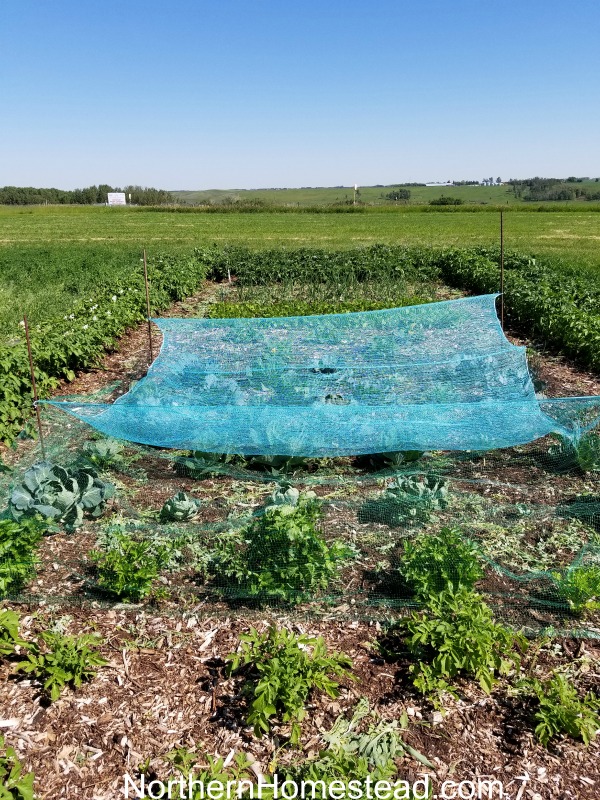 Netting seems to work best for deer and moose. Either put over the plants as we did in the picture above or around the garden as a loose fence. The key is that the netting has to be somehow loose. For some reason, animals do not like jump netting, even though they could just as they do other fences. Here is a great video showing how it works.
We tried the loose netting in our field garden, you can read a whole update here.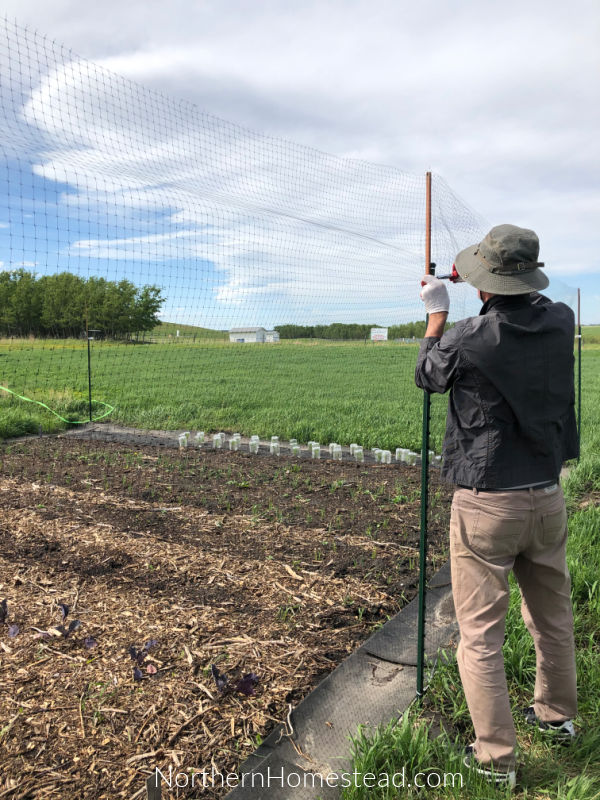 Since the garden is away from home we do not know for sure if no one ever jumped it. The bigger challenge was the wind. The netting did get torn a couple of times. In a more permanent home garden situation we would recommend a real fence or if using netting in a windy area use a stronger version.
Speaking about a fence, one of our favorite YouTube channels is covering the subject very well in a Garden fence playlist. The garden they have is in Ontario, Canada, and they deal with many creatures big and small. Check them out.
One of our reader's shares: We build an 80 x 80 square enclosed area with 6×6 posts, cemented in 3' deep with 8' Elk fencing. Had it for 9 years and never had a problem. Anything outside the fence definitely gets "Moose Pruned".
Another reader shares: I have a 5′ fence around the perimeter and hang Irish Spring on the fence in a few places in onion bulb mesh bags. Haven't had a moose or deer lately.
And one more: I have very good electric fencing; a moose will go right through them.
Bears
Bears don't usually come out into our town, so we have no personal experiences with them. Last summer though we visited a homestead in the Creston area in the mountains where our hosts were telling us that they do have to harvest fruit from their trees before they fully ripen, otherwise it does attract bears to their property. I can only imagine how much bears would love all the yummy berries we grow.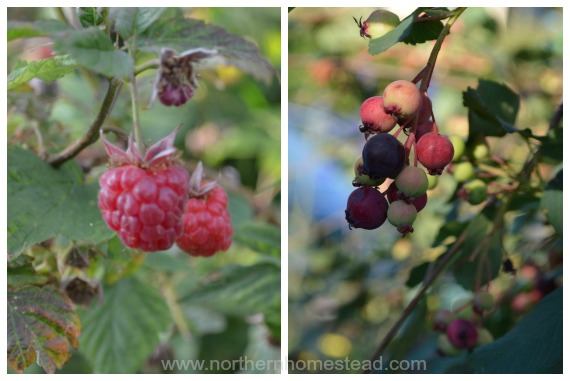 One of our readers shares: Grizzlies? Keep anything that might attract them picked up. Fences won't stop a determined grizzly or mountain lion. The best you can achieve is to make them decide that it's more work than it's worth to get at what is inside your fence
Please share in a comment below your experience with gardening and wildlife. What are your best tips on how to coexist with wildlife and still grow a successful garden?
If you like this post don't forget to subscribe to Northern Homestead and follow us on Instagram, Facebook, or Pinterest for the latest updates.
More Gardening Posts You Might Enjoy: