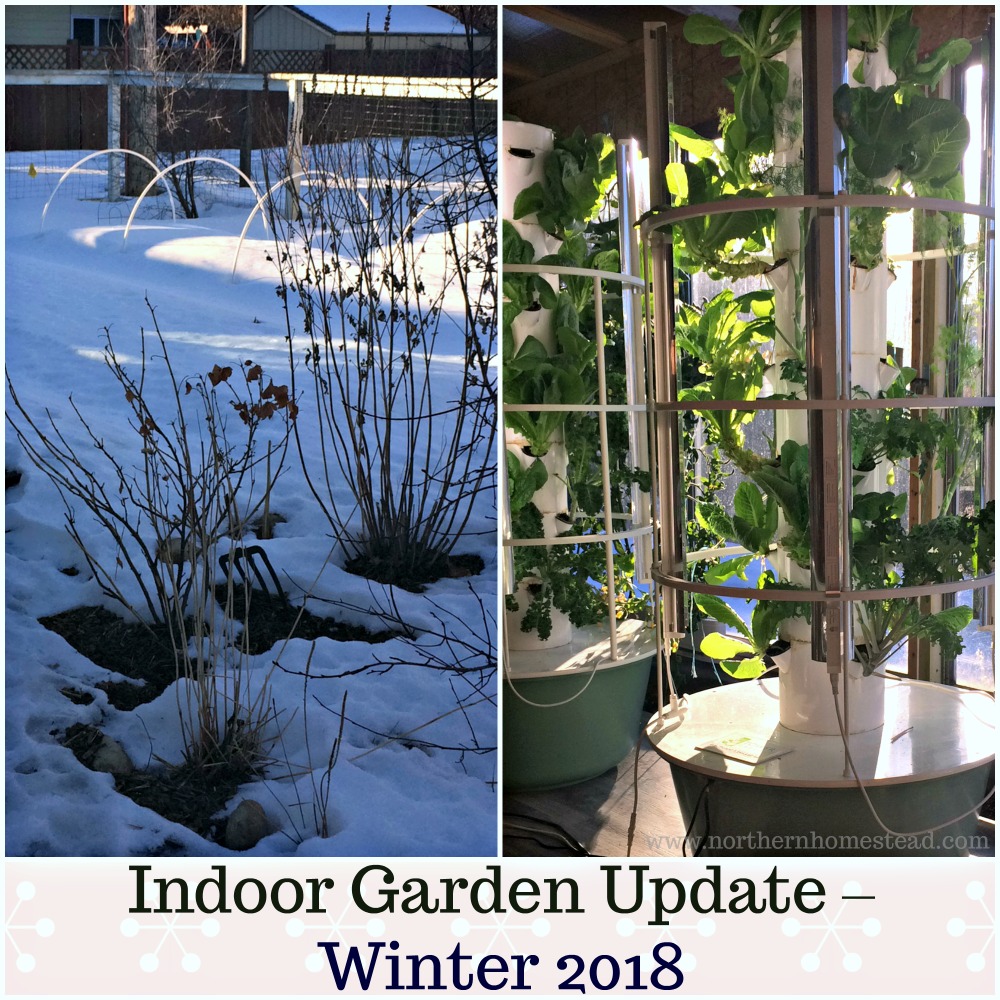 Welcome to Northern Homestead Indoor Garden Update – Winter 2018 on video. The outdoor garden is covered in snow and temperatures are well into freezing. But in our food production garage things are growing well. Enjoy the tour!
If you have trouble to see the video, go here.
Growing hydroponically versus growing in sol
An indoor garden is not a natural environment for a garden. Nevertheless, we are very happy to be able to grow a garden year round even though it is not all that natural. Still, it is a way better option than buying fresh produce in the winter from a store. We find that indoors hydroponic performs better than soil. Growing in water is a clean and easy way to grow food. It actually is even cheaper, unless you have a way of building new quality soil for free which we don't.
For hydroponics, we use the products from General Hydroponics.
We prefer dry concentrated nutrients. General Hydroponics MaxiGro for Gardening is all you need to grow all kinds of greens and herbs.
General Hydroponics Flora Grow, Bloom, Micro Combo Fertilizer set is a liquid nutrient solution for all stages of growth if you prefer a liquid fertilizer. General Hydroponics Ph Control Kit helps you to keep the PH at 5.5-6.5.
Taking care of moisture in the grow room
A new thing that we added this winter is a dehumidifier. Plants and temperature fluctuations produce lots of moisture. Adding a dehumidifier has made a difference. We use the water for watering plants, so it becomes a cycle.
Heating the growing room
Last year we showed you a reality video during a very cold period what the growing room looks like. You can see it here. This year we upgraded the electric circuit in the garage to 220V which allows the Electric Baseboard Heaters to run on full power. They are set on 13C and I have yet to find them being hot. I'm sure they are heating during the night, but during the day they are always cold. So for that, it is a great and easy solution. As you see in the video we still grow tomatoes, summer plants, and also cucumbers.
What edible plants are you growing indoors? Please share in the comment below. We would love to hear it.
We invite you to subscribe to Northern Homestead and follow us on Facebook or Pinterest so you don't miss a thing.
Grow an indoor edible garden
Start growing food for your table in depth of winter. Take a look at all the posts we already shared about growing food indoors.