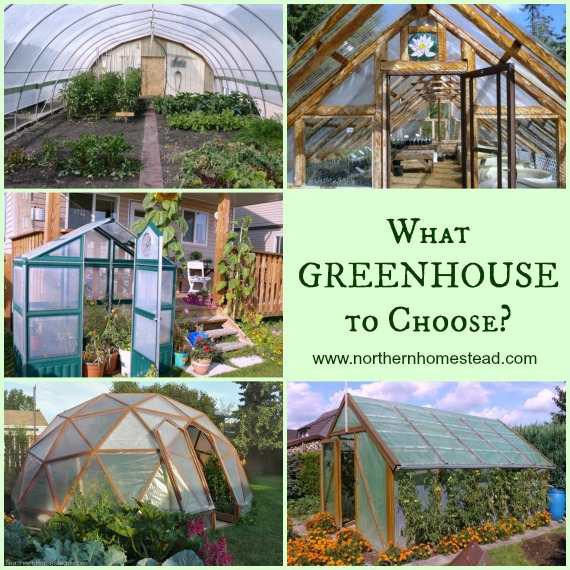 Have you been wanting a greenhouse for a while, just did not know what greenhouse to choose? There is so much creativity when it comes to greenhouse shapes and structures. The ideas are almost endless. Just when we think we have seen it all, a new and unique greenhouse comes up. With all those design varieties and different names for those designs making a choice can be a daunting task.
After many years of greenhouse gardening experiences, here is our take on that question.
What is the greenhouse for?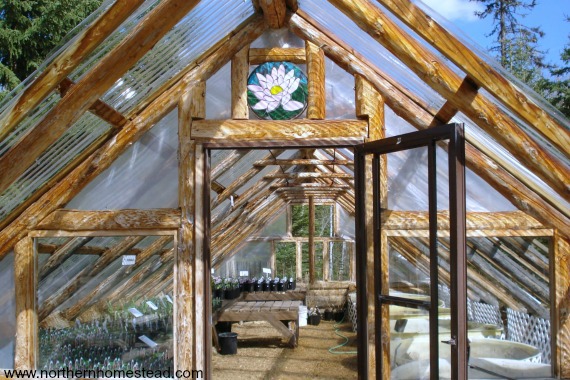 There are many reasons why one would want to have a greenhouse. Think about everything you want from a greenhouse.
Do you want –
– To start seeds in spring, or grow a greenhouse garden?
– Grow small or tall plants?
– To extend the season, or to grow year-round?
– To grow annual plants or perennials?
– A long season for your summer heat-loving plants or a place to grow winter greens?
– To spend some time in the greenhouse, having a hang-out place?
– Do you want it to be just functional, or also a decorative element?
The list can go on. Knowing what the greenhouse is for, helps us to know what greenhouse to choose. Different greenhouses in shape and structure have different functions.
Cost is another factor that often gets overlooked. If you only want to start your seedlings in a structure that costs several thousand dollars, buying your seedlings in a commercial greenhouse could really be more cost-effective. On the other hand, choosing the lowest cost option and expecting multiple functionalities can end up in disappointment and frustration. There always needs to be a balance, and with some planning, you can find the perfect greenhouse for you.
What are the climatic conditions?
Your particular climate conditions are important factors.
Consider how much wind you get and what is the prevailing wind direction. In a windy area, a greenhouse might be best kept low to the ground with a flat roof, or a geodesic dome where the wind can go around.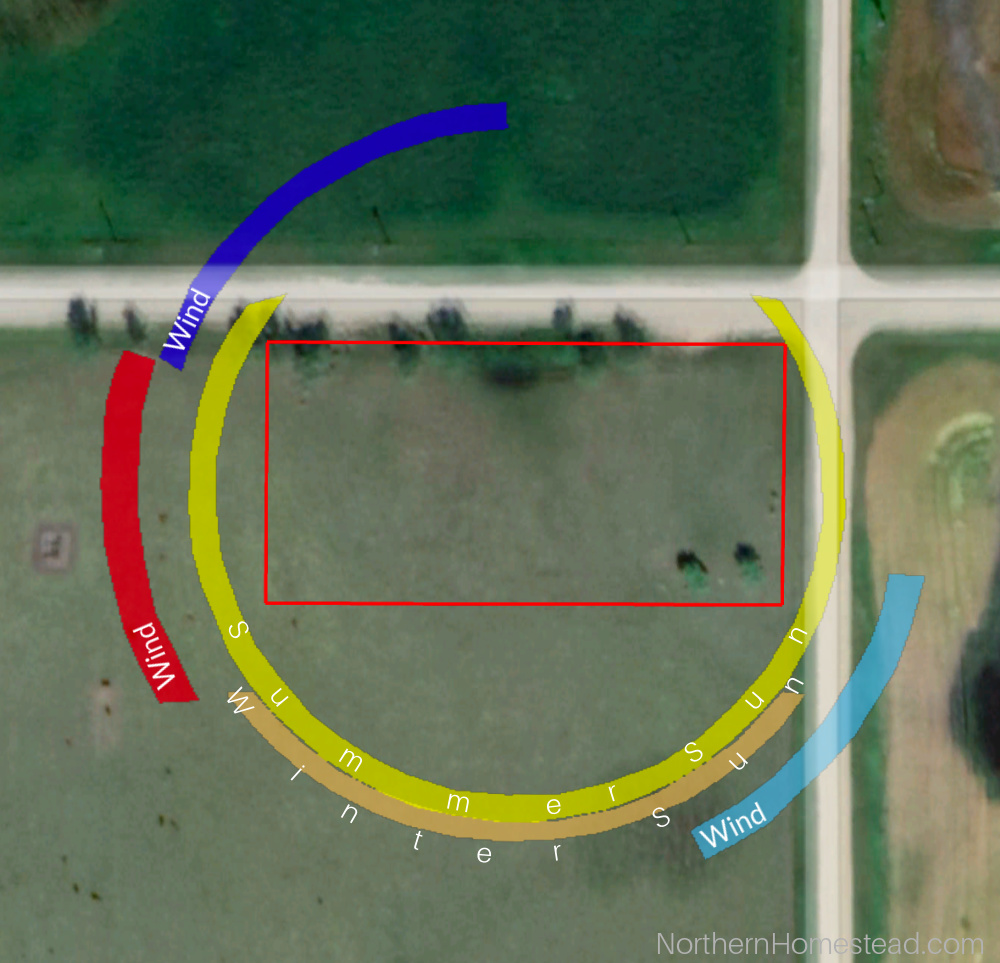 What is your sun angle? A greenhouse can lose a lot of sunshine by simply not being built to the sun's conditions. In a northern location, the winter sun comes directly from the south, any glazing from anywhere else would only lose heat. The summer sun has a wide circle, and to have glazing only from the south would miss out on many hours of sunlight.
What temperature difference are you looking to achieve? A greenhouse in a tempered climate will be very different from the one that needs to endure -40 degrees.
What snow load does the structure have to hold? The structure can be built in a way that snow easily slides off. If possible you do not want to have to worry about cleaning the greenhouse top each time it snows.
Now let us compare some of the common greenhouses we know and have some experiences with.
Store-bought greenhouse kits
Aluminum or plastic frame greenhouses are available in different sizes and shapes in many different stores. We got our first one from Canadian Tire on an end-of-season special sale.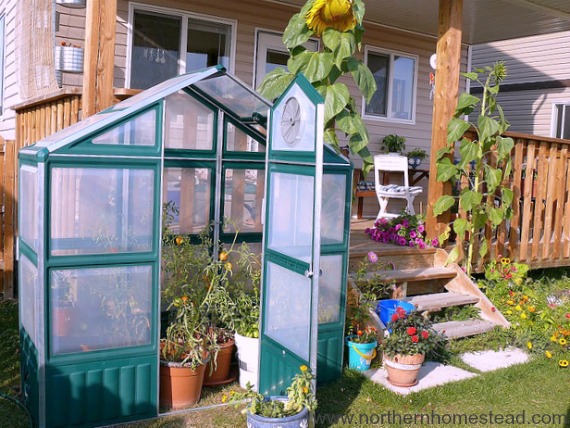 Pros:
It is usually very easy to assemble and you can start growing right away
Looks neat and there are different sizes to choose from depending on one's needs
Special sales are available
Good for hardening off seedlings and sheltering some container plants
Re-sell easily (at least this is our experience)
Cons:
Stability might be a problem, it is helpful to read reviews
Not suitable for windy locations
Might not give you as much frost protection as you are hoping for
Smaller sizes have a temperature control problem
Bigger ones are often very expensive (look for specials)
Hoop house
Simple hoop house greenhouses are probably the most known ones. They come in different sizes and shapes. The Gothic arch style seems to work better for areas with heavy snow loads, the snow can slide down more easily.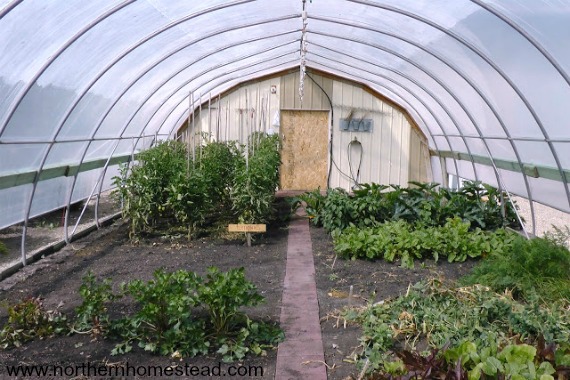 Pros
Easy and inexpensive to build
Can be built into small or really big sizes
It is quite simple to get good ventilation by simply rolling up the sites
Simple to arrange plants
Cons
Hoop houses tend not to withstand winter storms very well
In the case of hail damage, the whole plastic cover will need repair
A round hoop will not withstand heavy snow loads, snow shoveling off of the hoop house might be needed
Wooden frame greenhouse
This is usually a more permanent and stable building. It might be where the greenhouse got its name from, a house for growing. Historic greenhouses were built that way.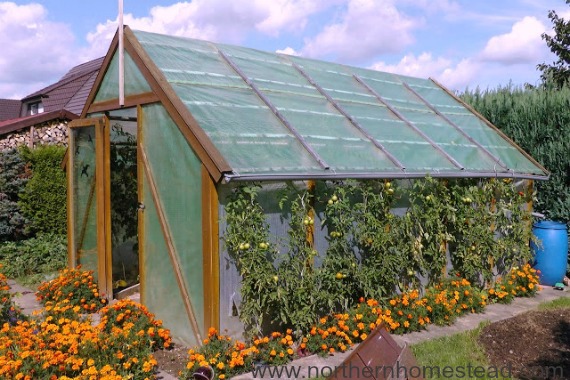 Pros
Lasting structure
Can look very nice, depending on how well the job was done
Easy to organize plants
Cons
Can be expensive
It will need a foundation
Might need a building permit
Might need snow removal from the roof
GeoDome Greenhouse
A geodesic dome greenhouse is what we have been using for many years now. We love the greenhouse for summer growing, being able to use the summer sun to the full. It allows us to extend the growing season and grow heat-loving plants that we would not be able to without the greenhouse. See also Growing a Greenhouse Garden, How to Build a GeoDome Greenhouse, and Version 2.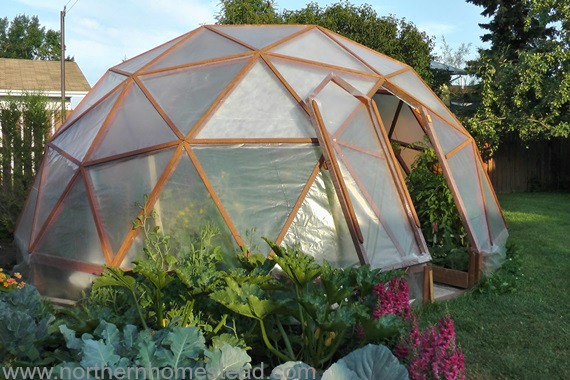 Pros
Very unique, lightweight structure
Stable in wind and snow
Optimal sunlight penetration
Has the most growing ground space
A unique hang-out place
Gets all the summer sun
An eye-catcher
Cons
Passive Solar Greenhouse
A solar greenhouse is a greenhouse with an insulated back wall for winter protection and a glassed roof and or front wall for light. The designs vary, on this high-tech greenhouse.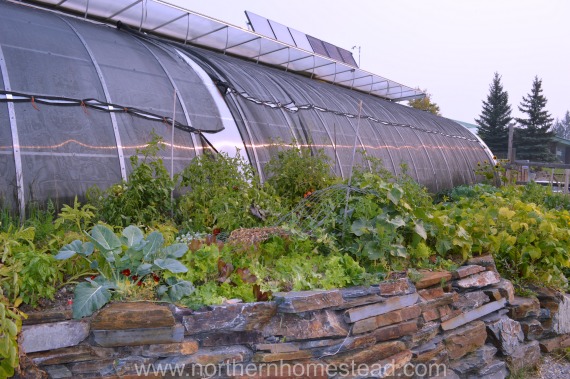 Pros
Has the best thermal performance
Is amazing for extending the growing season and spring seedlings starting
Offers great possibilities for combining growing food with other activities such as education, a kitchen for produce processing, or just a hang-out place.
Cons
Expensive to build
Has limited sunlight in the summer, especially notable in the northern hemisphere. Speaking from our experience with the Garage Greenhouse, it is great for growing in spring and fall, but not so much for summer and winter.
A Chinese-style passive solar greenhouse
A Chinese-style passive solar greenhouse is also a very interesting greenhouse. This particular greenhouse is located in our area, and the performance is amazing. These structures are built primarily for winter growing. The pros and cones would be similar to a passive solar greenhouse.
Walipini
A walipini is a greenhouse that is partly or totally underground. Its performance is similar to the passive solar greenhouse with lower cost and more protection through the earth. The structures vary greatly. In a northern climate consider the sun angle. A walipini might not be a good choice if the sun never reaches it. The video we added comes from a family that is building a new walipini including all they learned from the first one.
There are many other greenhouse structures: Portable Greenhouses, lean-on greenhouses, and movable greenhouses (read more about them in The Winter Harvest Handbook
).
We invite you to subscribe to Northern Homestead and follow us on Instagram, Facebook, or Pinterest for the latest updates.
More posts you might enjoy