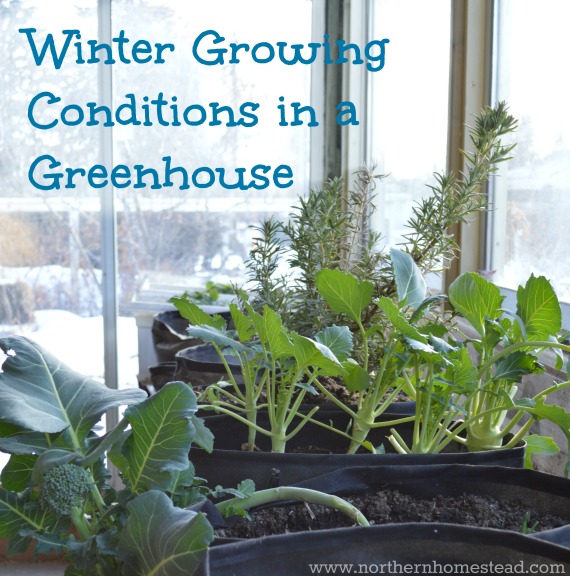 For years I was sure that winter is a time when a gardener dreams about the garden, enjoys seed catalogs and patiently waits for spring. But does it has to be so? What are the conditions for winter growing? Can we do it in a home greenhouse or grow room? What are the winter growing conditions in a greenhouse?
Winter gardening is gaining more and more popularity. Why only have the fresh garden products in the summer if you could harvest garden goodies all winter long?! New and not so new exciting ways are being developed from cold frames to heated greenhouses to do just that.
Winter growing VS winter harvesting
Winter growing is not the same as winter harvesting. Winter harvesting is if a hardy plant is planted early enough in late summer/fall to mature before winter conditions set in. The plant is then protected from the harshness of the elements and goes into a dormant stage. There is no growing but also no maturing any longer. It is like a living refrigerator, keeping hardy greens and root vegetables fresh for months. This is an amazing discovery that winter gardeners use.
However, winter harvesting has its limitations:
Plants need to be mature before winter sets in. In short growing seasons like ours, this is almost impossible to achieve, except if there is a dedicated area for winter growing. For the most part, growing a summer garden and a winter garden right afterward will not leave enough time for plants to mature even in a greenhouse.
Temperatures below -18C (0F) can soon become too cold. There is no way to keep the harvesting going at -40C without added heat.
Using a well-insulated greenhouse just for winter harvesting would result in very expensive produce.
Winter growing, on the other hand, is continuous growth even during the winter months. Winter growing can be achieved with cold frames and hoop houses in warmer regions, and with added protection and heat in colder areas. Winter growing is most common in commercial greenhouses, allowing us to enjoy tomatoes even in the cold of the winter. There are several conditions that need to be met to be able to grow in the winter.
The Story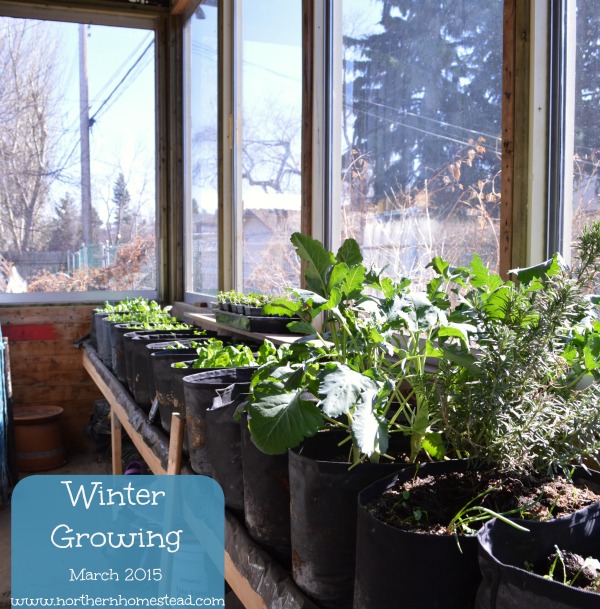 If you follow our blog, you would know that we are trying to get into winter growing / harvesting (yes, we are in Zone 3). In our January garden update, we showed you a picture comparison of some plants in our home garage-greenhouse. In two months there was no growth worth talking about. I wrote: "No, it was not too cold for these plants to grow, it was too dark!"
We are at 51 parallel north, just north of Calgary Alberta. From October 28 till February 14 our daylight is less than 10 hours.
Shortly after I wrote this article (in early February) a local commercial greenhouse Shirleys Greenhouse posted a picture of their freshly harvested cucumbers. Wow! They do not use any grow lights (I knew that), so how come cucumbers grow for them? I had to find out, and I got permission to share it with you.
Me: "My question is about the light in the greenhouse. There are these "below 10 hour days" from October 28 till February 14 in our area. I learned and also can see in our greenhouse that things can't be grown in this darker period. BUT YOU DO! You know a lot more about greenhouses than we do, could you explain it to us? I fear that we are sharing wrong information."

Shirleys Greenhouses: "We buy our plants in at the beginning of January. Anything we seed ourselves grow really slow. Production is extremely slow during these months. A long English cuke in the summer is 10 days till picking from a flower. In the winter it is 3 weeks. We also keep our climate at perfect temperatures and water perfectly according to sunlight. Those two factors aren't as perfect in home greenhouses. Our Greenhouse runs a constant temperature of 17C (62F) at night and 26C (79F) during the day. We also add co2 and monitor it. Sunshine just makes the plants grow and cloudy they stand still."
This is very helpful information! Let's take a closer look.
Winter light conditions in a greenhouse
Plants do need light to grow, the bright sun (in our area annual average of 2396 hours, spread over 333 days) makes what Shirleys Greenhouses does possible. In town, we get the same sun hours, but because the angle of the sun is so low, we do not get all the sunbeams. Often the much-needed winter sun is behind neighboring buildings and trees. The "below 10-hour days" for us are more noticeable.
The length, or better, shortage of daylight slows the plants' growth down significantly. So much so that we did not notice much growth at all. But there is more.
Winter temperature conditions in a greenhouse
Plants also need warm temperatures to grow. What these temperatures are, growers have different opinions. Some suggest optimal daytime: 10C (50°F) to 21C (70°F) and nighttime: 8C (45°F) to 12C (55° F) for cool-season crops. It looks like the closer you get to these optimal growing temperatures, the better your plants will grow.
The Four Season Farm has seen some growth in winter crops in a cool house with temperatures set at 1.5C (35F). (Winter Harvest Handbook, page 67). Our home greenhouse /sunroom is cold, too. Some nights are even colder than that. The temperature did play a role in our lack of growth. The Four Season Farm is also much farther south of us (in Maine), with more sun hours, it seems to be possible.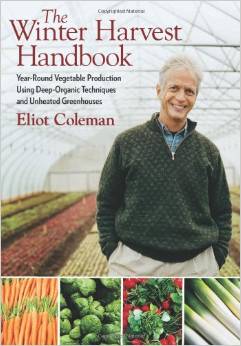 Winter watering conditions in a greenhouse
In our first year of winter growing, we really struggled with watering, let alone 'water perfectly according to sunlight'. Plants tolerate frost much better when they are watered. See Plant protection from frost.
Another challenge with watering is growing in soil and as we did, growing in Grow Bags. Our sunny and cold winters tend to be very dry, a challenge that other hobby indoor growers have here as well.
Many commercial greenhouses grow hydroponically. Shirleys Greenhouse also is a hydroponic greenhouse. Growing in water instead of soil makes it easy to "water" perfectly. What it simply means is how often the water circulates the hydroponic system.
Winter carbon dioxide (CO2) conditions in a greenhouse
Carbon dioxide (CO2) and light are needed for plant growth. Closed greenhouses often have too little carbon dioxide during the day to effectively utilize available light. Therefore, plants grow poorly when air vents are closed. By enriching the atmosphere with CO2, plant growth can be accelerated. Read more at EnviroCept. In our home greenhouse, we did not monitor nor regulate CO2, we simply do not grow as many plants to make this step important. However, in a very small, poorly ventilated greenhouse this is something to think about.
Conclusion and solutions
Light, temperature, moisture, and possibly air quality need to be improved in order for us to be able to grow during the winter months.
The dark days (in our area from October 28 till February 14) were the most challenging. At the end of February, things started looking up in the greenhouse. To have a greenhouse growing break for those days would not be all that bad. We still could grow two crops, a late summer/fall crop and a very early spring/summer crop. To add grow lights however would allow us to grow greens year-round.
We also need a more reliable heat source. The temperature does not have to be very high, but a constant just around freezing temperature is too cold. Plus it is not just the air temperature that counts, it is also the soil/water temperature. Growing in grow bags has led our soil to be very cold, and at times frozen.
To be able to adjust the watering in the greenhouse we would need a watering system, or even better grow hydroponically. The hydroponic system has another advantage in that plants grow quicker in water than they do in soil. Plus we could heat up the water with a simple aquarium heater, so the roots would have a more suitable environment for growth.

Our goal is to be able to grow fresh salad greens even in the depths of winter. To be able to do that we are starting the aeroponic Tower Garden adventure. One Tower only uses about 6 square feet for 28 growing pots and is well suited for indoor growing (In the house or a greenhouse). By using grow lights we are not so dependent on sunlight. Moisture should not be a problem by using water instead of soil.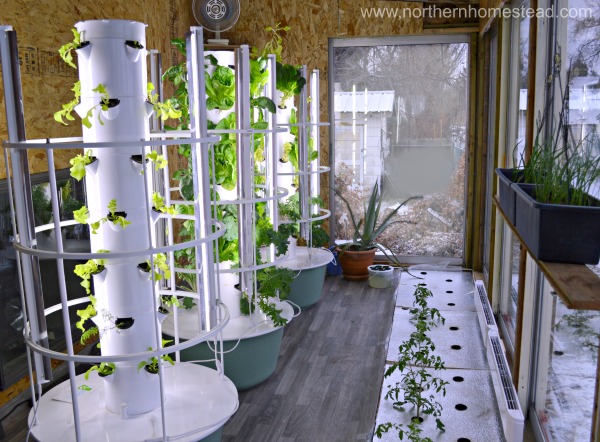 Here is a picture update from our greenhouse almost two years later where we implemented what we had learned. See also Growing an Indoor Edible Garden.

We invite you to subscribe to Northern Homestead and follow us on Instagram, Facebook, or Pinterest for the latest updates.
More posts you might enjoy