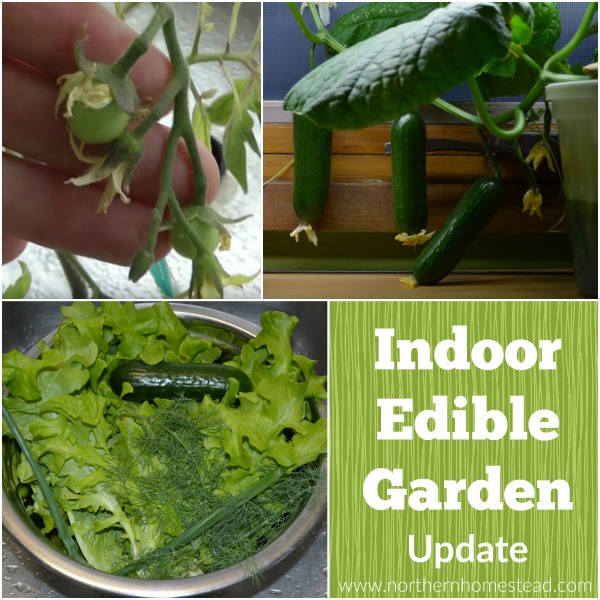 Another indoor edible gardening winter is coming to a close. It was more successful for us than ever before, and we are sure it can get even better. Indoor gardening has, like any gardening, a learning curve.
Here is a video tour of our indoor edible garden on March 1. To watch the video on YouTube go here.
This winter, for the first time, we were able to keep some tomato plants alive. In comparison to the beginning of winter update, they look a bit beaten. But they are showing new growth and even have set some fruit. Winter is definitely not a good time for summer crops.
The Kratky hydroponic method cucumber plant is loving it in our laundry room. It grew from a seed to the first fruit in about a month. This is the Picolino cucumber with all female flowers that can be grown indoors without pollinators. So fun.
The Sweet potato is finally showing some growth. Glad we started them early. See how to grow sweet potato in cold climate.
The Tower Garden is as always most productive. It really is a food machine at any time of the year. We have planted and harvested them multiple times during the winter.
An interesting observation we made this winter: in the growing box we grew some tomatoes and also some rapini broccoli. Despite the short sun hours in the winter, the rapini grew into big healthy plants. The tomatoes on the other hand struggled a lot. We were thinking at first that it is all a matter of the rapini being a winter crop and the tomatoes being a summer crop. After some research I learned that plants from the brassica family stunt tomato growth. Interesting! Do you have any experience with growing tomatoes and broccoli or cabbage together? Please share with us.
Soon the spring planting for the outdoor garden will start, and we are looking forward to some warmer days. See when and how to start plants from seeds.
We invite you to subscribe to Northern Homestead and follow us on Facebook or Pinterest so you don't miss a thing.
Grow an indoor edible garden
Start growing food for your table in depth of winter. Take a look at all the posts we already shared about growing food indoors, and seedlings for the summer garden.